<! MP3 08/01/09 > <! outside 00/00/00 > <! pix 00/00/00 > <! icons 12/02/10 > <! UPDATES: 08/01/09 10/11/13 - new pix - 180s etc > <! Jimmy Payne "Pieces Of Life" (Jasmine, 2000) B00004YL0M Jackie Phelps "Golden Guitar Classics" (Starday) - hot picker Here`s a good, country electric guitar record. Jackie got started as a professional musician in the late 40`s by my estimation. He could play about anything. I have heard recordings with him on 5-string banjo playing "sort of bluegrass" with what I believe to be 2 finger picking. He was also a good lap steel picker. I think I have saw a film clip of him playing lap steel with Lonzo & Oscar before. Probably the best place to look for Jackie early in his career is in the old Gannaway Country Show films from about 1952 -1955-ish where he plays electric lead guitar in some episodes on a pretty strangely shaped guitar. He wasn`t the very best electric guitarist, but in the 50`s was likely in the top 10 in country music. He also done studio session musician work in the 50`s and 60`s, so there`s no telling how many times we may have heard him and didn`t know it was him. He played in Roy Acuff`s Smoky Mountain Boys for most of the 60`s, possibly starting in the late 50`s. What Jackie is most famous for though was his career on Hee Haw. He temed up with Jimmie Riddle to do the Eeephin` & Hambone act. Hambone is a technique of slapping various body parts with your hand (or hands) to make "music", mostly a rhythm technique. Jackie was the Hambone part of the act. There is some videos on You Tube of them from Hee Haw doing their act. Orval Prophet "The Traveling Snowman" (Cowgirlboy, xxxxx) Orval Prophet "True Blue" (Acclaim Records, xxxxx) (LP) Orval Prophet "Propheteering" (xxxxxxx, xxxxxx) (LP) >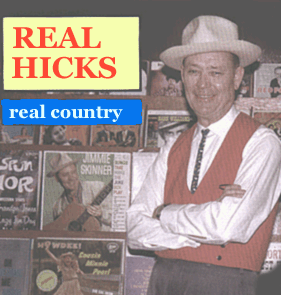 ---
Hi, there! This page is part of an opinionated guide to what I call "hard country" music -- the real stuff -- with a bunch of record reviews and recommendations by me, Joe Sixpack. Naturally, it's a work in progress, and will hopefully be expanded on quite a bit, as time allows.
This is the first page covering the letter "P"
---
A | B | C | D | E | F | G | H | I | J | K | L | M | N | O | P | Q | R | S | T | U | V | W | X, Y & Z | Comps | Hick Music Styles
---
Kyle Park "The Big Time" (Lazy SOB/Winding Road, 2005)






<! 2005 or 2007...? >

Kyle Park "Anywhere In Texas" (Winding Road, 2008)


Kyle Park "Spring, 2010" (EP) (Winding Road, 2010)

Kyle Park "Fall, 2010" (EP) (Winding Road, 2010)

Kyle Park "Make Or Break Me" (Winding Road, 2011)

Gram Parsons - see artist discography
Dolly Parton - see artist discography
Johnny Paycheck - see artist discography
Jimmy Payne "Pieces Of Life" (Jasmine, 2000)






<! Jimmy Payne is undoubtedly one of the greatest story-telling songwriters in Country music history as this fresh JASMINE collection conclusively reveals. There have been over 200 recordings of his songs by the likes of Charley Pride, Hank Snow, Doug Kershaw, Glen Campbell, Tammy Wynette, Ray Price, Bill Anderson, Dottie West, Tompall and The Glaser Brothers and many others. Here Jimmy gets the chance to exercise his lungs on a selection of his own and other compositions, a total of 20 tracks running for 63 minutes. This is late 20th Century Country music at its best. >


Leon Payne -- see artist discography





Hank Penny - see artist discography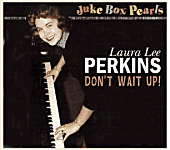 Laura Lee Perkins "Don't Wait Up" (Juke Box Pearls series) (Bear Family, 2012)


One of the shortest Bear Family CDs ever, this collects rare '50s singles from piano-plunkin' rockabilly siren Laura Lee Perkins, who was billed as a "female Jerry Lee Lewis." Her professional output totaled a mere two fiery 45s for the Imperial label, accompanied here by demo sessions and some live recordings -- 14 tracks in all. Of special note is the guitar playing of the great Joe Maphis on her studio sessions.
Jackie Phelps "Golden Guitar Classics: The Ten Talented Fingers Of Jackie Phelps" (Starday, 1963) (LP)

Jackie Phelps & Jimmie Riddle "Stars Of Hee Haw & The Grand Ole Opry" (Gusto, 2005)



Veterans of Roy Acuff's Opry band, and later members of the Hee-Haw TV show, guitarist Jackie Phelps and harmonicat Jimmie Riddle played mostly instrumental numbers, although there are a few vocal tunes on here as well. An interesting example of how the old-school country variety show performers kept chugging away in the more modern TV-show era.
Jackie Phelps & Buck Owens "Buck Owens At His Best" (Gusto, 2006)








The Phelps Brothers "Two Decades Of Country Music By..." (Binge Disc, 1998)
This is fairly marginal material, one of the few Binge Disc releases that I haven't been totally ga-ga over... The Phelps Brothers were a rather rough-hewn brother duo, and made only a slight impression on the country scene of the 1950s... Years later, the home tapes were rolling when they recorded some loosey-goosey blues sessions, with a lackadaisical electric guitar at the center of things. Those home tapes make up the bulk of this disc, and they aren't really that exciting. You can skip this one.


<! (Note: the three brothers also backed Ray Whitley on some western style songs, included on BB vol. 44 and 45.) > <! OR: Sort of a "brother act", these old, obscure singles are from the divergent careers of three siblings: Willie, Ernie and Norman Phelps. Although all three brothers typically pitch in on each other's recordings, the records were made under their individual names, and have very distinct sounds. Most of the tracks on here come from a couple of 1936 sessions at Decca Records, and are delightful old-timey string band music, covering mostly Tin Pan Alley standards with touches of Jimmie Rodgers/Jimmie Davis-style bluesiness. Some obscure mid-'50s sessions are also included, which feature Willie Phelps as frontman on a couple of mildly off-color tunes, some with cool, clunky electric guitar blues riffs. >

Charlie Phillips "Sugartime" (Bear Family, 2011)

Stu Phillips - see artist discography
The Pickard Family "Walking In The Parlour: Old Time Playing And Singing" (BACM, 2005)

Fiddling Jack Pierce "...And The Oklahoma Cowboys" (BACM, 2005)

Webb Pierce - my hero!!
Chuck Pollard "Chuck Pollard" (Jin Records, 1975) (LP)


(Produced by Joe Avants, Jr)
Good, straightforward honky tonk country from a Louisiana hopeful who had some support from Shreveport's country station, KRMD-AM. Pollard was a fine, robust singer, stylistically midway between Merle Haggard and Conway Twitty, while also paying tribute to the true king of country on one of his own compositions, "I Wish George Jones Would Sing A Song." He also wrote a couple of other songs on here, "Tomorrow You Won't Be My Woman Anymore," "You're My Pot Of Gold" and "You're Leaving Me Again," all fine weepers in the classic hard-country tradition. Pollard also released a couple of singles for MCA but, alas, he never made much traction on the charts. Still, this is a fine record if you enjoy throwbacks to twangier times. Unfortunately, the backup musicians are not mentioned in the liner notes, but there's some nice picking on here as well.
Charlie Poole "Volume One: Old Time Songs Recorded From 1925 To 1930" (County, 1994)


Charlie Poole "Volume Two: Old Time Songs Recorded From 1926 To 1930" (County, 1996)


Charlie Poole "Volume Three: Old Time Songs Recorded From 1926 To 1930" (County, 1999)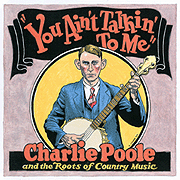 Charlie Poole/Various Artists "You Ain't Talkin' To Me" (Sony Legacy, 2005)


This fascinating 3-CD set sheds light on the career of country music pioneer Charlie Poole, whose Depression-era recordings helped set the standard for the energy level and professionalism of the new musical style, and who recorded many songs that became hillbilly standards for decades to some. This set is unusual, however, in that it spotlights not only Poole's work, but the recordings of several of his contemporaries, rivals and imitators in the 1920s and '30s, artists such as Arthur Collins, Kelly Harrell, Uncle Dave Macon, Ford Van Eps, and numerous craggy old-time stringbands from the pre-bluegrass, pre-swing, pre-honkytonk era. There's plenty of homespun humor, salty raunchiness, bluesy twang and several dazzling tracks, including whizbang instrumentals like Dave Macon's amazing "Uncle Dave's Beloved Solo." Poole emerges as an immensely charismatic figure, and hearing him in the full context of his times is a treat. If you just want to hear Poole by himself, the old anthologies on the County label will do ya right, but this is a fun, well-thought out collection... Recommended!
Charlie Poole "...With The North Carolina Ramblers And The Highlanders" (Proper, 2005)


Groovey Joe Poovey "The Late, Great Me" (Koch/Little Darlin', 2004)



A Texas rockabilly dude who hung out long enough to slide back into country, and then went retro-billy when the country stuff didn't work out, Poovey was definitely a minor leaguer, though some of his slower, more hillbilly stuff is kind of nice. There's a lot of perfunctory rockabilly revival stuff on here (Elvis covers, etc...) and that does very little to stir and excite me, but the handful of tunes he recorded under the pseudonym "Johnny Dallas" is kinda cool, notably Heart Full Of Love" and "What's Gonna Happen To The Little Folks" (an awkward little weeper that picks up where Tammy Wynette's "D-I-V-O-R-C-E" left off...) This isn't great music, but for those of us who like to mine the off-the-radar stuff, it has its moments. 'Billy fans who like Sleepy LaBeef may dig this guy as well.
Groovey Joe Poovey "Greatest Grooves" (Dragon Street, 1999)


An overview of his career that centers on his early rockabilly, but also stretches out to include some late-'70s honkytonk and a couple of Christmas novelty tunes.





Curtis Potter - see artist profile


<! PRAIRIE RAMBLERS >


Ray Price - see artist discography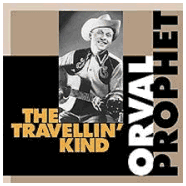 Orval Prophet "The Travellin' Kind" (Bear Family, 1999)


Well, in my book, you just gotta root for someone with a name as goofy as this guy, on principle alone. One of Canada's hopeful prodigals, Prophet rode onto moderate fame in the wake of Hank Snow's 1951 US breakthrough, even going down South to record a bunch of sides with a crew of crackerjack Nashville pickers in the Decca studios. He shared Snow's soft-edged Canuck grumble, but it's combined with a mousy warble that was a fairly comedic reflection of Mac Wiseman's more accomplished tenor. (What is it about Canadians and their voices? Did Neil Young hear Prophet's records when he was a lad??) Anyway, despite his vocal shortcomings, Prophet had a lot on the ball, mostly the strength of his sentimental, old-fashioned material. If you like Hank Snow, this fellow is well worth checking out as well... Also included on here are a handful of rock-era teenpop-ish tunes recorded under the name "Johnny Six" (which I sincerely doubt fooled anyone, but are still kinda cute...) Cool record.


<! Riley Puckett >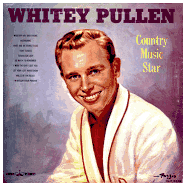 Whitey Pullen "Country Music Star" (Crown, 1963) (LP)


It's kind of a stretch to call Dwight Pullen (who also went by the names Whitney or Whitey Pullen) a "country star..." He never came near the country charts, and is primarily associated with the 'Fifties rockabilly scene, having been Gene Vincent's manager back in the glory days. Still, this is an interesting LP, gathering together numerous obscure singles Pullen cut for indie labels in the late '50s and early '60s, many of which are no doubt collector's items among the retrobilly crowd... Side One of the album is poppy rockabilly -- a bit too smooth, maybe, but not bad -- while Side Two actually does get into some bona fide country material, mostly milky ballads, but some stuff with grit as well. Pullen didn't have much of a voice, but this is still worth checking out if you get a chance -- there are a few okay songs, and his heart seems to have been in the right place.
Whitey Pullen "Sunglasses After Dark" (Hydra, 2005)





<! The complete recordings of rockabilly and country singer from Alabama who died at a young age in 1961. The 25 tracks here by him were recorded between 1956 and 1960 for several labels, most notably the Los Angeles based Sage label and are a mix of rockabilly and straight country. The country performances are pleasant but undistinguished but the rockers are hot, often with fine guitar including the well known title song plus other goodies like Everybody's Rockin'/ Moonshine Liquor/ Tuscaloosa Lucy/ Drinkin' Wine Spo De O Dee and others. The 26th bonus track is a recording by Sunglasses composer Jim Noble with Rod Weston and a couple of members of The Champs. 16 page booklet has notes, photos, label shots and other memorabilia. >
Pete Pyle "...And The Mississippi Valley Boys" (Cattle Records, 1987) (EP)


A swell set of 1940-50 rarities recorded for the Bluebird, Bullet and Fortune labels by singer-guitarist Pete Pyle, a Mississippi native who was in the thick of things in the 1940s country and bluegrass scenes. Pyle was a versatile artist -- he toured with Bill Monroe and was part of Pee Wee King's swing band, and wrote songs that were incorporated into each bandleader's repertoire. Pyle auditioned twice for the Grand Ole Opry before landing a spot, and was popular with his fellow musicians, becoming best known for writing the country standard, "Lovin' Lies." His career was cut short, however, by persistent health problems that eventually sidelined him entirely, and by 1950 he retired from the music business. The fifteen tracks on this LP include a number of gems in a wide range of styles, ranging from a Jimmie Rodgers-style yodelling blues recorded in 1940, to a couple of sleek honkytonk humdingers featuring Chet Atkins putting in some really flashy solos, and the 1950 edition of Ernest Tubb's Texas Troubadours as the backing band. Those two tunes -- "Mark Me Off Your List" and "Little Blue-Eyed Blonde Goodbye" -- are highlights, but every track on here is a winner. Check it out if you get a chance!
---

Real Hick Music -- The Letter "Q"


---