<! MP3 08/01/09, 12/03/10, 10/11/13 > <! outside 00/00/00 > <! pix 00/00/00 > <! icons 12/03/10 > <! UPDATES: 08/01/09 10/11/13 >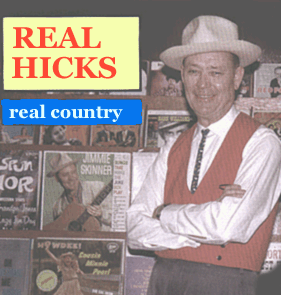 ---
Hi, there! This page is part of an opinionated guide to what I call "hard country" music -- the real stuff -- with a bunch of record reviews and recommendations by me, Joe Sixpack. Naturally, it's a work in progress, and will hopefully be expanded on quite a bit, as time allows.
This is the first page covering the letter "N"
---
A | B | C | D | E | F | G | H | I | J | K | L | M | N | O | P | Q | R | S | T | U | V | W | X, Y & Z | Comps | Hick Music Styles
---

Bill Neely "Texas Law And Justice" (Arhoolie, 1974)



One of the most unusual-sounding albums in the Arhoolie catalog (and that's saying a lot!) This CD is an expanded version of a 1974 LP made by an obscure white Texas country/blues picker who plays a basically acoustic style, though amplified in a rather remarkable way. The overall effect is spooky and unnerving, which, as it turns out, is perfectly suited to the intense, unsettling nature of the songs themselves. Neely, a lifelong devotee of the legendary Depression-era country pioneer, Jimmie Rodgers, dwells in the darker areas of the country blues tradition, with stream-of-consciousness tunes about jail time and street crimes. Particularly striking are the preachy-but-raw religious tune "Satan's Burning Hell" and the previously unreleased "Skid Row," which detailed the seaminess of life in the lower rungs of big city life. I thought this album was particularly compelling, and certainly worth checking out. Just the kind of record that only Arhoolie could put out.
Bill Neely "Austin's Original Singer-Songwriter" (Lost Art, 2002)

Willie Nelson - see artist discography

Bill Nettles "Shake It And Take it" (Binge Disc, 2001)


Raunchy, wild, genuinely ribald country-stringband swing novelty songs recorded between 1937-47, packed with sly vocals, sweet fiddle and crisp pickin'. Bill Nettles started out in the Jimmie Rodgers-Cliff Carlisle blue yodel style, but pumped it up with a thumping, swinging beat, and definitely made the music his own. This is a great collection that captures his band at its best, with toe-tapping numbers such as "I Miss The Girl (That Misses Me)," "Hungry," "Why Do The Men Love The Women?" and Ernest Tubb-styled proto-honkytonk numbers like "Too Many Blues" and "You're Breaking My Broken Heart." Nettles wrote almost all of his material, which makes this collection even that much more impressive... All in all, an awesome set of classic country music that time forgot... Plus, there's very little overlap between this disc and the equally excellent Hadacol Boogie collection reviewed below... Both are real must-have albums!

Bill Nettles "Hadacol Boogie" (Jasmine, 2004)



This sure is one fun record. Bill Nettles was a verteran of the sentimental "brother act" fad of the 1930s, but when he turned his hand to the rowdier stles of honkytonk, hokum and country boogie, he sure found his calling. These 1940s-ish recordings, drawn from his tears on the Bullet, Imperial and Mercury labels, feature one great novelty song after another, with stories of hopheads, heartbreakers, layabouts and ne-er-do-wells, the kind of good-natured country comedy that hardly anyone sings "seriously" anymore. Most of all, it's great music, a lot of fun to listen to, sung with a sense humor that'll never let you down. For my money, this is one of the best country reissues of the year!
Bill Nettles "Hillbilly Best" (Master Classics, 2009)


Bob Newman "Hangover Boogie" (The Hound, 1996)
An awesome set of pumped-up hillbilly boogie and raunchy novelty material, mostly recorded for King Records in the early 1950s. There are trucker tunes, sleepin'-in-the-doghouse ditties, a lot of songs about partying (the title track, a Newman original featured here in two different versions, is a funny, fiery number with great lyrics) and some surprisingly frank sexuality (as on "Baby Take Me Home With You.") As with other artists of the era, the novelty-themed boogie numbers are kind of hit-or-miss, although Newman's robust vocals are consistently appealing. Folks who treasure postwar hillbilly music as a precursor of rockabilly and rock will definitely want to track this European-pressed disc down... Hopefully more of Newman's work will see the light of day soon! (PS - Hee-Haw fans will also be interested to hear Newman's 1952 version of "Phfft! You Were Gone," one of the all-time great songs from the show's glory years...)


<! 10/2013 - still n ASIN >


Jimmy C. Newman - see artist discography




Roy Newman & His Boys "Dust Off That Old Piano" (Binge Disc, 2002)
Somewhat genteel western swing from the late 1930s... Although this Texas band could play hot stringband swing, they mostly played it pretty sweet, and dipped liberally into the jazz-swing canon of Tin Pan Alley tunes and sweet band sentiment. Newman's Dallas-based band had close ties to western swing legend Bob Boyd (Boyd's brother Jim sang with the group early on, and they performed alongside Boyd on regular radio shows...) and several well-known country players moved through the Newman band's frequently-changing lineup. Anyway, if you like sweet stuff, you might wanna check this out... They seldom cut loose and played hot, but that mode sounded nice, too!
Roy Newman & His Boys "Round The World On A Dime" (BACM, 2010)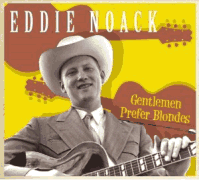 Eddie Noack "Gentleman Prefer Blondes" (Bear Family, 2012)


An unexpectedly lavish 3-CD set covering the career of hillbilly songwriter Eddie Noack, who kept it country during the rock'n'pop 1950s and still sounds pretty swell today. Classic country devotees will probably recognize Noack's name mostly on a subliminal level: he pops up on compilation albums and song credits throughout the 'Fifties, but his work as a solo performer has mostly been a bit off the beaten track. This collection includes all his '50s singles, along with a hefty dose of demos and studio chatter, all with plenty of true blue twang. Fans of old-school hard country will get a real kick out of this one!


<! (3-CD Digipak with 104-page booklet, 104 tracks. Playing time approx. 231 mins) Fans of hard-core honky tonk, hillbilly, and rockabilly have requested this set for years! It took us THAT long to get it right. Contains every 1950s single by Texas honky tonk legend Eddie Noack, including alternate takes, from the master tapes where they still exist. Contains 27 demos, false-starts, and original session chatter, most issued for the first time, plus many other songs never available on CD. Includes a wealth of vintage photographs and clippings, newly researched biography, and complete discography. Many lifelong country singers who had made a rockabilly single or two during its brief commercial reign were only too happy to later accept this rebranding if it translated to a critical acclaim or recognition they had otherwise never experienced. Eddie Noack forcefully resisted the temptation. ''No, I'm pure country,'' he insisted. He wrote the honky tonk anthem Too Hot To Handle, Hank Snow's hit These Hands, and many more songs that endeared him to Dylan and lovers of unadulterated Texas honky tonk music. The first of two Bear Family retrospectives devoted to the music of Eddie Noack, Gentlemen Prefer Blondes spans the early recordings, 1948 to 1961. Collecting all of his 1950s singles, plus 13 unissued masters and alternate takes, along with 27 acoustic demos, it gives the fullest overview yet of the most vital years of Noack's career. Only one of these records, 1958s Have Blues - Will Travel, was a hit for Noack himself, and most people never heard these records when they were current. When he died in 1978, it was as 'songwriter' Eddie Noack rather than singer-songwriter. This collection (and the forthcoming disc of his 1960s material) corrects this, and redefines the artist as he should have been known in life, and wanted to be known to posterity - not simply as a 'songwriter,' but as a singer, songwriter, and defender of 'pure country' music. This deluxe 3-CD package is accompanied by a revelatory, newly researched 73-page biography of Noack by country music historian Andrew Brown. >
Eddie Noack "Psycho -- The K-Ark and Allstar Recordings: 1962-1969" (Bear Family, 2012)

Dick Nolan "Fisherman's Boy" (RCA-Camden, 1971) (LP) <! year? >


Canadian country singer Dick Nolan recorded several albums for the Arc Sound label before this widely-distributed debut on RCA... It's good stuff: Nolan indulges in a number of regionally-themed numbers, particularly several with "Newfie" humor, playing on the rural culture of Newfoundland, though other songs are straight-up country, with Nolan singing in a smooth, rumbling baritone similar to Dave Dudley or perhaps Dick Curless... He's not a terribly versatile singer, but the songs sound nice, with a pleasant mix of steel and guitars -- basic stuff, but easy on the ears. Nolan's daughter, Bonnie Lou, also recorded a couple of albums as a child artist, including some duets with her dad...
---

Real Hick Music -- The Letter "O"

---