<! MP3 07/26/09, 12/03/10 > <! outside 00/00/00 > <! pix 00/00/00 > <! icons 12/03/10 > <! UPDATES: 07/26/09 - added a bunch of discographies 10/08/13 - added some new pix, Tiny Hart review; need Hawkshaw Hawkins, Homer & Jethro pages > <! Marty Haggard - Merle's brother - B000003RAC and other albums > <! Jerry Haag Frank Hurley "Introducing..." (Piccadilly, xxxxx) (LP) B00411AN4W Frank Hurley "I Love Honky Tonks" (Piccadilly, xxxxx) (LP) B004GZ5CQ2 - good music, thin voice Butch Hornsby "Don't Take It Out On The Dog" (xxxxxxxx, 1979) - Gary Stewart-ish - no ASIN >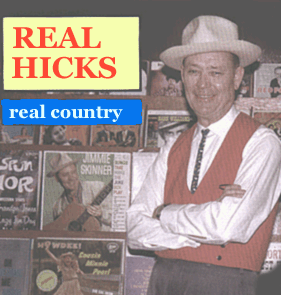 ---
Hi, there! This page is part of an opinionated guide to what I call "hard country" music -- the real stuff -- with a bunch of record reviews and recommendations by me, Joe Sixpack. Naturally, it's a work in progress, and will hopefully be expanded on quite a bit, as time allows.
This is the first page covering the letter "H"
---
A | B | C | D | E | F | G | H | I | J | K | L | M | N | O | P | Q | R | S | T | U | V | W | X, Y & Z | Comps | Hick Music Styles
---

The Hackberry Ramblers "Early Recordings: 1935-1950" (Arhoolie, 1988/2003)



The dawn of modern Cajun music can be heard in these early recordings by this long-lived Louisiana ensemble, which show deep roots in the country music of the times, particularly to the jazz-tinged "hokum" blues that folks like Jimmie Davis and Jimmie Rodgers pioneered in the 1920s. This is a fine collection, highly recommended, even for those folks, like myself, for whom modern Cajun music holds little appeal. This stuff's the real deal, and sounds much different than what the music later became.

The Hackberry Ramblers "Jolie Blonde" (Arhoolie, 1993)


The Hackberry Ramblers "Cajun Boogie" (Hot Biscuits, 1992)

The Hackberry Ramblers "Deep Water" (Hot Biscuits, 1997)

Merle Haggard - see artist discography
Tom T. Hall - see artist discography

Stuart Hamblen "I Gotta Feeling" (Allegro, 2001)


Smoky voiced country crooner and Hollywood cowpoke Stuart Hamblen was a likeable lesser light -- he's best known for his 1954 hit version of "This Old House," and for the religious anthem, "It Is No Secret," which he wrote while part of Billy Graham's evengelical organization. This budget-line 2-CD set includes neither of those classics, delving instead into his lesser-known early work on the Decca and Columbia labels. The Decca recordings, which date back to the 1930s are striking for their saucy, raunchy content -- like Louisiana Governor Jimmie Davis, Hamblen was a born-again Christian with a rowdy past, in specific, an early devotion to the off-color, yodelling blues style popularized by Jimmie Rodgers. This set is packed with fine examples of the genre, as well as some later, more staid, western-themed folk material and a few solid late-'40s honkytonk tunes, such as "I Won't Go Huntin' With You Jake," which was his first big hit, back in 1949. The packaging and liner notes are a bit disappointing, and occassionaly the sound is a bit rough, but overall most of the music is pretty fun. It'd be nice if there were another Hamblen release that would include more of his honkytonk-style material, but this disc is still quite welcome.
Stuart Hamblen "Old Glory" (BACM, 2005)


(Available through the British Archive of Country Music website.)
Stuart Hamblen "Volume Two: Prettiest Girl In Town" (BACM, 2005)





<! Boy In Blue/ Drifting Back To Dixie/ When The Moon Shines Down Upon The Mountain/ Wrong Keyhole/ I Gotta Feelin'/ By The Sleepy Rio Grande/ The Sailor's Farewell/ Golden River/ My Brown Eyed Texas Rose/ My Mary/ Poor Unlucky Cowboy/ Texas Plains/ Riding Old Paint Leading Old Bald/ Lopez The Bandit/ Sunshine Alley/ Lola Lee/ Be Just Like Your Daddy/ Poor Boy/ Prettiest Girl In Town/ Whistle My Love Song To You/ They're Gonna Kill Ya/ Keep Away From The Swinging Doors/ Bluebonnets For Her Golden Hair >


Wayne Hancock - see artist discography



James Hand "Evil Things" (Cold Spring, 1999)


Throaty, hiccupping, and sandpaper rough, Texan James Hand taps into the deep tradition of for-real hard-country hick crooners with hearts of gold and voices of lead... This disc is a treat for those of us who have dug through stacks of raspy hillbilly music from the late 1940s and early '50s, listening to fellas who wrote great songs while working at tough jobs, and sang with all their heart when they finally got the chance. Hand is definitely in that category: his voice isn't pretty, but his songs are pure country, and with guitar whiz/album producer Dave Biller playing lead, and Dale Watson picking on about half the tunes, this album has a real thump and twang to it that's sweet to hear. Not everyone's gonna be able to sit through this one, but for folks who like great heartfelt heartbreak songs, this is a goldmine.
James Hand "The Truth Will Set You Free" (Rounder, 2006)



Yeah, hoss, this is an album you oughta pick up. As on his previous recordings, Texas old-timer James Hand taps into the deep tradition of for-real, hard-country hick crooners with hearts of gold and voices of lead... and a bottomless supply of beer-soaked misery and self-pity. Largely due to the tenuous vocals, not everyone's gonna be able to sit through this one, but for folks who appreciate heartfelt heartbreak songs, this disc is a goldmine. There's a rueful tone and deep sense of defeat that makes every song on here ring true, particularly on stingers like "Just An Old Man (With An Old Song)" and "When You Stopped Loving Me, So Did I." Then there's the musical backup -- tight and compact, a no-nonsense dose of good, old-fashioned honkytonk, courtesy of picker Redd Volkaert, steel player Lloyd Maines (who also produced the album) and fiddler Jason Roberts... Pure twang, distilled down into a Dixie cup and ready for you to take a swig. If you like folks like Guy Clark, Tom T. Hall and Floyd Tillman, you might wanna check this guy out, too.
James Hand "Shadow On The Ground" (Rounder, 2009)



Pure, beautiful, real-deal hard country music. This is the kind of stuff I live for.
James Hand "Mighty Lonesome Man" (Hillgrass Bluebilly, 2012)


Joni Harms - see artist discography
Emmylou Harris - see artist discography
Hal Harris/Various Artists "Gold Star Guitar" (El Toro, 2010)


I've been listening to this guy for years and years, but never knew it! Hal Harris was a hotshot hillbilly guitar player in the 1950s who crossed over from honkytonk to early rockabilly, backing artists as diverse as Curley Williams and Benny Barnes on the country side, while laying down some sizzling licks on rockabilly classics by Joe Clay and on the legendary "Thumper Jones" singles that George Jones did when testing the rock'nroll market. Harris has a rough-and-ready, chunky guitar style, with lots of great technique but an uncompromised hillbilly feel. This generously-programmed, 34-song selection includes a lot of rare singles spread out over several years and numerous labels -- the sound quality isn't quite on a par with Bear Family or Ace, but these guys still have cooler records than I do, and this album's a lot of fun. Definitely worth checking out if you like the old stuff.
Tiny Harris "Tiny Harris" (Voice Of Country, 1979)


An excellent, independently produced true-country album from a guy who cut a couple of fun (but non-charting) singles in the '60s for Starday, Stop and some other, smaller labels. Harris scored some gigs on TV and played on the Opry stage and -- according to the liner notes -- performed for the troops in Vietnam after recording a patriotic, pro-soldier anthem called "When." Eventually he left Nashville and was living in Humboldt County, California when this LP came out. It contains several songs that he'd recorded as singles, such as "Georgia Manhunt" and a version of Frankie Miller's "Blackland Farmer," along with the trucker songs "Double Clutchin' Truck Line" and "Endless Black Ribbon" -- I'm not sure if these are the original singles on here, or re-recordings, but either way it sounds great. Lots of fiddle and steel guitar, and Harris has kind of a Hank Snow-ish voice which fits nicely into the uptempo twang. Highlights include the amphetamine-laced trucker song, "Benny And Me" and "Pour Me A Double (Because I'm Single Again)," just a couple of the excellent original compositions on this obscure but worthy album.
John Hartford - see artist discography
Freddie Hart "Juke Joint Boogie" (Bear Family, 2004)


Most folks know Freddie Hart through his lush, louche countrypolitan hits of the early 1970s, steamy softcore classics like "Easy Loving" and "Got The All Overs For You..." But Hart spent decades slogging through the back 'forty before he got a shot at the gold, and there was a time when Hart was a full-on hillbilly singer, with rough edges and an even rougher life. This is a swell collection of his early work, rollicking honkytonk that'll knock the socks off country fans who only know him from his tepid '60s albums on the Kapp label and the slick, chart-topping country-pop he did for Capitol when he was a 'Seventies superstar. Seriously, folks -- this is a great record, packed with one fine rompy, stompy hard country tune after another. Check it out! I was amazed. (For info on Hart's less twangy stuff, check out his discography page.)
Dick Hartman "Dick Hartman's Washboard Wonders & Tennessee Ramblers" (BACM, 2009)


This disc's a doozy! Giddy, exuberant, irresistible string band music recorded between 1935-36, as the western swing scene was really starting to heat up... Bandleader Dick Hartman recorded a wide variety of material, but this disc concentrates on his more uptempo material, and man, is it great! Harry Blair's joyful, lively vocals are matched by a bouncy band with banjo, fiddle, washboard and kazoo, and a driving, rhythmic guitar. Hartman is probably best known for his fabulously raunchy recordings with Hartman's Heartbreakers, some of the best sex-drenched "hokum" novelty songs of the Great Depression era -- some of that naughty abandon is echoed here, although these tracks aren't quite as "blue" as those infamous recordings... The playfulness of Hartman and his band comes through loud and clear on every track, and you will find this disc is packed with tunes that'll stick in your head and have you humming along for weeks to come. Highly recommended! (Available through the British Archive of Country Music website.)


<! CD D 259 -- old-timey? >
Hawkshaw Hawkins "Hawk: 1953-1961" (Bear Family, 2000) <! date made up >


In the late 1950s and early '60s, Hawkshaw Hawkins was a rising star on the national country scene... His name became best-remembered, however, due to tragedy rather than triumph, when he died in the same 1963 airplane crash that also claimed the lives of Patsy Cline and Cowboy Copas. This 3-CD box set covers Hawkins' work on the RCA and Columbia labels; it's not the King label material that is best known for but it is still mighty fine hillbilly material from a nice, robust old-schooler. (Hawkins was on King at the time of his death, and they quickly cashed in on his catalog. This stuff is great, though, as well... Note: there's also a more economical version of this collection, listed below.)


<! "Hawkshaw" Hawkins had a strong stage presence. He was tall, handsome, and he had rich, smooth vocals. His tasteful western suits set him apart from the usual rhinestone gaudiness seen on other male Country singers. He died in the 1963 plane crash that also killed country singers Patsy Cline and Cowboy Copas. His widow was Grand Ole Opry star Jean Shepard. He was a regular from 1946 to 1954 on the Wheeling Jamboree, a popular Country and Western radio show. 64 tracks. NOTE: This isn't a box of Hawk's King material. It is a set of his complete recordings for RCA and Columbia >

Hawkshaw Hawkins "Car Hoppin' Mama" (Gonna Shake This Shack Tonight series) (Bear Family, 2008)


A condensed, single-disc version of Bear Family's old 3-CD box set...
Hawkshaw Hawkins "Best Of The Best" (King-Federal, 1997)


Hawkshaw Hawkins "The Country Gentleman/Hawkshaw Hawkins Sings" (Collectables, 2004)


A reissue of two LPs originally out on RCA's budget-line Camden imprint...
Hawkshaw Hawkins "Hawkshaw Hawkins: Volume One" (King, 1994)


A straight reissue of one of the most popular King albums; this was pretty common, especially after Hawkins' untimely death...
Hawkshaw Hawkins "I'm A Rattlesnakin' Daddy -- The King Anthology: 1946-1963" (Westside, 2000)

Hawkshaw Hawkins "Radio Memories Of The Late Hawkshaw Hawkins" (Binge Disc/Cattle Records, 2006)

Hawkshaw Hawkins "Heavenly Road" (BACM, 2005)


More early oldies...
Ronnie Hawkins - see artist discography
Rodney Hayden "The Real Thing" (Rosetta, 2002)



An outstanding true-country debut, with a first-rate song selection that ranges from Tom Waits' "I Hope That I Don't Fall In Love With You," Chip Taylor's "Real Thing," "Tears Only Run One Way," from the Robbie Fulks catalogue, and a slew of original tunes that match the elegance and power of these classics (all of which are longtime favorites of mine, by the way...) Hayden lapses into some overly-poetic material on a few tracks -- not too surprising, since label owner Robert Earl Keen is one of his patrons -- but he sure can nail it when he sings plain old twangy country. This is a pretty impressive album; definitely worth tracking down!
Rodney Hayden "Living The Good Life" (Audium, 2003)



A really swell neotrad country album. Although he's still solidly on the "real hicks" side of the equation, this 23-year old Texas native could easily cross over into mainstream success. He's got a rich, deep, Merle Haggard-style voice, paired with a subtle melodic touch that places him closer to veteran Nashvillers like Randy Travis or Gene Watson, rather than to his indie-aligned patron, Robert Earl Keen (who many folks have compared him to...) At any rate, if you like real-deal, musically rich, emotionally resonant hard country music, then check this guy out. -- you'll be blown away. Not only does he craft dust-caked Americana romps like "Goodbye To My Hometown" and "Living The Good Life," he also has an amazing touch for recreating country styles of years gone by, such as the elegant "Mr. Mockingbird," which would've sounded right at home on some late-'60s Decca LP, or tunes like "Can't Wait To Get Back Home," which has a more modern, '80s-ish neotrad feel. Besides, anyone who covers Russell Smith (of Amazing Rhythm Aces fame), and does it so well ("Delia's Long Brown Hair") is alright by me. A rich, mature, and very promising second record.
Rodney Hayden "Down The Road" (Palomino, 2007)


Rodney Hayden "12 Ounce World" (Palomino, 2008)



Jimmie Heap & The Melody Masters "Release Me" (Bear Family, 1992)


Texas bandleader Jimmie Heap worked up through the western swing scene pioneered by Milton Brown and Bob Wills, but as his star started to rise in the post-WWII years, Heap threw himself into the newer, boozier honkytonk style, and became one of the Lone Star State's best-loved hard country legends... He's best known for two songs: first, his 1954 hit version of "Release Me," an old 1930s tune that Heap revived and that became later a pop hit for Englebert Humperdink (!), and then for his own composition, "Wild Side Of Life," which Hank Thompson took to the top of the Country charts. Thompson was a pal of Heap's and helped get him a contract on Capitol Records -- he had a few modest hits, but listening back to these old recordings, it's easy to see why Heap's rough-edged, raggedly wild barroom style didn't allow for him to become a national star. Still, Texans cherish his memory, as one of the big early stars in the Lone Star State's history as a country music maverick. A nice collection of an all-but-forgotten hard country pioneer.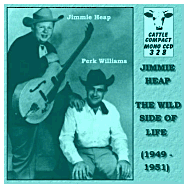 Jimmie Heap "The Wild Side Of Life" (Binge Discs, 2006)
A great supplement to Bear Family's CD (and earlier LP) dedicated to Texas bandleader Jimmie Heap. This disc unearths 22 hitherto un-digitized Texas country gems, all recorded between 1949-51 (before the material on the Bear Family disc, which covers 1951-55). This set digs much deeper into Heap's proclivity for goofball, high-concept novelty material: with songs such as "When They Operated On Papa, They Opened Mama's Male," "Coffin Built For Two" and "There's A Broken Pane In The Window Of My Heart," this is the kind of country oldies disc you've just got to snap up when you see it... and trust me, you won't be sorry! Heap's style is mopey, boozy and slow, and somehow he makes even the silliest lyrics seem mournful and sincere. He also sang straight stuff as good as any of the best. Oh! And did I mention that this also includes the original version of the big Hank Thompson hit, "Wild Side Of Life"? Yup, here it is, in its full, late-1940s glory, one of the finest honkytonk songs ever written. Keep your eyes peeled for this one. (Available through the Binge Disc website)


<! 08/2010: still no ASIN 10/2013: still no ASIN >

The Heel Draggers "Out My Door" (2011)






<! vocalists Ayelet Arbuckle and Will Forte >

R.D. Henden "1951-1956" (Binge Disc/Cattle Records, 2007)

Dan Hicks - see artist discography
Johnny Hicks "Gotta Gitta Gittar" (BACM, 2005)





<! CD D 059 >
Eddie Hill "The Hot Guitar" (Bear Family, 2007)


A great set of hotshot picking and hillbilly novelty songs from the early 1950s. Eddie Hill was a popular session guitarist and popular radio DJ who beamed forth from WSM in Nashville, and was an early champion and pal of the Louvin Brothers. He also recorded a fair amount of material for a variety of labels -- this disc focuses on his Columbia and Mercury recordings of the 'Fifties and spans the transition from chunky hillbilly boogie-era twang to a series of attempts to cash in on the rockabilly fad that came in its wake. Hill was better equipped than most country cats to pass himself off as a ducktailed juvenile delinquent, since his own guitar picking crackles with life, as do the contributions of other hotshots such as Chet Atkins and Hank Garland, who played on many of these sessions. This versatility is on display early on, notably on "The Hot Guitar," a song that lampoons (and uncannily imitates) several of the big stars of the day. This is a great collection of old-school hillbilly music. Although the novelty material may wear thin if taken in large doses, it's a real gas when you mix it in with other artists of the same era. Recommended!





Goldie Hill -- see artist profile


<! ADOLPH HOFNER >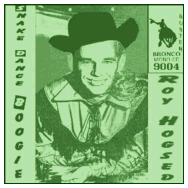 Roy Hogsed "Snake Dance Boogie" (Bronco Buster)
Simply stunning. The first tracks on here are incredible proto-rock hillbilly boogie material from 1951, that leaves the Delmore Brothers and all of them fellers on the King label in the dust -- really raw stuff, with electric guitar solos that oughta raise a few eyebrows. Later tracks, from around 1954, are more solidly honkytonk, but all of these old Capitol discs were quite good. Also features a couple of great Korean War-era patriotic songs, "Don't Bite The Hand That's Feeding You" b/w "The Red We Want Is The Red We've Got (In The Old Red White And Blue)." Awesome CD -- HIGHLY recommended!

Roy Hogsed "Cocaine Blues" (Bear Family, 1999)


More fun stuff by this forgotten country great. There's some overlap between this and the Brono Buster collection above, but this edition is probably a lot easier to find. Highly recommended.

Fairley Holden "I've Got Blues To Spare" (BACM, 2006)


Rock-solid, real-deal hillbilly country recorded in the late '40s for the King label. Fairly Holden is a rough, rugged, joyful performer, as resolutely and unapologetically hicked-out as Porter Wagoner... and that's saying a lot! These are fun, robust recordings with squeaky fiddles, bouncy guitars and giddy pedal steel... If you like good old-fashioned twang, with songs about drinking men and nagging women, here's another motherlode. Includes three versions of Holden's signature song, "Keep Them Cold Icey Fingers Off Of Me," along with a nice unruly version of the Hank Williams hit, "Move It On Over." Apparently this disc includes almost all of Holden's recorded work; he more of less retired before 1950, doing live shows for a while and then easing off the radar. Nice, brief legacy!


<! CD D 146 >

Salty Holmes & Mattie O'Neil "...With The Amber Sisters And Joe Maphis" (Binge Discs, 2004)
They just don't make hillbilly music like this anymore... Floyd "Salty" Holmes was a founding member of Patsy Montana's old band, the Prairie Ramblers, as well as a pal of Gene Autry and Tex Ritter, appearing onscreen in several of their films. His career started in the early 1930s, though by '42 he set out as a solo act and sort of drifted along the peripheries of the country scene as it changed from its early stringband roots towards the harder honkyton style and then into the poppy goop of the late 'Fifties. In 1946 he married Mattie O'Neil, a Kentucky gal who went by a variety of stage names, including "Jean Chapel" when she recorded rockabilly material for the sun label... O'Neil also came from a stringband background, having worked in a later edition of the famed Coon Creek Girls, and several on-again, off-again family acts with her sisters Martha and Minnie. (Martha and Minnie also sang with Bill Carlisle in the early 'Fifties lineup of his band, the Carlisles...) Anyway, this is real hick stuff, with plenty of rowdiness and gumption, which makes it enjoyable even if the gals involved didn't have the greatest voices. There's sentimental stuff, heartsongs and blues, as well as some choice novelty material like a goofball Salty Holmes tune, "I Found My Mama," in which Mattie O'Neil "duets" with Holmes on harmonica, imitating a little kid reading "Mary Had A Little Lamb," and O'Neil prompts his "recitation." This isn't the greatest country msuic ever, but it is a nice slice of old-school hillbilly entertaining, and fills in a few gaps in various people's careers. Worth checking out, though it may be only for hardcore hillbilly fans.
Homer & Jethro "Volume One: Ground Hog" (BACM, 2005)

Homer & Jethro "Volume Two: Unhappy Day" (BACM, 2005)

Homer & Jethro "Volume Three: More Classic Numbers By The Legendary Country Comedy Duo" (BACM, 2005)

Homer & Jethro "Playing It Straight" (RCA Victor, 1962)


Just like the title says, Haynes and Burns set the corny humor aside and just play straight-up swinging instrumentals on this delightfully understated, all-instrumental album. Beautiful melodies and stunning musicianship, and a truly enjoyable set, with bassist Bob Moore and drummer Buddy Harman adding some sweet, discrete accompaniment. A really nice record that underscores just how good these guys were.
Hoosier Hot Shots "Rural Jazz" (BACM, 2005)

Johnny Horton - see artist discography
Larry Hosford - see artist discography
Harlan Howard -- see artist profile
Randy Howard - see artist discography
Leon Huff "The Early Years, v.1: The Texas Song Bird" (BACM, 2010)


Harley Huggins "...And The Barn Dance Gang" (Country Routes, 2002)


Rollicking live broadcasts from a Fresno-based western swing band fronted by one of Bob Wills' frequent B-list pickup musicians, guitarist-singer Harley Huggins. A nice slice of what the average band would have sounded like back then... Not the best sound quality, but also not the worst -- Fresnan's will delight at the KMJ radio announcer's frequent mentions of local landmarks such as the corner of Chestnut and Butler Avenues (which was probably a fruit orchard back then...) Fun stuff.
The Cornell Hurd Band - see artist discography

Walter Hurdt "...And The Singing Cowboys: Recorded 1937-1940" (BACM, 2008)


An interesting historical footnote from an unusual North Carolina band... Singer-guitarist Walter Hurdt started his recording career in 1937, with a bluesy 78 that showed him among the many hillbilly artists still in the sway of the great Jimmie Rodgers... But while singing solo, there was a cleaner melodic tone that hinted at a more modern approach than Rodgers' highly stylized, chunky backwoods blues. Sure enough, when Hurdt formed his own band, it included several hot pickers who pushed the music into a more improvisational, virtuosic direction. Particularly noteworthy is fiddler Lawrence Wiseman, who had zinged his way through a couple of hot duets ("Fiddle And Guitar Runnin' Wild" and "Playing Around") with guitarist Leroy Johnson, really zippy stuff that owed as much to Eddie Lang and Joe Venuti as to Bob Wills and his crew. Hurdt wrote a bunch of ersatz cowboy tunes, but played 'em with a wild jazz undertone; likewise he and the band played a lot of Delmore Brothers-style hillbilly blues, but they used the formula's simple sound as a platform for soloists to improvise. Sometimes they soared, but just as often they strained against the style's limitations, and occasionally the instrumental fills overshadow the songs themselves. On tunes like "Rhythm In E" and the dazzling "Guitar Rag" the guitar work is amazing for the time; Wiseman's often-impatient fiddling takes over on "Blue Skies Above" and "The Old Gulf Coast," as well as the album's most historic track, "Train Special," which was actually the first commercially released version of the fabled "Orange Blossom Special," a tune that Wiseman learned from its composer. The performances are uneven but forward-thinking, with stabs at the virtuosic sizzle of bluegrass and cow-boogie that would be all the rage a decade or so later. Hurdt and his pals got kinda clunky at times, but they were definitely pushing ahead of the pack.
Ferlin Husky - see artist discography
---

Real Hick Music -- The Letter "I"


---