<! MP3 08/08/09, 11/09/10 > <! outside 11/09/10 - PF, BB > <! pix 11/09/10 > <! icons 11/09/10 > <! updates: 11/09/10 > <! PF: # X I T Boys (1) - 1930s western swing band, backed Billy Briggs - aka Sons Of The West? # Yaney Skeets (1)! # Yarbrough Rual (2) - on Old Homestead - bluegrass/old-timey # Yates Billy (1) - associated w/ George Jones # Yates Lori (1) # Yearwood Trisha (1) # Yelvington Malcolm (1) # Yoakam Dwight (1) # York Brothers (1) # York George (1) - no ASIN # York Leslie (1) - no ASIN # York Rusty (1) # York Stacy (1) - no ASIN # Young Donny (1) - aka Johnny Paycheck # Young Faron (1) # Young Nelson (1) # Young Steve (1) # Youngblood Jack (1) - no ASIN # Zaca Creek (1) top forty(?) band from Santa Barbara, CA. # Zack Eddie (1) - no ASIN # Zander Robin (1) - dude from Cheap Trick. country?? B003E1QCAY in 2010 # Zanetis Alex (1) songwriter, co-wrote "Snap Your Fingers" - recorded mostly religious material, some secular # Zang Tommy (1) - single only >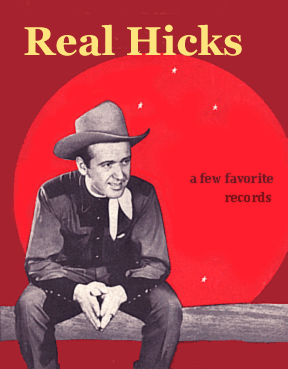 ---
Hi, there! This page is part of an opinionated guide to what I call "hard country" music -- the real stuff -- with a bunch of record reviews and recommendations by me, Joe Sixpack. Naturally, it's a work in progress, and will hopefully be expanded on quite a bit, as time allows.
This page covers the letters "X," "Y" and "Z"
---
A | B | C | D | E | F | G | H | I | J | K | L | M | N | O | P | Q | R | S | T | U | V | W | X, Y & Z | Comps | Hick Music Styles
---

Skeets Yaney "Train Track Shuffle" (Binge Discs, 2005)


A hometown hero in St. Louis, Skeets Yaney specialized in a smoother, semi-crooning style of soft-edged honkytonk. He had some real zingers in his sometimes-sarcastic lyrics, but the music was more mid-tempo and jovial, similar in temperament to Jimmy Wakely or Spade Cooley. It's fun stuff, though, a nice slice of rare recordings from a dimly remembered regional star. And, as with other Binge Disc releases, this has great sound quality -- definitely worth picking up if you can track it down!


<! Billy Yates "Billy Yates" (Almo Sounds, 1997) B000001OAW Billy Yates "Country" (MOD, 2003) B000JCEZNC Billy Yates "Anywhere But Nashville" (MOD, 2004) xxxxxxxxxxxx B000QQUZVC Billy Yates "Harmony Man" (MOD, 2005) B0009YWDY8 Billy Yates "If I Could Go Back" (MOD, 2006) B000K984SG Billy Yates "Favorites" (MOD, 2006) B000LV6APC B001BV68NA Billy Yates "That's Why I Run" (MOD, 2008) B0015UIPBK B001BMQBDG Billy Yates "Bill's Barber Shop" (MOD, 2009) B0031DS0LY >

Malcolm Yelvington "It's Me, Baby: The Sun Years Plus" (Bear Family, 2006)


One of those oddball hillbilly artists who wound up in the orbit of Sun Records during the early days of the rock'n'roll/rockabilly scene. Although he had a few thumping, rhythm-oriented hits (notably "Drinkin' Wine Spo-Dee-O-Dee" and "Yakety Yak") and he made several rock-themed, electrified recordings, Yelvington was definitely a hardcore hick singer, and there's some nice, solid country on here as well. Cool blues, too. The only stuff that doesn't work, really, are the pop ballads -- he was one of those guys who had a voice that made Ernest Tubb sound like Pavarotti -- but even these misfires are fun, in a so-bad-it's-great kind of way. On uptempo material, though, he's great. Definitely worth checking out!


<! also B000FP2RX8 >

Malcolm Yelvington "Rockin' With My Baby" (Snapper, 2010)



Plenty of overlap between this set and the Bear Family album from a few years earlier. Personally, I'm more of a Bear Family man, but either collection would probably be just fine for this guy.
Dwight Yoakam - see artist discography
The York Brothers "Detroit In The 40's & 50's: The York Brothers' Best" (Collector Records, 2000)


Raspy, rattling hardcore hillbilly music from the wartime and postwar era (1939-'53, roughly), from a Brother duo transplanted from the Kentucky hills up to the Great Lakes region. This is urbanized hick music, with strong doses of blues and jazz standards creeping into the mix, classic hillbilly boogie and bop from the years when the "new" country sound was still up for grabs. These guys had a rough, thoroughly authentic sound -- not polished or slick like the Nashville scene was becoming, and they recorded mainly on tiny independent labels like Mellow and Universal (uh, no, not the same Universal that swallowed up MCA in the 1990s...), although they also did some sessions for Decca which also appear on here. This is rare material that must have taken years of super-collector nerd adventures to gather together, and fills a nice gap in the country music saga. If you like your country crude and enthusiastic, then this is a mighty fine disc for you to check out.


<! 11/10: Collector Records website apparently extinct - replaced by some random sales site http://www.collectorrec.com >
The York Brothers "Long Time Gone" (Ace, 2006)


More chunky stuff from these Michigan hicks... This disc gathers their work for the rough'n'ready King label, more fine examples of crude, catchy hillbilly music from up North. Definitely recommended!
The York Brothers "Going Back To The Sunny South: 1939-1942" (BACM, 2005)


Early stuff, with more serious crate-digging on the part of the folks at the British Archive of Country Music...
The York Brothers "Hamtramck Mama" (Binge Disc, 2001)


Personally, I'm shooting for this one, if I can track it down. The folks at Binge Disc always have the best stuff when it comes to obscuro-delic sets like this one!
Rusty York "Rusty York Rocks" (Bear Family, 2004)





<! RUSTY YORK: disco w/ links to hicks & bluegrass? ---------------------------------------------------------------- Rusty York "Rusty York Rocks" (Bear Family, 2004) Rusty York "The Cincinnati Fireball:" (Gee Dee, 1994) Rusty York "Early Bluegrass" (Jewel, 2001) Rusty York "...Sings Like Crazy" (Jewel, 1968) Rusty York "Bluegrass Gospel Songs" (Rural Rhythm, 1968) Rusty York "Dueling Banjos" (QCA, 1973) Rusty York "Rock 'N' Memories" (Jewel, 1981) Rusty York "Sweet Love" (Eagle, 1990) >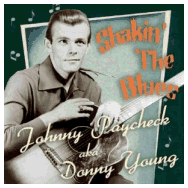 Donny Young "Shakin' The Blues" (Bear Family, 2006)


The earliest work from country singer Donald Eugene Lytle, aka Donny Young, who later changed his name to... wait for it... wait for it... Johnny Paycheck! These old upbeat honkytonk tracks owe a deep debt to George Jones, particularly to Jones' earliest work on Starday, though even with his naked imitation of his idol, Paycheck's soundalike voice has its own distinctive, teenage-y twang. As with a lot of Paycheck's later recordings, this workmanlike material isn't particularly original, but it's rootsy and real. Worth checking out.





Faron Young - see artist discography


<! Young recorded a handful of rockabilly singles in the late '50s, then resurfaced years later as a bluegrass picker...His rock'n'roll oldies are mostly to be found on reissue compilations B00008L421 , but if you poke around a while, you might find his acoustic stuff on LP... Nelson Young "The Hard Road To Travel" (Vetco, 1975) Nelson Young "...And The Sandy Valley Boys" (Lamon) (LP) B003XXCM3E Nelson Young "The Old Home Place" (Lamon, 1982) same as above? (tracks unknown) >

---

Hick Music Compilations -- click here


---