<! MP3 07/26/09, 12/04/10 > <! update 12/04/10 > <! outside 00/00/00 > <! pix 12/04/10 > <! icons 12/04/10 > <! Red Jenkins, from Sweden http://www.redjenkins.com/biography.php Mark Johnson - mersh? "Bridging The Gap" Jinx Jones "License To Twang" (Red Rogue, 2004) B000056QEY B000QQVID6 c.2001?? Jinx Jones "Rumble & Twang" (Home Braend, 2007) B000N69SC2 B0012MY916 label spelling? Jinx Jones "Live Twang In Finland" (Home Braend, 2008) B001IB5ZZ0 B001FCZ4YY Jinx Jones "Rip And Run" (2010) B004QDD0CC B004FYP17E Jerry & Sky - New England hillbilly/bluegrass duo of Gerald "Jerry" Howorth and Schuyler "Sky" Snow - about a dozen singles, some songs anthologized on bluegrass comps, no album as of 10/2014 http://countrydiscography.blogspot.com/2009/12/jerry-and-sky.html >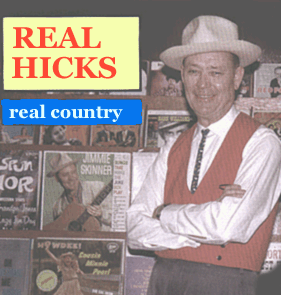 ---
Hi, there! This page is part of an opinionated guide to what I call "hard country" music -- the real stuff -- with a bunch of record reviews and recommendations by me, Joe Sixpack. Naturally, it's a work in progress, and will hopefully be expanded on quite a bit, as time allows.
This is the first page covering the letter "J"
---
A | B | C | D | E | F | G | H | I | J | K | L | M | N | O | P | Q | R | S | T | U | V | W | X, Y & Z | Comps | Hick Music Styles
---
Alan Jackson - see artist discography
Wanda Jackson - see artist discography

Jerry Jaye "Honky Tonk Women Love Redneck Men (Plus)" (Edsel, 1999)


A fine reissue of Memphis local Jerry Jaye's 1976 album, Honky Tonk Women Love Redneck Men, the title track of which was one of the finest, funnest, most melodic redneck anthems of the 'Seventies neotrad scene. Built on a roller-rinky guitar riff that was lifted straight from Billy Swan's "I Can Help," the song offers one of the most jovial portraits of good-timin' good ole boy life ever commited to wax... The album has several other fine tunes, including "Drinkin' My Way Back Home," and "Standing Room Only," as well as several less-impressive cover tunes, drawing from both the country and R&B sides of Jaye's work. A regional performer who hit it big in rock'n' roll in the late '60s with a surprise hit version of Fats Domino's "Josephine," Jaye always kept one foot in the rock/soul scene... This CD augments his country work with ten bonus tracks drawn from some 1969 white soul sessions with a bunch of Memphis pickers and a Charlie Rich-like vibe... This earlier stuff doesn't blow me away, even though twang-bar king Travis Wammack was one of the backup players... But for southern soul aficianados, these unissued tracks and single sides are doubtless a real find. Still, "Honky Tonk Women" alone is worth the price of admission... What a grrreat song!!





Norma Jean - see artist discography


<! Snuffy Jenkins? >


Waylon Jennings - see artist discography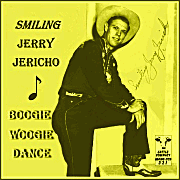 Jerry Jericho "Boogie Woogie Dance" (Cattle/Binge Disc, 2004)


Awesome old-time Texas honkytonk tunes. This one's new to me, but it was the glittering gem in a recent batch of discs that I picked up from the fab Cattle label... Jerry Jericho was a Texas second-stringer, a rough-edged honkytonk singer from the 'Fifties who worked with Johnny Bush and a troop of lesser-known honkytonkers, and like a lot of these unknown old-timers, he was really awesome. This disc includes cover songs of some great oldies such as "Gambling Polka Dot Blues," bluesman Ivory Joe Hunter's "I Almost Lost My Mind," Wayne Raney's "Why Don't You Haul Off And Love Me" and the like... There are also a bunch of more obscure songs, including kooky gems like "I'm Cravin' Lovin' " and "Take Your Time," as well as some great, mopey heartsongs and beer-drinkin' ballads. This is prime Lone Star hillbilly music, one of the strongest archival country records I've picked up in a while. Highly recommended!


<! date? http://www.dagmar-anita-binge.de/ccd321-jerry.jericho.html >
Jim & Jennie And The Pinetops "One More In The Cabin" (Overcoat, 2002)



It's hard to believe that these perfectly-crafted old-time-ish tunes were not in fact written by some mistily-remembered contemporary of the Carter Family or Grandpa Jones, but rather by a bunch of modern urban hipsters from Philadelphia who just happen to have an uncanny grasp of the oddball mountain music of the early 20th Century. They get the constrained emotionality and matter-of-fact narrative tone just right, as well as the subject matter -- song after song starts with a familiar set-up, and it's really only until you open the CD booklet that you can be sure that these songs were actually written by the band. These folks aren't hotshot superpickers, and they purposefully sing all raspy and offkey, yet unlike oh, so many of their twangcore contemporaries, the Pinetops don't come off as pretentious dilettantes. Rather, this is a band that is respectful and utterly in command of the genre they've adopted, and their material is emotionally resonant and entirely convincing. In fact, I'd say that if at least some of these songs don't work their way into the official bluegrass canon, something is seriously wrong in the world. Highly recommended!

Jimmy & Johnny "If You Don't, Somebody Else Will" (Bear Family, 1996)


Wow! Years ago, I picked this CD up just because it was something new from Bear Family, and 'cuz it looked cool. Imagine my ecstasy when I discovered that these guys were part of Webb Pierce's regular songwriting stable in the late '50s... not only that, but one of these fellows went into a performing and songwriting partnership with Wayne Walker -- one of my favorite Webb cronies... and there are demo tapes here to prove it. Great stuff in a variety of styles, including ultra-twangy, uptempo honkytonk, Everly-esque teenpop, and out-and-out rockabilly. They even poke fun at their patron, Webb Pierce, on "Sweet Singin' Daddy." Singers Jimmy Lee and "Country" Johnny Mathis, who each went on to record solo work... Mathis is probably the better-known of the two, later emerging as a potent country gospel artist. This early work is highly recommended!


<! 144 x 144 >


Joey + Rory - see artist discography



Johnnie & Jack "...And The Tennessee Mountain Boys" (Bear Family, 1992)


This 5-CD box set is pretty stellar, representing the bulk of the work by the hillbilly duo of Johnnie and Jack, Jack Anglin and Johnnie Wright, that is, a partnership that lasted from the early 1940s through 1963, when Anglin passed away. Johnnie & Jack represented perhaps the commercial apex of old-fashioned hillbilly music -- they never really changed their style from the hiccuping hick harmonies and simple instrumentation of the Depression era, instead they just kept polishing that sound and making it a little sweeter as each year passed along. This collection runs from tuneful but sincere gospel and traditionally-oriented material to Johnnie and Jack's uniquely bouncy harmony style. It took them a while to hit on the Latin American-flavored flair of their big hit, "Poison Love," but once they found it, they used it quite liberally. Normally such repetitiousness can wear thin -- but not in this case! With about 150 tracks on it, this is one of the most pleasantly listenable old country retrospectives you're likely to come across, and one of the few Bear Family mondo-boxes that I've really enjoyed listening to from end to end. Highly recommended! Disc Five is an all-gospel extravaganza, and includes a lot of gospel material that can't be found anywhere else -- fans of country gospel may want to track this out-of-print gem down, just for a chance to hear that material, some of the finest music of its kind.
Johnnie & Jack "...With Kitty Wells at KWKH" (Bear Family, 1994)


A modest follow-up to the stellar 5-CD box set reviewed above. These late '40s radio transcriptions are filled with fiddle breakdowns and corny stage patter, and sound unglamourous compared to the melodic 'Fifties hits Johnnie and Jack are best known for... Johnnie Wright's wife, Kitty Wells, sings several Molly O'Day-ish old-timey ballads; her phenomenal success as top-ranking honkytonk star are still several years away. This may be a bit too stark for the casual listener, but it does give a nice sense of what these old radio shows were like.
Johnnie & Jack "For Old Time's Sake" (Bear Family, 2003)


The Johnnie & Jack box set above has been out of print for some time now, and Bear Family finally relented and boiled their best material down into a trim single-disc set that's accessible to fans of old-style country music... This disc passes chronologically through their hits, from 1949 to 1962, and gives a wonderful sense of how their style progressed. They never quite changed their sound as much as they kept making it sweeter as time went by. The one omission is of the gospel material that was included in the box set... Since all the Johnnie & Jack material is hard to find, most country fans will probably be happy to hear more of their secular material, but it might be nice for the Bear Family folks to put the religious material out as a separate disc sometime... In the meantime, this is a wonderful album, well worth checking out!
Johnnie And Jack "Greatest Hits" (King/BMG Special Products, 1997)


Actually, these seem to be late 1950s re-recordings of early '50s classics such as "Poison Love" and "Ashes Of Love," retooled for the era of early, Elvis-bound rock'n'roll. Mainly this means a heavier backbeat and some doo-wop vocal trills. The originals are better, but these are quite nice, and fun to listen to. Besides, as far as I can tell, these are the only Johnnie and Jack recordings currently available in the States! Don't turn your nose up at this one... even with the meagre amount of music, this is a nice slice of hard country history.
Johnnie And Jack "...And The Tennessee Mountain Boys" (BACM, 2005)


(Available through the British Archive of Country Music website.)
Ann Jones "...And Her Western Sweethearts: 1949-1954" (Binge Discs, 2007)







Buddy Jones "Louisiana Honky Tonk Man: 1935-1941" (Texas Rose, 1984) (LP)
One of the rowdiest and most raggedy-ass western swingers, Buddy Jones specialized in smutty novelty songs... His early '30s recordings almost fall more in the country "hokum" camp than as western swing proper, but there's definitely a bit of a bounce here as well. Fans of Jimmie Davis' early hokum recordings will probably enjoy this material. Vinyl only, alas.


<! no ASIN 01/26/15 >
Buddy Jones "The Louisiana Honky Tonk Boy" (Cattle Compact, 1998)
I was put off on Buddy Jones for a long time, based on the Texas Rose LP from the early '80s, which seems to suffer from flat sound quality... And sure enough, once you hear these old Decca recordings (from 1937-1941), released in full fidelity, Jones leaps out as a giant figure in old-timey western swing history. This disc contains a passel of smutty, blues-drenched tunes -- like old, Depression-era Jimmie Davis and Jimmie Rodgers recordings, but a lot more musical. Various musicians appear on these tracks -- Moon Mullican, Bob Dunn and Cliff Bruner among them -- and the recordings are all top-notch. The oddest note comes on the last track, "Huntin' Blues," from 1937, is a genuinely bizarre sex innuendo song, with dark, mysogynistic currents which are almost completely overshadowed by the surrealistic, oddball half-ententres which run throughout the narrative. The whole disc is well worth checking out.


<! Cattle Compact CCD-206 > <! 06/13, 05/14 - still no ASIN > <! no ASIN 01/26/15 >
Buddy Jones "Police Officer & Honky Tonk Singer" (BACM, 2005)

George Jones - see artist discography
Grandpa Jones -- see artist profile
Zona Jones "Harleys And Horses" (D Records, 2003)



(Produced by Mike Jones, Randy Boudreux & Zona Jones)
Presumably "Zona" is short for "Arizona," placing this feller square in the tradition of fine country artists from the Southwestern US (even if he currently hails from Beaumont, Texas, where he's worked for several years...) Jones is a fine honkytonker, one of the countless off-the-radar indie-label country singers out there today who may dream of having a hit, but know they're far enough away from Nashville that it doesn't matter if they feel like keeping it country. He does sing a few commercial-style ballads, but it's the hard-edged honkytonk songs on here that are the great ones, packed with dopey lyrics about lost love and lost nights, drinking in bars and howling at the stars. Highlights include "One Fool On A Stool," "Whiskey Kind Of Way" and "Back In Your Arms..." When he lets go of the Texas shuffle backbeat, Jones also loses focus, and the second half of this album drifts into Clint Black-ish material that isn't as entertaining or as vital, but on the whole, this is a damn fine album, with several songs on it that I'd be proud to play on the air. Worth checking out!
---

Real Hick Music -- The Letter "K"


---