<! cd = 03/25/13 > <! MP3 05/15/13 > <! outside 00/00/00 > <! pix 00/00/00 > <! 208-pix: 00/00/00 > <! styles Top 40, Real Hicks, Gospel/Xmas > <! UPDATES: 05/15/13 - posted - need to review first album; gospel set scheduled for 07/13 >
---
Joey + Rory is the husband-wife duo of Joey Martin Feek and Rory Lee Feek became country stars after winning CMT's Can You Duet talent contest, and they really do have a great singing style: Joey sounds a lot like Kelly Willis (one of my faves) while Rory evokes any number of gruff-voiced country old-timers. They show an assured command of several styles of country, particularly sweet, old-style acoustic twang, the sort of roots-based material that was still common in the early '70s, when Porter Wagoner and Dolly Parton were in their heyday. It's great stuff! Here's a quick look at their work...
---
Discography - Albums
---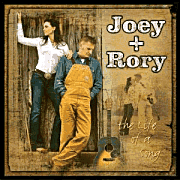 Joey + Rory "The Life Of A Song" (Sugar Hill, 2008)



This was their first album after winning the CMT contest, a nice mix of old and new...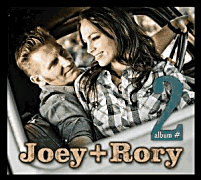 Joey + Rory "Album #2" (Vanguard/Sugar Hill, 2010)



(Produced by Carl Jackson & Keith Stegall)
Fun stuff! These two have a great sense of humor, as heard on this album's title track, which makes light of the pressures placed on new country artists in a mercilessly fickle marketplace. They sing about their newfound fame in a way that doesn't sound at all narcissistic or obnoxious: rather than sing about vacationing in the islands, or how tough touring is, they joke about how silly the world of image consultants and audience polling can be. They sound like real people -- folks you'd actually like to hang out with at a backyard barbecue -- and not big hat-act headliners pretending to be salt of the earth. This theme is reprised on "Farm To Fame," where they still sound remarkably down-to-earth, and other humorous tunes keep the album humming along, as well as some sweet heartsongs and gospel-oriented numbers that anchor the album in traditional values without seeming preachy or judgmental (the most overtly religious song, "Where Jesus Is," is actually partly a repudiation of the holier-than-thou crowd, kind of a bold stand for a contemporary country act to take... ) So, kudos to this amazing duo, for following their hearts and making such good music with such intelligent, entertaining lyrics. They take full advantage of working with the ever-amazing Carl Jackson, richly traditional but still in touch with the modern scene, acoustic-based but full of punch. This is a really fine record, definitely worth checking out!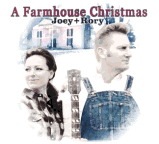 Joey + Rory "A Farmhouse Christmas" (Sugar Hill/Vanguard, 2011)



(Produced by Gary Paczosa & Carl Jackson)
Since they are perhaps the most satisfyingly rootsy, traditionally-oriented, down-home Top 40 country act since Dolly Parton first hit the scene, you might figure Joey + Rory are likely to make one helluva fun holiday album. And you'd be right. This one's a winner, with a couple of oldies and a bunch of great new Christmas songs that'll add a lot to the holiday repertoire. Highlights include their version of "If We Make It Through December" (with composer Merle Haggard on guest vocals), and novelty songs like the mildly-naughty "What The Hell (It's The Holidays)" and "Let It Snow (Somewhere Else)" (which I enjoyed a lot, despite it being one of those modern Nashville let's-vacation-in-the-tropics songs, a genre that always makes me feel a bit left out, since I can't afford to vacation in the tropics...) Also noteworthy is a new song by Garth Brooks, "I Know What Santa's Getting For Christmas," a jaunty pop number in the same spirit as "I Saw Mommy Kissing Santa Claus." If you like hillbilly holiday music or are just a big, old Joey + Rory fan, you're gonna love this album!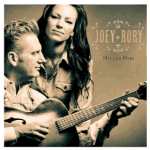 Joey + Rory "His And Hers" (Sugar Hill, 2012)



(Produced by Gary Paczosa)
On their fourth album (counting last year's delightful Christmas record) the down-home, husband-wife duo of Joey Martin Feek and Rory Lee Feek follow a familiar path for rootsy traditionalists who make it into the country mainstream -- they go more mainstream and try and follow current trends so they can keep their feet in the door before it slams shut. It happens all the time, and I can't say I blame them, especially considering how fickle and short-attention-span modern-day Nashville has become. Besides, compared to others who have gone down this road -- Sara Evans, George Strait, Martina McBride, etc. -- Joey + Rory are doing a pretty good job of keeping it real. The songs are a little more formulaic and gimmicky, but the music still has its acoustic roots, the musicianship is top-notch, and their appealing, unpretentious personalities still remind me of all those great old Dolly Parton records. And that's pretty high praise. Definitely worth a spin!
Joey + Rory "Made To Last" (Farmhouse, 2013)


Joey + Rory "Inspired: Songs Of Faith And Family" (Gaither/Spring House, 2013)


---
Links
---
---