<! MP3 04/10/09, 03/27/11 > <! outside 00/00/00 > <! pix 00/00/00 > <! 208-pix: 00/00/00 > <! icons 03/27/11 > <! updates: 04/10/09 - incredible he's still not listed on Amazon! 03/27/11 - found "Finally" on AM, added a review >
---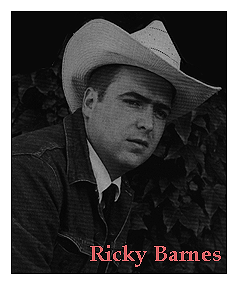 Back in the late '80s, hard country was looking for a hero. Sure, Dwight Yoakam had burst on the scene, picking up where John Anderson left off, as Top 40 radio's token honkytonker. And, yeah, Rodney Crowell popped off a couple of good ones as the decade closed, but still the void beckoned.
Then, out of nowhere (Columbus, Ohio, actually, which is the next best thing...) came High Sheriff Ricky Barnes and the Hoot Owls. Their first album had all the hallmarks of what is now called the "Americana" genre: it was charming but uneven, falling short at times, enthralling at others. The song we all loved and played at my radio station was "In My Dreams," an anti-big boss anthem with a cool freight train guitar riff. What really stood out was the singer's voice: Barnes has the most nasal, most whiny, most country voice to come down the pike since Hank Locklin... Anybody who sings with that much twang has to have something on the ball. And with each record he put out, he just got better...
So why didn't Ricky Barnes get completely famous?? Why isn't he mudwrestling with Shania Twain on the Grammys? I guess it's all in the timing. It's hard to realize now, but back in '88 and '89, when the first Hoot Owls albums came out, there really wasn't much going on in the way of "alternative country"... you'd be lucky to hear the Knitters or Dave Alvin on your local college station, and indie rock was just beginning its big Nirvana/Green Day crash-and-burn, so no one had even thought of starting a country trend. You could see the writing on the wall for Ricky: he was one of those folks who would make a few brilliant records, but never get his propers. In the mid-1990s, when the "Americana" trend started becoming a big deal in college and community radio, I always wanted to shake the whole scene by its shoulders and shout, "Hey! What about this guy?!? He was there first!!"
Fortunately, the No Depression crowd might be catching up to Ricky Barnes. His old label, Okra, still has his albums in stock, and recently Russ Tolman's Innerstate Music reissued the fabulous Okra All-Stars CD, which features Barnes along with indiepop vet, Dave Schramm. The All-Stars album delivers the goods - though right now my most sincere wish is for someone to drag Ricky back into the studio and get him to make another great album... Until then, here's what he's got on wax...
---
Discography
---
High Sheriff Ricky Barnes & The Hoot Owls "Lost Track Of Time" (OKra, 1988)
A strong opening salvo, especially considering that most of the tracks were originally recorded in 1982... more evidence of how far ahead of the retro curve Ricky was! With a slightly Ray Campi-esque acousto-billy backbeat, but clearly in the country camp, Ricky was definitely a voice in the wilderness, alt-country before alt-country was cool... This album features Barnes' anti-boss anthem, "In My Dreams," as well as several Dallas Frazier songs, and a tasty old Jimmie Skinner tune. Radiates jes' plain regular guy charm... well worth checking out!
High Sheriff Ricky Barnes & The Hoot Owls "Bone Country" (OKra, 1990) (LP)


Slightly less successful than his first album, this record is appealing, but lacks ooompf, mostly due to its flat, untextured production. Great song selection, of course, including an Ira Louvin novelty number ("Who Throw Dat Rock?"), and all of Barnes' usual hard country touchstones: George Jones, Merle Haggard, etc. Not Ricky's best record, but it holds up okay.
Ricky Barnes & The Hoot Owls "Ya Finally Said Something Good" (OKra, 1991)


Ricky's masterpiece. The picking and singing is much more solid than on his first albums, and Ricky's timing and drawl are both dead on target. Features not one, but two, Louvin Brothers-related cover tunes, including "Once A Day" (an early solo hit for Charlie) and an awesome version of "I Take The Chance," where (dare I say it?) Ricky outdoes even the Louvins! There are also two great originals, the snarky breakup song, "How's Your City Life Now?" and "Baby You Can't Know," perhaps one of the best tunes ever written about going postal. Special surprise guest: backup vocals by indierocker Marcy Mays, of Scrawl. Man, I dig this album!

OKra All-Stars "The OKra All-Stars" (OKra, 1994/Innerstate, 1998)



Another gorgeous album! Ricky Barnes, Dave Schramm, Hank McCoy and Jeb Loy Nichols cook up one of the warmest, most listenable alt-country albums ever made... Plenty of great cover versions such as Buck Owens' "I Wouldn't Live In New York City," John Anderson's "Wild and Blue," Merle's "Shade Tree Fix-It Man," and Prince's "Purple Rain" (beating the Derailers out by about six years!). Of course, it wouldn't be a Ricky Barnes masterpiece without at least one Louvin Brothers song, in this case a sweet, sweet version of "Don't Laugh." Several other highlights here, especially the mega-bummer "Big Mistake," "Falling Fast," and "Let's Build A Bridge", which has one of those charmingly intricate, old-timey music box melodies of the sort that the Carter Family specialized in. HIGHLY RECOMMENDED. And kudos to Innerstate Records for having the good taste to reissue this oldie but goodie!
Ricky Barnes & The Hoot Owls "Welcome To Hilltop, USA" (OKra, 1994)
A straightforward, steady album with several highlights. The catchiest track is "Labrador Retreiver," a clever zoological update on the "Never See Maggie Alone" chaperone songs of the '50s... Ricky's take on Merle's "Pride In What I Am" is so fresh sounding you'd almost be surprised to find out it's a cover tune, though his banjo-led version of "From A Distance" is pretty goofy. Plenty of other great stuff on here, including Jeb Loy Nichols' Elvis tribute, "Aloha From Heaven," and a sublime gospel version of "Every Humble Knee." Billy Hill, Dave Schramm and John Evans all chip in on this one.
---