<! cd = 11/24/10 > <! MP3 11/24/10 > <! outside 11/24/10 - WP > <! pix 11/24/10 > <! 208-pix: 00/00/00 > <! icons 11/24/10 > <! UPDATES: 11/24/10 04/07/13 - some LP ASINs, review of "Country Songs" album >
---
A popular songwriter of the late 1950s and early '60s, John D. Loudermilk (1934-2016) wasn't really that electrifying as a performer, although he recorded several low-key albums and singles for RCA in the '60s. Early in his career, he deeply mined the post-rockabilly, Kennedy era teenpop genre, with songs like "A Rose And A Baby Ruth," a big hit for George Hamilton IV, back in '56. Some of his other hits include "Paper Tiger" (recorded by Sue Thompson), "Break My Mind," "Road Hog," "Tobacco Road," "Talk Back Trembling Lips," "Waterloo," and one of my favorites, "Let's Think About Living" (a kooky tune recorded by Bob Luman) Loudermilk was successful in both the Pop and Country worlds, and a fair number of Nashville artists recorded his work. (By the way, he was a close relative of The Louvin Brothers, too... A cousin, I think...) Showbiz being what it is, Loudermilk's star gradually sank, but he wrote plenty of winners and recorded some interesting records himself over the years... Here's a quick look at his work.
---
Discography - Best-Ofs
---

John D. Loudermilk "The Open Mind Of John D. Loudermilk" (RCA/Raven, 1969/2006)



John D. Loudermilk "Blue Train" (Bear Family, 1989)


A good, representative set of early recordings, one of several collections out on Bear Family... Although various Nashville artists took his songs into the charts, Loudermilk's own versions can sound tepid and folk-oriented, lacking the brisk bounce of his Brill Building competitors. His albums also included a fair number of subpar tunes, and sometimes feel like extended demo tapes, rather than full-fledged pop records. There are some cute tunes on here, and a few goofy '50s/'60s time capsules like "He's Just A Scientist" and the theme to the "Dr. Casey" TV show, as well as verifiable hits like "Road Hog" and "Blue Train," which became rock'n'roll standards. But on the whole, this seems like a for-fans-only kinda collection, not much vigor to attract the casual listener. Then again, maybe I'm just being too crabby -- you'll have to judge for yourself.

John D. Loudermilk "It's My Time" (Bear Family, 1990)


John D. Loudermilk "Sittin' In The Balcony" (Bear Family, 1995)


John D. Loudermilk "Sittin' In The Balcony: The Songs Of John D. Loudermilk" (Jasmine, 2012)


Songwriter John D. Loudermilk excelled at both pop and country tunesmithing, penning many of the most charming hits of the pre-Beatles pop era. This 2-CD set features one disc of Loudermilk's own recordings from 1957-61, paired with a second CD of his songs recorded by stars of the era such as Johnny Cash, Eddie Cochran, the Everly Brothers, Brenda Lee, Ricky Nelson and others. Pretty tasty!
---
Discography - Albums
---
John D. Loudermilk "Language Of Love" (Collectables, 1962/2000)

John D. Loudermilk "Twelve Sides Of John D. Loudermilk" (RCA, 1962) (LP)

John D. Loudermilk "Sings A Bizarre Collection Of The Most Unusual Songs" (RCA, 1966) (LP)

John D. Loudermilk "Suburban Attitudes In Country Verse" (RCA, 1967)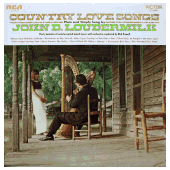 John D. Loudermilk "Country Love Songs Plain And Simply Sung" (RCA, 1968) (LP)


(Produced by Chet Atkins & Bob Ferguson)
He's posed with with a classical harp on his lap, serenading some dreamy dream girl, and you might think it's an ironic image, but actually when you dip into this orchestral-pop-meets- Nashville outing, the harp is really there in the arrangements... So, no, it wasn't ironic. Loudermilk croons in '60s-era lush pop style on this one -- on some tracks he demonstrates a fine, rich voice, on others he's too reserved and comes off a bit weak. Not really my style of music, but certainly worth checking out if you're a devoted Loudermilk fan. After a while, though, this takes on the same sort of heavy-handed tone as those old Ken Nordine albums... So make of that what you will. Fans of "lounge music" might enjoy this one.
John D. Loudermilk "The Open Mind Of John D. Loudermilk" (RCA, 1969)



John D. Loudermilk "Volume One: Elloree" (Warner Brothers, 1971) (LP)


A nice, informal album, in which Loudermilk revisits several of his biggest hits -- "Abilene," "Google Eye," "Tobacco Road" -- in a stripped-down acoustic setting. Loudermilk generally plays solo on this one, framing his songs in a simple, jaunty blues-based folkie style; On some songs he is joined by a few other musicians, notably Norman Blake, who adds some fine, restrained dobro and mandolin work. In some ways it's tempting to dismiss this album as a relic; even at the time -- in 1971 -- the mild folkie social critiques of songs like "Cherokee Reservation Lament" and "The Habit," or the anti-consumerism of "The Joneses" must have seemed a little dated. But, hey, if Loudermilk wanted to make up for lost time, having spent the early '60s folk revival safely ensconced in the arms of nashville... Well, what the heck. More power to him! Actually, this has a pleasantly intimate, personal feel to it. Maybe it's not as hummable as his full-blown pop tunes. Worth tracking down and checking out.
John D. Loudermilk "Volume Two: Just Passing Through" (MIM, 1979) (LP)

---
Related Records
---
Jana Louise "A Dixie Cup Of Sand" (Dot Records, 1964) (LP)


A pop-vocals album with all songs written by Loudermilk... Though there's mild twang on a guitar solo or two, this is mostly pretty bland '60s pop stuff, something of a throwback to his days as a teenpop hitmaker, but without much punch to the arrangements, or her vocals.
---
Links
---

Wikipedia: John D. Loudermilk


---