<! MP3 05/16/14 > <! outside 00/00/00 > <! pix 00/00/00 > <! 208-pix: 00/00/00 > <! icons 03/28/11 > <! UPDATES: 05/22/14 - updated hyperlinks, ASINs, pix - need to add ALBUMS >
---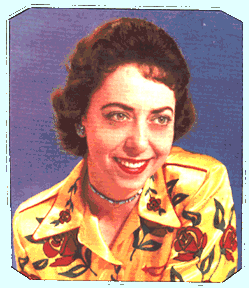 ROSE MADDOX:
The Original Hillbilly Filly!
---
Rose Maddox (1925-1998) and her Oakie brothers were one of the wildest and widely influential hillbilly bands of the 1940s and '50s... Maybe they didn't actually create rockabilly, but they came awful close, clattering and yelping at a breakneck, mile-a-minute pace. West Coast country stars such as Wynn Stewart, Merle Haggard and Buck Owens owed a big debt to the Maddox Brothers and Rose for the infusion of energy and vigor they gave to the California scene. As a solo artist, Rose was an early patron of Buck Owens, and while her troubled personal life may have held her back from her full potential as a hard country superstar, she was still certainly one of the most powerful (and endearing) country singers ever.
Plus, she and her brothers were major fashion trendsetters. They were among the earliest clients of the famous Hollywood tailor, Nudie Cohen. Through countless performances in roadside honkytonks and nationwide appearances, they helped popularize Cohen's glitzy, garishly bedecked "Nudie suits." When the Maddox family first appeared on the Grand Ole Opry back in the late '40s, folks made fun of their elaborately sequined and embroidered outfits, but within a decade everyone in Music City would have one.
A fine recent biography outlines the contradictions and the pathos of Rose Maddox's life, in which endless years of hard work paid off with considerable success... and considerable unhappiness. The Maddox family were true Dustbowl refugees, but unlike thousands of other Oklahomans who migrated to the West Coast, they were able to rise above crushing poverty, using their music to pull themselves up into fame and financial security. (For the full story, check out Johnny Whitesides' "Ramblin' Rose," which is described more fully in my book review section. As a solo artist, and as part of the family act, Rose Maddox left behind nearly five decades worth of recordings, which are well worth checking out.
---
Discography
---

<! http://countrydiscography.blogspot.com/2012/05/rose-maddox.html Maddox Brothers & Rose "Maddox Brothers And Rose" (Four-Star, 1953) Maddox Brothers & Rose "Maddox Brothers And Rose" (Four-Star, 1953) - two different 10" LPs Maddox Brothers & Rose "Hymns" (Four-Star, 1953) Maddox Brothers & Rose "Precious Memories" (Columbia, 1958) Maddox Brothers & Rose "A Collection Of Standard Sacred Country Songs" (King, 1959) Maddox Brothers & Rose "Maddox Brothers And Rose" (King, 1960) Maddox Brothers & Rose "I'll Write Your Name In The Sand" (King, 1961) Maddox Brothers & Rose "Maddox Brothers And Rose" (Wrangler, 1962) Maddox Brothers & Rose "The Maddox Brothers & Rose Go Honky Tonkin!" (Hilltop, 1964) Maddox Brothers & Rose "Rockin' Rollin' Maddox Brothers and Rose" (Bear Family, 1981) (LP) Maddox Brothers & Rose "Family Folks" (Bear Family, 1981) (LP) Rose Maddox "The One Rose" (Capitol, 1960) Rose Maddox "Glorybound Train" (Capitol, 1960) 208: rose_1959_glorybound-train.gif Rose Maddox "A Big Bouquet Of Rose's" (Capitol, 1961) Rose Maddox "...Sings Bluegrass" (Capitol, 1962) Rose Maddox "Alone With You" (Capitol, 1963) Rose Maddox "Rose Maddox's Best" (Columbia-Harmony, 1964) Rose Maddox "Rosie" (Starday, 1970) 208: rose_1970_rosie.jpg Rose Maddox "Sing A Little Song Of Heartache" (Pickwick, 1975) Rose Maddox "Reckless Love And Bold Adventure" (Takoma, 1977) Rose Maddox "An Evening With Maddox Brothers And Rose" (Arc, 1978) Rose Maddox "This Is Rose Maddox" (Arhoolie, 1981) Rose Maddox "A Beautiful Bouquet" (Arhoolie, 1983) Rose Maddox "Queen Of The West" (Varrick, 1983) Rose Maddox "Columbia Historic Edition" (Columbia, 1985) (LP) Rose Maddox "Magnum Force" (Magnum Force, 1989) Rose Maddox "Rose Of The West Coast Country" (Arhoolie, 1990) Maddox Brothers & Rose "A Proper Introduction to the Maddox Brothers And Rose: That'll Learn Ya Durn Ya" (Proper, 2004) >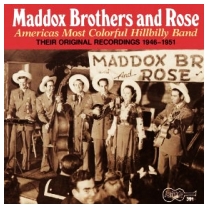 Maddox Brothers & Rose "America's Most Colorful Hillbilly Band, v.1" (Arhoolie Records, 1976/1993)



Chris Strachwitz and his Arhoolie label have been tireless promoters of Rose Maddox ever since they reissued these killer early recordings, 'way back in the '70s. And with awesome material like this, why not get all excited?? This first disc covers their earliest commercial recordings, made from 1946-51 for the independent 4-Star label... Rose has most of the vocals, wailing it out on classics such as "Sally Let Your Bangs Hang Down" and their early hit, "Philadephia Lawyer." Her brothers also get to take the lead vocals on a few tracks -- crazy, infectious hillbilly pop!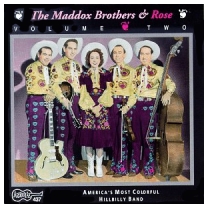 Maddox Brothers & Rose "America's Most Colorful Hillbilly Band, v.2" (Arhoolie, 1995)



Another groovy set of early stuff from the same time period as the first Arhoolie disc... The new CD edition contains about a half-dozen previously unreleased tracks taken from old radio station acetates... and plenty of growling, yelping, rollicking Maddox family action!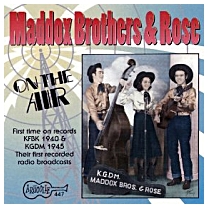 Maddox Brothers & Rose "On The Air" (Arhoolie, 1983/1996)



Early, practically primordial, Maddox recordings, taken from transcriptions of radio shows they did for stations in Stockton and Sacramento, California 'way back in 1940 and '45. The earliest recordings come several years before they had an actual record contract... In addition to the snappy in-between song patter (brother Fred's specialty), we also get the rare treat of hearing the teenage Rose's distinctly thin, youthful voice. A lot of this is closer in style to old Patsy Montana records than it is to their ripsnorting hillbilly boogie of the 'Fifties... a fascinating look at their musical roots... and darned fun, too!
Maddox Brothers & Rose "Live On The Radio" (Arhoolie, 1996)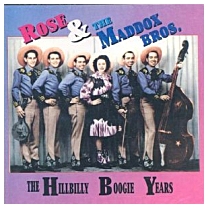 Maddox Brothers & Rose "The Hillbilly Boogie Years" (Rockateer, 1996)


A bootleg reissue, presumably from a European source. Awesome music, nonetheless -- some of the Maddox's finest recordings made on the Columbia label from 1952-1957, complete with plenty of sideways references to the upstart rock & music which they helped inspire. This is a fuller, more accomplished sound than on their earlier 4-Star recordings, though they could still sound as raw as they wanted to at the drop of a hat. This disc may not be that easy to find, but if you can't spring for the megalithic Bear Family box set that covers this same period, then this would be the way to go.
Maddox Brothers & Rose "When The Sun Goes Down" (BACM, 2005)





<! CD D 189 Tramp On The Street/ Flowers From The Master's Bouquet/ Hasty Baby/ When The Sun Goes Down/ Wedding Blues/ Sweet Little You/ Gonna Lay My Burden Down/ I'd Rather Die Young/ Cowboy Bugle Boy/ Rosalie By The Rio/ The Nightingale Song/ Waltz Of The Pines/ Old Pal Of Yesterdays/ I'll Still Write Your Name In The Sand/ Unclouded Day/ I'll Be No Stranger There/ Hummingbird/ I'd Rather Have Jesus/ In A Land Where We Never Grow Old/ Baby You Should Live So Long/ There's No Right Way To Do Me Wrong/ Just When I Needed You/ Don't Let Your Sweet Love Die/ Bring It On Down To My House Honey >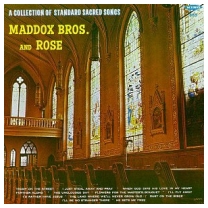 Maddox Brothers & Rose "A Collection Of Standard Sacred Songs" (King, 1956)



Gospel recordings from the 1950s... great stuff! Although the Maddox family lived a pretty raucous life on the road, you can really feel their connection to the old-fashioned bed-rock morality embedded in these tunes... Plus, what a great way to get The Word flung at 'cha... Certainly more fun than a passel of Sunday sermons!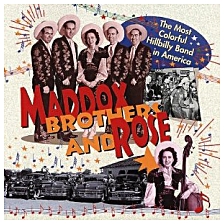 Maddox Brothers & Rose "The Most Colorful Hillbilly Band In America" (Bear Family, 1998)


A 4-CD Bear Family box set of all their best stuff? With all the groovy liner notes and archival artwork? Yummy. For those of us on more modest budgets, the Arhoolie albums will cover most of these bases, but if you hit oil on your Oklahoma homestead, go for it! This has gotta be great.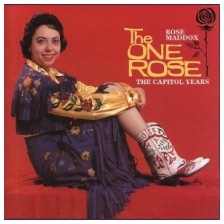 Rose Maddox "The One Rose: The Capitol Years" (Bear Family, 1994)


The definitive collection of Rose's solo work on the Capitol label, this 4-CD set profiles her commercial country work during the late 1950s and early '60s. Although there were some hard feelings about her splitting off as a solo act, a couple of her brothers followed her into the studio to provide guitar accompaniment on most of her early sessions. They were a little rough around the edges, as was she, and the transition from their original rowdy proto-billy sound into a more demure Nashville style was a little on the rough side. The guitars are a little too noodly, a lot of notes but little in the way of a strongly defined melodic arc, and while Rose is still a magnetic presence, she sounds a little stiff, overall. It took her a while to settle into the right groove, and even then, she was best on uptempo numbers, including some rockabilly-ish numbers, and on rhythm-heavy gospel numbers. Harnessed into the Nashville studio system, Rose Maddox sounded a bit like a less-shrill Kitty Wells, a sharply rural singer with kind of choppy phrasing. She never really burned up the charts, and these slower-paced tunes don't have the same sizzle as the Maddox Brothers & Rose records did, but there's still plenty of fun stuff for true country fans to sink their teeth into. Highlights include a full bluegrass album cut with Bill Monroe and his band, a few duets made with a young, up-and-coming fellow West Coaster, Buck Owens, and a series of heartfelt gospel numbers recorded in early 1960, when she'd finally found her footing in the studio. There are many imperfect stylistic experiments, stabs at appropriating Patsy Cline's sophistication, or jumping on the "historical song" fad with a cover version of "North To Alaska," for example. But Maddox fans will still want to check his one out -- it's nice to track her progress onto the Music City radar, and then off again, as Nashville moved steadily away from its rural roots. Nice also to track the emergence of the Bakersfield sound, and the way it crept into the chartbound material of one of the style's great innovators -- Disc Four has a distinctly West Coast sound to it, particularly with a renewed spate of Buck Owens duets. Nice, informative booklet, as well, with plenty of cool pix of Rose and the boys.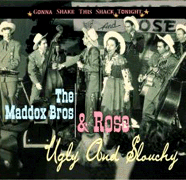 The Maddox Brothers & Rose "Ugly And Slouchy" (Bear Family, 2006)


If you want to check out Rose Maddox and her brothers back in their glory years, this is an awesome collection from the folks at Bear Family. I'm probably not gonna pick it up, since I already have the old Arhoolie albums, but if you want to hear some of the rollicking roots of rockabilly music, check this out... It's rowdy and fun as all hell... A single-CD, thirty song best-of that introduces hillbilly music at its finest. They don't make records like these anymore!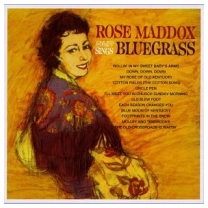 Rose Maddox "Rose Maddox Sings Bluegrass" (Capitol, 1962)


Even though his name didn't show up on the original credits, Bill Monroe was the leader of the band on these solid sessions, and the band (which also included Reno & Smiley along with Tommy Jackson) sizzles! Rose was never exactly an old-timey musician, but she fits right in with Monroe's style, even sounding a bit Loretta Lynn-like at times. A great mix of classic secular and gospel material, and far more vigorous than most folk-era Nashville efforts to do "bluegrass" albums with country singers. The best part is that Capitol reissued this album on CD as part of John Jonson's excellent reissue series of the mid-1990s, so it should be readily available.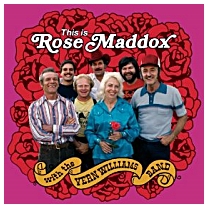 Rose Maddox & The Vern Williams Band "This Is Rose Maddox" (Arhoolie, 1980/2007)



In the early 1980s Rose Maddox, a founding member of the West Coast country scene, an artist who in the 'Forties had pioneered the rollicking riotousness of rockabilly and helped define the bouncy, buoyant sound of California country, was still plugging away and playing local gigs up and down the state... After many years away from the studio she teamed up with the highly regarded Vern Williams bluegrass band for a couple of records that put her back on the map. This first album, a mostly-secular set packed with golden oldies such as "Dark As A Dungeon," "Ashes Of Love," "Silver Threads And Golden Needles" and "Single Girl," is a real doozy. The picking is fine but it's the authority and conviction with which Maddox sings that really makes this set hum. She is a masterful stylist, bringing each song to life so that listeners are completely drawn it. She had a great set of pipes, too -- a powerful performer in her fifth decade of country musicmaking. For some bluegrass fans -- and folks who dig her crazy-sounding old stuff -- this may be a bit low-key, but others will be entranced. Definitely worth checking out.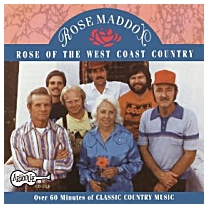 Rose Maddox "Rose Of The West Coast Country" (Arhoolie, 1980)



A strong, bluegrass-y set, with backing from California's great Vern Williams and his band.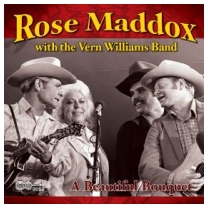 Rose Maddox & The Vern Williams Band "A Beautiful Bouquet" (Arhoolie, 1983/2007)



A welcome reissue of this early-'80s bluegrass gospel album, pairing hillbilly legend Rose Maddox with the Vern Williams band, one of the finest regional bluegrass bands on the West Coast. At the time, Maddox was no spring chicken, but she was still touring and gigging regularly, and she still sang with authority, warmth and plainspoken, homespun emotional power. It's a very soulful set, with every song ringing true. If you like your bluegrass simple and sincere, with heartfelt harmonies and no-frills picking, then this disc is for you. It's a gem.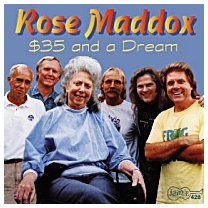 Rose Maddox "$35 And A Dream" (Arhoolie, 1994)






<! 208 x 208 uploaded 5/14 >
Rose Maddox & John Jorgenson "The Moon Is Rising" (Country-Town Music, 1996)

---
Links
---
Arhoolie Records was way ahead of the pack in reissuing the The Maddox Brothers and Rose legendary back catalog, and arguably still have the best Rose records available. The discs listed above are all killer material.
Wikipedia: Rose Maddox
The Rockabilly Hall of Fame website
<! "http://classifieds.bakersfield.com/FP/baksound/alive.htm" The Bakersfield Sound site is very cool -- it's set up as a tutorial on West Coast country and the so-called "Bakersfield Sound" popularized by Rose Maddox, Wynn Stewart, Buck Owens, and others. Features somewhat telegraphic bios, as well as audio links to examples of their music, and includes several rather obscure artists, as well as the biggies. VANISHED. :-/ >

---