<! MP3 04/05/09, 09/12/10 > <! outside 00/00/00 > <! pix 00/00/00 > <! 208-pix: 00/00/00 > <! icons 03/14/11 > <! UPDATES: 04/05/09 08/19/14 - added new album, updated links - maybe a separate Blasters page is needed? >
---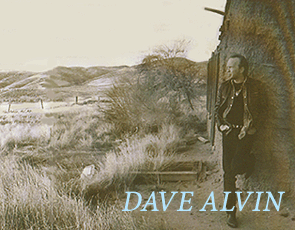 After playing in the legendarily rowdy and revered 80's LA roots-rock band, the Blasters, Dave Alvin refashioned himself into a bracingly solid singer-songwriter, whose acoustic material is moody, evocative, and unnervingly mature. With one or two verifiable masterpieces under his belt, Alvin has quietly elevated himself into the upper strata of the "Americana" scene. Here's a quick peek at his work, with more comments (and hopefully more albums!) to come...
---
Discography - Best-Ofs
---
Dave Alvin "Every Night About This Time" (Demon, 1992)

Dave Alvin "Best Of The HighTone Years" (Shout Factory, 2008)


---
Discography - Albums
---

Dave Alvin "Romeo's Escape" (Sony/Lucky Dog, 1987)



His first solo album after leaving the Blasters, this has great songwriting, but uneven, somewhat hurried production. Mostly it's raucous, blues-tinged rock, similar to John Haitt's albums, with several Songs About The Working Man, ala Springsteen. But this also has some of his best material, such as his own (post-X) versions of "Fourth Of July" and "Border Radio," along with other tracks, such as "Long White Cadillac" and "Jubilee Train," that came from the old Blaster repertoire. The closest Alvin comes on here to the brooding grace of later albums is a countrified version of "Every Night About This Time," which was also later recorded on the King Of California album (below). On the whole this reads as a songwriter's album on a major label, where the actual hits are expected to be recorded by someone else, but the artiste is being given a chance to strut his stuff for a while. Many of these songs were re-recorded later, presumably when Alvin had more studio time and creative control... Still, if you're looking more more of his rockabilly side, this album could rock your world.

Dave Alvin "Blue Boulevard" (HighTone, 1991)



This one also has an overly manic feel to it -- Alvin seems desperate to emote fully enough to impress us all with his solo grit and grooviness. The only real hint of the self-assured, more reflective side he would later excel at is on "Plastic Rose," one of the few quiet tunes on the album. Otherwise, this is still a Springsteen-y muddle -- fine if you go for the noisy stuff, but not entirely my cup of tea.
Dave Alvin & Sonny Burgess "Tennessee Border" (HighTone, 1992)



Dave Alvin "Museum Of Heart" (HighTone, 1993)



This is where things really start to click for Dave Alvin... He's still playing in a muscular, house-rockin' style, but the delivery is more relaxed, the songs are more subtle and the lyrics are better supported by the overall tone. Even the ubiquitous Dire Straits/Stevie Ray Vaughn-isms don't get in the way that much -- Alvin's own voice is rising out of the morass, and there's plenty of catchy material on here. Recommended!

Dave Alvin "King Of California" (HighTone, 1994)



Here, though, is one of those verifiable masterpieces I mentioned above. A mournfully reflective, mostly acoustic, album which only briefly flirts with house-rockin' blues, this places the emphasis on Alvin's strengths as a songwriter. He quietly revisits a bunch of well-known oldies such as "Fourth Of July" (recorded by X) and "Border Radio", great songs which are narrowly edged out by even greater new material. Highlights include character-driven gems such as "Bus Station," "Every Night About This Time," a strong duet with hillbilly filly Rosie Flores ("Goodbye Again") and the title track. Well, actually, the whole record is pretty awesome -- I did mention it's a masterpiece, didn't I? HIGHLY recommended.
Dave Alvin "Interstate City" (HighTone, 1996)


Dave Alvin "Black Jack David" (HighTone, 1998)



This follows closely in the footsteps of the King of California album, though the arrangements are a little richer and more complex. Very listenable, with solid, evocative songwriting.

Dave Alvin "Public Domain" (HighTone, 2000)



Just as it says, this is an album of old public domain and old-time tunes, as rootsily interpreted by one of the world's finest blues/country/americana stars. It's mellow, but with enough muscle to keep things chugging along; basically this is one big musical romp, an excuse for Alvin and his pals to cut loose and hit a groove, which is sustained through the length of the album. Sure, I'm eager to hear his latest original compositions, but in the meantime you'll get no complaints from me about this one!
Dave Alvin & The Guilty Men "The Great American Music Galaxy" (2000)



A live recording...
Dave Alvin & The Guilty Men "Out In California" (HighTone, 2002)



A live album that shows Dave and his crew can jam and boogie down electric along with the best of them... Along the way the subtle side of his work that I personally prefer seems to get lost... But you rockers out there may still like this one!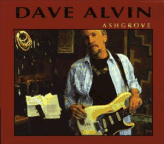 Dave Alvin "Ashgrove" (Yep Rock, 2004)



Hmmm. Well, I dunno. I mean, obviously I'm a huge Dave Alvin fan, but this disc didn't really grab me. For starters, there's way too much house-rockin' blues for me -- just about every other song, which is about 50% more than I wanna hear -- and a lot of the lyrics are pretty forced, and pretty drawn-out. Alvin's knack for crafting the deft melodic twist seems to have taken a little vacation, in favor of a more brooding, more leaden style... Guess maybe he's just pursuing his muse, but it's not a journey I need a ticket for as well... There is one great song on here, though, "The Man In The Bed," a spine-tingling tale of old age and illness, as the narrator recounts the strengths he's lost, and the freedom he yearns for, as time and ailments take their toll. That one is a real keeper.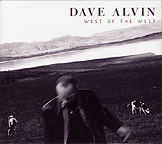 Dave Alvin "West Of The West" (Yep Roc, 2006)



A longtime pillar of the West Coast/California roots music scene, singer-guitarist Dave Alvin pays tribute to the music that nurtured him, covering songs from Golden State artists such as Merle Haggard, Los Lobos, Tom Waits and even the Beach Boys. He gets extra points for mining the upper strata of the coffeehouse folk scene -- songs by artists such as Jim Ringer ("Tramps And Hawkers") and Kate Wolf ("Here In California") that many roots rockers would readily overlook -- and dipping into the '70s wellspring for oldies by John Stewart and Jerry Garcia. The one song I don't like is his cover of Jackson Browne's "Redneck Friend," which in the original version was a jaunty little pseudo-stereotype with an irresistible backbeat... Not sure what the the point of taking the rhythm away was, but playing it as a loungey blues tune definitely doesn't work. "Kern River," "Down On The Riverbed" and "Surfer Girl" more than make up for it, though. It has to be said, there's a certain sameness to all these performances, with everything being taken at a lulling, almost snoozy, midtempo clip... But if you take it in small chunks, this is a pretty classy record. Anyway, hearing what a guy like Alvin would pick as his California canon is a pretty fascinating exercise in popular culture -- if there's one thing he knows, it's his roots.
Dave Alvin "Live from Austin TX" (New West, 2007)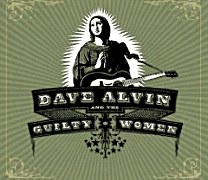 Dave Alvin "...And The Guilty Women" (Yep Roc, 2009)



Echoing his work with his band, the Guilty Men, roots-rock avatar Dave Alvin is backed here by an all-star, all-gal band including several accomplished Americana old-timers, including Cindy Cashdollar, Nina Gerber, Laurie Lewis and several guest players, such as blues pianist Marcia Ball... and the results are pretty groovy! The album has a sad side, to it, though, as the Guilty Men band is, for now, a thing of the past, since Alvin's longtime collaborator Chris Gaffney passed away, prompting Alvin to switch gears and try something new. Still, the intended note of strength and renewal are hard to miss: Alvin is as soulful and moving as ever, and it's nice to see him share the spotlight with these female performers, some of them West Coasters that he's worked with before. Great record, definitely worth checking out.
Dave Alvin "Eleven Eleven" (Yep Roc, 2011)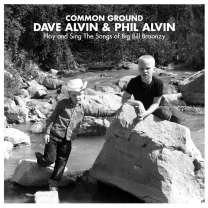 Dave Alvin & Phil Alvin "Common Ground: Dave Alvin & Phil Alvin Play And Sing The Songs Of Big Bill Broonzy" (Yep Roc, 2014)



This is the first album in roughly three decades with the Alvin brothers recording together, long after the famous implosion of their roots-rock band, The Blasters. Here they play a rollicking, mostly-acoustic blues set, celebrating the work of 1930's blues legend Big Bill Broonzy... It's great stuff, perfectly suited to the Alvins' strengths as veteran performers and as the title implies, Broonzy's music is the perfect meeting place for these two famously argumentative siblings... Great to hear them together again as well!
---
Related Records
---

The Blasters "American Music" (Rollin' Rock/HighTone, 1980)



Back in 1980 the Blasters had the retrobilly scene pretty much all to themselves... Not that it would have mattered if they had had much competition -- with a debut like this, they would have knocked pretty much anybody out of the water... A fast, fun bolt of unapologetic, high-power modern rockabilly, with plenty of original Alvin material. The Alvin Brothers may have had serious problems with each other later on, but way back here in the beginning they were firing away on all cylinders. Great stuff - and the HighTone CD reissue even includes some extra stuff that wasn't on the original album!
The Blasters "Blasters" (Slash, 1981)

The Blasters "Over There" (Slash, 1982)

The Blasters "Non Fiction" (Slash, 1983)

The Blasters "Hard Line" (Slash, 1985)

The Blasters "The Blasters Collection" (Slash, 1990)

The Blasters "Testament - The Complete Slash Recordings" (Rhino, 2002)


A hefty 2-CD set that covers all the work the Blasters did for the late, lamented Slash label... and then some. There are plenty of "hits" like "Marie Marie," "American Music" and "Border Radio," along with a slew of rockabilly cover tunes and many songs that Dave Alvin would revisit in his solo career. The second disc also includes a bunch of previously unreleased live tracks... just enough to make diehard Blasters fans run to get this one. Sure, Phil didn't have the greatest voice, but these fellas sure could play!
The Blasters "Trouble Bound: Live 2002" (HighTone, 2002)



You can bet your booty that any fan lucky enough to have skunked their way into these fab reunion concerts was as happy as can be -- before, during and after the shows. This is a great live album, showcasing the Alvin brothers at their full strength. Sounds a lot better than most concert records, with fiery guitars, a powerful rhythm section and none of the sluggishness that often accompanies this type of just-one-more-time get-togethers. If you're a Blasters fan, you won't be disappointed.

The Blasters "Live: Going Home" (Shout Factory, 2004)



A blistering live set, recorded in the Santa Ana, California's Galaxy Theatre, in the band's old Southern California stomping grounds... Phil Alvin spits out his lyrics like he wants to set the mic on fire, while Dave whips through some dazzling guitar licks... These guys may be old geezers, but they sure haven't mellowed out!

The Knitters "Poor Little Critter On The Road" (Slash, 1985)



LA's punk rock Pavarotti, John Doe of X, led the alterna-country charge with this low-key hick music hoedown... It's got its TWS moments, but mostly there's a sincere affection for the music, and with Dave Alvin in tow, it's hard not to have some great musical moments. This is one of the earliest and best explorations of country music to come from the punky side of the street... There's a big contrast to be made between this album and its rowdy cowpunk contemporaries. A lot of folks love this album - me, too, though I'll admit it isn't as earthshaking as we might want to member...
X "See How We Are" (Elektra, 1986)


Various Artists "Border Radio" (Soundtrack) (Enigma, 1987) (LP)

---
Links
---
---