<! cd = 11/06/10 > <! MP3 11/06/10 > <! update 00/00/00 > <! outside 00/00/00 > <! pix 00/00/00 > <! icons 11/06/10 > <! 208-pix: 00/00/00 >
---
The king of the singing cowboys, genial Gene Autry starred in a bazillion silly cowboy movies ("oaters" as they were called, back then) and recorded a bazillion songs, from sentimental favorites to moonlight-on-the-trail western tunes and a few well-placed mega-hits, such as "Rudolph The Red-Nosed Reindeer" and "Back In The Saddle." There's a surprising depth and breadth to his work, though: twangsters who've written Autry off as a cornball Hollywood star might want to dig a little deeper, and find the versatile, savvy country stylist whose music has delighted generations of ardent fans. Here's a quick look at his work...
---
Discography: Albums & Best-Ofs | Tribute Albums
---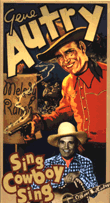 Gene Autry "Sing Cowboy Sing" (Box Set) (Rhino, 1997)


As Gomer Pyle might say, "Suhpraze, suhpraze, suhpraze!!" The singing cowboys -- B-grade movie actors who starred in the so-called "oaters," and took stilted musical cameos with guitar in hand -- get kind of a bum rap in country circles... This 3-CD set might go a long way to correcting all those negative connotations -- each disc on here is chock full of great old material. OK, so the movie cowboys weren't necessarily all that "authentic," but there are far worse things than having all them city slicker Hollywood songwriters feeding you their material. Autry had a warm, calm voice and sweet back-up bands, and he wrapped himself inside these Tin Pan Alley tunes like nobody's business. Totally worth checking out -- highly recommended.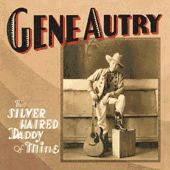 Gene Autry "That Silver Haired Daddy Of Mine" (Bear Family, 2006)


A 9-CD box set covering Autry's early years, including a lot of bluesy, raunchy material from 1928-33, the same kind of naughty-themed "hokum" blues that Jimmie Davis sang around the same era. A lot different from Autry's slicker, more sanitized Hollywood recordings... but fun as well, in a much different way!


<! This isn't your grandfather's Gene Autry, the singing movie cowboy who gained wealth and fame crooning ersatz Western ballads penned by expatriate Tin Pan Alley wannabes and backed by indifferent L.A. union musicians who couldn't get to the nearest watering hole fast enough. The Gene Autry on this set was an Oklahoma country singer straight from the Jimmie Rodgers school, equally at home with blue yodels, Gene Austin-styled ballads and even raunchy numbers that even Cliff Carlisle wouldn't touch. Some of these early Autry records rank among the rarest, most sought-after prewar country 78s, and some Q.R.S. discs and a few alternate ARC masters have never surfaced among collectors' circles. But the rest of Autry's issued 1929-1933 output is all here, along with more than 20 previously unreleased Victor and ARC alternates. Autry was a warmer singer than Rodgers, but his records generally don't offer as much stylistic diversity as his hero's Victors. Most tracks feature just Autry and his guitar, but many benefit from skillful octachorda, harmonica and guitar backing by vaudeville vet Frankie Marvin. Jimmie Long harmonizes on about forty tracks, including their 1932 megahit That Silver-Haired Daddy of Mine, probably the only title here a casual Autry fan might recognize. A celebrated Autry oddity, The Death of Mother Jones, appears in here in two takes. The fidelity is generally excellent though highly variable, considering the rarity of the source material; to its credit, Bear Family did not lop off the top frequencies like B.A.C.M., JSP, ASV and Proper routinely do. Packy Smith's notes offer a concise overview of Autry's pre-Hollywood days. Tip: Play the last two tracks on Disc Nine after the kids are in bed. >

Gene Autry "25 Cowboy Classics: The Western Collection" (Varese Sarabande, 2001)

Gene Autry "Goin' Back To Texas: 25 Texas Classics" (Varese Sarabande, 2001)


Gene Autry "The Cowboy Is A Patriot" (Varese Sarabande, 2002)


A great 2-CD collection of Sgt. Autry's wartime broadcasts, in which he lends the might of his "Melody Ranch" radio program to the tasks of selling bonds, recruiting soldiers and recycling scrap metals and rubber for the homefront mobilization. The first CD skillfully sifts through his wartime broadcasts, gathering choice radio announcements and one cheerful patriotic tune after another. Many of these tunes seem unique to Autry's program -- fine, but rare, examples of wartime propaganda songs. The second disc replys one of his radio shows in its entirety -- similar material, but nice to hear how it was all put together during their live shows. For Autry fans or history buffs, this collection is a doozy!

Gene Autry "Rudolph The Red-Nosed Reindeer (And Other Christmas Classics)" (Sony Legacy, 2003)



How many people today even remember that it was Gene Autry who popularized the novelty song, "Rudolph The Red-Nosed Reindeer," lo, those many years ago, in the winter of '47? Yup -- that's right: Gene Autry, the singing cowboy, the sidesaddle showman extraordinaire... And a guy who knew how to tap into the freckle-faced zeitgeist of postwar kiddies like nobody else... This is a swell collection that gathers together a bunch of Autry's best and holiday offerings made for the Columbia label over a ten-year period in 1947-56. It's magnificently cornball material, and even if house arranger Mitch Miller popped things up a bit, I don't think Gene really minded that much. The toot-toodlin' arrangements might not seem all that "country," but for a nostalgia jolt, this can't be beat!

Gene Autry "The Essential Gene Autry" (Sony Legacy, 2005)



Like many of the old-time singing cowboys, screen star Gene Autry has long been discounted by some country snobs, who see him as too hokey to be part of the classic country canon. Too bad for those folks, though, because Autry's music is both rich in country tradition and musical show-biz savvy. Like Roy Rogers and other hayseed Hollywood harmonizers, Autry dipped liberally into jazz and swing, giving his music a nice little bounce. The songs are delightfully corny and often well-crafted, drawing on the traditions of the Tin Pan Alley composers -- this is music that was made to entertain, and it still works its magic, all these decades later. This is a nice 2-CD set that gathers material from many of the labels Autry recorded for, including Columbia, Okeh, Vocalion and a slew of smaller outfits, and spans his career from 1931, when he was still singing roughneck blues ala Jimmie Rodgers up through the early 1950s, when his success with "Rudolph The Red Nosed Reindeer" had led him to a profitable sideline singing songs for kiddies. This is an excellent collection that really does justice to the wide range of material Autry covered... Highly recommended!
Gene Autry "Hold On Little Dogies, Hold On" (BACM, 2005)





<! CD D 015 IÕm Always Dreaming Of You/ After 21 Years/ Hold On Little Dogies, Hold On/ Beautiful Texas/ Why DonÕt You Come Back To Me/ Answer To Red River Valley/ Cradle Of My Dreams/ Daddy & Home/ When The Golden Leaves Are Falling/ Gosh, I Miss You All The Time/ Lamp Lighting Time In The Valley/ ŌLeven Months In Leavenworth/ Little Old Lady Waiting/ Memories Of That Silver Haired Daddy/ My Carolina Mountain Rose/ Red River Lullaby/ DonÕt Waste Your Years On Me/ That Silver Haired Mother Of Mine/ Someday In Wyoming/ My Cross Eyed Gal >
Gene Autry "We've Come a Long Way Together" (BACM, 2005)





<! CD D 016 WeÕve Come A Long Way Together/ Blue Montana Skies/ There AinÕt No Use In Crying Now/ End Of My Round Up Days/ When IÕm Gone YouÕll Soon Forget/ That Little Kid Sister Of Mine/ You Waited Too Long / Little Pardner/ IÕm Gonna Round Up My Blues/ IÕm Coming Home Darling/ ThereÕs Only One Love In A Lifetime/ Sweethearts Or Strangers/ Angel Song/ I Guess IÕve Been Asleep/ IÕll Be True While YouÕre Gone/ Bible On The Table/ DonÕt Send Me Your Love By Mail/ I DonÕt Belong In Your World/ Sail Along SilvÕry Moon/ You Are The Light Of My Life >
Gene Autry "Rollin' Along: 1947-1952" (BACM, 2005)





<! CD D 037 RollinÕ Along/ They Warned Me About You/ Play Fair/ IÕve Lived A Lifetime For You/ Loaded Pistols And Loaded Dice/ A Broken Promise Means A Broken Heart/ Blue Shadows On The Trail/ I Lost My Little Darling/ Ellie Mae/ Story Book Of Love/ Love Is So MisleadinÕ/ When The Silver Colorado Turns To Gold/ Last Straw/ Roses/ Gold Can Buy Anything But Love/ Mister And Mississippi/ I Love You Because/ Stop Your Gambling/ Old Soldiers Never Die/ Diesel Smoke, Dangerous Curves >
Gene Autry "Goodbye Pinto" (BACM, 2005)





<! CD D 038 A Face I See At Evening/ Old November Moon/ Amapola/ Goodbye Pinto/ Ride Tenderfoot, Ride/ Lone Star Moon/ IÕm A Cowpoke PokinÕ Along/ A Goldmine In Your Heart/ Twilight On The Trail/ Darling How Can You Forget So Soon/ Old Buckaroo Goodbye/ Keep RollinÕ Lazy Longhorns/ When ItÕs Roundup Time In Heaven/ Too Late/ I Want To Be Sure/ I DonÕt Want To Set The World On Fire/ ThereÕs A New Moon Over My Shoulder/ DonÕt Take Your Spite Out On Me/ Merry Go Roundup/ Address Unknown/ Empty Cot In The Bunkhouse Tonight (2) >
Gene Autry "Little Farm Home: 1930-1939" (BACM, 2005)





<! CD D 039 Back Home In The Blue Ridge Mountains/ Empty Cot In The Bunkhouse Tonight (1)/ The Old Grey Mare/ Pictures Of My Mother/ Down A Mountain Trail/ True Blue Bill/ Blue Days/ I Wonder If You Feel The Way I Do/ Little Sir Echo/ Roundup In Cheyenne/ Little Farm Home/ With A Song In My Heart/ ConvictÕs Dream/ Eyes To The Skies/ Under The Apple Tree/ ThatÕs Why IÕm NobodyÕs Darling/ When The Humming Birds Are Humming/ SheÕs Just That Kind/ That Mother And Daddy Of Mine/ ThereÕs A Good Gal In The Mountains >
Gene Autry "Texas Blues: Early Rare Recordings" (BACM, 2005)





<! CD D 111 IÕd Love A Home In The Mountains/ When The Shines On The Mississippi Valley/ By The Stump Of The Old Pine Tree/ Seven More Days/ My Shy Little Blue Bonnet Girl/ Angel Boy/ Alone With My Sorrows/ Your Voice Is Ringing/ Railroad Boomer/ In The Shadow Of The Pine/ Texas Blues/ Mean Mama Blues/ Money AinÕt No Use Anyway/ That Ramshackle Shack/ IÕm A Railroad Man (Waiting On A Weary Train)/ Black Bottom Blues/ Kentucky Lullaby/ The Old Folks Back Home/ That Old Feather Bed On The Farm/ I Hate To Say Goodbye To The Prairie/ RidinÕ All Day >
Gene Autry "A Cowboy's Serenade" (BACM, 2005)





<! CD D 112 > <! Blue Eyed Elaine/ I Just Want You/ ItÕs A Shame We DidnÕt Talk It Over/ IÕll Never Smile Again/ Same Old Fashioned Girl/ Maria Elena/ Sunflower/ Riders In The Sky/ Mule Train/ A CowboyÕs Trademarks/ The Old Rugged Cross (with Dinah Shore)/ Goodnight Irene/ Rose Coloured Memories/ How Long Is Forever/ DonÕt Believe A Word They Say/ Roly Poly/ Closing The Book/ ItÕs My Lazy Day/ When He Grows Tired Of You/ 20-20 Vision And Walking Round Blind/ In The Garden (with Dinah Shore)/ Merry Texas Christmas You All Bonus tracks: In The Valley Of The Moon/ Dear Old Dad Of Mine >

Gene Autry "Private Buckaroo" (Binge Disc/Bronco Buster)





Gene Autry "The Life Of Jimmie Rodgers" (Binge Disc/Bronco Buster)
Groovy old material from back when he was known as "Yodeling Gene Autry"... You know it's gotta be good!




Gene Autry "Hillbilly And Western Rhythm" (Binge Disc/Bronco Buster)



<! CD 9035 >

---
Links
---
---