<! MP3 00/00/00 > <! outside 00/00/00 > <! pix 00/00/00 > <! 208pix 06/16/14 > <! icons 03/01/11, 02/19/13 > <! UPDATES: 06/01/14 - major site revamp to A-Z, w/ new artists, albums, research, pix, etc. > <! Cowboy lore [Hardcover] Jules Verne Allen 0811103587 >
---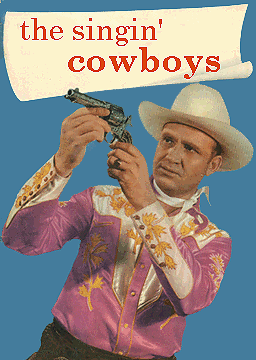 You gotta love old-fashioned "western" music, the singing cowboy stuff, with its sweet, sentimental themes, its love of nature and the great outdoors. There are the "authentic" cowboy songs and poems that were pretty raw, compared to mainstream country music, and then the Hollywood stuff which always seemed so delightfully corny, with its overtones of "sweet" big band music and early Tin Pan Alley pop. And of course there are all the old movies, the corny B-movie "oaters" with big stars like Rex Allen, Gene Autry and Roy Rogers, along with an army of lesser-known cowboy crooners. And let's not forget the gals, either! Here's a look at the legacy of western music, old and new, with reviews and recommendations to make your next cattle drive the best one yet.
---
COWBOYS & COWGALS:
A | B | C | D | E | F | G | H | I | J | K | L | M | N | O | P | Q | R | S | T | U | V | W | X, Y & Z | Compilations | Hick Music Styles

---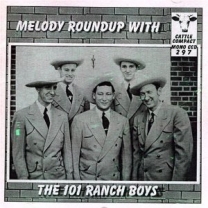 The 101 Ranch Boys "Melody Roundup With The 101 Ranch Boys" (Binge Disc, 2004)


A nice set by a little-known western outfit that originally hailed from Kansas City, Kansas. Led by guitarist George Long, the Ranch Boys plugged away in the 1930s, moving from station to station, and eventually fell into the orbit of Gene Autry (who they backed on tour) and other cowboy singers such as Smiley Burnette and Johnny Bond. They weren't big stars, but their fiddle-and-steel-tinged sound was quite pleasant, with genial vocals to match. A nice set of rare recordings, definitely worth checking out, if you're into the style.




Singin' Sam Agins "Singin' Sam's Saddlebag Of Songs" (Haywire Records, 197--?) (LP)
(Produced by Sam Agins)
Straight-up cowboy music from a fella who grew up in Corona, California, in the hills up above Anaheim. Agins learned country and old-timey tunes from migrant workers who came to the area during the Dust Bowl when he was a kid. Agins devoted himself to cowboy culture, gathering and writing songs that he performed at various gatherings, including a 1971 folk festival in Montreal, Canada that was organized by the Smithsonian Institution. This album appears to have been completely self-produced; it's not clear if some of these songs were Agins originals.


<! - #ARA-6419 >

Jules Verne Allen "Texas Cowboy" (Bear Family, 1975) (LP) <! date? >





<! "...Folk Variety FV 12502, also re-issued by Bear Family BF 15502" >
Jules Verne Allen "The Singing Cowboy -- Complete Recordings: 1928-1929" (BACM, 2009)


One of the more authentic western music singers, Texas-born ranch hand Jules Verne Allen laid claim to be "the original" singing cowboy, and was certainly one of the first celebrities in the field. He recorded only a couple of dozen tracks, notably for the RCA Victor label, and also wrote a book entitled Cowboy Lore, which was a mix of humor, history and philosophizing about the newly-commercialized cowboy lifestyle (and also included a nifty dictionary of cowboy slang). This disc includes all the recordings he made for RCA and the Montgomery Ward label in 1928-29, echoes of a simpler era, to be sure!
Rex Allen -- see artist discography
Rex Allen, Jr. -- see artist discography
Rosalie Allen -- see artist discography
Gene Autry -- see artist discography
---
Western Music >>
Letter "B"
---