<! MP3 00/00/00 > <! outside 00/00/00 > <! pix 00/00/00 > <! icons 03/01/11 > <! UPDATES: 06/30/14 - Month of June: A-Z restructure, with pix to 280, links updated, etc. >
---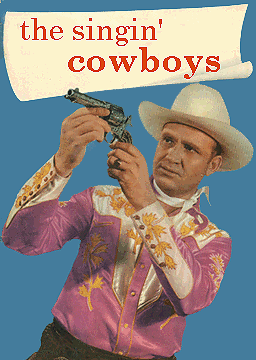 Howdy! This page is part of my guide to "western" music, the legacy of the so-called "singing cowboys." You gotta love this stuff, with its sweet, old-fashioned sentimental themes, its love of nature and the great outdoors. Here's a look at the legacy of western music, old and new, with reviews and recommendations to make your next cattle drive the best one yet. This page covers artists under the letter "P" - please feel free to make recommendations or comments if I've missed someone.
(PS - Don't forget the cowgals, as well!)




---
COWBOYS & COWGALS:
A | B | C | D | E | F | G | H | I | J | K | L | M | N | O | P | Q | R | S | T | U | V | W | X, Y & Z | Compilations | Hick Music Styles

---
Andy Parker & The Plainsmen "Texas Belle" (BACM, 2005)

Fiddling Jack Pierce "...And The Oklahoma Cowboys" (BACM, 2005)







The Prairie Ramblers "Swingin' Down The Orchard Lane" (Binge Disc/Bronco Buster)
Rollicking string band swing from Patsy Montana's back-up band. The Ramblers swung on everything they tackled, from corny cowboy compositions to mildly naughty hokum blues and cute Depression-era novelty songs. A catchy, upbeat outfit with some real hot pickers -- this disc is definitely worth tracking down.


<! Bronco Buster CD 9038 >
The Prairie Ramblers "The Oregon Trail" (BACM, 2005)

The Prairie Ramblers "Back To My Mountain Home" (BACM, 2005)

The Prairie Ramblers "Volume 3: Huckleberry Picnic" (BACM, 2005)

---
Western Music >>
Letter "Q"
---