<! MP3 00/00/00 > <! outside 00/00/00 > <! pix 00/00/00 > <! icons 03/01/11, 02/19/13 > <! UPDATES: 06/30/14 - Month of June: A-Z restructure, with pix to 280, links updated, etc. >
---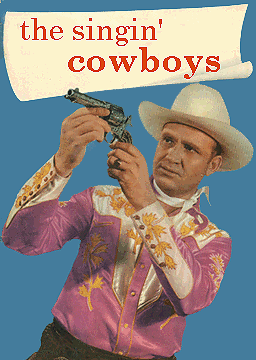 Howdy! This page is part of my guide to "western" music, the legacy of the so-called "singing cowboys." You gotta love this stuff, with its sweet, old-fashioned sentimental themes, its love of nature and the great outdoors. Here's a look at the legacy of western music, old and new, with reviews and recommendations to make your next cattle drive the best one yet. This page covers artists under the letter "D" - please feel free to make recommendations or comments if I've missed someone.
(PS - Don't forget the cowgals, as well!)




---
COWBOYS & COWGALS:
A | B | C | D | E | F | G | H | I | J | K | L | M | N | O | P | Q | R | S | T | U | V | W | X, Y & Z | Compilations | Hick Music Styles

---
Denver Darling "Songs Of The Trail" (Audiolab, 1959) (LP)
Illinois-born Denver Darling was a regional radio star who moved to New York City in the late 1930s, where he was able to find a national audience due to the growth of network broadcasting. He found larger celebrity after the bombing of Pearl Harbor, when -- like many other popular artists -- he recorded a series of patriotic songs, many of which clicked with listeners and became national hits. Darling recorded prolifically during the war and for a few years after, but basically retired from show business in the late 'Forties. Like many musicians of the era, he saw most of his music released as 78 singles, rather than on LP: this album draws on tracks he recorded after WWII, as honkytonk was coming in, and cowboy music was headed out.
Denver Darling "The Illinois Cowboy" (Cowgirlboy, 1992) (LP)


This collection includes plenty of Denver's sentimental, western-themed songs, but perhaps more notable is its hefty dose of patriotic material, songs like "Send This Purple Heart To My Sweetheart," "When Mussolini Laid His Pistol Down," "Mussolini's Letter To Hitler," and its B-side answer song, "Hitler's Reply To Mussolini." Not included here (or on any of the BACM CDs below) is the virulently racist "We're Gonna Have To Slap The Dirty Little Jap (And Uncle Sam's The Guy Who Can Do It)," which may have captured the mood of the time, but doesn't seem to appeal to modern archivists. This LP has a nice mix of topical and romantic material - certainly worth tracking down if you prefer vinyl!


<! Rosalita; When Mussolini Laid His Pistol Down; She Never Said A Word; Modern Cannon Ball; Care Of Uncle Sam; Send This Purple Heart To My Sweetheart; Mussolini's Letter To Hitler; Hitler's Reply To Mussolini; No Thanks; Make Up Your Mind To Make Up With Me; My Little Buckeroo; I Was Dreaming Someone Else's Dream; When I Get To Where I'm Goin'; Easter Sunday On The Prairie; Conversion (Look God I Have Never Spoken To You); The Honey Song (Honey I'm In Love With You) >
Denver Darling "Silver Dew On The Bluegrass Tonight" (BACM, 2005)





<! 1909-1981 > <! "We're Gonna Have To Slap The Dirty Little Jap (And Uncle Sam's The Guy Who Can Do It)" "Cowards Over Pearl Harbor" "Mussolini's Letter To Hitler" b/w "Hitler's Reply To Mussolini" >
Denver Darling "Singing On The Range" (BACM, 2005)

Denver Darling "Volume Three: Cowboy Jack" (BACM, 2005)

Denver Darling "Volume Four: Out In The Great Alone" (BACM, 2009)

Jimmie Davis -- see artist discography
Stu Davis "Canada's Cowboy Troubadour" (BACM, 2005)

Smoky Dawson "Great Australian Singer/Songwriter" (BACM, 2005)





<! The Range In The Western Sky/ I'm A Happy Go Lucky Cowhand/ Texas Lil/ The Old Log Cabin On The Mountain Trail/ The Sound Effects Cowboy/ Will I Meet Old Faithful Up Yonder/ The Old Cockatoorali/ You Left Me And Now I Feel Blue/ The Stockman's Story/ The Cowboy's Roundup Song/ My Little Old Log Cabin/ Yearning For Over The Range/ Riding Down The Dream Trail/ Cob The Corn/ On The Old Singing Trail/ The Kookaburra Yodel/ New Wabash Cannon Ball/ Hills Of The Golden West/ Starlight Rides Again/ The Wild Colonial Boy/ Green Mountains/ Tie Me To Your Apron Strings Again/ On The Murray Valley >
Eddie Dean "The Late And Great Eddie Dean" (Binge Discs, 2000)


Another historically impressive set of Western oldies. This disc features two dozen tracks taken from old Standard Radio transcription discs, circa 1944-45... There are a couple of gems on here -- "Boogie Woogie Cowboy" and the perky, optimistic "Try Smilin'," but the omnipresent West Coast-style chugga-chugging accordion makes this collection a bit monotonous... Perhaps best taken in small doses.
Eddie Dean "The Golden Age Of Eddie Dean" (Binge Discs, 2000)
Fun, rare singles from country crooner Eddie Dean, who's remembered as a "singing cowboy," but who obviously dipped into harder-edged hillbilly and honkytonk material from time to time. A Texan who cut his teeth performing in the Midwest, Dean headed for Hollywood in the late 1930s, and wound up singing with actress Judy Canova, and later with an edition of the fabled Sons Of The Pioneers. Dean wrote a lot of his own material, and had two big hits to hang his hat one. "One Has My Name, The Other Has My Heart" is a marvelous heartsong standard from 1948 -- a few years later, he recorded the original version of "I Dreamed Of A Hillbilly Heaven," a novelty classic that, sadly, is not included on this disc. Still, fans of the sentimental old stuff will enjoy this album... Dean's dusty baritone can get a little corny at times... But this is fine, old-fashioned country, recorded on a variety of independent labels, mostly back in the late '40s... Definitely worth checking out!
Eddie Dean "On The Banks Of The Sunny San Juan" (Soundies, 2000)



Stylistically, these transcription recordings are as close to crooners like Bing Crosby as they are to rougher, tougher country singers. It's mostly pretty corny material; Dean later had a bit more bite to his tunes, with a heavier dose of honkytonk style thrown in on top. Some of the later tracks on here, when he gets deep into the singing cowboy stuff, is pretty sweet.
Eddie Dean "The Very Best Of Eddie Dean: The Shasta Masters" (Varese Sarabande, 2000)


Iffy, or at least mediocre, later recordings made in the 1970s for Jimmy Wakely's independent Shasta label. Kinda perfunctory, but okay for the genre. Dean had a little more gas in his tank at this point than some of the other old-time singing cowboys, so this disc has its moments.
Eddie Dean "1501 Miles of Heaven" (Roots Of Country, 2001)

Eddie Dean "Dusty Old Saddle" (BACM, 2005)

Sheriff Johnny Denis & The Ranchers "Copper Canyon" (BACM, 2005)

Art Dickson "Singin' On The Range" (BACM, 2005)

Tommy Doss "...Of The Sons Of The Pioneers" (Bear Family, 1987) (LP)


(Produced by William E. Wiley)
Solo sessions by an erstwhile member of the Sons Of The Pioneers... Tommy Doss was born in Idaho and grew up in Oregon... He got his first big break in 1948, when western swing legend Bob Wills tapped him to replace estranged lead vocalist Tommy Duncan; Doss left the Texas Playboys after a few months, instead joining the band of Wills' younger brother Luke Wills, out in Los Angeles. His radio performances brought him to the attention of the Sons fiddler, Hugh Farr, who recruited Doss to replace another country legend, lead singer Bob Nolan, who temporarily left The Sons Of The Pioneers in 1949. Doss stayed with the band throughout the 1950s, before he finally quit touring with them in 1963 (although he did infrequently record with them in the studio for several years after that...) These tracks were from sessions Doss recorded in Hollywood, California in May, 1972. The repertoire leans more towards bluesy honkytonk and western swing material, the kind of stuff he picked up working with the Wills brothers, with some West Coast influences as well, including a cover of an old Wynn Stewart hit. With only eleven songs, this is a surprisingly short album for the Bear Family folks, but valuable for Sons fans, nonetheless.


<! (b. 1920) >
The Down Homers "Uncle Noah's Ark" (BACM, 2005)

Slim Dusty "The Dusty Trail Rider" (BACM, 2005)

---
Western Music >>
Letter "E"
---