<! MP3 00/00/00 > <! outside 00/00/00 > <! pix 00/00/00 > <! icons 03/01/11 > <! UPDATES: 02/19/13 - added Tex Ritter page 06/30/14 - Month of June: A-Z restructure, with pix to 280, links updated, etc. >
---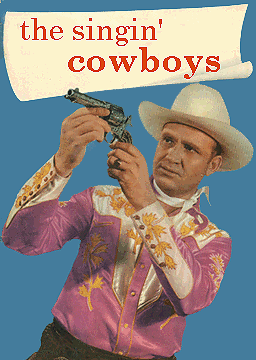 Howdy! This page is part of my guide to "western" music, the legacy of the so-called "singing cowboys." You gotta love this stuff, with its sweet, old-fashioned sentimental themes, its love of nature and the great outdoors. Here's a look at the legacy of western music, old and new, with reviews and recommendations to make your next cattle drive the best one yet. This page covers artists under the letter "R" - please feel free to make recommendations or comments if I've missed someone.
(PS - Don't forget the cowgals, as well!)




---
COWBOYS & COWGALS:
A | B | C | D | E | F | G | H | I | J | K | L | M | N | O | P | Q | R | S | T | U | V | W | X, Y & Z | Compilations | Hick Music Styles

---
The Ranch Boys "Cowboy Harmony" (Binge Disc, 1998)


A delightful set of cowboy tunes from a "western" trio that worked with Gene Autry and Smiley Burnette onstage and in a film or two. Curley Bradley, Ken Carson and Jack Ross met in the early 1930s as members of the popular Beverly Hill Billies, out in Los Angeles, then they formed their own act and left the West Coast for a gig in the Midwest. The Ranch Boys were popular throughout the 'Thirties, recording a couple of albums for Decca Records, and giving the Sons Of The Pioneers a run for their money. Indeed, after the Ranch Boys split up, Ken Carson was offered a spot in a wartime edition of the Sons, and became a fixture in the Roy Rogers crew, and continued recording as a solo artist after the War. This generously programmed disc includesalmost two dozen of their prime recordings, including an album of songs by Western artist Billy Hill, and a few radio transcription recordings. It kicks off with a swinging, jazzy version of "Ragtime Cowboy Joe," and swiftly settles into more standard Western fare, all of it marked by smooth, professional harmonies and sweet vocal phrasing. If you're a fan of singing cowboy music, you'll want to track this one down!
The Ranch Boys "Songs Of The Plains" (BACM, 2005)

Wade Ray "Things I Might Have Been" (BACM, 2005)





<! Heart Of A Clown/ Echo Of Your Voice/ Bill Bailey Won't You Please Come Home/ It's All Your Fault/ Things I Might Have Been/ Call Me Up/ If They Should Ask/ Burned Fingers/ Don't Wait To Baby Your Baby/ That Love Makin' Melody/ Did I Do Wrong/ Let Me Go Devil/ Too Late To/ Saturday Night/ First Last And Always/ Idaho Red/ A Penny For Your Thoughts/ Rosetta/ Letters Have No Arms/ There's No Fool Like A Young Fool/ No Mama No Papa/ Excuse Me/ I Couldn't Be So Happy/ Dipsy Doodle (Instr.)/ Sentimental Journey (instr.)/ Albino Stallion >
Wade Ray "A Ray Of Country Sun" (ABC, 1966)


(Produced by Fred Carter, Jr.)
The first solo album(!) by fiddler-vocalist Wade Ray, a decades-long veteran of the West Coast country scene who had been in Patsy Montana's band, and had regular spots on the variety shows of Rex Allen, Roy Rogers and Ernest Tubb. He's mostly coasting on this one, but there are some interesting moments amid all the too-cool crooning. Willie Nelson wrote the liner notes, and there are two of Willie's lesser-known early songs on here, "Within Your Crowd" and "Any Old Arms Will Do"... He also sings a Fred Carter original, "The Heart Inside Of You," amid the desultory covers of chestnuts such as "Bill Bailey" and "Old Shep." Sadly, none of the fiddling that Ray was famed for is in evidence on this "elegant" set... Oh, well.
Ray Reed "Sings Traditional Frontier And Cowboy Songs" (Folkways Records, 1977) (CD)


(Produced by J. D. Robb)



<! - #FD-5329 "On this 1977 Folkways release, New Mexico cowboy Ray Reed (1917-1998) sings songs about the old West; many of them he learned from his father, and he composed some as well. He had spent some years in California, and his polished style reflects the influence of the 1930's Los Angeles music scene, where he was friendly with some of the Texas Playboys the group backing legendary Texas Swing singer Bob Wills. In 1990, concerned about the passing of traditional cowboy culture, Reed initiated an annual festival in New Mexico, the Lincoln County Cowboy Symposium, that continues today." >
Rusty Richards "American Cowboy" (Young Oak, 1983)



A solo set from singer and rodeo rider Rusty Richards, who performed with the Sons Of The Pioneers from 1963-83, and who worked regional and national rodeo circuits as well as appearing on various TV westerns in the '50s and '60s. He sounds a little long in the tooth here, but the material is pretty strong.
Riders In The Sky - see artist discography
Tex Ritter - see artist discography
Jack Rivers "There's A New Star In Heaven" (BACM, 2006)





<! CD D 150 >
Marty Robbins "Gunfighter Ballads And Trail Songs" (Columbia, 1959)


Marty Robbins "More Gunfighter Ballads And Trail Songs" (Columbia, 1960)

Marty Robbins "Return Of The Gunfighter" (Columbia, 1963) (LP)

Marty Robbins "The Drifter" (Columbia, 1966)


This set of western-themed ditties travels on some pretty familiar territory, hearkening back to Robbins' late-1950s sorta-song hits such as "El Paso" and "Big Iron..." Indeed, on this alum we even get the "origin" story of the temptress in "El Paso," heard here in the 1966 recording of "Feleena (From El Paso)." Mostly, these Spanish-guitar laced tunes seem like uninspired knockoffs, though a couple, like "Fastest Gun Around," have a surprising immediacy. (Note: this album originally came out in 1966, but some of the tracks date back as far as 1960)
Marty Robbins "Under Western Skies" (Bear Family, 1996)


This 4-CD box set gathers a wide swath of Robbins' western material -- it's all here: "El Paso," "Big Iron," and much, much more!
Texas Jim Robertson "Purple Night On The Prairie" (BACM, 2005)





<! CD D 175 If You've Got The Money I've Got The Time/ Lost Deep In The Bottom Of The Sea/ A Pretty Woman Is A Deadly Weapon/ Let Me In/ Birmingham Woman/ Letter I'm Mailing To You/ I'm Gonna Be Long Gone/ Rubber Knuckle Sam/ Moon And The Water And Miz O'Reilly's Daughter/ Purple Night On The Prairie/ Sweet Baby (Come Back To Where You Belong)/ Talk To The Boss In The Sky/ Windy Ben/ You Can't Do Nothin' With A Woman/ There's A Heart In The Heart Of The Rockies/ The Cowboy Isn't Speaking To His Horse/ Don't Angel Me You Little Devil/ My Pony's Hair Turned Grey/ Rodger Young/ Way Down In Texas Where The Bluebonnets Grew/ Bouncin' Along/ Gone Fishin'/ Jaw Jaw Yap Yap Yap/ Memories Of Wedding Bells >
Carson Robison "Home, Sweet Home On The Prairie: 25 Cowboy Classics" (ASV, 1996)

Carson Robison "Blue River Train & Other Cowboy And Country Songs" (Jasmine, 2007)

Carson Robison "Goin Back To Texas" (BACM, 2005)





<! 17 track collection of sides by this popular and prolific performer. These tracks were mostly released on British labels where Carson and his group were very popular. Several of the tracks are two part skits a couple of which include some very obnoxious racial stereotyping. >
Carson Robison "Old Kentucky Cabin" (BACM, 2005)

Carson Robison "Transatlantic Traveller" (BACM, 2005)





<! CD D 104 >
Carson Robison "The Later Years" (BACM, 2005)





<! * 1988 – A Hillbilly Mixture * 1987 – The Kansas Jayhawk * 1981 – Just a Melody * 1958 – Life Gets Tee-Jus, Don't It * Immortal Carson Robison >


Roy Rogers - see artist profile




Roy Rogers Jr. "Just Call Me Dusty" (Vistone, 1982)



<! private pressing > <! he also recorded with his dad >
The Rough Riders "Moon Over The Trail" (BACM, 2005)


A western band featuring Johnny Bond, Scotty Harrell, Dick Reinhart and Jimmy Wakely... talk about an all-star lineup.
---
Western Music >>
Letter "S"
---