<! MP3 00/00/00 > <! outside 00/00/00 > <! pix 00/00/00 > <! icons 03/01/11, 02/19/13 > <! UPDATES: 06/30/14 - Month of June: A-Z restructure, with pix to 280, links updated, etc. > <! Ron Kane & Skip Gorman "Powder River" (Folk-Legacy, 1981) (LP0 with Booklet >
---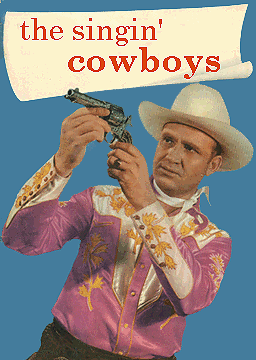 Howdy! This page is part of my guide to "western" music, the legacy of the so-called "singing cowboys." You gotta love this stuff, with its sweet, old-fashioned sentimental themes, its love of nature and the great outdoors. Here's a look at the legacy of western music, old and new, with reviews and recommendations to make your next cattle drive the best one yet. This page covers artists under the letter "K" - please feel free to make recommendations or comments if I've missed someone.
(PS - Don't forget the cowgals, as well!)




---
COWBOYS & COWGALS:
A | B | C | D | E | F | G | H | I | J | K | L | M | N | O | P | Q | R | S | T | U | V | W | X, Y & Z | Compilations | Hick Music Styles

---
Bob King "Songs That Tell A Story" (Bear Family, 1999)


A collection of songs from Canadian cowboy yodeler Bob King, who recorded for RCA's Canadian imprint... It's pretty straightforward, uncomplicated stuff, perhaps best appreciated by fans of singing cowboy music..


<! On the day in 1953 that my idol, Hank Williams died, I was 11- years-old and listening to a country music program on Radio Station CFRA in Ottawa, Ontario, Canada and for the first time, heard Bob King singing his first hit record, "Lauralee". Bob went on to record for RCA Victor for 10 years and had a dozen hits on that label before signing with Rodeo Records of Canada recording at least 10 albums on the label. Prior to his death in 1969, Bob and his wife, Marie arranged with Bear Family Records in Germany to record 60 of his songs from his Rodeo albums on 2 CD's. Unfortunately, RCA Victor, in Montreal, Quebec, Canada, destroyed the Bob King Master Tapes for his RCA Victor recordings, so those recordings are lost forever and these LP albums are now collector items. I became friends with Bob King in my teen years and for awhile was Quebec Representative for his fan club. Bob King sang traditional country and western songs of the 50's and 60's and I know you will treasure both of his Bear Family CD's if you enjoy country music. On this particular album, you will hear 2 complete albums of just Bob and his guitar. These were two of his most popular albums in the U.S.A. and Canada. Bob was a regular Member of the World's Original WWVA Jamboree in Wheeling, WV for awhile but mostly remained in the Ottawa area. Included with this CD and with "Bob King And The Country Kings" CD, is a booklet that covers his entire career. Do buy this CD as it is great and on the other CD is many of his hit recordings. Bob called his band "The Country Kings" and was a part the CFRA Happy Wanderers from 1955 to 1965 and played dates all over Canada and in the eastern USA and had daily radio programs also. Let me know if you enjoy this recording... >
Fred Kirby "That Good Old Utah Trail" (BACM, 2005)





<! CD D 179 > <! Complementing Cattle's earlier Fred Kirby collection, this B.A.C.M anthology focuses on the North Carolina singer's earliest recordings. The six tracks from Kirby's first February 1936 session reveals a pleasant, if undistinguished Jimmie Rodgers clone. Four duets recorded with Bob Phillips the following day are more interesting; Roll On, Roll On could have inspired Woody Guthrie's enduring Columbia River song. A June 1936 yielded more Rodgersesque solos plus duets with Don White and Cliff Carlisle. Another session four months later shows that Kirby evolved into a pleasant, if undistinguished western crooner, backed by the requisite cowboy string band. The disc's most engaging interesting track is a 1937 duet with Cliff Carlisle, Cowboy's Dying Dream. By 1938 Kirby was recording hillbilly fare for Decca, which was pleasant, if . okay, you get the picture. The sound is generally good; Brian Chalker offers brief notes. (DS) >

---
Western Music >>
Letter "L"
---