<! MP3 00/00/00 > <! outside 00/00/00 > <! pix 00/00/00 > <! icons 03/01/11 > <! UPDATES: 06/30/14 - Month of June: A-Z restructure, with pix to 280, links updated, etc. >
---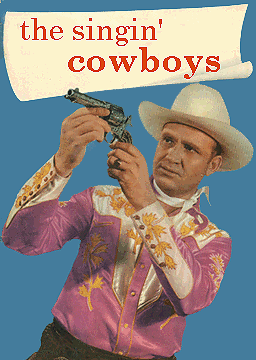 Howdy! This page is part of my guide to "western" music, the legacy of the so-called "singing cowboys." You gotta love this stuff, with its sweet, old-fashioned sentimental themes, its love of nature and the great outdoors. Here's a look at the legacy of western music, old and new, with reviews and recommendations to make your next cattle drive the best one yet. This page covers artists under the letter "N" - please feel free to make recommendations or comments if I've missed someone.
(PS - Don't forget the cowgals, as well!)




---
COWBOYS & COWGALS:
A | B | C | D | E | F | G | H | I | J | K | L | M | N | O | P | Q | R | S | T | U | V | W | X, Y & Z | Compilations | Hick Music Styles

---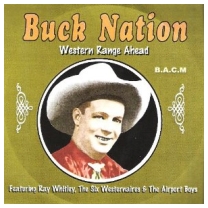 Buck Nation "Western Range Ahead" (BACM, 2005)





<! with Ray Whitley, The Six Westernaires, The Airport Boys and Bud Kelly >
Jimmy Newill "Favourite Cowboy Songs" (BACM, 2005)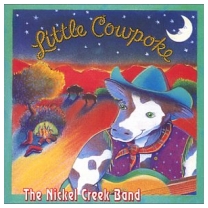 The Nickel Creek Band "Little Cowpoke" (Choo Choo Records, 1993)


The prepubescent origins of the pop-bluegrass phenomenon, Nickel Creek, featuring siblings Sean and Sara Watkins, along with mandolin whiz Chris Thile and his dad Scott Thile, singing cheerful versions of old "singing cowboy" standards from the songbooks of Rex Allen, Gene Autry, Patsy Montana, Roy Rogers and others. The record is both charming and historically fascinating, giving us a chance to hear these child prodigies galloping through cute versions of songs that were markedly different than their future repertoire of introspective, poetical pop songs. It's charming, too, because their voices were still developing, and their tone and harmonies were off -- awwww, they sound like little kids! -- in that adorable talent show way that child performers often embody. The technical end of the instrumental performances is of a much higher calibre, though: man, these kids sure could pick! And it works as entertainment: my kid loved this record, and it gave her old interest in cowboy songs (which started with Marty Robbins) a new lease on life. For contrast, you could also pick up Chris Thile's solo debut, Leading Off, which was released around the same time, which concentrates on his bona fides as a bluegrass instrumentalist.
Bob Nolan "The Sound Of A Pioneer" (Elektra, 1979)


(Produced by Snuff Garrett)
The lone solo album from Bob Nolan, lead singer and longtime leader of the fabled Sons Of The Pioneers. Nolan recorded prolifically over the years, though like many artists of the 1930s and '40s, most of his work came out on 78s rather than LP, a format that was developed after he had already quit show business. Nolan briefly came out of retirement to record this low-key album, revisiting old favorites such as "Cool Water" and "Tumbling Tumbleweeds," as well as a smattering of gospel songs and newer tunes. The following year, he passed away at age 72, with this album his final legacy.
---
Western Music >>
Letter "O"
---