<! MP3 00/00/00 > <! outside 00/00/00 > <! pix 00/00/00 > <! icons 03/01/11 > <! UPDATES: 06/30/14 - Month of June: A-Z restructure, with pix to 280, links updated, etc. > <! Bill Moore & Travis Edmonson "The Liar's Hour" (Latigo Records) (LP) >
---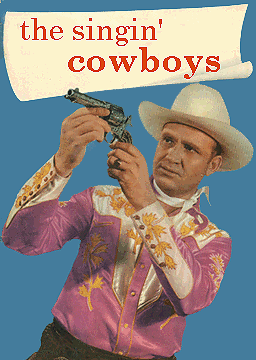 Howdy! This page is part of my guide to "western" music, the legacy of the so-called "singing cowboys." You gotta love this stuff, with its sweet, old-fashioned sentimental themes, its love of nature and the great outdoors. Here's a look at the legacy of western music, old and new, with reviews and recommendations to make your next cattle drive the best one yet. This page covers artists under the letter "M" - please feel free to make recommendations or comments if I've missed someone.
(PS - Don't forget the cowgals, as well!)




---
COWBOYS & COWGALS:
A | B | C | D | E | F | G | H | I | J | K | L | M | N | O | P | Q | R | S | T | U | V | W | X, Y & Z | Compilations | Hick Music Styles

---
Bob Mallin "Sings With His Guitar" (BACM, 2005)


A British country singer from the 1940s, with a western theme to much of his work....


<! CD D 120 >
Dude Martin's Nevada Night Herders "Cowboy's Nightmare" (BACM, 2007)


Early, Depression-era cowboy recordings by a California native who became one of the best-known western singers in the San Francisco Bay Area. Martin later explored more rugged material, but here he's solidly in the ridin'-the-rolling-prairie-under-a-lonely-moon mode. These recordings come from radio transcription discs that were sent out regionally... It's nice stuff, with soulful renditions of staples such as "The Strawberry Roan," etc., although it must be said the band takes everything at pretty much the same tempo, and there isn't much to distinguish one arrangement from the next. Overall, these recordings have a subdued feel, but taken song by song, they're generally all gems. A nice historical document, worth checking out.


<! CD D 194 >
Judy Martin "Straight Shootin' Cowgirl" (BACM, 2004)


Solo recordings from 1940s cowgirl Eva Overstake, who recorded under the stage name Judy Martin. Martin was a sprightly singer who had once been part of a family trio called "The Little Country Girls," along with her two sisters, one of whom grew up to be the famous songwriter, Jenny Lou Carson. Martin's story is tragic: as her own career took off, she met and married country star Red Foley, a marriage that ended horribly when Martin committed suicide after learning that he was having an affair. It's a pity, really, since she was such an appealing singer and could have gone on to make more great music, had the fates allowed.
Judy Martin "...And The Mountain Rangers" (BACM, 2005)


More transcription disc recordings from the M.M. Cole company... Martin didn't record much in the studio, so these radio shows were her prime legacy. Includes some recordings with Red Foley, and more of her sweet, soulful singing.
Judy Martin "...Presents Red Foley And The Mountain Rangers" (Binge Disc/Cattle Records)





<! not sure about this entry - info from Amazon >
Frankie Marvin "The Golden Age Of Frankie Marvin" (Binge Disc, 2000)
Outstanding cowboy material from one of Gene Autry's original running mates. Frankie Marvin and his brother, Johnny, backed Autry up on some of his first recording sessions in the late 1920s -- they went to Hollywood with him and were part of his ensemble throughout the next three decades. This disc collects a couple dozen of Frankie Marvin's best solo recordings, released on a variety of labels, large and small -- it's all very rare material, and all very good. Frankie shared the same Jazz Era, vaudvillean mix of styles as his boss -- jazz, blues, old-timey and cornball western tunes mix in Marvin's repertoire; it's not all just cowboy hokum. From his first, Depression-era 78s to his later post-war material, it's all a delight. Autry fans simply have to check this out -- the uninitiated should give it a try, too: this stuff is just too good to pass up.
Frankie Marvin "Early Recordings By Gene Autry's #1 Sideman" (BACM, 2002)


The Marvin Brothers, Frankie and Johnny, were early pals and benefactors of cowboy idol Gene Autry: when Autry moved from Oklahoma up to New York and into the limelight, the Marvins were already showbiz pros and showed him the ropes. They also helped Autry get work, and wound up playing guitar and steel on his first records, and Frankie Marvin eventually became a key player in Autry's band. Frankie was the steel player, and he developed a style that was both expressive and unobtrusive, with short, deft lines that flavored the music without overshadowing the vocalist. On these early solo recordings, from 1929-32, Marvin is in a bluesy mode, working in the template set down by white blues yodeler Jimmie Rodgers. He also sang sentimental weepers and rowdy novelty numbers, reflecting the broad range of material that was popular in the vaudevillian era that he came up in... It's a fun record, full of confidence, gusto and wit... Great stuff!
Johnny Marvin "I'm The Man Who's Been Forgotten" (BACM, 2005)

Louise Massey And Her Westerners "Swing West" (Binge Disc/Bronco Buster)
Corny cowboy tunes, polkas, and a smattering of western swing from this Depression-era family outfit. This disc has a strong Tin Pan Alley pop feel to it -- western music similar to Bing Crosby's version of "Don't Fence Me In", etc. Louise Massey is certainly one of the forgotten female country music pioneers, though if the truth be told, her vocals are a bit schmaltzy -- her brother Curt is more of a good time than she is. Each sibling solos on a handful of tunes, and there are several instrumental tunes on here as well.
Louise Massey & The Westerners "Ridin' Down That Old Texas Trail" (Binge Disc/Bronco Buster)

Louise Massey & The Westerners "Ridin' High: 1933-1941" (BACM, 2005)





<! CD D 173 >
Liz Masterson & Sean Blackburn "Swingtime Cowgirl And Tune Wranglin' " (Western Serenade, 1995)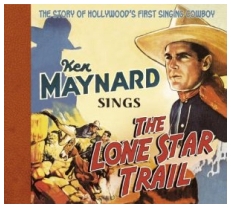 Ken Maynard "Sings The Lone Star Trail" (Bear Family, 2009)


A silent film actor who successfully made the transition into talkies, Ken Maynard appeared in nearly a hundred movies, dating back to 1923. Although he is credited as the movie industry's first "singing cowboy," Maynard only recorded eight songs(!) in his career, all of which are gathered on this CD. Though one of the slimmest Bear Family albums you'll find, musically speaking, this is accompanied by a capacious 80-page booklet which gives a wealth of information about Maynard's career, along with archival photographs and the like.


<! All eight tracks recorded by Ken Maynard - Hollywood's First Singing Cowboy - in his single professional recording session in 1930. CD digipac with an 80-page booklet recounting Maynard's life and times as a musician, Western film star, cowboy, circus rider and Wild West showman. Tracks are: Fannie Moore, The Cowboy's Lament, The Lone Star Trail, Sweet Betsy From Pike, A Prisoner For Life, When The Roundup's Done This Fall, Jesse James, and Home On the Range. >
Janet McBride "Still Loving The Ride" (Brookhurst, 2009)


(Various Producers)
A yodeling cowgal who's been around for decades, Ms. McBride may be a bit elderly now but is still more full of life than a squad of college linebackers... On this new release she mixes classic ballads, country gospel and cowboy tunes... And she still can yodel up a storm! Those of us used to more youthful (or shall we say, less experienced?) performers might need to readjust our ears a little to appreciate this record. But country fans who have followed the careers of Wanda Jackson, Rose Maddox -- or heck, even Ernest Tubb -- will have learned the pleasures of letting an old-timer stretch out and work their way around a song. Speaking of songs, although this disc includes a bunch of golden oldies, some of the strongest numbers are originals penned by Ms. McBride, such as "I Hate To See A Grown Man Lie," "What's Missing" and "Mama (I Got Here As Fast As I Could)," a nice throwback to the sentimental songs of yore. There are several older recordings on here as well, including two bonus tracks from her first recordings session in 1959, where she was backed by none other than Bakersfield legend Wynn Stewart and his band, with steel player Jim Mooney adding some super-sweet licks. This is a nice introduction to a fascinating artist... I'm gonna have to try and track down some of her 'Sixties stuff as well! (Also check out Janet McBride's website for more information.)
Harry McClintock "The Great American Bum" (BACM, 2005)





<! Bruce Douglas "Waddie" Mitchell http://en.wikipedia.org/wiki/Waddie_Mitchell >

Waddie Mitchell "Lone Drifting Rider" (Warner Nashville, 1992)


Waddie Mitchell "Buckaroo Poet" (Warner Nashville, 1993)


Waddie Mitchell & Don Edwards "The Bard And The Balladeer: Live From Cowtown" (Warner Nashville, 1994)


Waddie Mitchell "Live" (Western Jubilee, 1998)



With Norman Blake, Don Edwards, and Rich O'Brien
Waddie Mitchell & Don Edwards "A Prairie Portrait" (Shanachie/Western Jubilee, 2000)



With the Fort Worth Symphony Orchestra...
Waddie Mitchell "That No Quit Attitude" (Dualtone/Western Jubilee, 2002)


Waddie Mitchell "Sweat Equity" (Western Jubilee, 2014)


Katy Moffatt "Cowboy Girl" (Shanachie/Western Jubilee, 2001)


Patsy Montana - see artist discography
Bill Moore & Travis Edmonson "The Liar's Hour" (Latigo Records) (LP)


This album features narration by real-life cowboy Bill Moore and music by Travis Edmonson, a veteran 'Sixties folkie formerly of the Gateway Singers and the popular duo Bud & Travis. They recreate the feel of the round-robin, cock-and-bull song-and-joke sessions of cowboy campfires at roundup time. he album has a particularly Arizonan feel -- Edmonson grew up in Nogales, and several of the songs are from Arizona artists. The humor-filled set includes a lot of obscure selections, along with the title track, an original song written by Edmonson that captures the essence of the campfire ritual. A nice one for fans of the genre!


<! >
Tex Morton "Across The Great Divide" (BACM, 2005)

Michael Martin Murphey - see artist discography
---
Western Music >>
Letter "N"
---