<! MP3 00/00/00 > <! outside 00/00/00 > <! pix 00/00/00 > <! icons 03/01/11, 02/19/13 > <! UPDATES: 06/30/14 - Month of June: A-Z restructure, with pix to 280, links updated, etc. >
---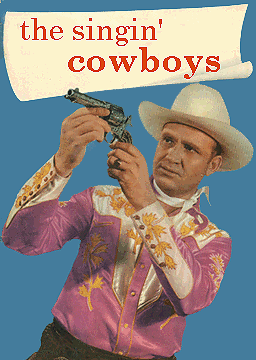 Howdy! This page is part of my guide to "western" music, the legacy of the so-called "singing cowboys." You gotta love this stuff, with its sweet, old-fashioned sentimental themes, its love of nature and the great outdoors. Here's a look at the legacy of western music, old and new, with reviews and recommendations to make your next cattle drive the best one yet. This page covers artists under the letter "B" - please feel free to make recommendations or comments if I've missed someone.
(PS - Don't forget the cowgals, as well!)




---
COWBOYS & COWGALS:
A | B | C | D | E | F | G | H | I | J | K | L | M | N | O | P | Q | R | S | T | U | V | W | X, Y & Z | Compilations | Hick Music Styles

---

<! "The Original Beverly Hillbillies" >

Smilin' Billy Blinkhorn "Bushland Yodel" (Binge Disc/Cattle Records)





<! 18 songs recorded between 1940 and '47 by Canadian singer, yodeler & guitarist who relocated to Australia where these recordings were made. Mostly just vocal and guitar plus a few with a small band - Back To the Old Cariboo/ My Curly Headed Buckaroo/ Hilltop Yodel/ Sunny Queensland/ Blue Mountain Blues/ Can't You Take It Back And Change It For A Boy?/ There's A Hole In The Old Oaken Bucket, etc. >


Johnny Bond - see artist discography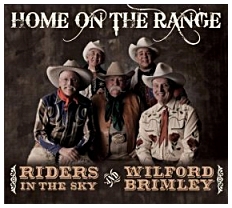 Wilford Brimley & Riders In The Sky "Home On The Range" (Riders Radio, 2013)


Much-mustachioed TV and movie actor Wilford Brimley worked as a ranch hand in his youth, and it was through his work on '60s westerns that he gradually found a career as a character actor, playing a loveable old coot in parts on The Waltons, and in films such as Tender Mercies and Cocoon. Here, he indulges a love of cowboy poetry, backed by the Riders In The Sky band.





Elton Britt - see artist discography


<! Bronco Bob - alt not western >
Hoyt 'Slim' Bryant "...And His Wildcats" (BACM, 2006)


Mellow, jovial cowpoke oldies, heartsongs and sentimental tunes, and swell novleties such as "Nag Oh Nag Oh Nag" and "I'm A Lonely Little Petunia In An Onion Patch..." Bryant was a Southern boy who built up his base in Pittsburgh and became a regional star in and around Pennsylvania, although he never quite cracked into the national market. Nonetheless, he was an influential performer, particularly as a guitarist -- his single-note lead guitar riffs (and accompanying fills during the rest of the song) were said to be a big influence on a young Les Paul, and were a big break from the normal rhythm-oriented role that guitars traditionally held in country music. These radio transcription recordings, made for NBC's Thesaurus imprint, showcase Bryant's guitar playing as well as his warm personality and notably relaxed, relaxing vibe. The sound quality's good, and the musicianship is tops. Definitely worth checking out!


<! CD D 178 Where The Mountains Meet The Sky/ Back To Old Smokey Mountain/ My Little Texas Gal/ Winter Fell On The Range/ Someday You'll Want Me To Want You/ I Ain't Gonna Worry No More/ First Rose/ Tweedle O Twill/ Sioux City Sue/ New San Antonio Rose/ Lone Star Moon/ Answer To Rainbow At Midnight/ Slow Train Through Arkansas/ I'll Never Make The Same Mistake Again/ Oklahoma City/ Got A Gal In A Town Way Out West/ Thunder Storm/ I Hate To See You Go/ Penny Ante Polka (instr.)/ My Saddle My Bronco And You/ That's How Much I Love You/ The Letter I Forgot To Mail/ Nag Oh Nag Oh Nag/ I'm A Lonely Little Petunia In An Onion Patch/ Whistle/ Barnyard Band/ Ten To One/ Train Whistle Boogie/ He Holds The Lantern/ Deep Water/ Walking The Pup (Instr.) >
Hoyt 'Slim' Bryant "...And His Wildcats, v.2" (BACM, 2005)





<! A cowboy-flavored ensemble that evolved from Clayton McMichen's Louisville-based Georgia Wildcats, Slim Bryant and His Wildcats were staples on Pittsburgh radio and television during the '40s and early '50s. Taking its vocal cues from California's close-harmony Western trios, the Wildcats were particularly notable for their hot take-off guitar, fiddle and accordion solos. The group made precious few recordings, but a healthy sampling of its music survived via 16" NBC Radio Thesaurus transcriptions cut around 1946-47. Slim Bryant was - and at age 98, still is - one of the country and jazz guitar's unsung heroes. His leads are smart and dazzling; his fills are a primer in how to accompany a vocalist. Sharp-eared listeners will recognize some familiar licks; Les Paul was a Bryant fan. Of the two instrumentals on this disc, Walking the Pup best showcases Bryant's skill. Fiddler Ken Newton, accordionist Al Azzaro and bassist Loppy Bryant all could swing, as does an unidentified rhythm guitarist. The trio harmonies compare to early Sons of the Pioneers; Newton and Bryant's brother Loppy share vocal leads. Though recommended listening to anyone who appreciates Pee Wee King/ Whippoorwills-styled music, this disc is a must for serious country guitar aficionados. Sound is better than usual for B.A.C.M.; Bryan Chalker penned a brief appreciation. >
Hoyt 'Slim' Bryant "...And His Wildcats, v.3" (BACM, 2005)

The Buckarettes "The Buckarettes" (2001)


Western music of a more contemporary vintage by a trio from New Mexico... Among the tunes about the sagebrush and the prairie moon, this disc features a track called "Hereford Nocturne." Now that's cow music!

The Buckarettes "Snow Angels" (2007)


A western-flavored Christmas-oriented set from these New Mexico cowgals...
The Buckarettes "Cowgirl Serenade" (2009)

---
Western Music >>
Letter "C"
---