<! MP3 00/00/00 > <! outside 00/00/00 > <! pix 00/00/00 > <! icons 03/01/11, 02/19/13 > <! UPDATES: 06/30/14 - Month of June: A-Z restructure, with pix to 280, links updated, etc. >
---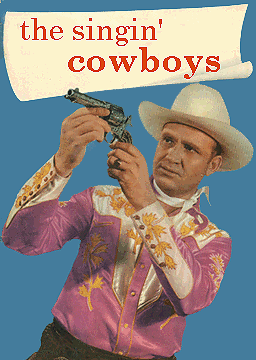 Howdy! This page is part of my guide to "western" music, the legacy of the so-called "singing cowboys." You gotta love this stuff, with its sweet, old-fashioned sentimental themes, its love of nature and the great outdoors. Here's a look at the legacy of western music, old and new, with reviews and recommendations to make your next cattle drive the best one yet. This page covers artists under the letter "H" - please feel free to make recommendations or comments if I've missed someone.
(PS - Don't forget the cowgals, as well!)




---
COWBOYS & COWGALS:
A | B | C | D | E | F | G | H | I | J | K | L | M | N | O | P | Q | R | S | T | U | V | W | X, Y & Z | Compilations | Hick Music Styles

---
Monte Hale "The Full Monte: Complete Recordings" (BACM, 2005)





<! CD D 070 >


Stuart Hamblen - see artist discography



Happy Al "Featuring Al & Hank, The Dakota Ramblers" (BACM, 2005)





<! CD D 196 >


Joni Harms - see artist discography



Eddie Hawkins "Cowboy Memories" (Summit Records)
(Produced by H. Wayne Fox)
I have absolutely no info about this album, except that I saw it at a used book store and thought the novelty album art was funny (it's a picture of the artist -- a big, lanky cowpoke feller -- sittin' nekkid in a tiny tin washbasin, scrub brush in hand...) and I was tempted to pick it up, but thought it was a little too pricey for me, like two bucks or something... Anyway, this fella, not to be confused with the gospel artist Edwin Hawkins, seems to have been a rodeo rider in Colorado and the music is mostly cover tunes, ranging from Hank Williams to other oldies such as "Philadelphia Lawyer" and "Yellow Rose Of Texas." There's one song that might have been an original, "Teardrops In My Heart," but I don't know for sure. I couldn't find any other mention of this guy anywhere else... I'm guessing this came out in the mid-to-late '60s, possibly the early 1970s(?) Anyone out there have anything to add?
Charlie Herald & His Roundup Rangers "Pioneering Canadian Country Group" (BACM, 2005)

Earl Heywood "Canada's No. 1 Singing Cowboy" (BACM, 2005)

The Hill Billies "Trail Of The Lonesome Pine" (BACM, 2005)


The first of several collections documenting the career of this prolific British cowboy outfit...
The Hill Billies "Volume 2: It's Heaven To Me" (BACM, 2005)

The Hill Billies "Volume 3: Ole Faithful" (BACM, 2005)

The Hill Billies "Volume 4: Hilly Billy Band" (BACM, 2005)

The Hill Billies "Volume 5: The Last Of The Hill Billies" (BACM, 2005)





<! CD D 235 >

Van Holyoak "Tioga Jim: Ranchhouse Songs And Recitations" (Rounder, 1981) (LP)





<! *Not only was Van Holyoak a cowboy in Central Arizona's White Mountains for his entire life, his father was also a cowboy in the region his whole life. It doesn't get any more "real-deal" than the cowboy artistry of Holyoak. On this exceptional LP, the man presents raw songs, rhythmic field rants, witty & insightful stories & poems, and highly-unique material that is truly indescribable. >

Horse Sense "Songs Of The Western Soil" (Kicking Mule) (LP)


A stripped-down set of cowboy oldies by the duo of Justin Bishop and John Nielson...


<! is label correct? >
Kenneth Houchins "The Yodeling Drifter" (BACM, 2005)





<! CD D 247 >
Skeeter Hubbert "Give Me A Horse And A Saddle" (BACM, 2005)





<! CD D 218 Give Me A Horse And A Saddle/ Arizona Home/ Come On My Pony/ Corinna/ Rhythm Of The Range/ How I Love Those Saddle Songs/ Open Country/ Oh For The Life Of A Cowboy/ The Strawberry Roan/ I'll Follow The Trail That I Love/ In The Year Of Jubilo/ Stars Of The Western Sky/ Over The Garden Wall/ Susan Jane/ Is It True/ Sing Me A Cowboy Song/ Sing Me A Song Of The Saddle/ Wagon Train/ Golden Portals/ Uncle Noah's Ark/ Song Of The Moving Herd/ I'm Ridin' Saddle For A Dollar A Day/ Buffalo Days/ Nancy Till/ Let Me Ride On The Range >

Walter Hurdt "...And The Singing Cowboys" (BACM, 2008)


An interesting historical footnote from an unusual North Carolina band... Singer-guitarist Walter Hurdt started his recording career in 1937, with a bluesy 78 that showed him among the many hillbilly artists still in the sway of the great Jimmie Rodgers... But while singing solo, there was a cleaner melodic tone that hinted at a more modern approach than Rodgers' highly stylized, chunky backwoods blues. Sure enough, when Hurdt formed his own band, it included several hot pickers who pushed the music into a more improvisational, virtuosic direction. Particularly noteworthy is fiddler Lawrence Wiseman, who had zinged his way through a couple of hot duets ("Fiddle And Guitar Runnin' Wild" and "Playing Around") with guitarist Leroy Johnson, really zippy stuff that owed as much to Eddie Lang and Joe Venuti as to Bob Wills and his crew. Hurdt wrote a bunch of ersatz cowboy tunes, but played 'em with a wild jazz undertone; likewise he and the band played a lot of Delmore Brothers-style hillbilly blues, but they used the formula's simple sound as a platform for soloists to improvise. Sometimes they soared, but just as often they strained against the style's limitations, and occasionally the instrumental fills overshadow the songs themselves. On tunes like "Rhythm In E" and the dazzling "Guitar Rag" the guitar work is amazing for the time; Wiseman's often-impatient fiddling takes over on "Blue Skies Above" and "The Old Gulf Coast," as well as the album's most historic track, "Train Special," which was actually the first commercially released version of the fabled "Orange Blossom Special," a tune that Wiseman learned from its composer. The performances are uneven but forward-thinking, with stabs at the virtuosic sizzle of bluegrass and cow-boogie that would be all the rage a decade or so later. Hurdt and his pals got kinda clunky at times, but they were definitely pushing ahead of the pack.


<! CD D 232 >

---
Western Music >>
Letter "I"
---