<! MP3 02/14/09 > <! outside 00/00/00 > <! pix 00/00/00 > <! icons 03/01/11 > <! UPDATES: 06/30/14 - Month of June: A-Z restructure, with pix to 280, links updated, etc. > <! Various Artists "RIDING WEST" (GNP Crescendo, 1995) v.1, 2 - no ASINs - 06/01/14 Various Artists "The Reno Cowboy Poetry & Music Gathering 2006" (Reno Soroptimist International, 2006) B002IOWX8S >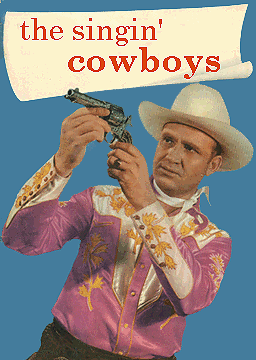 ---
Western Music Collections
---
Howdy! This page is part of my guide to the music of the so-called "singing cowboys..." Here are some of the best collections of western music -- below are links to reviews of records by individual artists. Please feel free to get in touch to offer any corrections or make suggestions about artists that can be included here.
---
COWBOYS & COWGALS:
A | B | C | D | E | F | G | H | I | J | K | L | M | N | O | P | Q | R | S | T | U | V | W | X, Y & Z | Compilations | Hick Music Styles

---
Various Artists "BACK IN THE SADDLE AGAIN: AMERICAN COWBOY SONGS" (New World Records) <! 1977? >

Various Artists "CATTLE CALL: EARLY COWBOY MUSIC AND ITS ROOTS" (Rounder, 1996)


Various Artists "DON'T FENCE ME IN: WESTERN MUSIC'S EARLY GOLDEN ERA" (Rounder, 1996)


Various Artists "STAMPEDE! WESTERN MUSIC'S LATE GOLDEN ERA, 1945-1960" (Rounder, 1996)


Various Artists "SADDLE UP! THE COWBOY RENAISSANCE" (Rounder, 1996)


An excellent series of discs which are broken up into different eras, from the rough-edged Harry McClintock recordings of the 1920s, on into the slick, chrome-plated, plastic-lacquered homage harmonies of the Riders In The Sky in the present day. Well programmed, and musically varied. An excellent starting point if you want to try this cowboy stuff out.
Various Artists "AUTHENTIC COWBOYS AND THEIR WESTERN FOLKSONGS" (RCA Vintage, 1965) (LP)


Raw stuff, a lot of it of with for-real, non-Hollywood, pedigree. Some of these weatherbeaten, dusty old-timers made it in off the cattle drives long enough to sit down in some recording studio and dash off a ditty about a wild horse roping, or treacherous trail drive, etc... Of course, just as many of these Depression-era "Cowboys" were just as tame as their motion picture counterparts -- professional musicians and radio personalities who spent more time in front of a microphone than on top of a cayuse. But if you're looking for some old-school "cowboy" songs, this is one of the best collections ever issued on LP.
Various Artists "BACK IN THE SADDLE AGAIN: AMERICAN COWBOY SONGS" (New World Records) (LP)

Various Artists "BOOTS TOO BIG TO FILL: A TRIBUTE TO GENE AUTRY" (Rainy Day, 2007)


An homage to cowboy king Gene Autry. A lot of top talent on this one, including Marty Stuart, Vince Gill, Jim Lauderdale and Pam Tillis, some Nashville old-timers such as Connie Smith and Glen Campbell and western revivalists like the Riders In The Sky and Ian Tyson, as well as members of the Autry family, Alan and Charlotte Autry... A swell set recorded in honor of Autry's birthday centennial.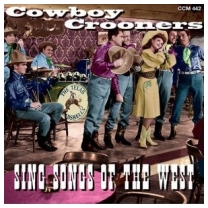 Various Artists "COWBOY CROONERS: SING SONGS OF THE WEST" (Collector's Choice, 2004)


Super-groovy old recordings culled from various 1940s radio performances... It's the cream of the crop of both the "singing cowboys" scene and the western swing crowd, with headliners such as Elton Britt, Tex Ritter, Jimmie Davis, Bob and Johnnie Lee Wills, Eddy Arnold, Dale Evans, Roy Rogers and the ever-fab Sons Of The Pioneers, as well as a few less-well known singers... All of them are in fine form, and this 2-CD set is a delight from start to finish, with pleasantly recognizable big hits and kooky one-off novelty songs (such as "Gonna Build A Big Fence Around Texas," by Cowboy Joe Randall), all of which will bring a smile to your face, and make you hum along. Great fun... highly recommended!
Various Artists "COWBOY SONGS ON FOLKWAYS" (Smithsonian-Folkways, 1991)








Various Artists "IN THE WEST WHERE LIFE IS FREE" (Binge Disc/Buster Bronco)
Western music, with the "cowboy" sound, but not the home on the range subject matter. Features rare Decca singles by stars such as Jimmie Davis and Jimmy Wakely, alongside lesser-known artists such as Tiny Dodson or the Rodik Twins. Spare, sentimental old-time country music.


<! [Bronco Buster CD 9044] >

Various Artists "SILVER SCREEN COWBOYS" (Sony, 1994)





<! This cd is a great little set of tracks I have not seen anywhere else - from Ken Maynards very rough and honest "Home on the Range" showing his lack of singing talent - to Gabby Hayes telling a tall tale, John Wayne speaking about Texas, and Roy reminiscing about the old days with "Hoppy, Gene and Me". If you dont have this disc you need to get it. Just a good, honest, simple sampling of classic silver screen cowboy stuff - some of which you wont find anywhere else. I have a number of other sets - yet this one remains one of my favorites. >

Various Artists "THE WESTERNS: MUSIC AND SONGS FROM CLASSIC WESTERNS" (Jasmine, 2010)





<! Music and Songs from Classic Westerns Music has always had an important role in cinema and here we focus our attention on some of the greatest Western tunes and themes of all time! Featured are some real corkers like the classic themes to 'Jesse James', 'Gunfight at the OK Corral', 'The Man from the Alamo', '3:10 to Yuma', and who can resist the 'Rollin', Rollin, Rollin'' of 'Rawhide!' And by the '50s some themes made it into the popular hit parade. 'The Big Country' and 'Shane' are two examples that are included in this collection. There are some pleasant vocal surprises included in this set with Loretta Young and Robert Mitchum in 'Rachel and the Stranger', Kirk Douglas in 'Man Without a Star' and Burt Lancaster in 'The Kentuckian' to name a few. We ride to the end of this fantastic Western trail with the classic Stagecoach that was adapted from American Folk songs by no fewer than five arrangers. And was filmed in Monument Valley, a favourite location of director John Ford. >

Various Artists "WHEN THE WORK'S ALL DONE THIS FALL" (Montana Folklife Project) (LP) <! 1977? >





<! "...Songs Stories And Poems From Montana Cattle Camps And Cow Trails" - Produced by the Montana Folklife Project, a program of the Montana Arts Council 1979 This is an interesting album that contains songs, stories and poems from Montana Cattle Camps and Cow Trails. It is a little bit of folklore about the old west and cattle trails: a spoken and sung history. It contains these performances: SIDE 1 "When the work's all done this fall" sung by Earsel Bloxham, Florence MT Roundup Memories on the Big Horn written and recited by Joe Hughes, Hamilton MT Git Along LIttle Doggies sung by Lou Schlautman, Miles City MT A quiet night on the Prarie written and recited by Wally McRae, Forsyth MT The Zebra Dunn sung by Ken Trowbridge, Darby MT The Shooting of Dan McGrew written by Rovert Service; recited by Joe Hughes, Hamilton MT The Old Chisholm Trail sung by Lew Ohl, Hamilton MT Home on the Range sung by Ray Grenfell, Cardwell, MT SIDE 2 The Strawberry Roan sung by Val Giessier, Missoula MT Major Stories told by Ken Trowbridge, Darby MT Little Joe, The Wrangler sung by Lou Schlautman, Miles City, MT Reincarnation written and recited by WAlly McRae, Forsyth MT Tying a Knot in the Devil's Tail sung by Earsel Bloxham, Florence MT Dayherding in the Rain written and recited by J.K. Ralston, Billings MT The Cowboy's Dream by Ray Grenfell, Cardwell, MT >

---
Links
---
---
Western Music >>
Artists A-Z
---