<! MP3 00/00/00 > <! outside 00/00/00 > <! pix 00/00/00 > <! icons 03/01/11 > <! UPDATES: 06/30/14 - Month of June: A-Z restructure, with pix to 280, links updated, etc. >
---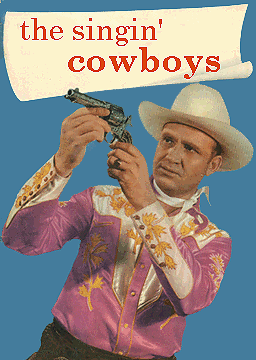 Howdy! This page is part of my guide to "western" music, the legacy of the so-called "singing cowboys." You gotta love this stuff, with its sweet, old-fashioned sentimental themes, its love of nature and the great outdoors. Here's a look at the legacy of western music, old and new, with reviews and recommendations to make your next cattle drive the best one yet. This page covers artists under the letter "Q" - please feel free to make recommendations or comments if I've missed someone.
(PS - Don't forget the cowgals, as well!)




---
COWBOYS & COWGALS:
A | B | C | D | E | F | G | H | I | J | K | L | M | N | O | P | Q | R | S | T | U | V | W | X, Y & Z | Compilations | Hick Music Styles

---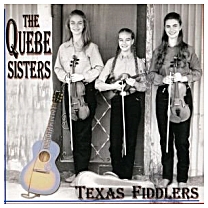 The Quebe Sisters "Texas Fiddlers" (2003)


The Quebe Sisters Band "Timeless" (Fiddletone, 2007)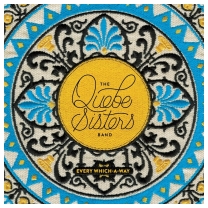 The Quebe Sisters Band "Every Which-A-Way" (Fiddletone, 2014)



(Produced by Joey McKenzie)
A zingy, zippy set of western/swing standards from the Quebes, three sisters from Texas who harmonize around uptempo, fiddle-led arrangements, evoking the classic family-vocals of the Andrews Sisters, the Louvins and the King Sisters. As the title implies, this disc ranges far and wide among various musical styles, with a stronger emphasis on pop and jazz standards such as "How High the Moon" and "It's A Sin To Tell A Lie," along with country oldies like "Cold, Cold Heart" and Hank Thompson's "Green Light," as well as nods to bluegrass music (a nice version of Andy Statman's "Flatbush Waltz") and older mountain music tunes, such as "Wayfaring Stranger," from the Carter Family songbook. The Quebe gals (it's pronounced "kway-bee," by the way) keep a light, airy tone, and this is relentlessly cheerful music, at its best when all three sisters sing together... This is only their third album in over a decade, though hopefully there's more to come!
---
Western Music >>
Letter "R"
---