<! MP3 00/00/00 > <! outside 00/00/00 > <! pix 00/00/00 > <! icons 03/01/11, 02/19/13 > <! UPDATES: 06/30/14 - Month of June: A-Z restructure, with pix to 280, links updated, etc. >
---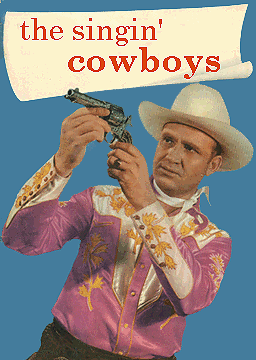 Howdy! This page is part of my guide to "western" music, the legacy of the so-called "singing cowboys." You gotta love this stuff, with its sweet, old-fashioned sentimental themes, its love of nature and the great outdoors. Here's a look at the legacy of western music, old and new, with reviews and recommendations to make your next cattle drive the best one yet. This page covers artists under the letter "C" - please feel free to make recommendations or comments if I've missed someone.
(PS - Don't forget the cowgals, as well!)




---
COWBOYS & COWGALS:
A | B | C | D | E | F | G | H | I | J | K | L | M | N | O | P | Q | R | S | T | U | V | W | X, Y & Z | Compilations | Hick Music Styles

---
Big Bill Campbell "Rocky Mountain Rhythm" (BACM, 2005)

Big Bill Campbell "Rocky Mountain Rhythm, v.2: Mighty Fine" (BACM, 2005)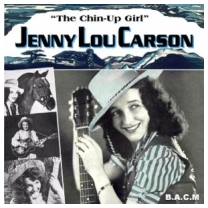 Jenny Lou Carson "The Chin-Up Girl" (BACM, 2007)


One of the most successful songwriters of the WWII era hillbilly scene, Jenny Lou Carson (nee Virginia Lucille Overstake) was also one of the first female country stars. Carson started out in a family trio with two of her sisters, billed as the Overstake Sisters, and as "The Little Country Girls"; she also recorded under the pseudonym of Lucile Lee, and finally as Jenny Lou Carson, the name where she found her greatest fame. Carson wrote numerous hits, including "You Two-Timed Me Once Too Often," "Let Me Go, Lover," and "Don't Rob Another Man's Castle." This disc gathers her recordings as a solo performer, mostly with sentimental songs like "I L-O-V-E You" and "I Feel Like Crying Over You," but also with spicier novelty songs such as "I Married A Mouse Of A Man..." Rare recordings from an artist best remembered as a composer... Nice nostalgic material!


<! tribute album B000CA2T20 >
The Cass County Boys "Beautiful Texas" (BACM, 2005)


Late-vintage cowboy material from Gene Autry's late-1940s/early '50s band... Sweet stuff!




The Cass County Boys "Ride, Ranger, Ride" (Cattle) (LP)



<! 24 tracks from 1949 and '50 from this popular Western trio who are perhaps best known for their accompaniments to Gene Autry in the 40s and 50s. They perform in a smooth Western style in the same vein as the Sons Of The Pioneers and accompany themselves on guitar, bass and accordion with some tracks also featuring steel guitarist Noel Boggs. THE CASS COUNTY BOYS: 'long About Sundown/ A Gay Ranchero (inst.)/ Along The Navajo Trail/ Careless Love/ Cherokee Strip/ Going Back To Texas/ Goofus (inst.)/ Heading For The Rio Grande/ Hidden Valley/ Hold That Critter Down/ It Won't Be Texas To You/ Little Big Dry/ My Texas Home/ Pass The Biscuts Mirandy/ Ride, Ranger, Ride/ Ridin' Down The Canyon/ Steel Guitar Rag (inst.)/ Sunny Side Of The Rockies/ The Big Corral/ Trail To Mexico/ Twilight On The Trail./ Wanderers Of The Wasteland/ When It's Night Time In Nevada/ You Don't Know What Lonesome Is (when You Get To Herding Cows) >
The Chuck Wagon Gang "Secular And Sacred Songs" (BACM, 2005)





<! CD D 239 >


Carolina Cotton - see artist discography




The Country Gentlemen "Songs Of The Pioneers" (Cimarron, 1962) (LP)


Not to be confused with the progressive bluegrass outfit of the same name, this western-oriented trio featured the great Hugh Farr on fiddle, breezing through a set of cowboy classics...


<! (Kenny Baker [rh gt], Jimmy Widener [el gt], Pat Patterson [bass], Hugh Farr [fiddle]) >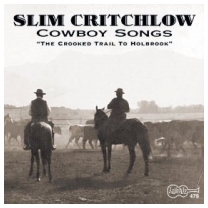 Slim Critchlow "Cowboy Songs - The Crooked Trail To Holbrook" (Arhoolie, 1970)



A pretty good example of the archaic charm of the cowboy song, and its often too-static nature. When this record originally came out in 1970, it was a throwback to a far less complex musical past, and had a strong folkloric quality. It's not the sort of album I would put on to listen to recreationally, or listen to in its entirety, but it is full of fascinating (and authentic) cowboy story-songs. This is the real deal.
---
Western Music >>
Letter "D"
---