<! cd = 06/06/14 > <! MP3 00/00/00 > <! outside 00/00/00 > <! pix 00/00/00 > <! 208-pix: 00/00/00 > <! styles: Bluegrass, Alt-Country, Western > <! UPDATES: 06/17/14, 09/15/14 - solo pages ready, linked to >
---
Nickel Creek is an alt-bluegrass/adult contemporary/Americana powerhouse trio consisting of multi-instrumentalists Chris Thile and the sister-brother pair of Sara Watkins and fiddler Sean Watkins. Originally the band was brought together as a pre-teen trio organized by Thile's father; when they signed to the Sugar Hill bluegrass indie label, Nickel Creek emerged as one of the most dynamic and commercially successful groups of the new, postmillennial newgrass/new acoustic scene, taking the torch from genre-breakers such as Alison Krauss (who also became one of their patrons and collaborators). Although they moved from triumph to triumph, the group disbanded in 2007, with each player pursuing a solo career until a reunion in 2014. Here's a quick look at their work...
---
Discography - Best-Ofs
---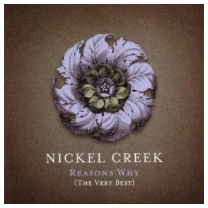 Nickel Creek "Reasons Why: The Very Best" (Sugar Hill, 2006)


---
Discography - Albums
---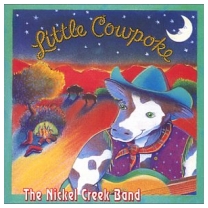 The Nickel Creek Band "Little Cowpoke" (Choo Choo Records, 1993)


The pre-teen origins of the pop-bluegrass phenomenon, Nickel Creek, featuring siblings Sean and Sara Watkins, along with mandolin whiz Chris Thile and his dad Scott Thile, singing cheerful versions of old "singing cowboy" standards from the songbooks of Rex Allen, Gene Autry, Patsy Montana, Roy Rogers and others. The record is both charming and historically fascinating, giving us a chance to hear these child prodigies galloping through cute versions of songs that were markedly different than their future repertoire of introspective, poetical pop songs. It's charming, too, because their voices were still developing, and their tone and harmonies were off -- awwww, they sound like little kids! -- in that adorable talent show way that child performers often embody. The technical end of the instrumental performances is of a much higher calibre, though: man, these kids sure could pick! And it works as entertainment: my kid loved this record, and it gave her interest in cowboy songs (which started with Marty Robbins) a new lease on life. For contrast, you could also pick up Chris Thile's solo debut, Leading Off, which was released around the same time, which concentrates on his bona fides as a bluegrass instrumentalist.
Nickel Creek "Here To There" (1997)


Nickel Creek "Nickel Creek" (Sugar Hill, 2000)



(Produced by Alison Krauss)
The true birth of a grass-fusion powerhouse. Mandolin prodigy Chris Thile teams up with San Diego siblings Sara and Sean Watkins for a slick set of hotshot instrumentals and super-sappy, overly poetic ballads, drippy but mellow material which stakes out their turf as part of the "adult alternative" pop scene. Thile's father, Scott Thile hovers over the proceedings, playing bass as the band's sole adult member; the band's main patron, Alison Krauss helped produce the album, adding her smooth pop sensibilities to the mix. Some of the picking is pretty flashy, but the whole album strikes me as too calculated and drab.


<! 144 x 144 >

Nickel Creek "This Side" (Sugar Hill, 2002)



(Produced by Alison Krauss)

Mutual Admiration Society "MAS" (Sugar Hill, 2004)



(Produced by Ethan Johns)
A quickie jam session with Glen Phillips of the band Toad the Wet Sprocket... Chris, Sara and Sean give the rocker a more acoustic-based setting, with additional musical contributions by various folks in their orbit...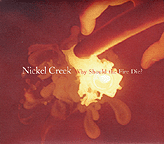 Nickel Creek "Why Should The Fire Die?" (Sugar Hill, 2005)



(Produced by Tony Berg & Eric Valentine)



<! 144 x 144 >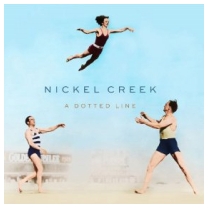 Nickel Creek "A Dotted Line" (Nonesuch, 2014)



(Produced by Eric Valentine)

---
Links
---
---