<! cd = 06/05/14 > <! MP3 00/00/00 > <! outside 00/00/00 > <! pix 00/00/00 > <! 208-pix: 00/00/00 > <! styles: Top Forty, Real Hicks, Hillbilly Fillies > <! UPDATES: 00/00/00 >
---
Texas-born Kay Adams was one of the more underrated singers of the Bakersfield Sound... Adams made a splash in '65 with her Top 30 hit, "Little Pink Mack," which is credited as the first trucker song recorded by a gal, but even with this hit and subsequent acclaim as a hot new artist, Adams failed to chart again and basically fell off the radar by the end of the decade. She was a rock-solid singer, though, and her handful of albums from the '60s are cult favorites that remain, sadly, long out of print. Here's a quick look at her work.
---
Discography - Albums
---
Kay Adams "Wheels And Tears" (Tower, 1966/Sundazed, 2004)


A great set of mid-1960s, West Coast-flavored trucker songs... Adams, a sassy singer who sounded a bit like Loretta Lynn, had a sizeable hit with the novelty song "Little Pink Mack," and they naturally tried to follow it up with similar material, like "Six Days Awaiting," an answer song to Dave Dudley's wildly popular "Six Days On The Road." That didn't work quite as well, but the rest of this album is still a lot of fun -- it's pure, glorious Bakersfield twang, and definitely worth checking out if you like the cool old stuff. Adams even pays homage to a West Coast foremother, Rose Maddox with a fine version of "Big, Big Day Tomorrow," a great old weeper that Rose recorded a few years earlier. Folks looking for lost gems in country's past would be well advised to snap this tasty reissue up now, while you still have the chance!
Kay Adams & Dick Curless "A Devil Like Me Needs An Angel Like You" (Tower, 1966) (LP)

Kay Adams/Various Artists "Country Opera: The Legend Of Johnny Brown" (Tower, 1966) (LP)


(Produced by Eddie Miller)
This ambitous album was conceived of as a country operetta, with songs and a libretto written by songsmith Eddie Miller (best known for writing the classic "Release Me," among other hits of the '50s and '60s.) Although the short narrations that start many tracks get in the way of the songs, this is still a pretty enjoyable album, with good performances and a perhaps overly-expository libretto. Although it has been performed on stage, I think it was mainly intended as a story to be heard on the hi-fi, and it certainly works in that regard, with solid, workmanlike accompaniment and good vocal performances throughout. The main attracting is probably the underrated Kay Adams, who sings in a Loretta Lynn style, as well as second-stringers Ray Sanders and Jerry Naylor (a guy who wouldn't hit the charts on his own until 1975, nearly a decade later!) as well as Alice Rene, who plays "the other woman" but is otherwise a total unknown. This is worth a spin, particularly for Kay Adams fans (and there are a few out there!)
Kay Adams "Make Mine Country" (Tower, 1967) (LP)

Kay Adams "Alcohol And Tears" (Tower, 1967) (LP)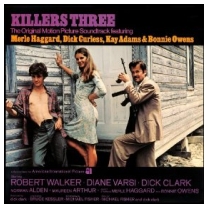 Kay Adams/Various Artists "Killers Three" (Soundtrack) (Tower, 1968)



This was a soundtrack album for a cheapo crimesploitation B-movie written by and starring American Bandstand host Dick Clark. Also in the cast was songwriter Merle Haggard, who appears on the soundtrack along with Bonnie Owens, Dick Curless and Kay Adams, who contributes three songs: "Gonna Have A Good Time," and "Love Me Now And Forever," and "Maybe You'll Appreciate Me Someday."
---
Links
---
---