<! cd=06/01/98> <! MP3 03/30/09, 11/06/10 > <! outside 00/00/00 > <! pix 11/06/10 > <! 208-pix: 00/00/00 > <! icons 11/06/10 > <! UPDATES: 03/30/09 09/14/13 - moved best-ofs to top, expanded section, reviewed new album >
---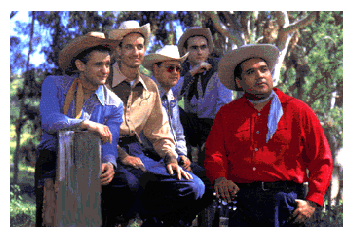 One of the most good-natured and hardest-working bands of modern Americana scene -- and certainly one of the best -- Big Sandy & His Fly-Rite Boys have diehard fans in lots of different camps, but aren't pinned down by any one style. Along with rockabilly, hillbilly boogie and western swing, the Boys have recently thrown in a bit of 50's doo-wop... and who can tell where it'll go from here?
The Fly-Rite Boys harken back to the glory days of West Coast country, when Merle Travis, Cliffie Stone and Joe Maphis strode the earth, lighting up the airwaves on the Town Hall Party and other local radio and TV shows. If you make it to a Big Sandy show, you're sure to see plenty of hot swing dancing, and might just get a good whiff of what it was like back in the old days. And their records ain't bad, either.
---
Discography -Best-Ofs
---
Big Sandy & The Fly-Rite Boys "Rockin' Big Sandy" (HighTone, 2004)



A swell best-of set which skims the cream of his HighTone years, and adds a bonus track, Sandy's X-rated version of the old dirty blues ditty, "Backdoor Dan" (as well as the previously released clean version...) This set tilts towards his saucier blues material, which is fine, even if ya might want to keep the disc locked away from the kids... Fun stuff, as usual!
Big Sandy & The Fly-Rite Boys "The Best Of..." (Rockbeat, 2011)


An excellent compliment to the Rockin' Big Sandy collection above -- this covers the same time period, but the songlist is totally different. Prime material!


<! 1. Greatest Story Ever Told 2. Someone Like You 3. Have Love Will Travel 4. Jumping From 6 to 6 5. Lonely Guy 6. Loser's Blues 7. I Can't Believe I'm Saying This to You 8. Blackberry Wine 9. Honky Tonk Queen 10. Oochie Coochie 11. Tequila Calling 12. Feelin' Kinda Lucky 13. When Sleep Won't Come 14. Parts Unknown 15. Backdoor Dan 16. My Sinful Days Are Over >

Big Sandy & The Fly-Rite Boys "Big Sandy & His Fly-Rite Boys/Swinging West" (Floating World, 2012)


A twofer reissue of Big Sandy & His Fly-Rite Boys and Swinging West (reviewed below).
Big Sandy & The Fly-Rite Boys "Jumping From 6 To 6/Dedicated To You" (Floating World, 2012)


A twofer reissue of Jumping From 6 To 6 and Dedicated To You (reviewed below).
---
Discography -Albums
---

Big Sandy & The Fly-Rite Trio "On The Go" (No Hit, 1993)


Although clearly springing straight out of the rockabilly scene, this disc hints at the stylistic diversity that'd drive the Fly-Rite sound for years to come. Plenty of catchy '50s cover tunes, but also a lot of swell Big Sandy originals which capture the feel perfectly. On the down side, it's rather thinly recorded, and the jazz-ish guitar work gets a little monotonous... But it's still a charming, punchy debut... not as great as their later records, but still pretty cool.

Big Sandy & The Fly-Rite Boys "Fly Right With..." (Dionysus, 1994)



The CD version collects the original LP along with a few extra tracks, and smack dab in the middle is a spiffy cover of Hank Williams' "Kaw Liga." ...Poor Hank! It's gotta be pretty tough competing with all the awesome original tunes packed onto this album! The band's rockabilly roots are on full display here, although there is plenty of other swell stuff bubbling around in the mix as well... maybe not as accomplished as their later records, but still pretty spiffy.

Big Sandy & The Fly-Rite Boys "Jumping From 6 to 6" (HighTone, 1994)



Masterfully produced by Dave Alvin, this starts of at a decidedly rockabilly clip, then subtly moves into country and R&B territory, slipping Hank Williams and Jackie Brenston in and replacing slap bass with pedal steel and bluesy singing... Big Sandy pens himself a "you-can't-pin-us-down" anthem in "Hi-Billy Music," proclaiming the birth of a new style championed (naturally!) by him and his band. As ever, there are rough edges to on this album, but it's full of peppy enthusiasm and sheer kickass pickin' and thumpin'... this record's hella fun!

Big Sandy & The Fly-Rite Boys "Swingin' West" (HighTone, 1995)



Also produced by Dave Alvin, this has an easygoing grace that makes these old songs (and the new ones in the old style) sound brand new and brand cool. The great thing about Sandy is how completely comfortable he sounds as a singer -- not a worry in the world, and just happy to be there. This is one of the first albums where that graceful ease becomes most apparent... Highly recommended!

Big Sandy & The Fly-Rite Boys "Feelin' Kinda Lucky" (HighTone, 1997)



This is probably the best-produced and most fluid of the Big Sandy records, and also has some of the sharpest songwriting. The picking in particular is stellar -- this is probably the richest sound mix Sandy has gotten to date, and the masterful piano, guitar and steel playing are really brought to the fore. The musical smoothness is so complete that you really wince when minor flaws in the songwriting become apparent; weak verses on a couple of songs stand out mostly because of the sense that a little more work would have been all it would take to make the songs perfect. Don't get me wrong -- this album is a class act. Definitely recommended!

Big Sandy "Dedicated To You" (HighTone, 1998)



Big Sandy busts loose with a '50s rock'n'doo-wop-based album paying tribute to some of the ols radio hits and 45s he heard growing up as a kid in Southern California. It's definitely a change of pace, and an endearingly sincere record, to boot.

The Fly-Rite Boys "Big Sandy Presents..." (HighTone, 1998)



One a' them "backup band goes solo" albums, in the tradition of the Buckaroos, The Po' Boys and the Brazo Valley Boys. Not strictly an instrumental album, this includes several vocal tracks... I have to confess, though, this one didn't really grab me.
Big Sandy & The Fly-Rite Boys "Radio Favorites (EP)" (HighTone, 1999)


After doing his doo-wop/old rock tribute record, Sandy felt it was okay to stretch out his sound a bit, and you can hear the results on this spiffy six-song EP. The vocals, as well as the band, are a little looser and goofier, and it definitely seems like a hint of nice new stuff to come. Super-cool packaging, too, with a pop-up-bookish "radio dial" design.

Big Sandy & The Fly-Rite Boys "Night Tide" (HighTone, 2000)



Both Sandy and the band are flexing their creative sides, and building on the stylistic inroads of their recent "solo" records... They're broadening their base beyond the peppy rockabilly and western swing of their early work, weaving in softer, more subtle pop/standards sensibility, and a more low-key, unhurried style. Big Sandy in particular is becoming a markedly relaxed, gracious singer, while the band's musical chops are becoming ever more impressive. The guitar and steel work on here is probably the best they've ever done, but it's not flashy or desperate for your attention, just more mature and confident in its ability to please; more Chet Atkins slick than Joaquin Murphy raucous. Nice stuff, and very, very listenable. It's another goodie.

Big Sandy & The Fly-Rite Boys "It's Time!" (Yep Roc, 2003)



Another superior album by Big Sandy and the Boys. It opens with a real bang, the "These Boots"-ish bass line and Eddie Cochran guitars of "Chalk It Up To The Blues" giving way to a cascade of roots music revelry -- Sandy's own potent brew of rockabilly, country and doo-wop. He even throws in a bit of cajun music(!) this time around, on the album's second cut, "Bayou Blue." The band gallops along with thumping rhythms and sweet pedal steel work, and -- most lovely of all -- Sandy's own fragile, but authoritative vocals. He's a great songwriter, too, moving from one musical style to the next with equal ease. A latter-day master of the good, old-fashioned novelty song, Sandy tosses out gems like "How Did You Love Someone Like Me," "Her Hair Is A Mess," and "The Money Tree," all with his friendly, offhand, eager-to-please delivery. If you like your roots-Americana with lots of pep and a dancable beat, then Big Sandy is your man.
Big Sandy & The Fly-Rite Boys "Turntable Matinee" (Yep Roc, 2006)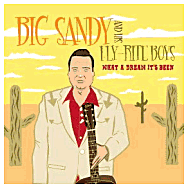 Big Sandy & The Fly-Rite Boys "What A Dream It's Been" (Cow Island Music, 2013)



(Produced by D. E. Hannigan)
Southern California hillbilly swing revivalist Robert Williams (aka Big Sandy) has tried his hand at a variety of styles, delving deep into rockabilly, pre-rock hillbilly boogie and '50s-style rock ballads... But it's safe to say he's never been quite as diverse as on this excellent new album, a celebration of the band's 25th anniversary where he revisits old songs with fun new arrangements. It kicks off with a sweet and surprising acoustic reggae tune in the classic rock-steady style ("Baby Baby Me") which gives a sense of just how talented and how relaxed his band can be... Other gems include a funky, '60s-sounding rhythmic rocker, "Missouri Gal," and a breezy rendition of "Parts Unknown." These are songs drawn from Big Sandy's old back catalogue, all given original new arrangements and played with real vibrancy and joy, as well as a laid-back vibe that gives you the powerful feeling that you're just hanging out with the the band while they jam in someone's living room... Sandy and his crew have nothing to prove, but once again they assert themselves as one of the best, most versatile and most entertaining bands on the American retro-billy scene... Fans have a lot to cheer about on this one!
---
Related Records
---

Carl Sonny Leyland "I'm Wise" (HighTone, 1999)



Fly-Rite pianist Carl Leyland zaps off a swell solo record, chock full of bluesy R&B and stride styles, and plenty of nice roots rock. Along with the obvious Jerry Lee Lewis emulation, there are swipes and debts to hillbilly shouters such as Moon Mullican and blues old-timer Roosevelt Sykes. Might appeal more to the house-rockin' crowd than the retrobilly set, but still a pretty solid album.
Carl Sonny Leyland & Joel Paterson "A Chicago Session" (Ventrella, 2008)



Biller & Wakefield "The Hot Guitars Of..." (Hightone, 1999)



The pedal steel and Fender Telecaster duo of Biller and Wakefield first met while playing back-up for Wayne Hancock... This is a lovely, mostly instrumental, album which starts off on an EZ mellowtone that would have made Russ Morgan envious, and swiftly gallops off into twangier territory. By and large this is a lot more engaging than other recent entries in the instrumental chic arena... However, there are also some cool vocal tracks, including two by the briefly reunited Dave and Deke, as well as the super-hummable "Steel Crazy," which Big Sandy claims he wrote in the car on the way to the recording session. Well, if that's what his toss-offs are like... no wonder we love him so!
---
Links
---
The Official Big Sandy Website is one way to get it straight from the horse's mouth...
Hightone Records has their own spiffy Sandy site, with tour info, a bio and links to order most of the Big Sandy albums. What more could you ask for?
---