<! MP3 06/30/09, 12/18/10 > <! update 00/00/00 > <! outside 00/00/00 > <! pix 00/00/00 > <! icons 12/18/10 > <! The Dixiemen "Sing Gospel" (Tune, 1971) (LP) - private press bluegrass >
---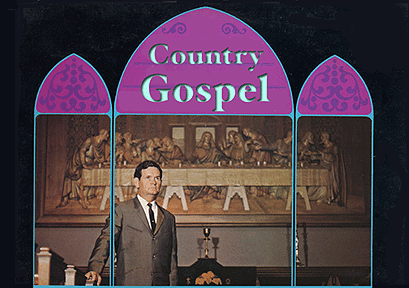 The gospel spirit fills the history of country music... For many country and bluegrass fans, the constant Jesus-isms can be a real turn-off, yet, like many kinds of religious music, it can bring out amazing, powerful performances and an emotional conviction that is rarely matched in secular pop culture. I'm hardly a preacher man, but there is some of this stuff I love, and having had the opportunity to hear a lot of country gospel over the years, I decided to take the chance to share some of my thoughts and impressions of the genre with y'all... Ready? Here we go!
---
COUNTRY GOSPEL: A | B | C | D | E | F | G | H | I | J | K | L | M | N | O | P | Q | R | S | T | U, V &W | X, Y & Z | Comps
---
Gospel MP3s | Holiday Music | Other Country Styles
---
Dailey & Vincent "Singing From The Heart" (Rounder, 2010)



A sweet, sweet, sweet all-gospel set. Doyle Lawson, watch out.
Dailey & Vincent "The Gospel Side Of Dailey & Vincent" (Cracker Barrel, 2012)


(Produced by Jamie Dailey & Darren Vincent)
An excellent gospel collection, the second by the harmony duo of Jamie Dailey and Darren Vincent, who have become luminaries in the world of traditional bluegrass gospel singing. On this set they move away from their strictly truegrass roots and sing some more country-oriented material, as well as a few songs that could be considered part of the pop-oriented "contemporary Christian" sound, as well as a few jaunty jubilee songs in the style of the Blackwood Brothers. The singing and musicianship is uniformly sweet... There are a couple of tracks I'd skip, but most of it is quite nice. Includes a particularly sweet version of "Family Bible," as well as a good, obscure Buck Owens oldie, "Eternal Vacation." Recommended!
Charlie Daniels "The Door" (Sparrow, 1994)


Charlie Daniels "Steel Witness" (Sparrow, 1996)


Charlie Daniels Band "How Sweet The Sound" (Sparrow, 2002)


Charlie Daniels "Songs From The Longleaf Pines" (Blue Hat/Koch, 2005)


Jimmie Davis -- see artist discography
Skeeter Davis "Hand In Hand With Jesus" (RCA, 1967)
Absolutely wonderful -- one of the all-time best Skeeter Davis best albums, and one of the best country gospel records you're ever likely to hear. This is due to the intersection of a couple of pleasant factors, particularly the fact that neither she nor the RCA producers felt the need to push things musically, as they did on her more "pop" material. Thus, Skeeter's easygoing sincerity and matter-of-fact affection for the material is perfectly matched by the simple, relaxed arrangements. Nice use of her whole multitracked vocal routine, too.
Kevin Deal "There Goes The Neighborhood" (Blindfellow Records, 2013)



(Produced by Lloyd Maines)
Looks like Kevin Deal's done got religion... This is a quirky but thoughtful and sincere alt-country gospel album, filled with all-original material (and one rugged, unruly cover of "Amazing Grace") as this indie-twang veteran joins company with folks such as Steve Earle and Eliza Gilkyson among the ranks of indie-Americana folkies who, in their middle age, have chosen to take a closer look at their mortality and their place in the presence of the eternal... whatever that may be. In the often-irreverent, rowdy world of twangcore, religious themes are usually played for laughs, as part of the whole white-trash stereotype thing that still plagues the genre (along with locusts, frogs and songs about stripper girlfriends...) It's much to Deal's credit that he takes it seriously, and is bold enough to put himself out there and express his inner spiritual yearnings, despite the likelihood that not many fans will want to hear about it... Nonetheless, he summons himself to stand humbly before his maker, and to ponder the meaning of existence and the small (and large) roles that humans play in the universe. Deal is more overtly Jesus-y and biblical than other Americana old-timers exploring these themes, but he comes at it from a modern, non-traditional perspective. One of the best songs on the album is "Just Another Poet," which starts with him remembering how once when he was a kid, he wrote a fan letter to Neil Young, and even though he never got a reply he "never stopped believing," succinctly connecting his faith with his art, serenely examining the romantic self-mytholizations of rock'n'roll dreamers. It's a mature look back at life -- and ahead as well -- and not the sort of stuff we often hear on records these days. This album won't be for everyone, but is does have meaning and real spiritual heft, and will probably resonate with listeners who have come to a similar point in their lives. Recommended, if you're in the mood.
Jimmy Dean "Hour Of Prayer" (Columbia, 1957) (LP)

Jimmy Dean "Hymns By Jimmy Dean" (Columbia, 1960) (LP)

Jimmy Dean "Jimmy Dean's Christmas Card" (Columbia, 1965)

Jimmy Dean "Most Richly Blessed" (RCA Victor, 1967) (LP)

Jimmy Dean "Inspirational Songs" (Curb, 1998)


Diamond Rio "A Diamond Rio Christmas: The Star Still Shines" (Word, 2007)


Diamond Rio "The Reason" (Word, 2009)



Following their Christmas album of a couple of years earlier, Diamond Rio delves into "Contemporary Christian" music and Southern Gospel, applying the band's harmony singing to a religious message, with a less country, more pop-oriented sound.
Little Jimmy Dickens "The Old Country Church" (Columbia, 1954)

Pete Drake "Steel Away" (Canaan, 1967) (LP)

Dry Branch Fire Squad "Golgotha" (Rounder, 1986) (LP)


Founded in 1976, the Dry Branch Fire Squad is the brainchild of mandolinist and raconteur Ron Thomason... Over the years the group has been recognized as a cultural reservoir for Appalachian traditions, earning recognition from the Smithsonian Institution and various other guardians of the public good. Unfortunately, these first few albums remain out of print on CD, but with diligent effort, you may find them on vinyl out there, somewhere. This is an all-gospel outing that won a place on the Smithsonian's list of essential American recordings...about as fine an old-timey/bluegrass gospel set as you're likely to find.

Dry Branch Fire Squad "Memories That Bless And Burn" (Rounder, 1999)



Another all-gospel album, with craggier-than-usual vocals and somber-themed songs. On the solo numbers, Susan Thomas sounds, for all the world like good old Hazel Dickens, while the full group harmonies are quite sweet. If you like the old-fashioned bluegrass gospel style, this disc fits right in that spirit.
Holly Dunn "Full Circle" (OMS/Holly Dunn Enterprises, 2003)


A self-released gospel album... Available through Dunn's website at www.hollydunn.com
---

More Country Gospel -- Letter "E"

---



Hick Music Index



---

<! cd = 04/05/05 >