<! MP3 12/19/10 > <! update 00/00/00 > <! outside 00/00/00 > <! pix 00/00/00 > <! icons 12/19/10 >
---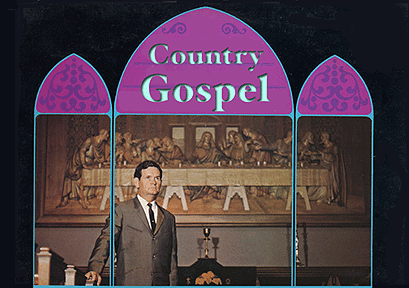 The gospel spirit fills the history of country music... For many country and bluegrass fans, the constant Jesus-isms can be a real turn-off, yet, like many kinds of religious music, it can bring out amazing, powerful performances and an emotional conviction that is rarely matched in secular pop culture. I'm hardly a preacher man, but there is some of this stuff I love, and having had the opportunity to hear a lot of country gospel over the years, I decided to take the chance to share some of my thoughts and impressions of the genre with y'all... Ready? Here we go!
---
COUNTRY GOSPEL: A | B | C | D | E | F | G | H | I | J | K | L | M | N | O | P | Q | R | S | T | U, V &W | X, Y & Z | Comps
---
Gospel MP3s | Holiday Music | Other Country Styles
---

The Oak Ridge Boys "The Inspirational Collection" (Varese Sarabande, 2004)


The gospel roots of the Oak Ridge Boys run pretty deep, and this disc is a fine representation of their best work in the band's mid-1960s incarnation as Southern Gospel modernists, mixing the vocal tradition of the Blackwood Brothers with the electrified bounce of Buck Owens and the West Coast honkytonk-pop scene. This 18-song disc gathers material from several albums on the Skylite label, 1965's I Wouldn't Take Nothing For My Journey Now, River Of Life and Solid Gospel Sound, from 1966. Some of the songs are a bit sleepy and barbershoppish, but others have a surprisingly vigorous country sound; country fans may be surprised to find how engaging some of this material can be... There were major personnel shifts before the Boys broke into Country mainstream: the now-familiar low, deep bass rumble of singer Richard Sterben wouldn't be added into the mix until 1972, and it was probably his voice more than anything else that cemented the Oak Ridge sound as most folks remember it. Still, you can hear the roots of that sound here, and Southern Gospel fans should be thrilled by such a nice, compact reissue of their old, religious material.
The Oak Ridge Boys "Street Gospel" (Pilot, 1973) (LP)

The Oak Ridge Boys "The Lighthouse And Other Gospel Hits" (Vista, 1973) (LP)

The Oak Ridge Boys "Sky High" (Columbia, 1975) (LP)

The Oak Ridge Boys "Old Fashioned, Down Home, Hand Clappin', Foot Stompin', Southern Style, Gospel Quartet Music" (Columbia, 1976)

The Oak Ridge Boys "Smoky Mountain Gospel" (Columbia, 1983)

The Oak Ridge Boys "Sailing Towards Home" (Columbia, 1995)

The Oak Ridge Boys "Favorite Songs" (Columbia, 1995)

The Oak Ridge Boys "Revival, v.1" (Halsey, 1997)

The Oak Ridge Boys "Revival, v.2" (Halsey, 1997)

The Oak Ridge Boys "The Journey" (Spring Hill, 2004)


The Oak Ridge Boys "Common Thread" (Spring Hill, 2005)


The Oak Ridge Boys "A Gospel Journey" (Gaither, 2009)


The Osborn Brothers "Favorite Hymns" (Decca, 1968) (LP)

The Osborn Brothers "Singing Shouting Praises" (Sugar Hill, 1986) (LP)

The Osborn Brothers "Our Favorite Hymns" (Decca, 1968)


Dean Osborne & Eastbound "I've Got A Mansion Waiting For Me" (1989)

Dean Osborne & Eastbound "When Time Is Gone" (1993)

Dean Osborne & Eastbound "Roads Of Faith" (2000)


An all-gospel album, featuring several originals written by members of the Eastbound band, which includes Sonny Osborne's son, Dean Osborne as lead vocalist....
Bonnie Owens "Mother's Favorite Hymns" (Capitol, 1970) (LP)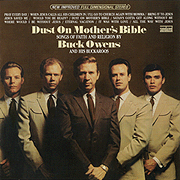 Buck Owens "Dust On Mother's Bible" (Capitol, 1966)


Simultaneously old-world and newfangled, Buck's faith-meets-Fender Telecaster approach to country gospel should raise a few eyebrows on all sides of the aisle. Infused with the bouncy, electric Bakersfield vibe, it's certainly not as stern a set as the dour band portrait on the cover would imply, but in some ways it also doesnŐt quite summon the full soulfulness the material might require. The Buckaroos don't break out of their typical upbeat sound to throw on any deep harmonies of really stretch themselves into the gospel groove, although Buck does completely embrace a bedrock fundamentalist Christian ethos on most of these songs, and adds several great new songs to the Christian country canon. Definitely worth picking up, particularly if you're a Buck fan to begin with, but not as resonant as it could have been.
Buck Owens "Your Mother's Prayer" (Capitol, 1970) (LP)

Vernon Oxford "A Better Way Of Life" (Rounder, 1981)


(Produced by Bob Ferguson)
An outstanding country gospel album, with a hard, honkytonk edge that so precious few of these modern Christian country records are able to hold onto. Vernon Oxford sings from the heart, and the band plays with conviction and bite. The songs are mainly standards -- "Dust On The Bible," "An Unclouded Day," etc. -- but there are also several fine new songs as well, such as the title track (written by Oxford himself) and "Lord, I've Tried Everything But You," which starts the album off on a very high note. Whether you're a religious-minded or a secular country fan, this one is worth checking out.
---

More Country Gospel -- Letter "P"

---



Hick Music Index



---

<! cd = 11/21/03 >