<! MP3 12/18/10 > <! update 00/00/00 > <! outside 00/00/00 > <! pix 00/00/00 > <! icons 12/18/10 > <! WALLY FOWLER http://countrydiscography.blogspot.com/search/label/Fowler%20Fowler G.M. FARLEY AND THE FOGGY RIVER BOYS - "Country Gospel" (Crown, xxxxx) (LP) #CLP 5344 >
---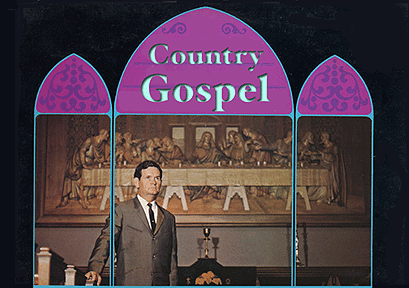 The gospel spirit fills the history of country music... For many country and bluegrass fans, the constant Jesus-isms can be a real turn-off, yet, like many kinds of religious music, it can bring out amazing, powerful performances and an emotional conviction that is rarely matched in secular pop culture. I'm hardly a preacher man, but there is some of this stuff I love, and having had the opportunity to hear a lot of country gospel over the years, I decided to take the chance to share some of my thoughts and impressions of the genre with y'all... Ready? Here we go!
---
COUNTRY GOSPEL: A | B | C | D | E | F | G | H | I | J | K | L | M | N | O | P | Q | R | S | T | U, V &W | X, Y & Z | Comps
---
Gospel MP3s | Holiday Music | Other Country Styles
---
Barbara Fairchild - see artist discography
Donna Fargo "Brotherly Love" (Songbird, 1981) (LP)


Includes some modern material such as "You Can't Be A Beacon (If Your Light Don't Shine)" and the delightful novelty song, "I Knew Jesus (Before He Was A Star)," as well as some more traditional material, like "Amazing Grace."
Narvel Felts "Season's Greetings" (Ram Records, 2003)

Narvel Felts "On The Wings Of Song" (USA Network, 2006)

Lester Flatt & Earl Scruggs "Songs Of Glory" (Columbia, 1960) (LP)

Flatt & Scruggs "When The Saints Go Marching In" (Columbia, 1966) (LP)

Lester Flatt & Earl Scruggs "Sacred Songs" (Columbia-Harmony, 1966) (LP)


A budget-line LP that includes some material from the albums above, as well as several songs that came from the Columbia vaults.
Lester Flatt & Earl Scruggs "You Can Feel It In Your Soul" (County, 1981)

Lester Flatt "Flatt Gospel" (Canaan, 1975)

Red Foley - see artist discography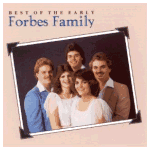 The Forbes Family "Best Of The Early Forbes Family" (Rebel, 1994)


A sweet bluegrass gospel set, with prominent, very 'grassy mandolin and lovely vocals by sister Lisa Forbes, who has a nice, Alison Krauss-ish, Rhonda Vincent-y tone, modern and smooth, but with roots and soul that fit the songs. A good mix of traditional and contemporary material, including songs by Alan O'Bryant, Cliff Waldron, and couple by Claire Lynch and several of the Stamps Quartet/Rambo Family vintage. If you like the style, this is a strong album.
The Forbes Family "I'll Look To Him" (Rebel, 1995)


The Forbes Family "In The Shadow Of Your Wings" (Rebel, 1996)



(Produced by Ron Block)



<! apparently the backing is by Union Station >

The Forbes Family "Classics" (Pure White Dove, 2006)









Tennessee Ernie Ford - see artist discography




Kenny Foreman "He Touched Me" (Sunshine Records, 19--?) (LP)
Evangelical pastor Kenny Foreman led the Faith Temple Church in San Jose, California at some time (it looks) during the late 1960s and early '70s. He billed this album as having "country-western style background and voices," but what vestigal twang there may have been is buried pretty far in the mix -- the predominant sound is a standard-issue church organ, blandly accompanying Foreman and his family... You can hear a litte guitar in there, barely, and some unconvincing drumming as well, but for country fans, there's not a lot going on here. Also, to be honest, Foreman wasn't a particularly strong vocalist, though his sincerity can't be doubted.


<! - #713 - 1971-? - pix taken for eb >

The Forester Sisters "Family Faith" (Heartland, 1988)



The Forester Sisters "A Christmas Card" (Warner Brothers, 1992)



(Produced by Jim Ed Norman)
Not bad... Their sweet family harmonies are bent towards a not-completely-predictable set of holiday tunes; most, like "White Christmas" and "Carol Of The Bells" are kind of the same-old same-old, more sugary, string-drenched, too-perfect Christmas tunes. Other tracks are quite lovely: the album's opener, Vaughn Horton's "An Old Christmas Card," is off the beaten track and the delivery is heartfelt; their version of "Silent Night" starts out really nice, as well. I mean, with a Jim Ed Norman album you sort of know what you're getting into, but this isn't as over-the-top and saccharine as his projects often are. It's not my kinda country, but if you're into holiday records, this is a pretty good choice. (For more Christmas records, see my Hillbilly Holiday section.)
The Forester Sisters "Sunday Meetin' " (JCI, 1994)

The Forester Sisters "Greatest Gospel Hits" (Warner, 1997)


The Forester Sisters "New Star Shining" (2002)

Allen Frizzell "I'm Just A Nobody" (Self-Released, 2007)



Gospel songs from the younger brother of country singers David and Lefty Frizzell... Allen played secular country for a while, but decided instead to concentrate on the holier stuff...

Front Range "One Beautiful Day" (Sugar Hill, 1995)



A sweet, simple bluegrass gospel set, with an impressive set of all-new material written by lead vocalist Bob Amos. The material tilts towards the "judge-not-lest-ye-be-judged" brand of religious piety, which is fine by me. Nice harmonies, decent picking -- nothing dazzling, bur heartfelt and effective. Recommended!
---

More Country Gospel -- Letter "G"


---



Hick Music Index



---

cd = 11/21/03