<! MP3 12/18/10 > <! update 00/00/00 > <! outside 00/00/00 > <! pix 00/00/00 > <! icons 12/18/10 > <! The Burchett Brothers "The Gift Of Life" (Vision Recording Studio, 19--?) (LP) (Produced by xxxx) - # TBB-178 - brothers Danni Burchett (19) and Greg Burchett (14) - sons of an evangelical preacher, R. L. Burchett, from Turlock, CA - looks early '70s, not entirely country, though the liners mention Greg's "soft, western flair" The Gospel Notes "Gospel Treasures" (Vision Recording Studio, 19--?) (LP) - #TGN 9115 - looks 1960s(?) pleasantly country! - the Gospel Notes from Vancouver, Washington - other recordings (albums?) "Souls Harbor" "Guilty Of Love" and "Gospel Country" The Calvary Mountain Boys "Face The Father" (xxxxx, 1981) - SoCal band - Produced by Robert Pineda, April, 1981... With Don Nuzzo, Craig Cripps, Dave Rochester, Don Parker and others. Selections are: "FACE THE FATHER, ON A ROCK, SERVANT, VW BREAKDOWN, GLORYLAND!, FISHER OF MEN, THANKS!, BROKEN DREAMS, DIXIE BREAKDOWN, GOSPEL MEDLEY" Kenneth Copeland "Jesus Country" (Tempo Records, xxxx) (LP) (Produced by Darrell Glenn) - arranged by Harold Bradley and Buddy Spicher - Kansas City-area artist(?) - Tempo label in Mission, Kansas - Gloria and Kenneth Copeland THE CROWNSMEN "Back To The Basics" (Manna Records, 1981) (LP) - from El Monte, California, recorded in Burbank - on Manna, looks rootsy, but I didn't recognize any of the musicians - acc to liners, band was formed a decade earlier and was more of a Southern Gospel group, but going rootsy for this record The Chisum Family & Devoe Campbell (John's Recording Studio, 19--?) (LP) - #JMC 4841 - "rare hillbilly bluegrass folk" (gospel, but possibly with twang) - label from Russellville, Arkansas - Devoe Campbell's address from Mount Judea, Arkansas - liner notes say that four of the family's teenage boys were killed in an auto accident on March 1, 1969 The Chisum Family & Devoe "The Sun Will Shine" (John's Recording Studio, 1971-?) (LP) - #71382 - steel guitar by Zane Beck - no date, guessing from cat # >
---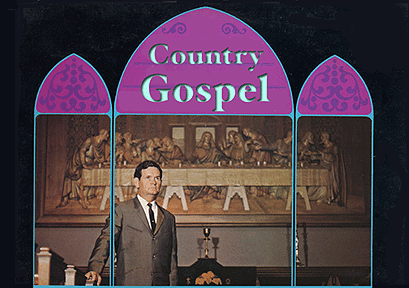 The gospel spirit fills the history of country music... For many country and bluegrass fans, the constant Jesus-isms can be a real turn-off, yet, like many kinds of religious music, it can bring out amazing, powerful performances and an emotional conviction that is rarely matched in secular pop culture. I'm hardly a preacher man, but there is some of this stuff I love, and having had the opportunity to hear a lot of country gospel over the years, I decided to take the chance to share some of my thoughts and impressions of the genre with y'all... Ready? Here we go!
---
COUNTRY GOSPEL: A | B | C | D | E | F | G | H | I | J | K | L | M | N | O | P | Q | R | S | T | U, V &W | X, Y & Z | Comps
---
Gospel MP3s | Holiday Music | Other Country Styles
---
Archie Campbell "Didn't He Shine" (RCA Victor, 1971) (LP)


Comedy craftsman Archie Campbell, who was a staff writer for the Hee Haw TV show, slows things down and puts on his serious face for this straight-ahead gospel set.
Glen Campbell "Oh Happy Day" (Capitol, 1970) (LP)

Glen Campbell "I Knew Jesus" (Capitol, 1973) (LP)

Glen Campbell "Show Me Your Way" (New Haven, 1991)


Glen Campbell "Favorite Hymns" (Word, 1992)

Glen Campbell "Wings Of Victory" (New Haven, 1992)

Glen Campbell "The Boy In Me" (New Haven, 1994)

Kate Campbell - see artist discography

Martha Carson & James Roberts "I'm Gonna Let It Shine" (BACM, 2005)


Old-time gospel favorites from the fabled Martha Carson and her husband James Roberts... These old recordings haven't see the light of day in a long, long time...

Martha Carson "I'll Shout And Shine" (BACM, 2005)

Martha Carson "Martha Carson Sings" (RCA-Camden, 1965) (LP)





<! Satisfied; (Get On) The Heavenly Road; He'll Understand and Say "Well Done"; Get That Golden Key; Get On Board Little Children; Rock-a My Soul; I'm A Pilgrim; He Was There; All these Things; A Satisfied Mind. >


The Carter Family -- see artist discography



Johnny Cash "Hymns By Johnny Cash" (Columbia, 1959)



The first of many, many gospel albums by the Man In Black... The story with this one is that Sun Records owner Sam Phillips wouldn't let the rugged, rough-n-tumble Mr. Cash record any religious material, so Johnny up and split for a more lucrative contract at Columbia, and released this as his very first album. I bet if Phillips knew how good this gospel album was going to turn out, he wouldn't have been so darn stubborn about it. A really nice record -- one of Cash's best and most heartfelt early albums on the Columbia label. Defintely check it out, if you're not overly troubled by the Christian proseltyizing.
Johnny Cash "Hymns From The Heart" (Columbia, 1962) (LP)

Johnny Cash "The Holy Land" (Columbia, 1968)


Johnny and June visit Israel and send back an audio postcard for all the rest of us... The Holy Land, seen through an old-fashioned Christian bedrock perspective.
Johnny Cash "The Gospel Road" (Columbia, 1973) (LP)

Johnny Cash "Johnny Cash Sings Precious Memories" (Columbia, 1975)

Johnny Cash "A Believer Sings The Truth" (Columbia, 1979) (LP)

Johnny Cash "Mystery Of Life" (Mercury, 1991)



A mix of secular and religious material. This album starts off a little shaky, with a couple of over-amped, rock-ish numbers that are just a little too loud and aggressive to match Cash's minimalist style. Things calm down fairly quickly, though, and the rest of the album may grow on you. There are some recycled oldies, like "Hey Porter," "Angel and the Badman" and Dylan's "Wanted Man," as well as some interesting new material, such as the Revelations-obsessed "By The Book," and a new duet with Tom T. Hall. The CD reissue also includes a bonus track of Cash's collaboration with U2 (originally from their Zooropa album)... None of this material is the best stuff Cash has ever done, but -- as ever -- he has that certain magnetism that will draw you in.
Johnny Cash "My Mother's Hymn Book" (American/Lost Highway, 2004)



This is a really nice gospel album, with simple acoustic versions of religious songs Cash grew up with, and the material is obviously close to his heart... It's the exact same material as Disc Four of the posthumously-released 5-CD Unearthed collection, just broken off and given its own separate packaging, with the full liner notes reproduced intact from the box's booklet. It's certainly worth purchasing on its own, if you don't want to spring for the full box set -- this is some of the strongest and most moving material on that package, and by itself it's equally if not more powerful. Cash is forthright and sincere, and the music is simple, stark and compelling. Recommended!
Johnny Cash "Ultimate Gospel" (Sony-BMG Legacy, 2007)



Nobody sings gospel quite like Johnny Cash, as heard in this stunning collection of devotional work that Cash recorded for Columbia/CBS over the years. The album gathers liberally from his many religious records of the late 1960s and early '70s, efforts that had a quixotic air about them, but always exuded born-again intensity that left little room to doubt his (and June's) sincerity and depth of conviction. Many of the songs come to us shorn from their original contexts -- from concept albums about the Holy Land, etc. -- but that doesn't make them any less haunting or piercing. His use of sound samples -- notably from Billy Graham lectures -- is pretty striking as well: take that, college rock hipsters! Johnny Cash did it first! (Only, not ironically...) Anyway, the main thing is, this is real, heartfelt religious music; all the passion and power that he put into his best-known secular work also went into his Christian recordings, and even the agnostic among us may find something here that'll strike a chord. Nice collection.
June Carter Cash "Church In The Wildwood: A Treasury Of Appalachian Gospel" (Dualtone, 2007)


The Chestnut Grove Quartet "The Legendary Chestnut Grove Quartet" (County Records, 1994)






<! The Chestnut Grove Quartet My Lord Delivered Me B001GXKZY6 I've Gotta Lot Of Heaven In My Soul B001GXKZZA Little Old Church By The Road B001GXF6LS O What A Glad Day B001GXN4MQ Just Over Yonder B001GXO49S Jesus Will Lead Me B001GXF6PO Lord, Don't Leave Me Here B001GXF6QS Better Farther On B001GXN4PS Where No Cabins Fall B001GXJ0C4 The Light On The River B001GXF6UE That's The Reason B001GXL08G Who'll Sing For Me B001GXL09U I've A Mansion Over In Glory B001GXJ0EC Where The Roses Never Fade B001GXN4VM The Great Beyond B001GXL0CW >

The Christian Troubadours "Time For Prayer" (Vision Recording Company, 1963-?) (LP)
Although this long-lived Christian quartet became known as a Southern Gospel group, they had deep, deep country roots, as heard on this excellent early album, which is drenched in honkytonk twang, with plenty of steel guitar, mandolin and electric-acoustic twang. Founded by Arkansas expat Wayne Walters, the Troubadours formed in Lakewood, California (near Long Beach) in the mid-1950s and stayed together through the '70s. This edition of the band included Bill Carter on bass, Phil Price on lead guitar, Wayne Walters playing rhythm guitar and singing lead, and Harvey Yeoman on mandolin, with somebody (sadly unidentified) adding some rock-solid steel guitar. If you enjoy Hank Williams' classic gospel recordings, you're gonna like this too -- they were certainly cut from the same cloth, playing heartfelt spiritual music with a rollicking, resonant twang. The band recorded about a dozen album and was later led by preacher Leroy Blankenship, moving to Nashville in its later incarnation. Me? I'm looking for more of their early stuff!


<! - no ASIN 10/05/15 - label (and band?) from Lakewood, California (near Long Beach) - no producer listed, bandmember names from autographs: - Phil Price (lead guitar), Harvey Yeoman (mandolin), Wayne Walters(?) (rhythm guitar) Bill Carter (bass) https://en.wikipedia.org/wiki/Christian_Troubadours Discography: Country Gospel Singing (Sundown Records, master tape at Sun Records Memphis, TN) Labor of Love (Vision Records) Time For Prayer Country Gospel Singing Volume 2 Love Thy Neighbor The Inner Glow Gospel In Bluegrass I've Got A Song This Is Gospel Country (Scripture Records)* - #117 Down Home Gospel (Scripture Records)* - #123 Far East Tour (Hymntone Records) Authentic Country Gospel (Hymntone Records) Filled With Praise (Heart Warming Records) The Nashville Sound Extra, Tell The News Something For Everybody Down To Earth (Heritage Records) Versatility (Heritage Records) On The Right Track (Jessup Records) Now... Hear This! (Heritage Records) >
The Chuck Wagon Gang "Secular And Sacred Songs" (BACM, 2005)


The Churchmen "On The Journey Home" (Pinecastle, 2003)



A nice bluegrass gospel album, with the music in the forefront and a nice set of standards and original tunes that aren't too in-your-face about the religious message. Nice melodic approach, and plenty of solid picking.
The Churchmen "Traveling Through" (Pinecastle, 2006)


The Churchmen "I'll Be Long Gone" (Pinecastle, 2008)


Roy Clark "The Magnificent Sanctuary Band" (Dot, 1971)

Roy Clark "Roy Clark Sings Gospel" (Word, 1975)
This appears to be a straight reissue of the Magnificent Sanctuary Band album listed above.
Roy Clark "The Last Word In Jesus Is Us" (MCA, 1981)

Roy Clark "My Favorite Hymns" (Intersound, 1995)

Roy Clark "Christmas Memories" (Fine Arts, 2000)

Roy Clark "...Sings And Plays Gospel Greats" (Finer Arts, 1999)
Roy Clark "Roy Clark Plays And Sings Gospel Greats, v.2" (Wonder, 2001)

Tommy Collins "Light Of The Lord" (Capitol, 1958) (LP)





<! reissued on CMH in '73 >
John Conlee "Turn Your Eyes Upon Jesus" (RCR, 2004)


(Produced by Bud Logan)
This is one kick-ass country gospel album! No foolin'... '80s legend John Conlee is still a powerhouse performer, with a rich, robust voice that's every bit as strong today as it was twenty years ago when he was at his peak at a Top Ten hitmaker. Conlee is still in top form -- if anything, he's singing better now than most of today's current crop of "top country" stars. The music is also quite strong: where many contemporary gospel albums tilt towards cheesy, synthy, low-budget arrangements with tinkly keyboards, etc., Conlee keeps it country with a no-nonsense cosmopolitan twang that's the perfect frame for his deep, booming voice. In addition to numerous religious standards, it includes a new tune, "They Also Serve," Conlee's contribution to the current crop of patriotic country songs, which sings the praise of military families in a time of war. This album seems very heartfelt and purposeful... one of the best country gospel releases you're likely to hear for some time to come!


<! The Cooke Duet "Early Cooke Duet" (Freeland) This features some of the earliest recordings from 1964-66 by this incredible gospel duo featuring just their own strumming guitar accompaniment. The Cookes are up there among the best - Jeanette is a spine chilling and ferociously intense singer, a little like Molly O'Day. Husband Hubert is a bit more restrained providing a beautiful counterpoint to Jeanette's powerhouse voice. The songs are mostly gospel favorites like The Lord Will Make A Way/ What A Time In Heaven / Got Sweet Heaven In My View and a sensational rendering of Ain't No Grave. There are also several fine originals - I'm Longing For Home/ I'm So Happy/ There Must A Power. Truly magnificent stuff - it's a shame the sound isn't better. Some of this couldn't be corrected since Jeanette's vocals often overloaded the microphones but the harsh edge to the sound in general makes for tiring listening. Still, it is really great music! >

The Cooke Duet "Best Of The Cooke Duet" (Freeland, 1994)

The Cooke Duet "Early Cooke Duet" (Freeland, 1998)

The Cooke Duet "Cooke Duet & Son" (Freeland, 1999)





<! This is the real thing! Wonderful white country gospel singing with high intense harmonies and basic country accompaniments (guitars, steel guitar, bass & piano). The Cookes have been performing together for nearly 35 years - first as duo and later with their children as the Cooke Family. They have had something like 40 cassettes issued by a small company in Kentucky with very limited distribution, This is their first appearance on CD and is drawn from cassettes issued between 1969 and 1971 >


Wilma Lee & Stoney Cooper - see artist discography




The Country Gentlemen "One Wide River To Cross" (Rebel, 1971) (LP)

(Produced by Charles R. Freeland & Roy Homer)
A swell, all-gospel album featuring the lineup of Bill Emerson, Jimmy Gaudreau, bassist Bill Yates and of course Charlie Waller on guitar. The repertoire is packed with great material, including a couple of Louvin Brothers tunes, Reno & Smiley's "Using My Bible For A Roadmap," several traditional hymns done up bluegrass style and the zippy title track, which kicks the album off. Everything is played in the same rollicking fast tempo, with little variation in delivery or tone. But it's heartfelt and fun... a nice, if slightly monochromatic spiritual set!
John Cowan "Comfort & Joy" (Koch, 2009)


Cowboy Copas "Sacred Songs" (King, 1959)

Cowboy Copas "Inspirational Songs" (Starday, 1961) (LP)


The Cox Family & Alison Krauss "I Know Who Holds Tomorrow" (Rounder, 1994)



An all-gospel album with Alison Krauss and The Cox family sounds like roots music manna from heaven... Still, I wish this had been a more traditional-sounding record... As it is, this is a bit over-orchestrated and Krauss-y. Guess they just couldn't help themselves. There are several very sweet numbers on here -- sublime, even -- but a lot of stuff that's pretty gooey and overripe as well. Hard to feel the Holy Spirit through all that molasass and corn syrup. Still, for those in the spirit, this could be mighty nice! (Also see my Alison Krauss discography.)
Floyd Cramer "The Sounds Of Sunday" (RCA Victor, 1971)

Floyd Cramer "Gospel Classics" (Step One, 1991)

The Crowe Brothers "Jesus Is Coming" (King)


The Crowe Brothers "The Gospel Way" (Copper Creek, 1997)


J.D. Crowe And The New South "The Model Church" (Rounder, 1994)


BIlly Ray Cyrus "The Other Side" (Warner/Word, 2003)



A big-sounding, very upbeat, Christian gospel album... one of the most dynamic and well-produced of his albums... Too bad he couldn't put the same kind of feeling into his secular discs as well... Still, for religiously-oriented fans, this was probably a real treat. For the style, this ain't bad!
---

More Country Gospel -- Letter "D"

---



Hick Music Index



---

cd = 04/05/05