<! MP3 12/19/10 > <! update 00/00/00 > <! outside 00/00/00 > <! pix 00/00/00 > <! icons 12/19/10 > <! Ray Pennington The Plainsmen "In Gospel Country" (Hickory, xxxxx) The Plainsmen "Gospel Songs For Country Folk" (Mercury, xxxx) - Southern Gospel >
---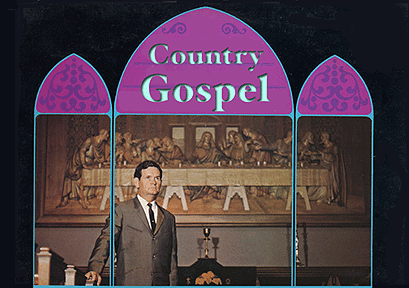 The gospel spirit fills the history of country music... For many country and bluegrass fans, the constant Jesus-isms can be a real turn-off, yet, like many kinds of religious music, it can bring out amazing, powerful performances and an emotional conviction that is rarely matched in secular pop culture. I'm hardly a preacher man, but there is some of this stuff I love, and having had the opportunity to hear a lot of country gospel over the years, I decided to take the chance to share some of my thoughts and impressions of the genre with y'all... Ready? Here we go!
---
COUNTRY GOSPEL: A | B | C | D | E | F | G | H | I | J | K | L | M | N | O | P | Q | R | S | T | U, V &W | X, Y & Z | Comps
---
Gospel MP3s | Holiday Music | Other Country Styles
---
David Parmley & Friends "What We Leave Behind" (Pinecastle, 2001)



A nice, sweet, low-key set of gospel songs and philosophical tunes reflecting on the shadows of life, as the daylight dims. The "and friends" include bluegrass luminaries such as Ronnie and Del McCoury, Aubrey Haynie and others. Nice, thoughtful album.
Dolly Parton "The Golden Streets Of Glory" (RCA Victor, 1970)

Dolly Parton "Precious Memories" (Blue Eye, 1999)


An all-gospel offering, mostly with standards such as "Farther Along," "Precious Memories" and "Power In The Blood."
Dolly Parton "For God And Country" (Welk Group, 2003)



Y'know, when Dolly decides to get cornball, she really can go all-out like nobody else... With an occasional super-perky, barbershoppish "River Boat"-style chorus bounding up behind her, Dolly sings some swell religious tunes, reprises a few WWII-era military oldies, and pays homage to all that is apple pie-licious about America, yet with a definite nudge and a wink. There are plenty of Parton originals as well, some of older vintage, others that comment on the current day. The most direct (and most dicey) of these is her version "Gee Ma, I Wanna Go Home," where Dolly updates the Eddie Cantor-style stage patter with a bunch of one-liners about Saddam Hussein and Iraq... Of course, it's all redeemed when she cracks a joke about the generals rushing to pin a medal on her ample bosom, referring to her own super-famous boobs as "Shock & Awe." (Only Dolly could pull that joke off... or, maybe Jay Leno...) Admittedly, if you're not on her wavelength on this one, your jaw will drop in disbelief at the over-the-top patriotic, jingoistic presentation... But even if you don't quite agree with her political slant, taken as camp, this is an amazing album. Likewise, if you take it at face value.
Dolly Parton "Letter To Heaven: Songs Of Faith And Inspiration" (Sony-BMG Legacy, 2010)



A groovy gospel set, gathering gems off of various albums recorded in Parton's early 1970's RCA glory years. It's nice stuff: nobody could sing a gospel song like Dolly did, or write one, either, as heard on gems such as "The Master's Hand," which she composed for her 1971 LP, Golden Streets Of Glory, where most of these tracks come from. Also included is one duet with her heartsong-singing mentor, Porter Wagoner, a man who showed Dolly a thing or two about keeping things simple -- that ethos applies here as well, where the arrangements are generally more stripped down than on other Nashville records of the time, giving center stage to the spiritual message, and to Parton's gloriously down-home vocals. Recommended!
Stella Parton "Appalachian Gospel" (Raptor, 2003)


Johnny Paycheck "Gospeltime In My Fashion" (Little Darlin', 1967) (LP)

Johnny Paycheck "Jesus And The Outlaw" (Little Darlin', 1979)


Johnny Paycheck "The Gospel Truth: The Complete Gospel Sessions" (Koch, 2005)



Wow... this is a really good record. This CD gathers together all of the gospel material recorded by country roughneck Johnny Paycheck during his tenure at the Little Darlin' record label. When he recorded his first gospel album in the late 1960s, Gospeltime In My Fashion, Paycheck was notorious for his goofy, over-the-top, morbidly-themed novelty songs; after he hit the bigtime with hits like "Take This Job And Shove It," he became known as one of country's biggest party-animal wildmen, and the quality of his work plunged in direct proportion to the amount of intoxicants he indulged in... But when it came to religious material, Paycheck really delivered. The 'Sixties stuff is quite lively and heartfelt, and even his later sessions in 1979 were pretty vigorous and convincing (even though this was arguably at the creative nadir of his commercial career...) This is a very strong and generously programmed collection, gathering material that has been out of print for decades... Well worth checking out!
Guy Penrod "The Best Of Guy Penrod" (Spring House, 2005)


Guy Penrod "Breathe Deep" (Gaither Music, 2010)



(Produced by Brent Rowan)
A solo set from a former member of the Gaither Vocal Band... Probably in more of a Southern Gospel mode, but still worth having on your country-gospel radar...
Stu Phillips "Have A Nice Day" (Paragon, 1976) (LP)

Stu Phillips "You Love The Hurt Away" (Watermark, 1997)

Webb Pierce "Country Church" (EP) (Decca, 1956) (LP)

Webb Pierce "Bound For The Kingdom" (Decca, 1959) (LP)
A hip, happening gospel album, simultaneously bluesy and whitebread, this features vocal arrangements by Anita Kerr, and Webb's standard-issue swingin' beat behind half the tunes. It's silly but fun. The songs range from feelgood Public Domain material such as "He's Got The Whole World In His Hand" to a slew of chestnuts by Albert E. Brumley.
Webb Pierce "Bow Thy Head" (Decca, 1963) (LP)


No bones about it, this is Christian country. But like the best gospel performers, Webb infuses the material with enough feeling to make it tolerable even to the most agnostic earlobes. The arrangements are wimpy, and the backing chorale rather bland, but Webb's voice is perfect for the material: irksome enough to get your attention, and soulful enough to draw you in.
Webb Pierce "Faith, Hope And Love" (Skylite, 1979)
This gospel LP is a sad coda to Webb's career as a solo artist, with backup by doe-eyed Carpenteresque young-uns... The material is mostly old chestnuts, gussied up with dated, third-string indie country arrangements, the worst of which is a manic rendition of Hank Williams' "I Saw The Light." The title track is a kitschy, longwinded recitation track which is probably the highpoint of the album. Honestly, this album isn't anything to lose sleep trying to track down.
Webb Pierce "Songs Of Faith" (...And More Bears, 2009)


A digital-only reissue of Webb's gospel classics with the Anita Kerr Singers...
Porter Hall, Tennessee "Satan On The Run" (Sheridan, 2008)

Don Poythress "Wash Away" (Columbia-Integrity, 2009)



Honestly, this one seems like more of a pop-gospel album, but there is a little bit of steel guitar in there (I think...) and Ricky Skaggs sings on one song... So I suppose that makes it "country" enough...
Elvis Presley "Peace In The Valley: The Complete Gospel Recordings" (BMG, 2000)



The King recorded an awful lot of religious material... as this 3-CD set amply demonstrates!


<! ELVIS PRESLEY -- LOTS OF OTHER ALBUMS >

Ray Price "The Old Rugged Cross" (K-Tel, 1993)


Ray Price "Gospel" (K-Tel, 2003)


Ray Price "Faith" (Columbia, 1960)

Ray Price "This Time, Lord" (Myrrh, 1974) (LP)

Ray Price "How Great Thou Art" (Word, 1978) (LP)

Ray Price "Revival Of Old-Time Singing" (Step One, 1986)

Charley Pride "Did You Think To Pray?" (RCA, 1971) (LP)


(Produced by Jack Clement)
Earning two Grammys, this album was a winner for Pride and is still considered a gem by many fans... The churchy approach taken on many tracks -- with Pride crooning over an organ and vocal chorus -- may seem a bit antiquated, though, and even Southern Gospel fans may take a while to warm to the album. The set list is packed with 19th Century hymns, as well as a few modern country-gospel tunes that fit comfortably alongside the oldies. "Let Me Live," written by Ben Peters, won a Grammy for Best Gospel Performance, and Ann J. Morton's "Time Out For Jesus" is an album highlight, taking familiar religious themes of devotion and sacrifice and giving them a clever new twist. (Note: the 2012 CD reissue includes a nice Chet Atkins-produced bonus track of "Wings Of A Dove," which compares nicely to the old Ferlin Husky hit.) For country gospel fans, this one's definitely worth a spin.
Charley Pride "Sunday Morning" (RCA Victor, 1976) (LP)

Charley Pride "Pride And Joy: A Gospel Music Collection" (Music City, 2006)


Princess Ramona "On The Wings Of A Dove" (Award Records, 19--?) (LP)


(Produced by Biff Collie)
This is the first LP from singer Ramona Kemp, the daughter of a Cherokee tribal leader from Oklahoma, and a darn good yodeler. Flambuoyantly decked out in buckskin, feathers and beads, she played up her Native American heritage and was best known by her stage name, Princess Ramona, and made her recording debut in the early 1960s, releasing a couple of singles produced by her husband, Buddy Kemp. While she started out singing straight country and pop vocals, she shifted decisively into an all-gospel mode later in her career. Although this is considered her secular album, there's gospel material on here as well -- the secular tracks include Elton Britt's "Chime Bells" and (of course) "Indian Love Call." There are a couple of songs written by Buddy Kemp, "Let's Go Back" and "The Mountain" -- he also claims arranger credits on several other tracks. Unfortunately, Princess Ramona's career is often viewed through the irony-tinted lens of hipster record collectors to whom the catnippy combination of gospel music, yodeling and her exaggerated Native American image prove too great to resist. But she was a pretty good singer, and fans of yodeling music, in particular, might want to check her out.


<! - #AW-2312 - The album's producer was country deejay Hiram "Biff" Collie >

Princess Ramona "Wait A Little Longer Please, Jesus" (Award Records, 19--?) (LP)



<! - #AW-5003 >

Princess Ramona & Buddy Kemp "Talk About Jesus" (Award Records, 197--?) (LP)
The liner notes on this early-Seventies album describe how Mrs. Kemp had a born-again religious conversion while working gigs in Southern California, and how Buddy Kemp sold his camping supply business, customized the large mobile home pictured on the cover, and how the couple set out to proselytize across the country and abroad. The album has a mailing address in Trail, Oregon, but apparently during this period, the Kemps were living out of their RV so they could engage in a musical ministry. Sure sounds hard!



<! - #AW-5005 >

Princess Ramona "Yodeling Praises Unto the Lord" (Award Records, 197--?) (LP)
Speaking of their mobile home, the Gospel Express, the Kemp's literally sing its praises in "This Motor Home Is In God's Hands," which is the album's closing number... Also featured are "God Put A Yodel In My Heart," "Jesus Put A Yodel In My Soul," and "Then I Started To Yodel," as well as "My Lord, My God, My King," which features a backing chorus by the Jordanaires... Also appearing on this album is harmony vocalist Laverna Moore, one of Nashville's more notable professional backup singers. (By the way, thanks to Matt of the CleanNiceQuiet music blog for providing some of the background info on Princess Ramona's colorful career...)


<! - #AL-5011 - arranged by – Jack Eubanks >

---

More Country Gospel -- Letter "Q"


---



Hick Music Index



---

cd = 04/05/05