<! cd = 10/02/10 > <! MP3 10/02/10 > <! outside 00/00/00 > <! pix 00/00/00 > <! 208-pix: 00/00/00 > <! icons 03/26/11 > <! UPDATES: 10/02/10 >
---
Kathy Mattea started out as a folk and bluegrass artist, but took Nashville by storm in the mid-1980s with a string of Number One and Top Ten hits, which lasted through the end of the 1990s. Her music often retains a folkie/singer-songwriter confessional tone, but she's also no stranger to good, old-fashioned twang. Here's a quick look at her work...
---
Discography - Best-Ofs
---

Kathy Mattea "A Collection Of Hits" (Mercury, 1990)



Covering three early albums (Walk The Way The Wind Blows (1986), Untasted Honey (1987) and Willow In The Wind, from 1989, and tossing one new tune in just for good measure, this set covers her early work quite nicely. It opens with her cover of Nanci Griffith's "Love At The Five And Dime," which is a nod in the right direction, but also points out Mattea's weaknesses as well as her strengths. The good part is that she's a heartsong traditionalist, relying on good songs and simple arrangements, and doesn't fall for the glossy, high-tech approach that swept Nashville in the '80s and '90s. The downside, for me at least, is that she has a mumbly, folk-ish delivery that gets a bit slushy and saccharine at times. For the most part, though: Kathy Mattea, yay. Worth checking out, especially if you're a fan of Nanci Griffith, Rosanne Cash, or Mary Chapin Carpenter.
Kathy Mattea "The Definitive Collection" (Mercury Nashville, 2006)


---
Discography - Albums
---
Kathy Mattea "Kathy Mattea" (MCA, 1984)



Bleah. I know I should respect Kathy Mattea's triumph in Nashville as sort of a proxy victory for an army of Nanci Griffith-ish gal-folkies, but I just find her really hard to get into. Mostly, I just don't like her voice: it's syrupy and redolent of a sort of marshmallow sentimentality, and think it also guides her musical sensibilities, as heard on this major label debut. The music is gooey and overripe, although there are some theoretically interesting touches, such as the pop-reggae of the opening track, "Street Talk." But the twang is buried in bland pop arrangements and tinkly piano fills... I find this a hard record to listen to, and certainly not one I'd go back to for pleasure.
Kathy Mattea "From My Heart" (Mercury, 1985)


(Produced by Allan Reynolds)

Kathy Mattea "Walk The Way The Wind Blows" (Mercury, 1986)


Kathy Mattea "Untasted Honey" (Mercury, 1987)


Kathy Mattea "Willow In The Wind" (Mercury, 1989)



Kathy Mattea "Time Passes By" (Mercury, 1991)



(Produced by Allen Reynolds)
Blechh. Gooey, milky, overly poetic, folkish material that over-emphasizes her sententious, florid vocal style, all of it all-too-frightfully reminiscent of Mary Chapin Carpenter, who I can't stand. There isn't a single performance on here that I liked, although she does an okay cover of Julie Gold's "From A Distance," which is a song I love, as well as a song by Scottish folkie Dougie Maclean. For those so inclined, I'm sure this is a lovely, moving album, but I thought it was dreary and enervating.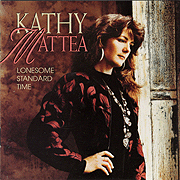 Kathy Mattea "Lonesome Standard Time" (Mercury, 1992)



(Produced by Brent Maher)
One of Mattea's finest, most upbeat and hook-laden albums. The mainstream-y melodic approach is matched by the quality of the songs, which come from a variety of sources. There's the obligatory Nanci Griffith cover ("Listen To The Radio"), the title track, a fine number written by Larry Cordle, and tunes by Kieran Kane, Bob McDill and others. Standouts include Mike Dowling's rather clever "Lonely At The Bottom" and "33, 45, 78 (Record Time)," an ode to the charms of things gone by the wayside. I have to admit, it took me a while to get into this album... As noted before, Mattea's voice kind of bugs me, but after listening to the record a couple of times, I found myself humming along, and got into it. This is catchy material, and thankfully free of the heavy poetics and would-be philosophizing that drags some of her other records down. Recommended!
Kathy Mattea "Good News" (Mercury, 1993)



A gospel set, featuring several original and newer tunes...
Kathy Mattea "Walking Away A Winner" (Mercury, 1994)


Kathy Mattea "The Innocent Years" (Mercury, 2000)


Kathy Mattea "Love Travels" (Mercury, 1997)


Kathy Mattea "Roses" (Narada, 2002)


Kathy Mattea "Joy For Christmas Day" (Narada, 2003)


Kathy Mattea "Right Out Of Nowhere" (Narada, 2005)



Kathy Mattea "Coal" (Captain Potato, 2008)



(Produced by Kathy Mattea & Marty Stuart)
Spurred on by West Virginia's fatal Sago Mine disaster of 2006, former Top 40 Nashville star Kathy Mattea has recorded a strong, focused set of coal mining songs, with plenty of twang in the music, and in her still-rich, rewardingly rural voice. This back-to-basics album features classics such as the Merle Travis oldie, "Dark As A Dungeon," as well as "Green Rolling Hills" and "You'll Never Leave Harlan Alive," along with several songs that unflinchingly look at the impact that coal mining has had on human health ("Back Lung") and on the rural landscape. The daughter of an Appalachian mining family herself, Mattea gives voice to the backwoods, and to the hard work and hard times of generations gone by. Folks who liked Patty Loveless's Mountain Soul abum a few years back might like this one as well.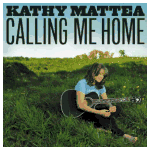 Kathy Mattea "Calling Me Home" (Sugar Hill, 2012)



(Produced by Gary Paczosa & Kathy Mattea)
A moody, mournful mix of country and quiet folk, a lushly arranged set of songs exploring the history and culture of Appalachia, with songs by Jean Ritchie, Hazel Dickens and Alice Gerrard, bluegrasser Laurie Lewis and labor activist Si Kahn. Kathy Mattea picks up where her 2008 album "Coal" left off, digging deeper and delves into the poetic soul of the mountains and forest lands. She's backed by several top tier bluegrass artists -- Stuart Duncan, Tim O'Brien, Randy Kohrs, Bryan Sutton and others, with harmony vocals from Emmylou Harris, Alison Krauss, Patty Loveless and Aoife O'Donnell (the Harris-Loveless-Mattea trio on "Black Waters" is not to be missed!) The dignity of the Eastern mountains and the people who live there is brought into modern times... Mattea's fans, particularly who liked the "Coal" album, will definitely want to check this out.
---
Links
---
Wikipedia
---