<! MP3 12/26/08 > <! update 12/26/08 > <! outside 00/00/00 > <! links 00/00/00 > <! pix 00/00/00 > <! icons 00/00/00 >

---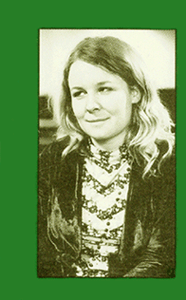 As a pivotal early member of Fairport Convention, one of the great English folk-fusion outfits of the late 1960s, Sandy Denny (1947-78) was revered as one of the movement's great divas, on a par with Maddy Prior and Anne Briggs. Denny joined Fairport following the departure of their original "girl" singer, Judy Dybel, and swiftly became one of the defining elements of the group's expansive and revolutionary sound. Although she left the band in 1971, Denny frequently collaborated with many of the musicians involved in Fairport's amorphous membership, and briefly returned to the official roster for one album that was released mid-decade. Her untimely death in 1978 cemented her status as a legend, sadly cutting short one of the most dynamic voices in the folk-rock field. In recent years, Denny's legacy has been echoed by modern soundalikes and stylistic stepchildren such as Beth Orton... Here's a quick look at her recorded legacy...
---
Solo Discography
---
Alex Campbell/Various Artists "Alex Campbell & His Friends" (Saga, 1967)
Sandy Denny's first studio work... Includes three tracks where she sings solo, as well as her singing backup behind Campbell and the other artists. Her solo stuff has been reissued on various collections, some of which are listed below.
Sandy Denny & Johnny Silvo "Sandy & Johnny" (Saga, 1967)



<! a split LP -- Silvo and Denny do not sing together. Her tracks were later reissued on the "Original Sandy Denny" album listed below. >
Sandy Denny & The Strawbs "Sandy Denny & The Strawbs" (Castle, 1967)





<! Amazon.com Sandy Denny was all of 19 when this one-off was recorded in 1967. Recruited at an open-mike night by Strawbs cofounder Dave Cousins, the bellwether of British folk music was just passing through the group; the following year she skipped over to Fairport Convention, with whom she did her most celebrated work. Sandy Denny and the Strawbs' charms are considerably more modest than those of classic Fairport records such as Unhalfbricking and Liege and Lief. Still, this is an engaging portrait of a preternaturally gifted newcomer who'd soon become a pivotal figure in folk-rock circles. The arrangements straddle the border between the courtly folk of the early '60s and the Beatlesque explorations that closed out the decade. And Denny gleams like a new penny, particularly on the closer, "Stay Awhile with Me." --Steven Stolder >

Sandy Denny "The Original Sandy Denny" (Mooncrest/Sanctuary, 1978)



Demo-y recordings from Denny's early years on the English folk scene, as her star was slowly rising. The songs come from her first two releases, the Alex Campbell album and the split LP with Johnny Silvo. Includes a fair amount of American-influenced folk-blues tunes, with an almost Weavers-ish feel to them. There are also several English trad songs than give a sense of her burgeoning power... There are differnt versions of these recordings on various releases, as well as different versions of the album itself. The original LP and first CD versions were recorded directly off old vinyl, and include surface noise from the discs; a later CD edition from 2003 seems to have been taken from studo tapes, and sounds much cleaner. Even in editions where the sound quality is rough, the historic value is tremendous.

Sandy Denny "Where The Time Goes: Sandy '67" (Castle, 2005)


This is perhaps the most useful version of her old, pre-Fairport work, since this collection gathers not only material from the Campbell and Silvo albums, it also includes the alternate takes that have confounded and delighted collectors for decades. Finally, you can hear it all in one place, and make up your own mind about which versions you want to hear.


<! Fairport Convention: What We Did on Our Holidays, Unhalfbricking, Leige & Lief >
Fotheringay "Fotheringay" (Island, 1970)


After her departure from Fairport Convention, Denny fronted this short-lived ensemble, along with her husband, Trevor Lucas, another midaeval-retro RenFair folkie who'd been in the orbit of Fairport and other key folk-rock acts. Fotheringay hewed closely to the trad-oriented "Matty Groves" side of the repertoire, and largely forsook the blues-boogie rock side of the equation. That meant that this album was, from a trad-folk perspective, a more organic sounding, less kitchen-sinky effort. It's also impossibly pretentious and painfully self-important, but hey -- that goes with the territory. This is one of the stronger albums of the genre, a touchstone for those who can bear the loftiness of it all... and certainly required listening for anyone who's checking out Sandy Denny's legacy.


<! Fotheringay "Wild Mountain Thyme" A boot(?) featuring several live BBC tracks and some concert recordings from 1970. I haven't seen this disc yet, so I can't really comment on its quality or provenance. >
Fotheringay "Fotheringay 2" (Fledg'ling, 2008)



Sandy Denny "The Northstar Grassman And The Ravens" (Island, 1971)


This was Denny's first solo release, and it's a lovely, moody album, filled with the musical assist of Richard Thompson and other Fairport-y cohorts. At times it's artistically overweening, but still much better and more accomplished than bazillions of other proggish albums of the early 1970s. Definitely worth checking out.
Sandy Denny "Sandy" (Island/A&M, 1972)

The Bunch "Rock On" (Island, 1972)


Sandy Denny, along with Richard Thompson, Trevor Lucas, Dave Mattacks and numerous other Fairport-affiliated artists, exults in this set of let-your-hair-down rock oldies covers, with versions of American rock and country covers from the likes of Chuck Berry, Dion, The Everly Brothers, Buddy Holly and Carole King. It's not magical or transcendent, but they sure sounded like they were having fun. (Note: the 2003 reissue on Fledg'ling -- linked to here -- has a few extra tracks.)
Sandy Denny "Like An Old Fashioned Waltz" (Island/Hannibal, 1973)

Sandy Denny "Rendezvous" (Island/Hannibal, 1977)


Sandy Denny "Gold Dust -- Live At The Royalty" (Island, 1998)



This is a recording of Denny's last concert performance, made a few months before her untimely death in 1978. Many Denny devotees will find this restored edition of this long-lost 1977 London show to be an invaluable document of this folk diva's waning days. The CD starts off a bit leaden, but sheds some of its stuffiness and gains emotional power as the performance moves on. Still, much of this is a matter of personal preference: I still find her overall approach a bit too regal, yet appreciate the quieter, more magical moments. This disc isn't without its controversies, the least of which being that it's not a "true" document of the concert in question. Dave Mattacks and Jerry Donohue anchored the original band, but due to various technical flaws in the master recording, Donohue's guitar pieces were re-recorded years later, and new back-up vocals were added to fill in the sound. Apologists will also point out that Denny was not in peak form at this show, but since she made so few live recordings to begin with, and since the remastered sound on this CD is pretty darn good, this is probably your best chance to assess her concert skills. It's pretty good; reflective of the lofty sound of the trad-rock crowd, though also trancendant at times.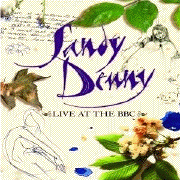 Sandy Denny "Live At The BBC" (Universal, 2007)


A four-disc set (!) covering Denny's live appearances on the venerable Beeb. Includes three CDs with pretty much everything she did on the BBC, as well as an additional DVD disc of her television appearances. Wow. Sounds cool! There is also a single-disc best-of set, listed below, called The Best Of The BBC Recordings.
Sandy Denny "The Best Of The BBC Recordings" (Universal, 2007)

---
Best-Ofs
---
Sandy Denny "Who Knows Where The Time Goes?" (Ryko/Hannibal, 1985)


Originally this was a magnificently lavish 4-CD box set that covered every facet of Denny's career; since then it's been pared down to a fabulous single-disc introduction. Highly, highly recommended.
Sandy Denny & Trevor Lucas "The Attic Tracks: 1972-1984" (Raven, 1995)





<! four separate volumes! dating back to '88, '89 >

Sandy Denny "The BBC Sessions: 1971-73" (BBC/Strange Fruit, 1997)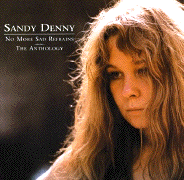 Sandy Denny "No More Sad Refrains: The Anthology" (A&M, 2000)



For those of us who missed (or couldn't afford) Rykodisc's lavish Sandy Denny box set from many years back, comes this outstanding 2-CD set of some of her best material from her brief but stellar career. As these CDs show, Denny's stately voice quickly developed into an almost unreasonable loveliness, a piercingly direct presence. While she sang with the same sort of arty piousness that made fellow Fairport member Richard Thompson sound conceited and boorish, in her hands the loftiness felt different, emphasizing the elegance of the songs, rather than the ego of the singer... Hardcore fans may complain that this anthology omits her work with the Strawbs, for most of us, this collection will be more than enough to keep the fire burning.

Sandy Denny "The Millennium Collection" (Universal/A&M, 2002)



A quick-and-simple 10-song best-of, including a couple of tracks from Fotheringay and Fairport. Certainly not enough material to satisfy diehard fans, but good for a quick introduction.
Sandy Denny "A Boxful Of Treasures" (Fledg'ling, 2004)


A 5-CD box set that covers Denny's work from Fairport and Fotheringay through her solo work, with various side projects... When I get a chance to hear it, I'll give you all the full report...
Sandy Denny "Listen Listen: An Introduction To Sandy Denny" (Island, 2000)

Sandy Denny "Dark The Night" (??)

Sandy Denny "Borrowed Thyme" (??)


Demo tapes, BBC shows and other pre-Fairport rarities, including a few tunes performed with the Johnny Silvo Four. Of note are inchoate versions of several Denny originals, as well as covers of songs by Jackson Frank, Fred Neil and Anne Briggs, as well as a version of Tom Paxton's "Last Thing On My Mind," which is one of several straight American-style folk tunes off the Johnny Silvo LP. For all its mysterious provenance, this bootleg CD, issued by the same folks who put out the Dark The Night CD (above), has pretty good sound quality: what deficiencies exist seem to be from the source material itself. Hardcore fans should be pleased.
Sandy Denny "The Collection: Chronological Covers and Concert Classics" (Island, 2005)





<! Subtitled - Chronological Covers & Concert Classics. Import exclusive compilation for the pre-eminent British folk-rock singer features 16 tracks including three with Fotheringay (a short-lived offshoot of Fairport Convention), 'Two Weeks Last Summer', 'Banks Of The Nile', & 'Gypsy Davey', three live tracks, 'Solo', 'John The Gun', & 'Who Knows Where The Time Goes', recorded at the Royalty Theatre, & covers, 'Down In The Flood' (Bob Dylan) & 'Candle In The Wind' (Elton John). Universal/Spectrum. 2004. >
Sandy Denny "The Music Weaver: Sandy Denny Remembered" (Island, 2008)

---
Sandy Denny On Film
---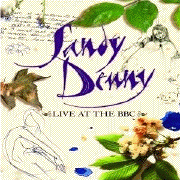 "Sandy Denny Under Review: An Independent Critical Analysis" (Sexy Intellectual, 2006)


A documentary film delving into Denny's work and her influence on the English folk and rock scenes... Includes clips from her shows, and interviews with many of her musical contemporaries. Thus far, I'm not sure if this film has been released in a format that will work in "Region 1" DVD players (like the ones sold in the US and Canada). Darn.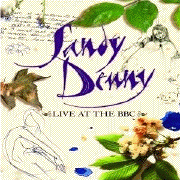 Sandy Denny "Live At The BBC" (Universal, 2007)


As mentioned above, this four-disc set gathers all of Denny's live appearances on the BBC, including one DVD disc of her television appearances. I'd love to see it sometime!
---
Tributes
---

Vikki Clayton "It Suits Me Well: The Songs Of Sandy Denny" (HTD/Castle, 1998)



On the face of it, this is either an act of heroism or foolheartiness -- a tribute to a figure so iconic and universally lionized that following in her footsteps would seem to invite the sort derision that only the truest true believers can heap upon one another. But Vikki Clayton, who has filled in the "Sandy Denny role" at many a Fairport Convention concert, is entirely up to the task. She opens this album with Denny's signature tune, "Who Knows Where The Time Goes," in sort of a throwdown to any potential detractors, and as on several other songs, her rich, confident vocals and understated arrangements carry the day. There are a few iffy touches, mainly in the electric filters and effects added to the bass and guitar, but overall this is a pretty strong record. Clayton herself is quite lovely to listen to. Devoted Fairport fans, doubtless primed to be weigh in against this album, should try to approach it with an open mind... it's pretty good.
Linde Nijland "Sings Sandy Denny" (Rounder Europe, 2007)



This homage to Sandy Denny comes to us from an earnest Dutch folkie who is also part of the Norwegian band Ygdrassil...
No Grey Faith "Secrets All Told -- The Songs Of Sandy Denny" (Perfect Pitch, 1999)






<! An enthusiastic folkie tribute, with alternating male-female vocals. Neither singer does much for me, although they are very, very earnest. >

---
Links
---
---



Main Celt/Brit Index
International Music Index



---