<! MP3 10/22/10, 11/08/11 > <! outside 00/00/00 > <! pix 10/22/10 - sko, schneider > <! icons 12/05/10 > <! UPDATES: 10/22/10 - expanded existing listings 11/08/11 - a couple of adds, pix - too early for a separate schneider page - need more content to surround it 04/30/13 - added Ray Sanders, John Schneider pages >
---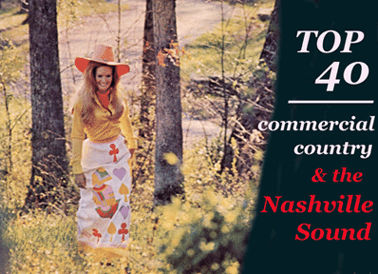 Are you a George Jones guy in a Garth Brooks world? A Loretta Lynn gal trying to understand why people still call Shania Twain a "country" artist?
Well, then this website is for you! Here's your chance to read all about Nashville pop, from the late-'50s "Nashville Sound" and the countrypolitan scene of the '70s to today's chart-toppers and pretty-boy hat acts, seen through the lens of DJ Joe Sixpack, a hick music know-it-all with a heart of gold...
Your comments and suggestions are welcome, particularly suggestions for artists or albums I might have missed. Other types of twang are reviewed elsewhere in my Hick Music Guide.
This is the first page covering the letter "S"
---
A | B | C | D | E | F | G | H | I | J | K | L | M | N | O | P | Q | R | S-1 / S-2 / S-3 / S-4 / S-5 / S-6 | T | U | V | W | X, Y & Z | Comps | Other Country Styles | Hick Music Index
---
Sami Jo "It Could Have Been Me" (MGM South, 1974) (LP)





<! The single, "Tell Me A Lie," was a crossover pop hit, reaching #21 on the charts >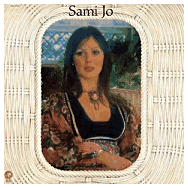 Sami Jo "Sami Jo" (MGM South, 1975) (LP)


(Produced by Jimmy Bowen)
The last album from this promising '70s singer. Sami Jo was apparently caught up in a bunch of label mergers, and despite moderate success on the charts, she wound up getting dropped in the late '70s... Maybe it's just as well, since this record was kind of awful. The first side has a bunch of overblown, heavily orchestrated countrypolitan soul songs, while Side Two veers off into country-disco territory. To be fair, Sami Jo may have been ahead of her time: she came out of the Muscle Shoals studio scene that generated a lot of white R&B and Southern Rock hits in the '70s, though her career steered towards a softer countrypolitan sound. Later on, this type of white-girl soul-sister material would top the charts in the hands of artists such as Reba McEntire, KT Oslin and Wynona Judd -- I'm not a fan, but I can see where this was coming from, and if you're into the style, this is probably a record you'd want to check out.
Ray Sanders - see artist discography
Sawyer Brown - see artist discography
John Schneider - see artist discography

Schuyler, Knobloch & Overstreet "SKO" (MTM, 1986)
The trio of Thom Schuyler, J. Fred Knobloch and Paul Overstreet, three successful songwriters, combined in a would-be supergroup. After recording this album, Overstreet went on to a very successful solo career...

Schuyler, Knobloch & Bickhardt "No Easy Horses" (MTM, 1987)


(Produced by James Stroud)
A fairly horrific pop-country outing by an odd sort of modern country supergroup... As individuals, the trio of Thom Schuyler, J. Fred Knobloch and Craig Bickhardt each had successful careers as top Nashville songwriters... Teamed together, they managed to not exactly integrate their hitmaking skills and savvy as merely overlay them atop one another: this disc is so heavily overproduced and glossy, so packed with hooks, hooks, hooks and hackneyed themes that you could almost believe that each man was assigned to make their own musical tracks for the various songs, and producer James Stroud just played each tape at the same time. There's never a quiet moment, or a particularly reflective feel to the entire album. It just feels so contrived and manipulative, so factory-made and so removed from anything gritty or emotionally direct, it's hard to get into. Nonetheless, that didn't stop them from scoring a few modest hits with this disc, most notably "Givers And Takers," which cracked the Top Ten. Also of note is "American Steel," a patriotic song that laments the decline of American industrial power.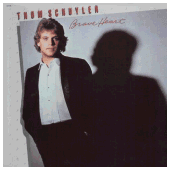 Thom Schuyler "Brave Heart" (Capitol, 1983) (LP)


(Produced by David Malloy)
The debut album from songwriter Thom Schuyler, whose career was kickstarted when Kenny Rogers scored a huge hit with his cloying-but-catching "Love Will Turn You Around" in '82. Schuyler built on that success with "16th Avenue," a Nashville rumination that was a minor hit for Lacy J. Dalton in '83 (and is heard here on this album as well.) This disc is pretty smooth and prefab, bringing Kenny Rogers and Dan Seals readily to mind, and maybe just a bit of James Taylor as well. He released this album be forming the SKO trio, but had only modest success on the charts. It's mostly generic pop-country, though some of it's straight up pop, like the swooping, syrupy "Must I Cry." Not my cup of tea, but you can see how the formula would work for him.


<! 11/11: new LP ASIN >

Thom Schuyler & Craig Bickhardt "Precious Child" (Warner, 1993) <! with Janis Ian? >



A dramatic, gospel-themed nativity album recorded with Schuyler's former SKB bandmate, Craig Bickhardt...
Thom Schuyler "Prayer Of A Desperate Man" (2008)


Brady Seals "The Truth" (Reprise, 1997)


Brady Seals "Brady Seals" (Warner Brothers, 1998)


Brady Seals "Thompson Street" (Image Entertainment, 2003)


Brady Seals "Play Time" (Nine North, 2009)



Solo album by a former member of Little Texas. The misogynistic single, "Ho Down," about a woman who drunkenly passes out while dancing at a bar, is pretty offensive.


<! due out August, 2009 >


Dan Seals - see artist discography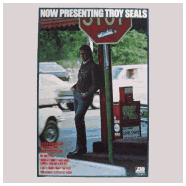 Troy Seals "Now Presenting Troy Seals" (Atlantic, 1973) (LP)


Songwriter Troy Seals is part of the same extended family that includes fellow country stars Brady Seals, Dan Seals and their cousin Johnny Duncan... Troy never made it big as a star performer, but for several decades he was one of Nashville's most successful composers and producers, with dozens of hits recorded by major artists. This was his first full-length album, though he had released some singles in the '60s, notably with his wife, ex-rockabilly gal Jo Ann Campbell.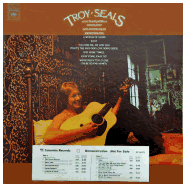 Troy Seals "Troy Seals" (Columbia, 1976) (LP)


(Produced by Billy Sherrill)
Well, he definitely was marching to the beat of a different drum... This slick-sounding album dips into what I guess you could call avant-garde bar-band music -- country compositions delivered with a slight '70s boogie-rock tinge, but more importantly with unusual but persistent forays into reggae and smooth-edged R&B, similar to the stuff Joe Stampley was recording around the same time. All but one of the songs are Troy Seals originals, many co-written with folks like Max D. Barnes and Will Jennings -- the exception is a truly awful cover of Don Gibson's "Sweet Dreams." One wonders what producer Billy Sherrill made of this session: it sure doesn't sound much like his own ornate countrypolitan style, and one suspects Sherrill pretty much just checked out and let Seals do whatever he wanted to, since this album resolutely does not fit into the style of the time. I don't like the music myself, but looking back you can definitely make the case that Seals was way ahead of his time -- this album is an aesthetic failure but some of the ideas he was working with here would come to dominate country music a couple of decades later. I think part of it is that there just wasn't the right frame of reference to make a record like this in mid-'70s Nashville, sort of like trying to build a rocketship while hanging out with Sir Isaac Newton. Or maybe I'm giving Seals too much credit -- he might not have been a visionary, but he was doing his own thing. And he was certainly more successful as a songwriter than as a performer: none of his singles ever got out of the lower rungs of the Back Forty... and you can kind of see why. Still, if you're curious about a genuinely different style of mainstream country, this is worth checking out.


<! Will Jennings, or Waylon? Seals wrote with both >


Jeannie Seely - see artist discography



Jason Sellers "I'm Your Man" (BNA, 1997)


A perky yet fairly unremarkable, generic commercial country album. Sellers was married to Lee Ann Womack up until the time this disc came out... Unfortunately, her distinctive, charismatic style didn't really rub off on him.
Jason Sellers "A Matter Of Time" (BNA, 1999)





<! A Matter of Time What a lover is for This thing called life every fire golden ring (duet with Pam Tillis) Till I felt your hands Everybody's walking That's not her picture Bad Case of Missing you If you're willing Can't help calling your name >


---
Commercial Country Albums - More Letter "S"
---