<! MP3 09/25/10 > <! outside 00/00/00 > <! pix 09/25/10 > <! icons 10/16/11 > <! UPDATES: 09/25/10 10/31/11 - a few adds from Fillies - need a pic for David Lynn Jones "Mixed Emotions" 03/25/13 - added Joey + Rory page 01/12/14 - added Jordanaires page, set 160-s & 170-s > <! Jaron >
---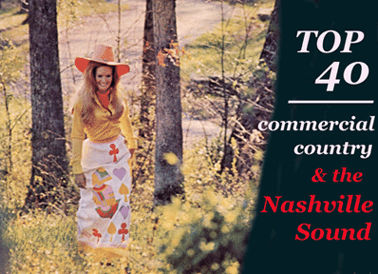 Are you a George Jones guy in a Garth Brooks world? A Loretta Lynn gal trying to understand why people still call Shania Twain a "country" artist?
Well, then this website is for you! Here's your chance to read all about Nashville pop, from the late-'50s "Nashville Sound" and the countrypolitan scene of the '70s to today's chart-toppers and pretty-boy hat acts, seen through the lens of DJ Joe Sixpack, a hick music know-it-all with a heart of gold...
Your comments and suggestions are welcome, particularly suggestions for artists or albums I might have missed. Other types of twang are reviewed elsewhere in my Hick Music Guide.
This is the first page covering the letter "J"
---
A | B | C | D | E | F | G | H | I | J | K | L | M | N | O | P | Q | R | S | T | U | V | W | X, Y & Z | Comps | Other Country Styles | Hick Music Index
---
Alan Jackson - see artist discography
Stonewall Jackson - see artist discography
Wanda Jackson - see artist discography
Jana Jae -- see artist profile
Anthony Michael James "Old Friends" (V-Tone, 2004)


(Produced by Doug Deforest & Jon Raney)
Hailing from Pennsylvania, James has a more traditional sound than many contemporary Nashvillers, with plenty of fiddle and acoustic backup, and this album opens with great promise, although ultimately it's a letdown. He has a nice voice, but it is poorly used on this set of fairly weak, undistinguished material. There are a couple of standout tracks -- the rollicking opener, "Sweet Sarah," is probably the strongest showcase for his vocals, and the wistful "One More Goodbye" succeeds in connecting emotionally, as does the doleful "Let Me," which closes the album... But the rest of the record is unmemorable; it's formulaic, but not in a particularly effective way. If you like sensitive male singers, James' slower stuff may ring your bells, but I, for one, would like to hear him come back with a stronger set, one which really plays to his strengths. Not so sure this one does.


<! 06/09: actually those tunes ain't so great... > <! 144 x 144 >
Casey James "Casey James" (BNA/19 Recordings, 2012)



The first album by the third-place runner-up in an American Idol season...


<! He came third in American Idol season 9 contest (Jan - May 2010), >
Ryan James "Back To The Wind" (Hightail, 2007)



(Produced by Tim Lorsch & Walt Wilkins)
Texas-based songwriter Ryan James flies under the radar with this fine set of half-alt/half-pop twang. It's an indie release, but your ears will perk up when you hear tunes like "Everything That Glitters Is Not Gold" (a Dan Seals oldie) contrasted with a cover of Waylon Jennings old hit, "Ramblin' Man." Although the album opens with a couple of tunes that seem tailormade for Nashville bigwigs like Tim McGraw, et. al., to cover -- "Goodbye Carolina" and "Home On The Range" -- James is equally comfortable with chunkier, more outlaw-ish material, and sympathetic backing from Walt Wilkins and his crew make this a pretty solid set. James is a perfect example of the current intersection between roots music and chart hits -- he could go either way, and he certainly should make some headway as a Music Row songwriter... Worth checking out, no matter which side of the fence you're on!


<! 144 x 144 >


Sonny James - see artist discography



The Jane Dear Girls "The Jane Dear Girls" (Warner-Reprise, 2011)



Faux-roots country with antiseptic modern production; the slick studio sound I can handle, but what really bugs me are their vocals -- the flat, phony sneer of contemporary teenybopper pop infects their harmonies, and shrieks out the blandness of their product. Yeah, I "get" that commercial country has cross-pollinated with post-Miley Cyrus pop, and I get that this is a valid stylistic choice... I just personally find it terribly empty and uninvolving. Oh, well. Can't win 'em all.


<! 144 x 144 > <! Bob Jennings >

Jaron "Getting Dressed In The Dark" (Universal/Big Machine, 2010)






<! see also: Evan & Jaron >


Norma Jean - see artist discography



Bob Jenkins "Bob Jenkins Sings" (Twentieth Century, 1974)


(Produced by Michael Taylor)
Slick, heavily orchestrated countrypolitan/country-rock, recorded outside of the Nashville studio system. More '70s AOR than "country." I don't know much about this guy, and I'm not sure if he's the same Bob Jenkins who had a minor country hit a decade later with a novelty song about the Rubik's cube... Anyway, Jenkins and his producer Mike Taylor each wrote about half the songs on here, and I'm assuming they were in a band together or something. Nothing charted from this album, but if you like the smoother side of the country-rock sound -- bands like Poco and Firefall -- you might enjoy this as well. (BTW, if anyone has more info, feel free to contact me.)
Shooter Jennings - see artist discography
Tommy Jennings "Then There Was One" (Dimension, 1980) (LP)


Waylon's younger brother Tommy...


<! This is apparently the lone album he made for a regular record label; over the years he has also self-released some records, such as the one below. >

Tommy Jennings "Equal Opportunity Lovin' Man" (Audiograph) (LP)

Tommy Jennings "Hey, Waylon! The Eagle's Last Flight" (Self-Released, 2005)
A "family tribute," recorded after Waylon's untimely demise... There's a strong vocal and stylistic likeness; also the songs themselves are of an autobiographical/hagiographic quality that may be of interest to many hardcore Hoss-ologists. Available through Tommy Jenning's website... Tell 'em Joe sent ya.
Tommy Jennings "Southern Touch" (One Media, 2011)






<! re-recorded versions >


Waylon Jennings - see artist discography




Sherri Jerrico "County Heartaches" (Crazy Cajun) (LP)


Buddy Jewell "Buddy Jewell" (Columbia, 2003)



(Produced by Clint Black)
A second-stringer. A bubbadelic good ole boy with modest vocal strength and a fairly plodding sense of phrasing and rhythm, Jewell won the Country Star TV talent contest -- the Nashville version of American Idol -- and the result is this somewhat unremarkable set of clunky, croony tunes. Apparently, he's a protege of Clint Black -- Clint produced this album, and Jewell dutifully records one of Black's songs, one of many that are dressed up in formulaic Nashville arrangements. There's nothing really, well, bad on here... just nothing terribly exciting. Highlights include the pseudo-offensive, but nice sounding "You Know How Women Are" and a nice duet with Miranda Lambert (it's a well-chosen cover of Buck Owens' "Today I Started Loving You Again" ... but who the heck is she?? Was she on that show, too?) Overall, this is nothing to write home about.


<! 144 x 144 >
Buddy Jewell "Tales Of The New West: Songs Of The Coreys And Dennis Kahler" (Oarfin, 2003)





<! The Songwriters Ñ The Coreys and Dennis Kahler Tales of the New West is the result of over a decade of C & W songwriting by the four Coreys: Arthur and Margie, and Sharon and Alton. Art and Alton Corey are brothers who have been writing songs for over 25 years, and during most of that time co-writing several tunes with AltonÕs wife, Sharon, who also has an extensive canon of her own poetry. ArtÕs wife, Margie, also an accomplished writer of poems and verses, joined the song writing effort in 1993, making more contributions to the groupÕs growing body of material. Their most notable effort to date was the 1994 indie hit "Dark Desert Sky" recorded by Bill Scarbrough. Dennis Kahler, who wrote or co-wrote the lyrics to three of the songs on this CD (#1, 2, and 6) is a long-time friend and co-writer who has compiled a significant list of songwriting credits on his own and currently is the President of the Alabama Songwriters Association. Dennis has often collaborated with the Coreys several times over the past four years. >
Buddy Jewell "Times Like These" (Columbia, 2006)


Buddy Jewell "Country Enough" (Diamond Dust, 2008)



Buddy Jewell "I Surrender All" (Diamond Dust, 2011)



(Produced by Michael Bush & Buddy Jewell)
An independently-released, all-gospel set from this former Top-40 contender and reality-show winner... The title track and others are a little too tinkly and Southern gospel poppy for my tastes, but others have a nice, twangy vigor. "Hell Bent And Heaven Bound" has a nice trucker-song feel. while "Jesus, Elvis And Me," and his version of "There Is Power In The Blood" have a strong, thumping backbeat. I think Jewell sounded better with a bigger studio budget behind him, but if you're a country gospel fan, this is certainly worth checking out.


<! 144 x 144 >

JJ White "Janice & Jayne" (Capitol, 1991)


Janice and Jayne White are a sister duo who wrote a lot of their own material... Their voices are twangy and rural, but the music is both slick and lethargic, monotonous, even. I suppose fans of the Judds or the Forresters might appreciate the family harmonies, but this isn't a very fun record.


<! 130 x 130 >

Erika Jo "Erika Jo" (Universal South, 2005)



(Produced by Tim DuBois, Rick Giles & Steve Mandile)
A winner in the cable TV talent show, Nashville Star, teenager Erika Jo stood a good chance at becoming one of Nashville's new elite. Her major-label debut is a little too rock-pop at times, which is probably a hangover from an American Idol-y TV tilt towards perky, generic pop. But the album's opener, "I Break Things," is a great, upbeat honkytonkish tune that has a bit of Tanya Tucker sass to it, and hopefully it's a sign of good things to come. Like many younger singers, Jo doesn't quite sound like she has the real-life emotional experience to feel convincing on songs of heavy heartbreak and regret... But give her some time -- we all get kicked around a little, and when you're a country singer, that can come in handy. For fans of the current mix of ornate Nashville twang and fluffy, teenybopper pop (ala Lindsey Lohan), this disc might make for a little summer fun... I'll be interested to hear where she goes from here.


<! 144 x 144 >


Joey + Rory - see artist discography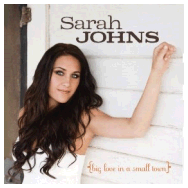 Sarah Johns "Big Love In A Small Town" (BNA, 2007)



(Produced by Joe Scaife)
One of the finer examples of the back-to-basics neo-trad country sound of the post-Gretchen '00s... There's lots of egregious twang with tons of fiddle and pedal steel, but unlike the trailblazing Gretchen Wilson, Kentucky-born Sarah Johns doesn't get stuck in macho-chick posturing. This is an album of country love songs, with a minimal use of novelty-song gimmicks and no references to shotguns, booze, tailgate parties or trucks. Thank God. There's only one track -- the milky, heavily-orchestrated "It's Hard To Be A Girl (In A Young Man's World)" -- that dips into the kind of gooey soul-ish pop that '90s femme-stars like Martina McBride and Sara Evans, et. al., made the dominant sound for Nashville women. Nonetheless, Johns keeps herself remarkably true to her country core, and the rest of the album, though tightly sculpted still has some real twang. It's particularly impressive to note that she wrote or co-wrote all the songs on here, making her a bit of a country auteur. Unfortunately, Nashville didn't reward her for her classiness: the album's two singles only made it to the outer edges of the Top 40, and that wasn't enough of a splash to earn her a second album. Pity. It's been a while, but I keep hoping she'll resurface, because modern country sure could use a few more artists with depth like this.


<! PS: interesting to see Melodie Crittenden singing backup on this one... >
Carolyn Dawn Johnson "Room With A View" (Arista, 2001)



(Produced by Paul Worley & Carolyn Dawn Johnson)
Although she dabbles in the glossy, poppy, overwritten style that defines post-millennial Nashville, Johnson still has a lightness of touch that makes some of these songs, like "Georgia" and "I'll Think Of You That Way," kind of compelling. The singles are kind of a mixed bag -- "Complicated" is a glossy, dreary bore, "One Day Closer To You" and "I Don't Want You To Go" both try and infuse more bounce into the formula, but they fall flat -- Johnson's sincere, bright vocals swathed in antiseptic, too-perfect studio production. It's too bad, really; she's an artist I have a natural sympathy for, but her records are simply more of the same mediocre, Martina McBride-ish pop-country "girl" stuff that crowded the radiowaves at the turn of the millennium... You can see why her career has kind of stalled, which is really kind of a shame, but honestly, there's no there there.


<! 144 x 144 >
Carolyn Dawn Johnson "Dress Rehearsal" (Arista, 2004)



(Produced by Dan Huff)
As aggressively "pop" a country album as has been produced in the last five years or so... pretty lavish and heavy on the chiming electric guitars, compact rhythmic hooks and treble-tilting EQ, but also pretty effective at what it's trying to do. To their credit, the label picked two of the more demure, more country-sounding songs as the initial singles, "Simple Life," with it's pert little banjo riff, and "Die Of A Broken Heart," which is a rather nice little weeper... I would have picked those songs, too. The rest of the album, though, is a little bit busy for my tastes, and a few tunes are actually rather jarring -- the cloying pop-gospel of "God Doesn't Make Mistakes," the Stones-y Sheryl Crow-isms of "My Little Secret," the sheer shrillness of "Squeezin' The Love Right Out Of You," the awkward meter of the otherwise sweet "Life As We Know It," etc. Johnson's following the prefab pop diva path of Shania and them other 1990s gals, and while that style is a turnoff for me, more mainstream modern pop-country fans should find this album pretty satisfying. But really... why call it "country"??


<! 144 x 144 >
Carolyn Dawn Johnson "Love And Negotiation" (Universal/Dancing Lily, 2009)


Carolyn Dawn Johnson "Love Rules" (Universal/Dancing Lily, 2010)

Jamey Johnson "The Dollar" (BNA, 2006)


Jamey Johnson "That Lonesome Song" (Mercury-Nashville, 2008)



(Produced by Jamey Johnson & The Kent Hadley Playboys)
Wow. Great record. Jamey Johnson is one in a long line of rough-edged, roots-oriented country singers who have gotten chewed up and spit out by Nashville, and lived to tell the tale. He's had a lot of success as a songwriter, penning hit singles for Trace Atkins, George Strait and others, but as a solo act he's had his ups and downs. He hit the Top 20 a couple of years ago, but still got dumped by his label, prompting Johnson to retrench and go "outlaw" -- in a big, big way. This record is areal throwback to the glory years of the 1970s outlaw scene, sharply recalling the best work by Kris Kristofferson, David Allan Coe and -- of course -- Waylon Jennings. But while bad-boy posturing is pretty commonplace among country stars these days, Johnson seems to "get it" in a way most hat acts don't: this disc opens with "High Cost Of Living," a rueful, soul-rending song about drug abuse and addiction that's smarter and more honest than a truckload of just-say-no PSAs. Other songs follow in the same suit, songs about partying hard and losing sight of the important things in life, about trashing the house after your lover leaves you, about coming to terms with failure and loss, about being p*ssed it all happened in the first place, and trying to get your act together again. (It probably helps that, in addition to having his label drop him, Johnson also got divorced before he recorded this record: the pain and anger here are real.) Along with his own excellent compositions, Johnson covers some classics, notably Bob McDill's "The Door Is Always Open," and Alan Reynolds' "Dreaming My Dreams" -- in case you didn't quite get the point, he closes the album with a nod towards two of his heros, explaining where his records can be found, filed somewhere "Between Jennings And Jones." If you like gritty, greasy, real-deal outlaw honkytonk, give this disc a shot. Johnson might be hanging out with a bunch of 21st Century hat act guys, but this record is pure 1974 single-finger salute. I like it a lot.


<! "The Dollar" single B0013FZEIE >
Jamey Johnson "The Guitar Song" (Mercury Nashville, 2010)



(Produced by Arlis Albritton, Dave Cobb & The Kent Hardly Playboys)
A real stunner. Probably the best, or at least the most significant new country record this year. It's a double-disc record, with a "black album" and a "white album" side by side, the dark one representing the darkness of a man hitting rock bottom, packed with some of the hardest-hitting, bleakest honky-tonk gloom-and-doom songs you'll ever hear. His character loses his lover, his job, his home and the respect of his fellow man -- on "Can't Cash My Checks," his stock has fallen so low, no one will trust him to pay his debts, in a searing, painful commentary on modern-day poverty that sounds like something out of the Dust Bowl. But it's not just thematically that Johnson makes his mark, but musically as well: this guy really "gets" old-school hard-country music. He gets the twang right, as well as that extra layer of rich, thick texture from the pedal steel, vocals and bass; he gets the sentiment and grit and sense of humor as well. Indeed, this music is so good, and so true to its roots I'm completely amazed that Johnson has a major label deal -- and he's successful, too! Maybe there's hope for the world, after all. Side Two, or rather, Disc Two is the "white album," where his character takes an upward swing towards joyfulness and life... Musically this translates into Waylon Jennings-style twang-rock jams, poling expressions of twangadelic playfulness: personally, I'd go for a couple of brighter, more concise melodic numbers, but hey, Johnson's the auteur. As this second disc winds down, the songs start to slow down a bit, and there is a suggestion that either the narrator has aged and mellowed, or perhaps the sadness is coming back, and it's time to go back to other disc: I like to think that this is a complete package, with the emotions ebbing and flowing, sometimes happy, sometimes sad, a real country song-cycle, an unending see-saw of catchy, boozy tunes. Although this is a triumph as a cohesive concept album, there are of course plenty of standout songs. The black album's opener, Keith Whitley's "Lonely At The Top," pokes fun at self-pitying celebrities crying at the bar; the barroom setting is echoed in a great cover of Vern Gosdin's big hit, "Set 'Em Up Joe." Although Johnson's soulful originals make this album so resonant, there are some cover tunes, too, including Mel Tillis' "Mental Revenge," Kris Kristofferson's "For The Good Times" and a great version of the title track, Bill Anderson's "The Guitar Song," featuring Anderson himself adding a surprisingly vigorous duet. Jamey Johnson, with a crackerjack band worthy of the mantle of Waylon or Willie's 1970's ensembles, has tapped into country music's true past, and points the way to a vigorous new future. Let's hope he keeps on the same path for as long as he can, 'cause this is some really really fine stuff. (Now if you'll excuse me, it's time to change the discs again...)
Jamey Johnson "Living For A Song: A Tribute To Hank Cochran" (Mercury Nashville, 2012)



One of the best, most authentic roots-country auteurs in today's country scene pays homage to songwriter Hank Cochran... It's hard to describe just how flat-out satisfying and amazing a record like this is for a hard-country fan like me: each track is a tour-de-force of true twang, where Johnson's love of tradition and grit comes through loud and clear, as does his appreciation of Cochran's work, which -- like Johnson's -- perfectly hits the sweet spot between honkytonk roots and the demands of modern Nashville pop. Cochran's strengths as a composer are reconfirmed as Johnson and his many guests bring the songs to life and make the lyrics their own. And Johnson proves himself a generous and gracious host by letting each of his duet partners stand in the spotlight, complimented by his own rich, robust, rumbling vocals. The album opens with a gorgeous version of "Make The World Go Away," with Alison Krauss mining the emotional agonies of this great melodic oldie; other highlights include a rough-hewn duet with Merle Haggard ("I Fall To Pieces"), a heartbreaking ballad with Elvis Costello ("She'll Be Back"), Emmylou Harris delving deep into the erotic charge of "Don't Touch Me" (perhaps the most frankly carnal song I've ever heard her sing) and Johnson's epic collaboration with Willie Nelson, one of the most sure-fire Cochran interpreters you could ever hope to hear. Jamey Johnson made the most of this opportunity, to harmonize with his heroes, to pay homage to a great and now-underrecognized country composer, and to bring an avalanche of real-deal, hardcore, beautifully arranged true twang into the country mainstream. He sings unaccompanied on only one track, the aching "Would These Arms Be In Your Way," and it, like every other record he's made, is a gem. Another highly recommended album from one of the most potent and soulful artist working in Nashville today.
Lois Johnson - see artist discography

Jolie & The Wanted "Jolie & The Wanted" (Dreamworks, 2001)



(Produced by Dann Huff)
Very generic, very poppy stuff, with a few glimmers of life, but not much twang. Lead singer Jolie Edwards is perky, for sure, but the bright, bland production doesn't give her much room to do anything interesting. Includes a cover of Paul Davis' '70s AOR hit, "I Go Crazy." Jinkies.


<! 144 x 144 >

David Lynn Jones "Hard Times On Easy Street" (Mercury, 1987)





<! David Lynn Jones (born January 15, 1950 in Bexar, Arkansas) is an American country music singer-songwriter. Between 1987 and 1994, Jones released four studio albums; he also charted four singles on Billboard Hot Country Singles & Tracks chart. His highest charting single, "Bonnie Jean (Little Sister)," peaked at #10 in 1987. As a songwriter, Jones wrote "Living in the Promiseland," a #1 hit for Willie Nelson in 1986. >

David Lynn Jones "Wood, Wind And Stone" (Mercury, 1990)

David Lynn Jones "Mixed Emotions" (Capitol-Liberty, 1992)


(Produced by Richie Albright & David Lynn Jones)
Brightly produced, a times brash, singer-songwriter roots-rock, given a big-country treatment; in quiet moments there's a glimmer of Guy Clark, but for the most part, it's more of a John Hiatt/John Mellencamp kinda thing. Not bad for the style.
David Lynn Jones "Play By Ear" (Capitol-Liberty, 1992)

George Jones - see artist discography
J.C. Jones "One Night" (Rising Tide, 1998)


A C-list second-stringer who barely cracked into the Top 100 with this earnest yet unmoving debut. I dunno, I can see how a lot of folks would really like this guy, seeing him as some sort of sensitive songwriter/outlaw type or something. I wanted to like him, for some reason, but the songs seemed a little overcooked, though not so over-the-top that they'd work the way the big Nashville hits do. He seems to be trying really hard, but can't quite get there...


<! 144 x 144 > <! this isn't Jeff Jones of the Staton Brother band, is it?? >
Joshua Scott Jones "The Healing" (JSJ Music, 2014)


A recovery album by Joshua Scott Jones, best known as one half of the country duo Steel Magnolia...
The Jordanaires - see artist discography
Porter Jordan "Porter Sings Porter" (MC Records, 1977) (LP)
(Produced by Jerry Styner)
I dunno what the whole story was on the short-lived, country-oriented Motown Records offshoot, MC Records, but since most of the titles produced under its imprint -- including this one -- weren't released commercially, I think it's a safe guess that it was some sort of tax writeoff... Anyway, I had no idea what to expect when I picked this disc up, and my hopes weren't that high, but man! what a pleasant surprise! This is a really good, richly produced, fine example of '70s-style honkytonk, with lots of pedal steel and a lazy shuffle beat. He reminds me folks such as Carmol Taylor or Little David Wilkins, off-the-radar country journeymen who were just a few rungs away from the show biz status of someone like Mickey Gilley, et. al. At any rate, I liked the music a lot -- Porter Jordan didn't have the best voice, but it works for the style, and the songs and arrangements are all pretty good. I couldn't find much info about this album, or about Porter Jordan, but since the song, "Bad Georgia Road," included on this album, was featured in a 1977 film of the same title, I think it's safe to assume that he's the same Porter Jordan who worked on the soundtracks for a series of '70s horror and exploitation films, such as Jennifer, Chain Gang Women and Dixie Dynamite. You'd never think it, though, listening to this fine, rich set of soulful twang. Sadly, the sparse liner notes include no info on the studio musicians, other than Porter and the producer (who also shares some song credits...)


<! 09/2013: no ASIN >
Tresa Jordan "3D" (South River Road, 2005)



(Produced by Jim Cooper)
Pretty darn good. Jordan clearly has commercial aspirations and I'll bet she can make it, if she plays her cards right. This album shows her adept at a variety of Top Country styles, from the relatively rootsy to the sappy and poetic, reaching into the Sara Evans/Martina McBride side of pop-country, while still keeping sight of some good, old gravel-road grit. I didn't expect much from this record, but I was pleasantly surprised... You might be, too.


<! 144 x 144 >


The Judds - see artist discography





Wynonna Judd - see artist discography



---
Commercial Country Albums - Letter "K"
---