<! cd = 04/21/13 > <! MP3 04/21/13 > <! outside 04/21/13 - WP, PF > <! pix 00/00/00 > <! 208-pix: 00/00/00 > <! styles: bluegrass, fillies, top 40 > <! UPDATES: 04/21/13 - posted > <! also plays on: Dwayne Youngblood "Salutes The Bicentennial: 1776-1976" (xxxxxx, 1976) (LP) >
---
A championship fiddler in the traditional bluegrass circuit, Jana Jae (nee Jana Greit) found success in mainstream country music as a performer on the Hee Haw TV show, and later as member of the late-1970s edition of Buck Owens' band, The Buckaroos. In recent years she has concentrated on hosting fiddle camps for up and coming talent... Here's a quick look at her work...
---
Discography - Albums
---
Jana Jae "I Love Fiddlin' " (?)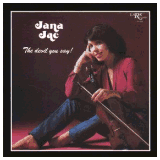 Jana Jae "The Devil You Say" (Lark, 1979)



This album is a showcase for her considerable talents, with a mix of traditional and modern styles, including some trick tunes like the birdcall imitations of "Hot Canary" and the disco-fied "Orange Blossom Very Special," which was released as a single. The album is mostly all-instrumental, with a notable exception being "The Devil Went On to Tulsa," an answer song to Charlie Daniels' big hit of a few years earlier. Backing Jae on this album are the Nashville Superpickers all-star band, with pianist Hargus Robbins, steel players Lloyd Green and Buddy Emmons, and even a latter-day edition of the Harden Trio adding vocals.


<! with the Nashville Superpickers > <! some disco tracks, such as "Orange Blossom Very Special" > <! Hot Canary" is fun "The Devil Went On to Tulsa" - vocal >


Jana Jae "By Request" (Lark, 1981) <! NR-17090 > <! year (???) >

Jana Jae "Symphony Pops" (Lark, 1982)


A country-meets-classical outing recorded with the Tulsa Philharmonic Orchestra...
Jana Jae "Don't Rock The Bow" (Lark, 1999)

Jana Jae "Ashokan Farewell" (Lark, 2008)


---
Links
---
---