<! MP3 06/09/09, 06/06/10, 03/13/13 > <! pix 03/13/13 > <! icons 10/29/11 > <! UPDATES: 06/09/09 - need Glen Campbell, finish Tommy Cash 06/06/10 - made Tommy Cash (needs bio) still need Campbell 11/07/11 - posted Glen Campbell 03/13/13 - new Deana Carter page, Jeff Carter reviews > <! Tom Carlile "The Tom Carlile Feel" (Door Knob, xxxxx) (LP) B00413AMEQ MP3 - B005F56I92 >
---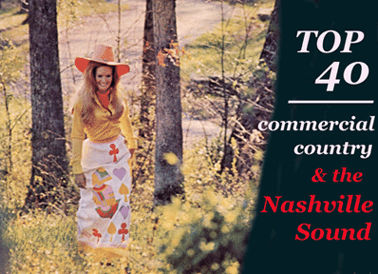 Are you a George Jones guy in a Garth Brooks world? A Loretta Lynn gal trying to understand why people still call Shania Twain a "country" artist?
Well, then this website is for you! Here's your chance to read all about Nashville pop, from the late-'50s "Nashville Sound" and the "countrypolitan" scene of the '70s to today's chart-toppers and pretty-boy hat acts, seen through the lens of DJ Joe Sixpack, a hick music know-it-all with a heart of gold...
Your comments and suggestions are welcome, particularly suggestions for artists or albums I might have missed. Other types of twang are reviewed elsewhere in my Hick Music Guide.
This is the first page covering the letter "C"
---
A | B | C-1 / 2 / 3 / 4 / 5 | D | E | F | G | H | I | J | K | L | M | N | O | P | Q | R | S | T | U | V | W | X, Y & Z | Comps | Other Country Styles | Hick Music Index
---
The Cactus Brothers "Cactus Brothers" (Liberty, 1993)



An odd sort of orphaned almost-alt album from the commercial side of the tracks... Initially this feels irritatingly prefab, a fake-o, domesticated roots rock bar-band, with a decidely Nashville sound... But some of the touches that seem like mere affectations, including a liberal dose of bluegrassy acoustic licks, finally start to feel a little more sincere by album's end. If you like the Tractors, the V-Roys or bands like that, you might want to track this down as well, though for my money, this is a bit too controlled and tame.
The Cactus Brothers "24 Hours, Seven Days A Week" (Demon, 1998)


Oh, jeepers...! Is that what 24/7 means...?? I finally figured it out... Thanks, guys!
Buddy Cagle "The Way You Like It" (Imperial, 1966) (LP)

Buddy Cagle "Mi Casa, Tu Casa" (Imperial, 1967) (LP)

Buddy Cagle "Longtime Traveling" (Imperial, 1968) (LP)

Buddy Cagle "Through A Crack In A Boxcar Door" (Imperial, 1968) (LP)


(Produced by Scott Turner)
This was Buddy Cagle's last album, although he did record a few more singles before hanging it up in the early '70s. It's a pretty soft set, a "travelling hobo"-themed folk-country set, the sort of stuff that young Bobby Bare struggled mightily to free himself from, but similar to a lot of the Nashville Sound crooning of the time... Indeed, on Side Two, Cagle sounds a lot like '60s-era Hank Snow, both in his choice of repertoire and in his vocal intonations. Not a very exciting record, but it stands up fine next to albums by big stars of the time.
Chris Cagle "Play It Loud" (Capitol, 2001)



(Produced by Robert Wright & Chris Cagle)
Recycling old Southern rock motifs (such as the fiddle/electric guitar combination we all know and love from back in the day...) Cagle and his producers neuter the style and bend it into a soft pop formula, just a coupla steps short of a Michael Bolton album... He makes the most of a thin voice, and delivers his wordy romantic ballads with a fair amount of skill... If you can get past the too, too-perfect, studio-pruned drums, the rolling, drippy piano riffs and swooping power chords, then he can hold your attention. But honestly, this is all a bit much. It's not really music, it's just "product," and it's way overdone.


<! 144 x 144 >
Chris Cagle "Chris Cagle" (Capitol, 2003)



(Produced by Robert Wright & Chris Cagle)
Hmmm. I mean: YUCK...!!! Super-overproduced, popped-out, rock-flavored & coldly calculated commercial Top Ten corn; country music for people who don't really like country music. Totally bogus, but it sold pretty well, though. Go figure.


<! 144 x 144 >

Chris Cagle "Anywhere But Here" (Capitol, 2005)


Chris Cagle "My Life's Been A Country Song" (Capitol, 2008)


Chris Cagle "Back In The Saddle" (Warner/Bigger Picture, 2012)



(Produced by Keith Stegall)
Top 40 star Chris Cagle is back with a robust set of mainstream material. I find it a little ironic that a twang-themed song like "Got My Country On" is so dominated by rock guitars, but, hey, that's modern-day Nashville. I gotta get over it. The whole mythic small-town country nostalgia gets an interesting twist with "I Grow My Own," which starts out as a testimony to home gardening, but then transforms into an overwrought survivalist/tea party/home schooling/NRA anthem. Cagle balances it out with romantic material, though the album as a whole has a pretty macho feel... Is anyone else getting a little tired of Nashville's current Southern rock fad? I dunno... I wouldn't mind hearing a few more fiddles and steel guitars, but maybe I just gotta get over it.
Chris Cagle "The Best Of Chris Cagle" (Capitol, 2010)


Chris Cagle "Icons" (Capitol, 2013)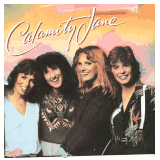 Calamity Jane "Calamity Jane" (Columbia, 1982) (LP)


(Produced by Billy Sherrill)
Terrible. Utterly forgettable and un-noteworthy except that this all-gal band was the genesis of the songwriting partnership of Pam Rose and Mary Ann Kennedy, who went on to bill themselves as "Kennedy Rose" and develop a faithful following in the '80s and '90s. This is a remarkably tepid album, marked by the sad, impotent dregs of the '70s countrypolitan sound -- Billy Sherrill was billed as producer, but there's very little of his signature wall-of-sound style on display here. It's a very thin-sounding album, with arrangements that do very little to boost their voices, leaving the vocals sounding flat and forlorn. Some unfortunate pop covers, as well as some original material that may be of interest to fans.
Shawn Camp - see artist discography
Archie Campbell -- see artist discography
Craig Campbell "Craig Campbell" (Bigger Picture, 2011)


Craig Campbell "Never Regret" (Bigger Picture, 2013)



(Produced by Keith Stegall)

Glen Campbell -- see artist discography
Stacy Dean Campbell "Lonesome Wins Again" (Columbia, 1992)


A thoroughly likeable, inoffensive soft-honkytonk outing that seems closely modeled on Rodney Crowell's best work, both vocally and in terms of the acoustic-based arrangements. The big difference is in the calibre of songwriting; most of these songs are pretty fluffy and aimless. They sound nice, though. This is my kinda Nashville muzak.
Stacy Dean Campbell "Hurt City" (Columbia, 1995)


(Produced by Blake Chancey & Wally Wilson)
Another fine, fun, brightly produced poppy-tonk set, with a nice, thumping backbeat and plenty o' twang. He also still sounds a lot like Rodney... but Rodney when he sang at his honkytonk best, which is pretty darn good. Uniformly strong material with good delivery, including a cover of "Pop A Top," a great version of Steve Earle's "Sometimes She Forgets," and even a few songs that have an Everly Brothers vibe to 'em. It's a nice sound, which of course hardly made a dent in the charts. This album also includes the crunchy-guitared chunka-chunka hillbilly rock of "Honey I Do," Campbell's last chart entry, which weighed in at an undistinguished #61, and doomed him to an also-ran status... But this is definitely a case where commercial failure has to be forgotten in favor of artistic success: Campbell's career may have tanked out, but those of us fortunate enough to find a copy of this disc floating around will be pleased to find several strong performances on it, and other, lighter tracks that still sound nice. Not a classic, but definitely worth checking out.
Stacy Dean Campbell "Ashes Of Old Love" (Warner, 1999)






<! "Eight Feet High" (?) >

Canyon "Guess I Just Missed You" (16th Avenue Records, 1988) (LP)


A moderately successful band from Texas who managed to (just barely) crack into the Top 40 after a year's worth of singles...
Canyon "Radio Romance" (16th Avenue Records, 1989) (CD) <! - Capitol? >


This album contains their highest-charting song, "Hot Nights," which hit #40, though the band wasn't able to sustain that success. I guess one of the bandmembers, drummer Keech Rainwater, stuck with it and went on to become a member of Lonestar in the 1990s...
George Canyon "George Canyon" (Blue Leaf Music, 2004)



This appears to be a collection of his early stuff...
George Canyon "One Good Friend" (Universal South, 2004)



(Produced by Tim DuBois & Steve Mandile)
Mining much the same territory as hat act dudes like Clint Black, George Strait and Tracy Lawrence, Canadian newcomer George Canyon is a gruff-voiced neotradder who isn't in the slightest little bit afraid to record super-formulaic material. Mostly, it pays off real well. Despite some of its by-the-numbers aspects, his album has a vigorous feel, and several songs you just gotta love, like the dopey "Working On A Ten," which revisits the whole rating-gals-on-a-one-to-ten-scale thing, and the religiously themed "Unfinished," in which a guy's life flashes before him in a moment of danger, and after taking stock of his own shortcomings, he decides to do better and make himself a better man. It's unashamedly, unselfconsciously corny material, and that's one of the reasons it works so well... The other reason is that the production is relatively restrained -- oh, sure, it's factory made and totally Nashville, but it still has some grit to it, and the propulsive approach Canyon and his band use plows along and pulls us with it. A couple of songs towards the end are only so-so, but mostly this is a commercial country album you can listen to from start to finish, without having to skip tracks or hit fast forward. Hope he can keep it up, because this is one of the decade's most promising commercial country debuts.

George Canyon "Home For Christmas" (Universal South, 2005)



Nice, robust readings of various Christmas standards. Not that different than a raft of other country holiday records by folks like Clint Black, et al, although Canyon's lounge-y blues-jazz reading of "Blue Christmas is distinctive. The arrangements are generally rootsier than many similar albums, and his voice is pretty husky and manly... Worth checking out.
George Canyon "Somebody Wrote Love" (Universal, 2006)

George Canyon "Classics" (2007)


Canyon sings country standards -- "He Stopped Loving Her Today," "Okie From Muskogee," "Ring Of Fire..." Stuff like that.
George Canyon "What I Do" (2008)

George Canyon "Better Be Home Soon" (2011)

George Canyon "Classics II" (2012)

Henson Cargill -- see artist discography
Carolina Rain "Weather The Storm" (Equity, 2006)

Mary Chapin Carpenter -- see artist discography
Jeff Carson "Jeff Carson" (Curb, 1995)



(Produced by Chuck Howard)
Lightweight pop country, with the standard mix of ballads and uptempo material... Carson's comfort zone seems to be with weepy pop ballads that harken back to '70s AOR, ala Dan Seals or Kenny Loggins, with a little bit of steel guitar thrown in on top. There are some nice novelty songs such as "Preaching To The Choir," but they suffer from Curb's mid-'90s production style, a thin, by-the-numbers sound which tends to neuter any bite out of the twang, and gives everything a too-generic feel. There's enough rootsiness to make this a little interesting to twangfans, but not much... He's sort of a poor man's Alan Jackson, I guess.
Jeff Carson "Butterfly Kisses" (Curb, 1997)



(Produced by Chuck Howard & Merle Haggard)
This album has a much, much, much more "pop" feel -- drippier production, sappier songs -- and precious little twang. Indeed, the most vigor heard here comes on a (not very good) cover of Ozark Mountain Daredevils' "If You Wanna Get To Heaven"; otherwise, it's soft pop ballads and even a few songs that verge on Contemporary Christian music. Kippie Brannon sings on a duet of "Daddy's Little Girl," while Merle Haggard chimes in on a version of "Today I Started Loving Her Again." If I had to pick a track off this album to recommend, I guess it would be "Cheatin' On Her Heart," but mostly I'd say this one is pretty skippable.
Jeff Carson "Real Life" (Curb, 2001)



(Produced by Max T. Barnes & Justin Niebank)
Sort of a latter-day Dan Seals, Oklahoman Jeff Carson sticks pretty strictly to inspirational, slow-tempo weepers, with plenty of tinkly piano work and sweeping, egregious key changes. I guess if you go for the sappier end of the modern stuff, this disc is a pretty good option, although you gotta admit this guy doesn't have the world's greatest voice. Several songs provided by writers in the Trace Adkins axis -- notably Trey Bruce and Max D. Barnes (who produced half the tracks on the album) -- but Carson often seems ill at ease with more uptempo material, so the disc has kind of a lopsided feel to it. Not my cup of tea, but I can see the appeal.
Wayne Carson "Life Lines" (Monument, 1972) (LP)

Anita Carter - see artist discography
Carlene Carter - see artist discography
Carter's Chord "Carter's Chord" (Universal-Show Dog, 2008)


Carter's Chord "Christmas" (EP) (Universal-Show Dog, 2010)


Carter's Chord "Wild Together" (EP) (Universal-Show Dog, 2011)



(Produced by Toby Keith & Mark Wright)
You might be disappointed if you thought this three-gal vocal group's name was an homage to the Carter Family... Unless of course, you were talking about Carlene Carter, 'cuz like Carlene in her younger years, this rough-cut trio want to make sure you know that they aren't just a bunch of harmless little "good girls." Indeed, on songs like "We Ain't Makin' Love," they go out of their way to underscore their carnality and downright raunchy horniness. Forget about the scented candles, baby, it's time to burn a hole in the rug!! To balance things out they close this 6-song EP with "Love A Little Bigger," a socially-conscious Christian country-pop song that urges everyone to be more thoughtful and thankful in life. (Of course, it's still a little self-absorbed: they start out by worrying about strangers who are starving, but instead of deciding to volunteer at a soup kitchen, they resolve to call their moms on the weekend. Well, every little bit helps, I guess...) Proteges of label head Toby Keith, these gals are a bit too overproduced for my tastes, but I'm sure old Toby knows what he's doing when it comes to making hits... So keep your eyes peeled.
Deana Carter - see artist discography
Lionel Cartwright "Lionel Cartwright" (MCA, 1989)


(Produced by Tony Brown & Steuart Smith)
A nice debut from this Ohio-born vocalist. He's definitely on the mellow side, but evokes the neo-traditionalism of Randy Travis and Rodney Crowell, along with a strong affinity for the smooth balladeering of Vince Gill (who sings backup on some of these tracks...) Most of this album is pleasant but forgettable, though a few tunes will stick to your ribs such as Cartwright's first single, "You're Gonna Make Me Mine," which didn't go far in the charts, but was good enough to get him an album deal, and "Give Me His Last Chance," another love-triangle weeper which has a nice, mournful chorus. As far as mainstream '80s country goes, this is pretty good stuff -- easy on the ears but not totally cloying, just soulful enough to hook in traditionalists, but modern enough to get him on the charts.


<! Mac McAnnally on guitar >
Lionel Cartwright "I Watched It On The Radio" (MCA, 1990)



(Produced by Tony Brown & Steuart Smith)
Brightly engineered pop-country; the uptempo stuff has a nice country-rock Rodney Crowell/Ricky Skaggs feel, although the ballads are a little too drippy and slow for me. The title track is nice, though a lot of this album is less memorable. I guess "My Heart Is Set On You" is the only other track I'd really recommended here.
Lionel Cartwright "Chasin' The Sun" (MCA, 1991)


(Produced by Tony Brown & Barry Beckett, Ed Seay, et. al)
A dimly remembered cult favorite, songwriter Lionel Cartwright racked up a few notable hits in the early 'Nineties, but he folded up the tent fairly early on, and it's easy to see why. He's barely an adequate singer, though given the right setting, he does bring it home on a tune or two. "What Kind Of Fool," a minor hit, is a very effective heartsong; the album's closing number, "Leap Of Faith," was Cartwright's crowning glory, a #1 hit that starts out awkwardly, but builds up to a pleasantly poppy crescendo. Most of his songs sound clumsy, though -- he really is an artist best suited to a modest best-of set, or to some careful ala carte song sampling.
Lionel Cartwright "Miles & Years" (1999)

Lionel Cartwright "Signature Series, v.1" (Intuitive, 2005)



A 5-song EP that recaps some career highlights...
Johnny Carver - see artist discography
John Carter Cash "Bitter Harvest" (Universal, 2003)

John Carter Cash "The Family Secret" (Cash House, 2010)


Johnny Cash - see artist discography
Rosanne Cash - see artist discography
Tommy Cash - see artist discography
The Cates Sisters "The Cates Sisters" (Caprice, 1977)
Careful study of various liner notes from the 1970s and '80s will show sisters Marcy and Margie Cates singing backup for a bunch of artists in the country and pop fields... This was their first album as "solo" artists... Haven't heard it yet, though I am curious.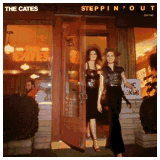 The Cates "Steppin' Out" (Ovation, 1979) (LP)


(Produced by Brien Fisher)
A fairly tepid countrypolitan-meets-disco production, with sisters Marcy and Margie Cates harmonizing over mediocre pop-country arrangements. They seem caught between the future and the past: although there are hints of the synthy, new wave-ish style that groups like the Judds would perfect in the early '80s, these gals fall short of the sound and fall back on the sort of flowery sunshine-country/AOR that Donna Fargo and Anne Murray were singing about five years earlier. I guess these two had been singing together since the early '60s: the Praguefrank discography shows them releasing singles as early as 1963(!), assuming it's the same gals. Anyway, this isn't really a "bad" album, just kinda bland and a little behind the times. But if you're a fan of '70s soft pop and country-pop, this could be worth checking out.
The Cates Sisters "That's What I Like About The South" (Music Masters, 1980)

The Cates Sisters "Moments" (Salute, 1992)

The Cates Sisters "Crazy Dreams" (Red Bus, 2011)


This download-only reissue gathers the less-than-a-handful of singles they recorded for MCA around 1973-74, stuff that's more country, and more fun than their later work, including a little hint of honkytonk and western swing. Still not stellar, but okay for the times.


<! The Cates Sisters "The Cates Sisters" (Caprice, 1977) The Brothers Of Love; Mr. Guitar; Out Of My Mind; I Can't Help It + more unknown tracks – 04-77 The Cates "Stepping Out" (Ovation, 1979) Make Love To Me; Show Me The Way; Don't Say Love; Let The Tenderness Turn You On; Day After Day; I've Been Loving You Too Long; Let's Go Through The Motions; Can I See You Tonight; Why Don't We Lie Down And Talk It Over; Goin' Down Slow – 10-07-79 The Cates Sisters "That's What I Like About The South" (Music Masters, 1980) (tracks unknown) - 80 The Cates Sisters "Moments" (Salute, 1992) 'Neath The Moon And The Morning Star; My Very Best Friend; When I'm Dreamin'; Paris In The Rain; January Night; Home again; Shenandoah Night; Winter's All We Have; November Rain; Sunny Days Of September; In The Arms Of Love; Christmas Long Ago – 92 The Cates Sisters "Crazy Dreams" (Red Bus, 2011) B007N2T41E - MP3 Crazy Dreams; Double Your Pleasure; He Fiddled His Way in to My Heart; Uncle Pen; Whats a Little Dirt; Like Ive Been Holding You in My Heart; A Pretty Country Song; Release Me - 11 >


---
Commercial Country Albums - More Letter "C"
---