<! cd=03/30/05> <! MP3 04/02/09, 03/29/14 > <! outside 00/00/00 > <! pix 00/00/00 > <! 208-pix: 00/00/00 > <! icons 11/20/10 > <! UPDATES: 04/02/09 03/29/14 - added "Carter Girl" review, updated ASINs >
---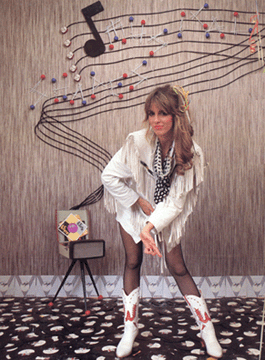 The daughter of hillbilly singers June Carter and Carl Smith, Carlene Carter put in some time as a junior member of the Carter Family road show, but really made her mark in the New Wave era, back when she was married to rocker Nick Lowe and living the wild life in drug-infused Los Angeles showbiz scene. Carlene was famously quoted at the time as saying she wanted to "put the c**t back in country," but though she sometimes twanged it up, her early albums mostly tilted towards rock or rock-flavored country of a New Wave-ish variety. Nick Lowe's influence is very clear on these discs, which often sound like the tightly-crafted neo-billy of his band, Rockpile. Although she was something of an alt-country pioneer (or maybe because of it...) Carter's albums sold poorly, and with the dissolution of her marriage, for the better part of the 1980s she took a break from recording records. Her "comeback" in 1990 was pretty surprising: the album I Fell In Love, along with a vocal performance with the band Southern Pacific propelled her into the Country charts for the first time...
---
Discography
---
Carlene Carter "Carlene Carter" (Warner, 1978)


A straight-up rock record recorded with members of the Graham Parker's band, The Rumour...
Carlene Carter "Two Sides To Every Woman" (Warner, 1979)


And this time around she was working with the Doobie Brothers (!)
Carlene Carter "Musical Shapes" (Warner, 1980)


Her first album with husband/producer Nick Lowe...
Carlene Carter "Blue Nun" (F-Beat, 1981)

Carlene Carter "C'est C Bon" (Epic, 1983)

Carlene Carter "I Fell In Love" (Giant, 1990)



This was Carter's "comeback" album, with two highly successful hits, "I Fell In Love" and "Come On Back," which both hit #3 on the Country charts. The title track is a simply irresistible, super-bouncy country-pop number with a chorus that'll clobber ya... Other songs are less catchy, but all in all, this is a pretty nice record, and definitely more "country" than her earlier work. This was also her first album made with longtime partner Howie Klein, a seasoned rock'n'roll bass player, who had played with Tom Petty's band, and who (sadly) died in 2003 of a heroin overdose...
Carlene Carter "Little Love Letters" (Giant, 1993)



The song "Every Little Thing" hit #3 on the Country charts, apparently cementing Carter's viability as a hitmaking artist... Still, this is kind of an iffy album. There are glimmers of life -- the plunky, acoustic "Nowhere Train," the Rockpile-ish "Every Little Thing" -- but this disc suffers from muddled and oft-misguided overproduction, and a herky-jerky mishmash of styles, from syrupy ballads to smoothed-out sortabilly. Carlene's vocals often fall flat, too -- she sounds a bit too matronly for a lot of this material to work although, as I say, there are some nice songs lurking in the margins. I'm sure there are many who would consider this to be a warm and "mature" work; I just think she sounds a bit adrift.
Carlene Carter "Little Acts Of Treason" (Giant, 1997)


Carlene Carter "Stronger" (Yep Roc, 2008)


Carlene Carter "Carter Girl" (Rounder, 2014)



(Produced by Don Was)
I was pretty psyched by the prospect of hearing country-rocker Carlene Carter pay homage to the legacy of the fabled Carter Family, the legendary musical dynasty of which she is a member in good standing. Carlene is the daughter of the late June Carter Cash, and took part in a 1990's Carter Family reunion with her mom and aunts, and just generally speaking, she's been around the block a time or two and hearing her dig into the rich trove of songs identified with the Carters sounds like a pretty good time. That being said, this is an album that might take a little getting used to: the lavish, poppy production of studio whiz Don Was can be a bit much, and I found it frequently distracting, though better, I suppose than if she'd gone for a airy late-vintage Emmylou Harris/Daniel Lanois style of production, which also could have happened. At least there's some bounce in here! And then there's her vocals: Carlene Carter's voice has always been one of the stronger singers in her clan, with the rich, robust tones of her father, Carl Smith, and even as she's pushing sixty, she still sounds great. Singing with her are several well-chosen guests, including Vince Gill, Kris Kristofferson and Willie Nelson on a lovely version of "Troublesome Waters," as well as the voices of the late Johnny Cash, along with Anita, Helen and June Carter on a version of "Ain't Gonna Work Tomorrow," which closes the album out. The Carter Family sound has always been built around harmony, and Carlene Carter finds some new voices to bring into the fold, including alt-country's Elizabeth Cook, who is credited with one duet but sings on several songs and Carlene's cousin Lorrie Carter Bennett (Anita Carter's daughter) who sings on a couple of songs, including on a sweet three-part harmony with Carter and Cook, on "Gold Watch And Chain." The songs are mostly classics, but Carlene adds a couple of her own, "Me And The Wildwood Rose," and the sorrowful "Lonesome Valley 2003," in which she remembers attending her mother's funeral with her half-sister, Rosanne Cash, a heart-rending capstone to the Carter Family story which only a member of the family could have done justice. Even with the too-slick production, this is a powerful album, one which taps into the rural culture that still resonates so powerfully from nearly a hundred years ago, from daughter to daughter to daughter, and voice to voice to voice.
---
Best-Ofs
---
Carlene Carter "Hindsight 20/20" (Giant, 1996)



A very good best-of that draws on material from the breadth of her career, but sticks close to her country roots. There's plenty of fun stuff that could have been included, but for a selection of her most tuneful and twangy work, this is damn good. Worth checking out.
---
Carlene Carter Links
---
---



Hick Music Index



---

<! cd=03/30/05>