<! cd = 06/11/09 > <! posted 06/09/10 > <! "Live From Cain's Ballroom" > <! MP3 06/11/09, 06/09/10, 04/24/13 > <! outside 00/00/00 > <! pix 00/00/00 > <! 208-pix: 00/00/00 > <! icons 03/14/11 > <! styles - fillies, hippiebilly, mersh > <! UPDATES: 04/24/13 - added/updated links, new reissues > <! Colter was born and raised in Phoenix, Arizona, United States. Colter was raised in a strict Pentecostal home. [2] Her mother was a Pentecostal preacher and her father was a racecar driver. At age 11, Colter became the pianist at her her church. [3] After high school, she began singing in local clubs, in Phoenix. She met Duane Eddy,who produced her first record. They were married, 1962, in Las Vegas, settling in Los Angeles, California. She pursued a career as a songwriter under her married name, "Mirriam Eddy," her songs being recorded by Don Gibson, Nancy Sinatra, and Dottie West. [2] Colter and Duane Eddy have a daughter, Jennifer. In 1968, Eddy and Colter separated, divorcing later that year. Colter moved back to Arizona. A year later, she met and married Waylon Jennings. [4] At this same time, Colter adopted her stage name, "Jessi Colter," named in honor of her great-great-great uncle, Jesse Colter And Colter then moved to Nashville, Tennessee with Jennings. >
---
A genuine trailblazer and foremother of the outlaw gal country scene, Jessi Colter gets remarkably little recognition these days, at least when it comes to digital reissues of her old stuff from the 'Seventies. Oh, sure, you can hear her singing and playing keyboards on a bazillion Waylon Jennings albums (which all still sound great!) but her own work is still mostly out of print. Anyway, ya gotta love Jessi Colter. There's a frailty and unburnished realness to her voice that I value highly, and listening back to her piano playing reveals that she was a distinctive stylist. Before she met Waylon, she was married to rockabilly icon Duane Eddy, although it was as Waylon's partner that she really made her mark. Here's a quick look at her work.
---
Best-Ofs & Related Records
---
Jessi Colter "Collection" (Capitol, 1995)


Jessi Colter "An Outlaw... A Lady: The Best Of Jessi Colter" (Capitol, 2003)


(Various producers)
A fine best-of which captures the various aspects of Colter's 1970s hitmaking career. It's a bit odd in retrospect to realize how successful she was, what with the fragility and thinness of her voice, but in some odd way, these very qualities lent themselves to both the lavish soul-tinged countrypolitan production style of the time and to the rough-and-rugged roadhouse outlaw style of her husband, Waylon Jennings. Included here are a few of their finer duets, such as "Suspicious Minds," "Under Your Spell Again," and the stellar "Wild Side Of Life/Honky Tonk Angels" medley. She did fine on her own, though -- "I'm Not Lisa" was her big Number 1 hit, the 1975 followup, "What's Happened To Blue Eyes," followed it into the Top Ten... And "Storms Never Last" is still one of my favorite heartsongs from the 'Seventies... This set also includes more experimental oddities such as the droning, Indian raga-tinged "New Wine," and gentle honkytonkers like "That's The Way A Cowboy Rock & Rolls." A nice disc, which subtly grows on you as time goes on.
Jessi Colter "I'm Jessi Colter/Jessi/Diamond In The Rough" (Beat Goes On, 2011)

Jessi Colter "Mirriam/That's The Way A Cowboy Rocks And Rolls/Riding Shotgun" (Beat Goes On, 2012)

---
Original Albums
---

<! 1961 single: "Lonesome Road"/"I Cried Long Enough" >
Jessi Colter "A Country Star Is Born" (RCA, 1970) (LP)


(Produced by Chet Atkins, Danny Davis & Waylon Jennings)
Although her debut album remains something of an orphan -- her only solo album for RCA, long neglected on best-of sets, poorly promoted on its release and left un-reissued for decades -- it's sort of a doozy, it a quiet kind of way. Colter had an unusual voice, unmistakably rural but with a slightly Judy Collins-ish folkie feel, not your typical '60s country cutie style at all, and maybe something Nashville had trouble getting a handle on. Not Waylon, though: he heard her distinctive personality and sensed her as a kindred spirit, championing her with the folks at RCA. (The album liner notes, which he wrote, reflect some of this tension, with Waylon defending Colter from the accusation that "she ain't country" coming from unnamed accusers...) Anyway, this is a record that will sneak up on you, with Colter steadily emerging as Waylon's mirror image and soulmate, with a musical channelling that's really quite remarkable. They sing one duet ("I Ain't The One," released as a single, but failing to chart) and although Chet Atkins is listed as one of the producers, you can hear Waylon's influence throughout. Nice stuff.


<! 20 August 1969 [18:00-21:00/22:00-01:00] RCA Victor Studio, 800 17th Ave. South, Nashville, TN Ð Waylon Jennings & Jessi Colter (Pete Wade, Chip Young, Buck Wilkin, Norbert Putman, Kenneth Buttrey, Charlie McCoy. Producer: Chet Atkins & Waylon Jennings) > <! 04/13: color on her hair is off - it's not really brown >

Jessi Colter "I'm Jessi Colter" (Capitol, 1975)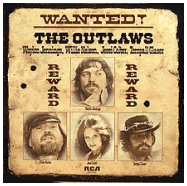 Jessi Colter/Various Artists "Wanted: The Outlaws" (RCA, 1976)



Great record, and a touchstone of '70s country. Waylon and Willie, Jessi Colter, Tompall Glaser and other joined forces on this best-selling celebration of the "outlaw" movement -- signifying both a marketing gimmick and a seismic shift in the country music landscape. When Jennings and Nelson left Nashville and took their songs with them, giving a one-finger salute to Music City, they opened new doors for new artists who wanted to break out of the confines of the studio system. They also provided a creative critical mass for the nascent indie scene in Texas, where a generation of alt-country pioneers was waiting in the wings. Not coincidentally, when this album went mega-ultra-platinum (topping the Country charts and crossing over into the Pop music Top 10) Waylon and Willie also make a mint and cemented their places in the country music firmament. Lots of great songs on here, including the chart-topping hit, "Good Hearted Woman," and "Suspicious Minds," a Waylon Jennings/Jessi Colter duet that hit #2. Also included is Colter's "I'm Looking For Blue Eyes," Waylon's "Hony Tonk Heroes" and -- of course -- Tompall Glaser's infamous ode to the healing power of sexism, "Put Another Log On The Fire," a tongue-in-cheek novelty song considered so reactionary there were actually boycotts organized against radio stations that played it... Now there's an outlaw country song for you! (Though for some reason, "Put Another Log" keeps getting left off the album... not sure whether that's because of copyright issues or because of the content, but sometimes it's there, sometimes it's not. Currently, it's not... sorry!)
Jessi Colter "Jessi" (Capitol, 1976)

Jessi Colter "Diamond In The Rough" (Capitol, 1976)

Jessi Colter "Mirriam" (Capitol, 1977)

Jessi Colter "That's The Way A Cowboy Rocks And Rolls" (Capitol, 1978)

Jessi Colter & Waylon Jennings "Leather And Lace" (RCA, 1981) (LP)





<! NOTES: Waylon Jennings and Jessi Colter made hits together as early as 1970, but it wasn't until 1981 that they recorded an entire album of duets. Leather and Lace reprises "I Ain't the One," the B-side from their 1970 hit "Suspicious Minds," and visits a few familiar titles like Chuck Berry's "You Never Can Tell (C'est La Vie)" and Hank Thompson's "Wild Side Of Life." The latter became a Top Ten hit for the duo, and the poignant "Storms Never Last" was also a moderate hit. The outlaw movement had run its course by the time Leather and Lace was made, so Colter and Jennings were free to make their overdue duet album without having to prop up that particular facade. The result is an enjoyable half-hour of husband-and-wife music, comfortable as an old shoe. (AMG) >

Jessi Colter "Ridin' Shotgun" (Capitol, 1981)

Jessi Colter "Rock And Roll Lullabye" (Triad, 1984) (LP)


(Produced by Chips Moman)

Jessi Colter "...Sings Songs Just For Kids: Songs From Around The World" (Peter Pan, 1984)


Jessi Colter "Out Of The Ashes" (Shout Factory, 2006)



(Produced by Don Was)
Returning to the fray with surprising power, singer-pianist Jessi Colter delivers an Americana A-Bomb with this gritty, bluesy roots-country set, her first solo album in over twenty years. Colter's keyboard style -- familiar from her own albums and her classic collaborations with her husband, the late Waylon Jennings -- floats to the fore, as funky and comfortable as ever, and likewise her voice remains undiminished and equally expressive and compelling. The calibre of the songs is top-notch, oozing with an assertive, though sometimes weary, celebration of sex and sensuality, a raw, been-around-the-block reflection on life and all its pleasures and pains. Honestly, this album stands up to anything that she or Waylon have done in the past. Their song, Shooter Jennings, joins her on a tune or two, as does the ever-gruff Tony Joe White, and even Waylon, makes an appearance, of sorts, with a vocal track liften from a demo of White's song, "Out Of The Rain." As a rule, I've never been a big fan of producer Don Was's style, but he nails the exact, right, perfect feel for this disc, which is perhaps not too surprising considering his earlier work with Waylon, in the 1990s. Definitely worth checking out!


<! "Live From Cain's Ballroom" >

---
Links
---
---



Hick Music Index



---

<! Jessi Colter "A Country Star Is Born" (RCA, 1970) Jessi Colter "I'm Jessi Colter" (Capitol, 1975) Jessi Colter "Jessi" (Capitol, 1976) Jessi Colter "Diamond In The Rough" (Capitol, 1976) Jessi Colter "Mirriam" (Capitol, 1977) Jessi Colter "That's The Way A Cowboy Rocks And Rolls" (Capitol, 1978) Jessi Colter "Ridin' Shotgun" (Capitol, 1981) Jessi Colter "Rock And Roll Lullabye" (Triad, 1984) Jessi Colter "...Sings Songs Just For Kids: Songs From Around The World" (Peter Pan, 1984) >