<! MP3 04/02/09 - not many > <! update 04/02/09 > <! outside 00/00/00 > <! pix 00/00/00 > <! 208-pix: 00/00/00 > <! icons 11/20/10 > <! >
---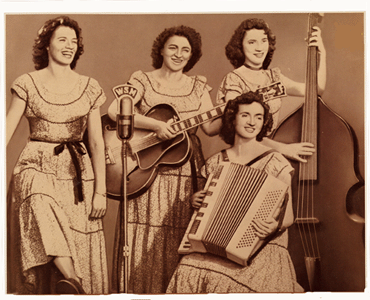 The original Carter Family included folklorist A.P. Carter, his wife Sara (1898-1979) and her cousin, Maybelle Carter (1909-1979), a lively guitarist who is widely credited as one of the most influential acoustic guitarists in country music history --her then-unique style is one of the models that modern flatpicking was built on, and by extension, the lead guitar style that would come to dominate both country and rock music. The Carter Family worked together, off and on, from 1927 to 1943, although their personal relations became strained over the years, and the group broke up amid considerable acrimony. After A.P. and Sara retired, Maybelle Carter led revival versions of the group throughout the 1950s, '60s and '70s, with her daughters Anita, Helen and June adding their warm harmony vocals. To varying degrees, each of the Carter girls pursued solo careers, but made their most lasting contributions as part of the Mother Maybelle & The Carter Sisters group (later dubbed "The Carter Family," following A.P. Carter's death in 1960). This version of the Carter Family toured and recorded with country singer Johnny Cash, as part of his road show and television program, as well as on numerous records. Cash courted June Carter for many years before divorcing his wife and marrying June Carter Cash in 1967.
This page looks at the work of Mother Maybelle and her girls, as well as other members of the extended Carter clan, including A.P. and Sara's daughter and son, Janette and Joe Carter, and June Carter's daughter, Carlene Carter.
---
Discography
---
Anita Carter -- see artist discography
Carlene Carter -- see artist discography
The Carter Family "Gospel Gold" (Brentwood, 2004)


Material from the album Breaking Tradition, featuring Anita, Helen, June and others.
Helen Carter "This Is For You Mama" (Old Homestead, 1979) (LP)

Janette Carter "Deliverance Will Come" (Bear Family, 2004)

Janette & Joe Carter "The Last Of Their Kind" (Dualtone, 2004)

June Carter Cash -- see artist discography
Mother Maybelle Carter "Mother Maybelle Carter" (Columbia, 1973)

(Mother Maybelle &) The Carter Family "Three Generations" (Columbia, 1974)
Anita and Helen join Mother Maybelle, along with Anita's daughter, Lorrie Davis, and Helen's sons, Danny and David Jones. The set includes a few original tunes written by David Jones, some oldies, and contemporary material by the likes of Kenny Loggins ("Danny's Song") and Mickey Newbury.
(Mother Maybelle &) The Carter Family "Country's First Family" (Columbia, 1976)

Maybelle Carter "Wildwood Pickin' " (Vanguard, 1997)


Maybelle & Sara Carter "A Historic Reunion - The Original Carters" (Columbia, 1966)


In the 1960s, after A.P. Carter passed away, Maybelle and Sara got together to record a few sessions of old folk-oriented songs, originally released in 1966 on the Columbia label. All of this material is also gathered on the Sara & Maybelle Carter album listed below.
Maybelle & Sara Carter "Sara & Maybelle Carter " (Bear Family, 1999)


This disc gathers all the songs from the 1966 Reunion album, as well as material from Maybelle Carter's solo album from around the same time, called A Living Legend.
The Carter Sisters "The Carter Sisters" (Bear Family, 1981)
Various solo recordings from Anita, Helen and June, along with some group recordings as The Carter Sisters... Nice stuff!
The Carter Sisters & Mother Maybelle With Chet Atkins "Carter Sisters & Mother Maybelle With Chet Atkins" (Country Routes, 2005)

The Carter Sisters With Mother Maybelle & Chet Atkins "Carter Sisters & Mother Maybelle With Chet Atkins" (Country Routes, 2006)

The Carter Sisters & Mother Maybelle With Chet Atkins "1949" (Country Routes, 2006)

The Carter Sisters & Mother Maybelle With Chet Atkins "1949" (Country Routes, 2007)


Although this has the same title as the album listed above, they are different records. Just the same general era...


<! 1. Blue Ridge Mountain Blues Listen 2. Money Marbles and Chalk Listen 3. Why Do You Weep Dear Willow Listen 4. Guitar Solo >
The Carter Sisters & Mother Maybelle "The Complete Original Recordings: 1949-1952" (BACM, 2005)





<! 176 Weep, Dear Willow?/ (This Is) Someone's Last Day/ Walk A Little Closer/ A Picture A Ring And A Curl/ The Day Of Wrath/ I've Got A Home Up In Glory/ Blue Skies And Sunshine/ The Day They Laid Mary Away/ Don't Wait/ Down On My Knees/ Little Orphan Girl/ God Sent My Little Girl/ Willow, Will You Weep For Me/ Gotta Find Me Somebody To Love/ A Trinket Of Shiny Gold/ I've Got My Share Of Trouble/ Columbus, GA/ Foggy Mountain Top/ Fair And Tender Ladies/ Sun's Gonna Shine In My Back Door/ I Never Will Marry/ Wildwood Flower/ He's Solid Gone/ You Are My Flower/ I Ain't Gonna Work Tomorrow >

The Carter Sisters & Jack White "Southern Songbook" (Silverwolf, 2002)



Not to be confused with the guy from the rock band White Stripes, this Jack White is a fella of modest voice who has an obvious love of traditional country, and an appreciation for country gospel. This album was apparently the last project that the Carter Sisters worked on... Their role is pretty marginal, if the truth be told; other than one solo vocal towards the end, this is mostly just some chorus harmonies, and little else. White sort of reminds me of Hank Snow a bit, but only just a little; overall this is a pretty lackluster, low-budget indie release.
---
Related Records
---
Carlene Carter -- see artist discography
Johnny Cash "At Madison Square Garden" (Columbia Legacy, recorded 1969/released 2002)



An entire album of prevously unreleased live Johnny Cash goodies from his commercial heyday in 1969, repeating the success of his earlier concert albums, but here performing for the city slickers in the Big Apple. Johnny is joined by the reconstituted Carter Family, brother Tommy Cash, the Statler Brothers (who he was a patron of...) and fellow Sun Records veteran Carl Perkins (as we hear on a track intro at the very end of the album, June Carter Cash wasn't able to attend as she was six months pregnant at the time...) It's an efficient, professional presentation, yet one that gives some nice glimpses into Cash's inner life, mostly through the spoken introductions that accompany many of the songs. The most telling is the intro to "Last Night I Had The Strangest Dream," in which Cash addresses the thorny issue of the Vietnam War. Stumbling nervously, hoping not to offend anyone one way or the other, Cash recalls how he and his show went to entertain the troops overseas, declaring, "I may not be a hawk... But maybe I'm a dove with claws..." He also introduces a few songs with asides about his down-home background; back then, these monologes may have been a bit hokey, but they've added resonance as Cash has gotten older and his legend increased. Also of interest is an angry, emotional reading of his Native American rights protest song, "As Long As Grass Shall Grow," which is one of the most powerful performances of Cash's career. There are also plenty of religious tunes, which he also puts his heart into. There are some rushed moments, but on the whole, this is an album well worth checking out, and certainly a delight for longtime Cash fans who have never heard this material before.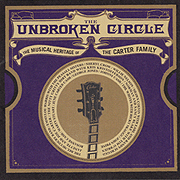 Various Artists "THE UNBROKEN CIRCLE: THE MUSICAL HERITAGE OF THE CARTER FAMILY " (Dualtone, 2004)


(Produced by John Carter Cash)
The various wings of the Carter Family are joined by numerous eminent guest stars - George Jones, Willie Nelson, Ricky Skaggs and Emmylou Harris among them -- in paying homage to the legacy of the original Carter Family. Johnny Cash, June Carter Cash, Marty Stuart contribute from the family side of things, as do Joe and Janette Carter (who turn in one of the album's most resolutely rootsy, raspy, old-timey performances) and Rosanne Cash, whose plain-spoken vocals on "The Winding Stream" are an album highlight. Emmylou collaborates with the Peasall Sisters, who may finally be living up to their post- O Brother hype, on a sweet, understated version of "Sea Of Galilee"; other highlights include John Prine with a crackling electric accompaniment on "Bear Creek Blues" and Willie's sweet, sparse rendition of "You Are My Flower," as well as Sheryl Crow singing (what else?) "No Depression In Heaven" and the fine group harmonies that the White's throw on in their track with Ricky Skaggs. Heck, really, the whole album is quite good. Highly recommended!
---
Other Media
---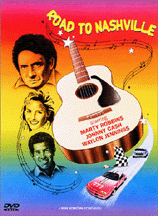 "Road To Nashville" (Crown International, 1967)



A treasure trove of late 'Sixties classic country! Although the film itself is lamentably rickety and shoddily produced, the wealth of talent, drawn from several major labels, is truly astounding: Webb Pierce, Johnny Cash, Porter Wagoner, Dottie West, Norma Jean, The Osborne Brothers, Bill Anderson and Bill Phillips all appear, just to mention a few. Co-producer Marty Robbins bankrolled part of this film and sings a few tunes (as well as racing his stock car at the track!)... Several fading 'Fifties stars are also seen, including Hank Snow, Lefty Frizzell, Faron Young, Kitty Wells, and the reconstituted, folk-era edition of the Carter Family. Whew! Lemme catch my breath a minute and I'll tell you more... A clean-shaven, wolfish young Waylon Jennings has a great cameo; country cutie Connie Smith not only sings two numbers, she also has an extensive speaking role. There are also several noteworthy also-rans involved: Margie Singleton, Bobby Sykes, the Stoneman Family in full New Main Street Singers bluegrass-pop mode, and Don Winters as well -- one of the most underrated singers of the rock-to-countrypolitan era. Heck, radio DJ and full-time power broker Ralph Emery even makes an appearance... all that's lacking is a decent script. The flimsy plot involves the savagely unfunny Doodles Weaver as a bumbling idiot sent (inexplicably) by his grouchy Hollywood boss to organize a country music extravaganza; not only does Weaver appear in the between-song interludes, he also is frequently cut into the the performances themselves, doing unfunny things and staring in a vacant, unfunny way. The sound is poor; the video transfer cropped out a lot of the shots... but hey, this film ROCKS. Any devoted county fan will want to pick a copy as soon as they can. It's a doozy!
---
Links
---
---



Hick Music Index



---

<! cd= 04/04/05>