<! cd = 10/25/10 > <! MP3 10/25/10 > <! update 10/25/10 > <! outside 00/00/00 > <! pix 10/25/10 > <! 208-pix: 00/00/00 > <! icons 10/25/10 > <! Research: Robin Lynn Macy's other bands: Blue Plate Special Domestic Science Club Big Twang The Cherokee Maidens >
---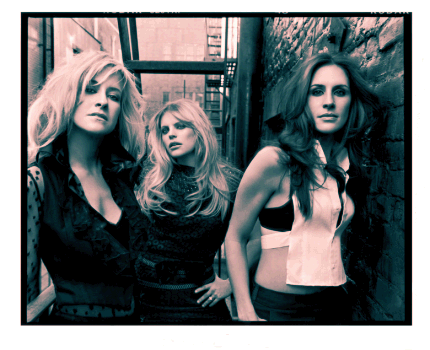 The Dixie Chicks started out as a scruffy, all-gal indie-twang band, as much into bluegrass and cowboy songs as honkytonk and twang. After a few years of regional fame in Texas and environs, they got a major label deal, amped up their sound and then went through the roof. The Chicks became one of the biggest-selling country bands of the 1990s, and one of the music industry's hottest live acts. At the peak of their fame, they warped into an evil alternate universe where the villagers wanted to chase them with pitchforks and torches, after singer Natalie Maines criticized President George W. Bush over the invasion of Iraq in 2003, an action that many saw as unpatriotic. Dixie Chicks albums were destroyed at large rallies (no, really!) and their music was banned by on Top 40 country radio across the nation (except for the station I programmed... but that's kind of a long story...)
Although they were summarily excommunicated from Nashville, the Dixie Chicks made a stunning commercial comeback a few years later, with their album Taking The Long Way Home, which made huge waves on the Pop charts and was even embraced, begrudgingly, by country stations as well... The gals already had deep links to the alt-country world: Texas-born singer Natalie Maines is the daughter of producer/pedal steel whiz Lloyd Maines, and Emily Erwin was married to twangcore troubadour Charlie Robison, which makes her like a sister-in-law or a third cousin or something of songwriter Bruce Robison and his wife Kelly Willis... Geez. Can I come to the family Thanksgiving sometime? Anyhoo, here's a look at their career...
---
Discography - Best-Ofs
---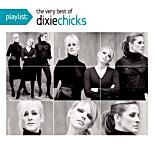 The Dixie Chicks "Playlist: The Very Best Of The Dixie Chicks" (Sony-BMG/Columbia Legacy, 2010)



This best-of set is about evenly divided between the Chick's "big pop" phase of the late 1990s (mega-hits from albums such as Wide Open Spaces and Fly) and their more acoustic-oriented, expansive post-9/11 sound, when the political backlash from their anti-Bush comments freed them up to pursue another, more diverse audience. With the earlier stuff pared down to the essentials, and the later stuff so damn good, this is a pretty satisfying, high-power set.

The Dixie Chicks "The Essential Dixie Chicks" (Sony-BMG/Columbia Legacy, 2010)



While the Playlist set is a good option for music fans on tight budgets, this 2-CD collection is a real, true proper best-of retrospective. Like Playlist, it's a straight-up reissue set, with tracks taken off their studio albums, and it doesn't offer any rarities, outtakes or live tracks. Also, their earlier indie albums still seem lost in limbo: it would be nice to have a box set that integrates that material as well, at some point. But if you are looking for a strong overview of their big hits (and many of their best album cuts) this gives a lot of bang for your buck. Recommended.
---
Discography - Albums
---

Dixie Chicks "Thank Heavens For Dale Evans" (Crystal Clear Sound, 1992)





<! 10/10: ASIN now links to weird rock record, though old DC reviews are still there. Sent e-mail to Amazon. We'll see > <! produced by Macy, Lynch, E. Erwin, and M. Erwin >

Dixie Chicks "Little Ol' Cowgirl" (Crystal Clear Sound, 1992)


(Produced by Dixie Chicks & Larry Seyer)
The humble beginnings of the Dixie Chicks -- a nice indie effort, which ranges from bluegrass-y stringband swing and singer-songwriterish Americana to would-be Nashville demos and cutesy covers of 'Fifties oldies such as "Hallelujah I Love Her So" and "You Send Me." In this pre-Natalie Maines version of the band, guitar and bass are provided by Robin Lynn Macy and Laura Lynch -- the Pete Bests of "young country" -- who also both handle the primary songwriting and singing chores. This album has its weak points and its charms; certainly, the spirit of Nanci Griffith hangs heavily over the whole album, and the band's indie-Americana origins are easy to spot.

Dixie Chicks "Shouldn't A' Told You That" (Crystal Clear Sound, 1993)


(Produced by Steve Fishell)
This is the first album I heard the Dixie Chicks on, and for years I had them fixed in my mind as this nice, unassuming alt.country act, not realizing for some time what a huge success they'd become in Nashville. The act noticibly starts to tighten up, first with the loss of songwriter Robin Lynn Macy, and the inclusion of much more material by outside composers, such as Jim Lauderdale, Kim Richey and Jamie O'Hare. The catchy Radney Foster tune, "Whistles And Bells," is still one of my favorite Dixie Chicks songs, but after that opening salvo, the band's newfound professionalism is readily apparent -- the basic building blocks of their sound are all in place here, and the Erwin sisters, Emily and Martie, are beginning to assert themselves as lead singers and songwriters. More bad news for Laura Lynch: Lloyd Maines, Natalie's daddy, was brought in to play pedal steel on a few tracks, and thus, the writing's on the wall. Fans of the Chick's Top 40 Nashville hits will find this the most accessible and familiar-sounding of their early indie albums. It's slick, solidly produced and yet still soulful.

Dixie Chicks "Wide Open Spaces" (Sony, 1998)



(Produced by Blake Chancey & Paul Worley)
Kind of a guilty pleasure album. Canny, well-crafted, a bit too slick, but not soulless and dull the way so many other Nashville albums tend to be. The title track is a bit bland, and the spasmodic cover of "Give It Up Or Let Me Go," (an old Bonnie Raitt classic) is kind of a dud... But other than that, you can see why these gals are so darn popular: even if they stretch the boundaries and helped redefine the genre, they know real country music, and exult in using good old-fashioned fiddle and pedal steel, and they write and cover some pretty good material. This is the sort of album a true-country snob like myself might be ashamed to admit they like, but you gotta admit: it's pretty likeable!

Dixie Chicks "Fly" (Sony, 1999)



(Produced by Blake Chancey & Paul Worley)
Now, see, this is where me and most Dixie Chicks fans part ways... This album was a huge commercial success, and was successfully milked for Top Ten singles for over three years. But the glossy pop crossover material is kinda sucky, and opened the door to a new kind of country that I just can't hang with. Well, okay, admitedly the Dixies weren't the only ones getting all soul-tinged and synthy, and compared to Shania and all the rest, they are still relatively rootsy... But it's still all just a little too high-concept for my tastes. Also, I'm really turned off by the Thelma And Louise-y murder fantasy, "Goodbye Earl," which posits homicide as a plausible solution to domestic abuse. I know, I know.. I should really have a better sense of humor about it, but the fact of the matter is that two wrongs don't make a right. Still, there are some impressive hard country honkytonk shuffles on here as well, including "Hello Mr. Heartache" and "Don't Waste Your Heart..." It's just the slower, syrupy, chickbait tunes that I find to be kind of a drag. Better than average, but hard to listen to all the way through.

Dixie Chicks "Home" (Sony, 2002)



(Produced by Dixie Chicks & Lloyd Maines)
There are two great surprises attached to this album -- One, that it's so dang good, and two, that having ridden this finely crafted disc to the top of the charts the Chicks would somehow become the focus of an idiotic, jingoistic war fever slander campaign, all because Natalie Maines had the audacity to express an opinion critical of George W. Bush's headlong plunge into an ill-considered war on Iraq. (Gasp!) Well, I guess for now I should just talk about the record itself, which is a real doozy, a return to the band's bluegrassy roots, an acoustic-based, much-welcome return to a sparser sound, and a more distinctive country vibe. Recorded in Texas rather than Tennessee, the tightly-crafted but comparatively lean record is well suited to the band's talents, especially the songwriting, which emerges more powerfully without the distracting musical bells and whistles that Nashville producers love to lavish on even the simplest of tunes. Home lifts the perky twang of bluegrass out of its purist confines, using fiddle, banjo and mandolin as the framework for a surprisingly effective blend of old and new. In all likelihood, the Chicks will regress to Nashville for their next record, producing another florid, overblown pop smash, but for now we can marvel that the Lone Star threesome had such a good album still hidden in their hearts. Highly recommended!

The Dixie Chicks "Top Of The World - Live" (Sony-Monument, 2003)



(Produced by Blake Chancey & Paul Worley)
A playful 2-CD tour through their big hits and favorite songs... It's cool to hear some of these songs in relatively stripped-down version (especially the stuff from the Fly and Wide Open Spaces albums, which were just a leeetle bit overproduced...) Their fans still seem to love them, despite the recent controversies regarding the band having a mind of its own (...They dared question George W. Bush's geopolitical judgement? Gasp!! String them up!!) In fact, Natalie Maines has pretty much given up on the whole mea culpa apologizing thing (good for her), and has become an energetic advocate for freedom of speech, tackling head-on the orchestrated attempts to censor the band... Hence her spoken intro to "Truth No. 2" in which she urges folks in the audience to visit the Rock The Vote booth, and get involved in the electoral process. Politics aside, this is also a swell album, musically speaking. Only one new song on here, though: "Mississippi," which is, frankly, a bit lumbering in its current incarnation, but I bet it'll sound swell once they take it into the studio and tinker with it a bit. I still totally dig the Dixie Chicks.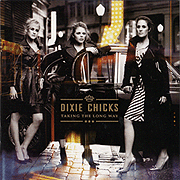 The Dixie Chicks "Taking The Long Way" (Columbia, 2006)



(Produced by Rick Rubin)
No matter what side of the ideological divide you find yourself on, it's still fair to say that the Dixie Chicks were a band that found itself an unlikely lightning rod for the heady passions and fearful, insecure rage that bubbled through America following the September 11th terrorist attacks. Three years after an offhand, anti-Bush political comment by singer Natalie Maines led to their being blacklisted off Top Country playlists from shore to shore, the Chicks return with a new studio album that addresses the controversy head on, in the shape of the kamikaze radio single, "Not Ready To Make Nice," which pushes back at the ugly, hate-filled reactions of country "fans" who sent the band truckloads of hate mail and even some death threats. Say what you will about the gal, but on this album, Natalie Maines really hammers home the fact that she is from Texas, and in that state's great, rowdy tradition, she just doesn't take s**t from anybody. Good for her. The song itself would have made a great radio single, if it weren't for the bluntly topical lyrics; as it is, though, it is a remarkably personal work of art, especially given the faux-confessional adult-pop style that dominates country today... Maines isn't pretending to be a woman with soul-wrenching troubles -- she actually is one, and like the feisty heroines in all those Nashville hits, she tackles the problem head on. Enough about the politics, though. The real thing to mention about this album is that it's pretty darn catchy. The first third of the album sounds like classic Dixie Chicks, modern country pop with a deep harmonic groove... The album's opener "The Long Way Around" fits in nicely with their chart-busting late-'90s work, while super-mellow songs such as "Lullaby," "Easy Silence" and the subtle, haunting "Silent House" (which grapples with the loss of a family member to Alzheimer's disease) all recall the restrained acoustic grace of 2002's Home. The elegant mood is broken by the thudding, abrasive boogie rock of "Lubbock Or Leave It" -- a song I hated the first time I heard it, but later found stuck in my head for days -- and from there the album shifts dramatically towards a more rock-based sound. Guitarist Greg Louris of the Jayhawks co-wrote about a third of the album and helps craft a sleek, soulful, multi-textured set. Now, to be honest, this record is hardly the Eagles-y country-rock blowout it was billed as before the it actually came out, but it sure is catchy. Indeed, most of the songs on here are the kind of tunes that will stay in your brain for hours after you walk away from the record -- these gals know how to write good pop songs. The short report on their so-called "new sound" is that the second half of the album sounds pretty much like a Sheryl Crow album with Natalie Maines singing lead vocals... (I doubt the band would have much trouble accepting that characterization, since Crow actually co-wrote one of the songs on here...) So, if you like folks such as Wilco, Shelby Lynne and Sheryl Crow, you're gonna love this album. If you can set aside all the back history and just listen to the music, this one should win you over... It's a disc I'll keep on my shelves, since it's got resonance and depth, and besides, Natalie Maines is still my personal hero. Don't mess with Texas.
---
Solo Records & Related Media
---
The Dixie Chicks "An Evening With The Dixie Chicks" (DVD) (Sony, 2002)

The Dixie Chicks "Top Of The World Tour Live" (DVD) (Sony, 2003)

"Dixie Chicks: Shut Up And Sing" (Weinstein Company, 2006) (DVD)


A compelling -- though skewed -- documentary about the band's political problems and their desire to, y'know, just get over it. They do, although some of their critics do not.
Court Yard Hounds "Court Yard Hounds" (Columbia, 2010)



(Produced by Martie Maguire, Emily Robison & Jim Scott)
A "solo" release from Dixie Chicks fiddler and guitarist, sisters Martie Maguire and Emily Robison (both nee Erwin...) This kind of picks up where their gentle, evocative acoustic tunes on recent Dixie Chicks albums left off, although if the truth be told, there seems to be something missing in this set, some sort of spark or artistic balance... This album seems kind of self-indulgent and unfocussed; deeply personal perhaps but not deeply engaging (at least not for me...) One thing that's missing are the pop-twang hooks that haul you in on the Chicks albums -- these songs seem more gooey and meandering, more in Sarah MacLachlan territory, if you know what I mean. I'm sure some fans will happy with this new incarnatio; but hopefully something new with Natalie is also in the works.
Natalie Maines "Mother" (Columbia, 2013)



(Produced by Ben Harper & Natalie Maines)
I don't begrudge Natalie Maines wanting to do a rock record, though this isn't really my kind of music, I do wish she and the other Dixie Chicks had gone on to make a couple more records as good as the band's post-Nashville swan song, Taking The Long Way. Still, she's the artist, and she should do what she wants. However, I was a little irritated by an interview I heard her give on NPR where she went off on this riff about how she was never that into the whole Dixie Chicks sound, and how country was never really her thing, and she never really knew that much about the style. Seriously? Your dad is steel player Lloyd Maines, your Texas uncles were all in a popular regional band together, one they took over from their dad who started it decades earlier... and you were never really that aware of country music or what it was all about? Yeah, right. I dunno... maybe she was just pulling a fast one on the fawning interviewer, or maybe she really was being incredibly disingenuous... But it seems to me that you could walk away from country music and still not completely disown it, no matter how rude all the Nashville folks were to you over the whole George W. Bush thing. Why let those people chase you away from your own roots? Anyway, here's doing a whole slick rock/pop thing, including covers of Pink Floyd and whatnot. Doesn't really work for me, but I guess a gal's gotta do what a gal's gotta do. It's way better than that Court Yard Hounds album, at any rate.
Court Yard Hounds "Amelita" (Columbia, 2013)



As noted above, I'm a Dixie Chicks fan from 'way back when, but I have to admit it was a hard sell getting me to give this second Court Yard Hounds album a chance, since the last one was so resolutely self-involved and uninspiring. To be charitable, this one -- although still anchored in bland rock-pop formulae -- does give more of a nod to their country roots, and it certainly shows more signs of life than the last record, which was essentially a flatline event, as near as I could figure. I'm still hoping that the Chicks will get over whatever's keeping them apart and also get all this adult-pop stuff out of their systems, then come back with a kickass album on a par with Home, but given the sound of these Dogs albums and Natalie Maines' own rock-oriented solo set, it seems unlikely. Oh, sure, they'll get together again, but god knows what it will sound like. In the meantime, from the look of things they've got a solid audience for this kind of stuff, so more power to 'em, I guess. Doesn't do much for me, though,
---
Links
---
---



Hick Music Index



---

<! Photo credit: Mark Seliger, courtesy of Sony Legacy. >