<! MP3 04/30/09, 09/20/10, 03/25/11, 06/12/14 > <! outside 00/00/00 > <! pix 09/20/10 > <! 208-pix: 06/12/14 > <! icons 03/25/11 > <! UPDATES: 04/30/09 - split Robison off into own profile; done: 09/20/10 06/12/14 - updated, bigger pix - all old links defunct >
---
She's got a great voice, full of warmth and twang, but after missing the Top 40 boat a couple of times, she finally up and sailed out of Nashville altogether. Kelly Willis is a fine songwriter, as is her husband, Bruce Robison, one of those intriguing Nashville semi-outsiders with songs placed here and there on various high-powered albums. Folks looking for a bit of old-time authenticity laced with modern country know-how oughtta check these two out...
---
Discography -- Albums
---
Kelly Willis "Well Traveled Love" (MCA, 1990)



(Produced by Tony Brown & John Guess)
Wow! I really had no idea her first Nashville album was this darn good! It's a little hard to track down, but well worth checking out... Hailing from Austin, TX, Willis and her band Radio Ranch really tore the roof off the studio with this rollicking set of uptempo honkytonkers, putting to shame the contemporary herd of neotrad hat-acts that were around at the time. This disc starts off at a gallop and never lets up; there's one slightly clunky ballad, but for the most part this is a real doozy a record, winding up at a full rockabilly frenzy by album's end on "Red Sunset" and the title track, "Well Traveled Love." I'm sure Willis's bluesy snarl -- sort of like Carlene Carter but with more consistent results -- didn't endear her to the Nashville/commercial country establishment, but she sure made an impression on her fans! Glad I finally found my copy. (By the way, anyone know whatever happened to drummer Mas Palermo, who wrote about half the songs on here? His stuff was mighty good.)
Kelly Willis "Bang Bang" (MCA, 1991)



(Produced by Tony Brown)
A stab at country Top-40, produced by Tony Brown, who was having so much success with Rodney Crowell's career around the same time. This album starts off fairly vigorous, and Willis' rural curl comes out in a lot of the vocals. However, things get a little scattered pretty quickly. Though hardly as saccharine as a lot of contemporary Music City records, it's often too glossy and slick, and falls flat emotionally. Still, of her Nashville albums, this is clearly the best one, and it doesn't suck by a longshot. For one thing, the songwriting is pretty good, even though Willis only co-wrote one of the songs. The other tracks are by the likes of Jim Lauderdale, Steve Earle and Joe Ely, which ain't bad.
Kelly Willis "Kelly Willis" (MCA, 1993)



(Produced by Tony Brown & Don Was)



<! 208 online >
Kelly Willis "Fading Fast" (EP) (A&M, 1996)



(Produced by Brian Paulson & Kelly Willis)
There's an advantage to keeping things short and sweet. While her earlier albums sometimes seem trapped in glossy Nashville production, this lovely little hard-country EP had me floored. The sad story behind it goes something like this: signed to pop label A&M, Willis went out on the road with this EP to support her, and a full album slated to follow. That album never materialized; instead she got lost in a mid-1990s major-label merger shuffle, and her contract went nowhere. But she sure turned a lot of heads with this snappy, straightforward EP, which is simply flat-out great. Alt-country icons Jay Farrar and Gary Louris are in the backing band, and the disc is packed with great material. Especially powerful is Louris's co-written "What World Are You Living In," one of the best-written sarcastic country ballads in a long, long time, and Bruce Robison's "He Don't Care About Me." Great disc; highly recommended... I sure wonder if they left anything else in the can, and if it'll ever see the light of day...
Kelly Willis "What I Deserve" (Rykodisc, 1999)



(Produced by David McNair)
This one's a masterpiece... It takes a while for this record to get started -- the uptempo "young country" rockers that kick things off are a bit of a misfire -- but when she hits her groove, it's pretty satisfying. Willis' bluesy streak is used to fine effect and the songwriting throughout is top-flight. The best tracks on here are contributions from Brice Robinson, including a languid, definitive version of "Wrapped" and "Not Forgotten You," which has one of the most anthemic, compelling choruses in recent history. Kelly lets her rock roots show with a Paul Westerberg cover, as well as a version of Nick Drake's "Time Has Told Me" (hey, if Lucinda Williams can do it... ) A strong record, well worth checking out.
Kelly Willis "Easy" (Rykodisc, 2002)



(Produced by Kelly Willis & Gary Paczosa)
Another solid, soulful album, this time with a wealth of songs written or co-written by Willis, and a couple of well-chosen covers. There's the obligatory Bruce Robison tune ("What Did You Think"), a sweet cover of the late Kirsty Maccoll's "Don't Come The Cowboy With Me, Sonny Jim!" and a bouncy bluegrass number, "You Can't Take It With You," written by Paul Kelly. That one turns out to be the most upbeat number on the album, which otherwise sticks to a pretty languid, whistful vibe. The musical backup is gorgeous throughout, with guest appearances by Alison Krauss and Dan Tyminski, as well as understated acoustic guitar work by Bay Area roots rocker Chuck Prophet. It's doubtful whether Willis will get any major country chart action with this one (then again... who knows??) but it sure is a lovely record to listen to. Highly recommended.

Kelly Willis & Bruce Robison "Happy Holidays From..." (Boar's Nest, 2003)



A relaxed, just-for-friends 7-song Xmas EP, with Kelly crooning out a sexy "Santa Baby," Bruce clowning around on the country classic, "Please Daddy, Don't Get Drunk For Christmas" and the married couple having fun with a duet or two, including Frank Loesser's "Baby, It's Cold Outside." A mellow, just-for-fun set, which devoted fans can take as a personal holiday hello. (PS - if you like country Christmas records, I review a whole bunch of them on my hillbilly holiday page... )
Kelly Willis "Translated From Love" (Rykodisc, 2007)



(Produced by Chuck Prophet)
Willis touches on her rocker roots on this sleek collaboration with rock guitarist-producer Chuck Prophet, who plucks the six-string throughout and guides each song to an elegant point of least resistance. Prophet has worked on Willis' last few albums, but here he steps up to the producer's chair, giving her more of a mainstream pop touch... At first blush, this disc may seem too rock-oriented, but really it's just a couple of tracks that are jarring: the Cars-ish pop-synth keyboards on "Teddy Boys" and the extra pop layers on "Don't Know Why" sound a little out of place, although the rest of the album will feel familiar to long-time fans. Willis wrote or co-wrote half the songs on the album, often in collaboration with Prophet and fellow popster Jules Shear -- high marks go to her wistful "Losing You," a mostly-acoustic ballad that is as fine a tune as she's sever sung. Damon Bramblett, an up-and-coming Austin star, contributes two fine songs, "Sweet Sundown" and the upbeat "Nobody Wants To Go To The Moon Anymore" (also heard on his own solo album) Willis and musical guests the Gourds have tons of fun on a bouncy cover of David Bowie's "Success," which sounds for all the world like an old Sir Douglas Quintet outtake. What's most striking, though, is what's missing on this album: where are Bruce Robison's songwriting credits?? Well, the good news is she still sounds fine without the hubby in tow - there are a few tracks on here that may be too pop for her alt-country fans, but there's plenty of twang to make up for it. Another nice one!
Kelly Willis & Bruce Robison "Cheater's Game" (Premium Records, 2013)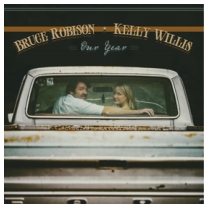 Bruce Robison & Kelly Willis "Our Year" (Premium Records, 2014)



(Produced by Brad Jones)
Another fine album from hard country's reigning duo... Honestly, I can't tell you how how much I love hearing their voices together (and solo) and of course, the calibre of songwriting and musicianship is always top-notch. In addition to more great Bruce Robison originals, this set features several interesting cover tunes, such as Walter Hyatt's homage to Detroit and American car culture, "Motor City Man," and Buddy Mize's weeper, "Hangin' On." The album's most delightful surprise is that the title comes from their cover of an old rock ballad by The Zombies (one of my favorite '60s bands!) and when Willis croons "This Will Be Our Year" to a stripped-down country arrangement -- with a banjo and pedal steel taking the place of the brass fanfare and dreamy keyboards of the original -- it's a moment of sheer brilliance. Not surprisingly, Willis and Robison have chosen perfect accompanists, with particularly strong contributions from Eamon Mclaughlin on fiddle and mandolin, and Geoff Queen playing dobro and pedal steel. This is sweet, soulful country traditionalism at its best... Another gem from these cool, collected twangcore auteurs.
---
Best-Ofs
---
Kelly Willis "One More Time: The MCA Recordings" (MCA Nashville, 2000)



(Various producers)
An intriguing repackaging of Willis' early efforts as a "young country" Nashviller... The song selection is pretty strong, even though it does omit some of her more upbeat material (like "Bang Bang"...) in favor of ballads and poppy Texas shuffles. Some tracks are straight-up cornball material, like "River Of Love," while others are predictable, overproduced Top 40 fare, though Willis' bluesy come-hither snarl is a little off the beaten track as far as female vocal performances go. You can see why she might've been frustrated working inside the Nashville studio system, but as these things go, this collection is pretty strong. One of the most interesting tracks is her cover of Dave Alvin's somber, mournfully smouldering ballad, "Little Honey" - taken from the Thelma and Louise soundtrack -- in which the singer may or may not be about to beat the bejeezus out of their partner. Willis switches the gender roles, but not the message, and the songs emotional ambiguities take on even more unsettling hues as we wonder what the hell is going on in this relationship. Fans of Willis' new stuff will not be disappointed by this look back at her Music City days.
---
Links
---

<! expired links > <! Rural Routes Twangzine >


---



Hick Music Index


---


Top photo credit to Frank Veronsky, courtesy of Rykodisc