<! cd = 10/16/11 > <! MP3 10/16/11 > <! update 10/16/11 > <! outside 00/00/00 > <! pix 10/16/11 > <! 208-pix: 00/00/00 > <! icons 10/16/11 >
---
Taylor Swift was one of the early phenomena of 21st Century country music, a teenage auteur who leapt into the stratosphere of Nashville's Top Forty scene, pulling her semi-independent record label along with her, and becoming one of the major touring artists of the 2000's and 2010's. Swift swiftly "went pop" and transcended Nashville's confining embrace... Love her, or hate her, the gal sure knew how to play the fame game! Here's a quick look at her work...
---
Discography - Albums
---

Taylor Swift "Taylor Swift" (Big Machine, 2006)



(Produced by Nathan Chapman)
A remarkable Top Country debut, and not just because Ms. Swift cracked the Top Five coming out the gate, or because she's only sixteen years old, but also because she wrote or co-wrote all the songs on the album continuing a trend (along with Miranda Lambert and others) that bucks the trend of Nashville as a studio-led A&R machine... Swift leads this set with "Tim McGraw," a gimmicky but clever and charmingly innocent song about someone who thinks of their true love every time a McGraw song comes on the radio. Man, what better way to hit the top of the charts than to name-check some dude who's topped them himself for the last decade or so? But to do it with such grace... that's the wonderful thing here. The rest of the album is fine as well, packed with songs of love and regret, nostalgia and affirmation... Swift shies away from the rugged, neotrad outlaw gal trend of the day, and keeps her repertoire pretty mellow and romantic, and it seems to be working just fine so far. I'm curious, though, to see where she goes from here -- this record has a fairly controlled feel to it, everything on an even keel. It's sweet, but I think she's got more to give the next time around... and with the success of this disc, the next time around shouldn't be too long coming... Nice work, kid!
Taylor Swift "Fearless" (Big Machine, 2008)



(Produced by Nathan Chapman & Taylor Swift)
It's hardly news that the new generation of Top 40 country fans have little trouble skipping from twang to rock and pop... Heck, current-day superstars like Faith Hill, Tim McGraw and Kenny Chesney do it all the time, and as fortysomethings, they are positively dinosaurs next to kids like 18-year old Taylor Swift or her contemporaries, the twenty-something Miranda Lambert. Swift's new album is exceptional, though, for the thoroughness with which she has embraced all-out teenage pop, and all but forsaken any actual twang. A couple of years ago, Swift seemed like a possible candidate to reclaim and rejuvenate the roots of the genre, now she has opened up her teenage diary and dished out a slick set of quirky confessional lyrics, set to slick prefab studio riffs. It's an interesting move and a big risk to make for a newcomer who recently soared to the top of the charts -- but Swift is clearly on a roll, and as implied by the album's title, she's willing to stick her neck out. What's even wilder is the degree to which country radio has accepted the Hannah Montana-ization of her work, the pure, earnest, girly teen angst that pours out of her prolific lyrics. (The album is becoming a big Pop crossover hit as well, which is less surprising, but also noteworthy...) In musical terms, the album is odd as well: many of Swift's songs have a loose, unconventional structure, and her vocals take on a rambling, conversational tone, just like hanging out with a teenage girl who is breathlessly telling you all her thoughts at once, projecting a worldliness that hasn't entirely been won yet. While there are parallels to contemporary pop, there are hints that she might head out into other directions, ones that will keep her from being a flavor-of-the-week star, even if she doesn't want to become the new Loretta Lynn. On the album's second track, "Fifteen," Swift presents an adolescent coming-of-age saga with an emotional authenticity worthy of Janis Ian or Nanci Griffith; I was recently heartened to see her on an awards show, performing the stinging anti-princess-myth ballad, "White Horse," a complex, compelling song that I find to be the most arresting track on the album. So is Taylor gonna go all Suzanne Vega on us? Who knows? But for now she seems to be doing just fine being herself, and straddling the charts as her glamorousness builds and builds. Once again, I'm left wondering where she'll go from here, and eager to hear her next record. The girl's a star.

Taylor Swift "The Taylor Swift Holiday Collection" (Big Machine, 2009)


Taylor Swift "Speak Now" (Big Machine, 2010)



(Produced by Nathan Chapman & Taylor Swift)
It's pretty amazing how true Taylor Swift has stayed to her artistic formula, and how effective it still is: the junior-high diary lyrics remain, packed with smoothly calculated, rough-edged bluntness and surprising emotional resonance. Anyone who's mean to her gets pilloried in song, the boys she likes evoke breathy sighs, a faraway look in her eyes, and cute little heart signs doodled next to their names. With three huge hit albums under her belt, Swift is now twenty and a colossal pop-country superstar, celebrated at an endless parade of posh award shows, and yet she still taps into the world of the un-famous, smalltown/suburban 14-year old girl, imprisoned by her bedroom windows and yearning for emotions and experiences that are still just beyond her grasp. As a songwriter, Swift is close enough to that phase of her life for such naivety and transparency to still ring true: she really, truly is the voice of a whole set of wholesome, earnest, self-possessed all-American teenage dreamers, girls who would, if they could, totally flame anyone who scorned them by writing a song like "Mean" (Someday I'll be living in a big old city/and all you're ever gonna be is mean...") Also, her use of blank verse is impressive -- largely abandoning traditional rhyme, she creates a spellbinding, unpredictable conversational tone, but still manages to create catchy pop hooks. Neat trick. For the most part, her arrangements are still good, too -- although at this point I suppose she's more of a pop icon than a country star, there's still real twang in there, and only a few songs succumb to the impenetrable juggernaut of high-tech overproduction that's dominated teen-oriented pop for the last couple of decades: Taylor Swift still has an individual style... Let's hope she hangs on to it for as long as she can.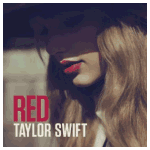 Taylor Swift "Red" (Big Machine, 2012)



(Produced by Taylor Swift, Nathan Chapman, Dan Huff, et. al.)
Well, I guess the time has come to stop pretending that Taylor Swift is still some kind of "country" singer... She'll still top the country charts, but she has transcended -- or abandoned -- the genre, and has established herself as a major, generational pop icon. And that's okay: as a celebrity I find her refreshingly down-to-earth and remarkably humble. Good for her. The flipside of that is that the precocious, disarming talent that allowed her as a teen to take the pop world by storm has not (yet) carried her into new songwriting triumphs. It could be argued that Swift's songwriting successes were more about style rather than content: her stream-of-consciousness, teen-girl, torn-from-a-notebook-diary lyrical style was unusual and fresh a few years ago, but now it seems to be limiting her appeal to a very teen, very pop demographic. If I were a thirteen year old fan, I'd find Swift's chatty, he said/she said narratives about meeting some guy at a party to be an intoxicating glimpse into a more "grown up" world, but as a non-partying, adult listener, it all starts to sound the same to me... It's not a world view that I can get much out of, but I do think that Swift has the smarts and the talent to return to country music in the future, and pursue more mature, more universal themes. There's nothing wrong with writing music for kids, or with growing up in public, but for the time being Taylor's music may not have the same appeal for older listeners as it had when she first arrived. For now, she's the voice of the moment, in years to come she may once again become the voice of the future.
---
Links
---
---