<! cd = 08/17/13 > <! MP3 00/00/00 > <! outside 00/00/00 > <! pix 00/00/00 > <! 208-pix: 00/00/00 > <! styles: Hippie country > <! UPDATES: 09/15/13 - posted >
---
Michael Nesmith first found fame as a member of the prefab, made-for-tv, pop group The Monkees, but he gained a lot of personal credibility in his post-Monkees years. In the early '70s he was a pioneer of the more avant wing of the Southern California country-rock scene, recording a trio of influential but unsuccessful albums with the First National Band. Nesmith later founded the Pacific Arts Corporation which as a record label gave voice to an eclectic range of off-the-radar artists, before the company moved into video production and distribution, and pioneered the home video market. Under the auspices of Pacific Arts, Nesmith produced several influential early music videos, and created a show called PopClips, which TimeWarner purchased and transformed into the MTV channel. Almost improbably, Nesmith's working-class mother invented White-Out, as if the success of Pacific Arts wasn't enough, with the money from his inheritance, Nesmith has been able to pursue a remarkably independent career. Here's a quick look at his work...
---
Discography - Best-Ofs
---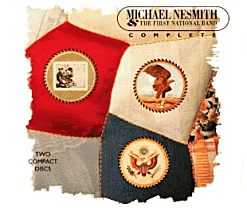 Michael Nesmith & The First National Band "Complete" (Pacific Arts, 1993)


This fab 2-CD set draws on Nesmith's three solo albums with his trendsetting country-rock group, The First National Band -- Magnetic South (1970), Loose Salute (1970), and Nevada Fighter (1971) -- psychedelic citybilly music that many hail as pivotal landmarks in the nascent country-rock scene of the post-Woodstock era. At the time, Nesmith was in seclusion, seeking to dodge the unwanted attention of life as a former star of the "Monkees" TV show, and all the silliness and baggage that came with it. These records certainly have the air of, well, a particular, peculiar time and headspace, reflecting the eclectic, inventive spirit of the times, building on the spacy foundations set down by the Byrds, et al., while also expressing a unique hippie-weirdo perspective that was all Nesmith's own. On first listen, much of this collection seems to melt into an undifferentiated oddball hybrid of Nashville stylizations, Tin Pan Alley affectations and restrained, tweaky rock flourishes... Revisiting this album will pay off richly: Nesmith was tapped into a free-form Americana similar to that of Van Dyke Parks, and covers quite a range of styles. Several songs stand out, and the album continually sheds intriguing glimpses at Nesmith's new, kooky, interior landscape. What mainstream countrypolitan producer Felton Jarvis made of it all, Lord only knows... Also on board for all three albums was pianist Glen D. Hardin, a few years later one of the main anchors of country diva Emmylou Harris' legendary Hot Band. Now, how's that for some serious alt-country history?
---
Discography - Albums
---
The Wichita Train Whistle "The Wichita Train Whistle Sings" (Dot, 1968)



This is an oddity from the tail end of Nesmith's Monkees' years... Apparently this is a pop project that he put together, though he's not actually performing on the album... Guess he got a whiff of how hte folks in Hollywood did things with the Monkees, and wanted to try it himself?
Michael Nesmith & The First National Band "Magnetic South" (RCA, 1970)


Michael Nesmith & The First National Band "Loose Salute" (RCA, 1970)


Michael Nesmith & The First National Band "Nevada Fighter" (RCA, 1971)


Michael Nesmith & The Second National Band "Tantamount To Treason, Volume 1" (RCA, 1972)


Michael Nesmith "And The Hits Just Keep On Comin' " (RCA, 1972)


Michael Nesmith "Pretty Much Your Standard Ranch Stash" (RCA, 1973)


Michael Nesmith "The Prison - A Book With A Soundtrack" (Pacific Arts, 1975)


Michael Nesmith "From A Radio Engine To The Photon Wing" (Pacific Arts, 1977)


Michael Nesmith "Live At The Palais" (Pacific Arts, 1978)

Michael Nesmith "Infinite Rider On The Big Dogma" (Pacific Arts, 1979)


Michael Nesmith "The Newer Stuff" (Rhino, 1989)


Michael Nesmith "Live At The Britt Festival" (Cooking Vinyl, 1999)

---
Links
---
---