<! MP3 07/05/09 > <! update 07/05/09 - Mark Olson's own page...? > <! outside 00/00/00 > <! pix 00/00/00 > <! icons 12/13/10 > <! ORBO And The Longshots >
---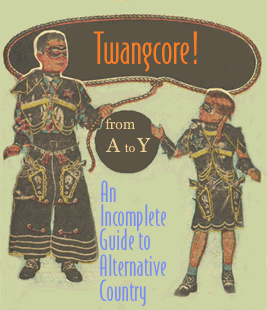 This page is part of an opinionated overview of "alt.country" music, with record reviews by me, Joe Sixpack... Naturally, it's a work in progress, and quite incomplete, so your comments and suggestions are welcome.
This page covers the letter "O"
---
A | B | C | D | E | F | G | H | I | J | K | L | M | N | O | P | Q | R | S | T | U | V | W | X, Y & Z | Comps | Other Country Styles
---


<! Nora O'Connor "Cerulean Blue" (Uncommon Underground, 1996) B000IPQIM6 >

Nora O'Connor " 'Til The Dawn" (Bloodshot, 2004)



This is one of my favorite Americana/indie country albums of the year, kicking off with a quartet of memorable, compelling songs, each one a little gem. The doleful, indie-ish "Revolver" is perhaps the catchiest song on here, with a lovely, simple acoustic riff that stands up there with the best stuff Gillian Welch has ever done. Midway through, the music shifts into more pensive, singer-songwriterish territory, and Neil Young's influence (and perhaps Joni Mitchell's) seeps into the album's end. Chicagoan O'Connor is one of those folks who has played with a bazillion other artists, including Neko Case, Jeff Tweedy, The New Pornographers and a regular gig with Andrew Bird's Bowl Of Fire. Now she's finally come out with an album of her own and it's really, really good. Finally an artist on the Bloodshot label who isn't striking a pose when they put on some twang! I can't wait to hear more.
Aoife O'Donovan "Fossils" (Yep Roc, 2013)



A solo set from a member of the alt-old timey stringband, Crooked Still, going out into poppy, artsy territory, similar to that of Sarah Jarosz and Chris Thile...

The Okeh Wranglers "Beneath The Western Skies" (Fury, 1996)



A thoroughly enjoyable set of retro-rific hillbilly boogie and shuffles, much along the same lines as old bands such as Skeets McDonald and Pee Wee King, or newer folks like Big Sandy or The Dave & Deke Combo. These British revivalists have the feel down right, with a lively, slightly chaotic feel that's not at all unlike the American bands of the 1940s and '50s that they pay homage to. Other that the pleasantly high quotient of just plain fun, this band is noteworthy for a couple of reasons... First, three-fifths of the bandmembers are gals and second, almost all of the songs on here are original material, written by various members of the Kyme family... It sounds like stuff that was harvested from the golden age of honkytonk... but it's not! Pretty impressive, as far as I'm concerned. (By the way, you might have the most luck tracking this disc down by going directly to the Fury Records website, which also includes dozens of groovy rockabilly and other retro records. The band also has its own website", which is where you can order the records listed below...)
The Okeh Wranglers "Lonesome Vistas" (Blue Smoke, 1999)

The Okeh Wranglers "Honky Tonk Crazy" (Blue Smoke, 1999)


OKra All-Stars "The OKra All-Stars" (OKra, 1994/Innerstate, 1998)



Another gorgeous album! Ricky Barnes, Dave Schramm, Hank McCoy and Jeb Loy Nichols cook up one of the warmest, most listenable alt-country albums ever made... Plenty of great cover versions such as Buck Owens' "I Wouldn't Live In New York City," John Anderson's "Wild And Blue," Merle's "Shade Tree Fix-It Man," and Prince's "Purple Rain" (beating the Derailers out by about six years!). Of course, it wouldn't be a Ricky Barnes masterpiece without at least one Louvin Brothers song, in this case a sweet, sweet version of "Don't Laugh." Several other highlights here, especially the mega-bummer "Big Mistake," "Falling Fast," and "Let's Build A Bridge", which has one of those charmingly intricate, old-timey music box melodies of the sort that the Carter Family specialized in. Highly recommended.

Old 97's "Hitchhike To Rhome" (Big Iron, 1994)



A pretty impressive debut, in which purposefully lame (ie "country") performances can be overlooked due to the undercurrent of interresting songwriting. Rhett Miller indulges in various drinkin'-druggin'-lovin'-losin' cliches, but has enough clever, introspective turns of phrase that it all works out in the end. Includes affectionate nods towards Merle Haggard ("Mama Tried") and Webb Pierce (an indifferent but admirable cover of Mel Tillis' "Tupelo County Jail," which is added as a hidden mystery track -- remember those? -- at the end of the album), old-school touches which help give the band their country cred (along with the band's name, of course, which comes from the title of an old story song about a famous train wreck...) Nice indie effort!

Old 97's "Wreck Your Life" (Bloodshot, 1995)


Old 97's "Too Far To Care" (Elektra, 1997)



Old 97's "Fight Songs" (Elektra, 1999)



A mostly-rock record, poppy and twee in parts, crunchy in others, with bright, '70s-ish choruses and an offhand, indie-derived vocal style, and lotsa, lotsa reverb. As sugary indie rock, this is kinda nice; as alt-country, it's pretty far afield. There are mandolins and pedal steel riffs, a parodic nod towards the Louvin Brothers ("Crash On The Barrelhead"), a twang here and there, among the post-punk power chords and doleful, murky Waits-ian darker parts. It's compelling in its own way, though a bit dense and overly serious, at least for me. Not the kind of thing I would go ga-ga over, but, hey, good for Rhett and the lads for following their muse and playing the music they wanted to make... Certainly nothing I would run out of the room to avoid, but in some ways, it's just another rock record.
Old 97's "Early Tracks EP" (Bloodshot, 2000)



Old 97's "Satellite Rides" (Elektra, 2001)



Wa-a-aa-yy more poppy and super alt-rock-ed out... heck, they even had remix singles of "King Of All The World" and everything! I don't necessarily mean that as a dig; this is nice alt-rock, with a notable debt to the Replacements and folks like that, and pretty good for what it is. Again, some twangy touches, and lots of overly-sculpted lyrics. It's okay... it's just not really my bag.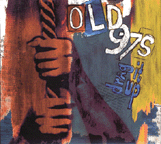 Old 97's "Drag It Up" (New West, 2004)



I have to confess that -- gasp! -- I've never been that much of an Old 97s fan... It's not that I have anything against them, mind you, it's just that when they were alt-a-billy, I wasn't paying attention, and when they got more rock-oriented, I had no interest. Well, of course, I've had to go back and check them out, and get a more informed opinion... And when new album comes out, I gotta get on the stick and review it, too...! So here's the good news: this album is pretty darn good. It's got a wide stylistic range, starting off with some uber-retro cowpunk ("Won't Be Home") and slides deftly between various shades of indie-introspection and twangy Americana truthtelling. I doubt this is a record I would ever really revisit or get that much out of, but it is nice in and of itself, and brings a welcome relief from the more aggressive, generic twang-rock sound they'd embraced in recent years. Some songs, like "In The Satellite Rides A Star" and "Adelaide," are quite nice.
Old 97s "Wreck Your Life... And Then Some: The Complete Bloodshot Recordings" (Bloodshot, 2009)


A handy reissue of some of the finest early music my this key twangcore band... Nice to have this stuff back in print!

Old 97s "The Grand Theater, Volume One" (New West, 2010)



(Produced by Salim Nourallah)
This mostly sounds pretty rock'n'roll to me... It isn't untol more than halfway through, on the song, "Champaign, Illinois," that there's anything that's I'd really consider a twangtune. A more "country" vibe starts coming through after that, but for the most part this seems like a rock album, albeit with an indie-meets-roots twist. There's nothing wrong with rock'n'roll, per se, I'm just not as into it as I am twang. Soooo.... Maybe I'm not the right person to analyze this album in depth. Sounds good for the style, but it's not my cup of tea.

Old 97s "The Grand Theater, Volume Two" (New West, 2011)



One of the premier bands of the '90s Americana scene, Rhett Miller and the Old 97s are still rocking hard and making some great and groovy tunes. On the fab, far-ranging follow-up to last year's Grand Theater album, they engulf listeners in a wave of top-notch indie-pop songwriting, with melodic hooks galore and a wealth of oblique lyrics. There is an insular, self-referential feel to a lot of the songwriting, but that's par for the course in indieville, and I'm pretty sure fans will dig everything here. There's a compelling intensity and conviction here that's matched by a cheerfulness and good-natured vigor than draws you in and pulls you along... Definitely worth a spin!


<! Old Crow Medicine Show "Trans:mission" (cassette) (1998) >

Old Crow Medicine Show "Greetings From Wawa" (2000)





Old Crow Medicine Show "Eutaw" (Blood Donor, 2001)


Old Crow Medicine Show "Live" (Blood Donor, 2003)


Old Crow Medicine Show "O. C. M. S." (Nettwerk, 2004)



Raspy old-time music with modern lyrics and a rawk'n'roll attitude, ala the Bad Livers or Asylum Street Spankers... Like similar efforts on, say, the Bloodshot label, this seems to lack a real feel for the country/hillbilly style -- it's clattersome, but without the rhythmic punch or soulful sincerity that makes old-timey music so compelling. I mean, I guess it's okay, but it sounds a little forced and doesn't really draw me in... Although they gather some subtlety as they go along, the group just seems so mannered and self-conscious about what they're up to that it's hard to just relax and settle into the album. Still, if David Rawlings signed up to produce these guys, maybe they've got something going on after all... (Rawlings plays guitar on a tune or two; Gillian Welch bangs the drums on "Big Time In The Jungle," which deals with the Vietnam War...) Worth checking out, though you may have to force yourself to listen to it for a while before anything really starts to sink in... (Postscript: since reviewing this album, I've heard these guys a couple of times on the radio, and they sound a lot more fun live... So who knows? Their next album might blow me away!)
Old Crow Medicine Show "Big Iron World" (Nettwerk, 2006)


Old Crow Medicine Show "Down Home Girl" (EP) (Nettwerk, 2006)


Old Crow Medicine Show "Tennessee Pusher" (Nettwerk, 2008)


Old Crow Medicine Show "Caroline" (EP) (Nettwerk, 2008)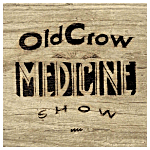 Old Crow Medicine Show "Carry Me Back" (ATO, 2012)



(Produced by Ted Hutt)
Another great set from these retrodelic champions of the old-timey sound, with lots of fun, fast-paced, foot-stompers, as well as some slow tunes and novelty numbers... There's a strong dose of jug band blues as well, with risque lyrics that are reminiscent of the classics in the genre, stuff that would make Gus Cannon proud. Indeed, there are a lot of songs on here that are original compositions by various band members but sound like oldies from yesteryear; one of the most striking examples here is the album's contemplative closing number, Ketch Secor's "Ways Of Man," which I could swear I once heard Waylon Jennings or Michael Murphey sing sometime back in the '70s. Fun stuff -- recommended!
Old Joe Clarks "Town Of Ten" (Checkered Past, 1997)



Old Joe Clarks "Metal Shed Blues" (Checkered Past, 1999)


A well-crafted, off-kilter album, with emphasis on subtle songwriting. This San Francisco combo has expanded into a loping, post-twang ensemble which brings to mind the best of the unclassifiable rootsy singer-songwriter records of the early 1970s. Mike Coykendall's vocals immediately invite a comparison with Arlo Guthrie, though the allusive songwriting and seductive, self-confidently complex arrangements are more in the neighborhood of Dylan's old masterpiece, Blood On The Tracks. The overall tone seems gentle, yet foreboding; loose ends dangle throughout this disc, and the starkly unresolved last line of "Eyes Closed," which closes the album, invites an immediate replay of the whole album. Challenging, lulling, recommended.
Jill Olson "The Gal Who Would Be King" (Eggbert, 1996)


I love this record! This local San Fran gal has been in a lot of great bands, from the Movie Stars to Red Meat, and many other folks, including actress Mare Winningham, have benefited greatly from her friendly assist as a back-up bassist. Still, nothing matches the exuberant playfulness of this bouncily Beatles-ed out solo album. The musical hooks are all killer -- pure melodic pop in a countrified backdrop -- and Olson's squeeky-clean vocals are a delight. Besides, anyone with the cheek to cover America's "Sister Golden Hair" and back it up with the one-two punch of her own fab original material (esp. "Oh My God" and "Conquer The World") deserves all the adoration we can heap on her. Probably won't be on the racks at your local K-Mart, but the label still has a few copies on hand.
Jill Olson "My Best Yesterday" (Innerstate, 2002)



This charming local thriftstore cowgirl is back with an album that shows off her sweettooth for treble-heavy melodic pop. The Beatles, Byrds and Belly echo through this bouncy little disc, which nonetheless has an undefinable hillbilly twist. There's also the bright trademark sound of producer Dave Alvin, who is a welcome addition to any team! This charming indie outing has its odd moments, but with perky, memorable tunes like "When You Gonna Love Me Again?" it my also be the kind of record you can't quite get out of your mind. It took me a while to warm up to this one, but now I'm into it. (Also see: Movie Stars, Red Meat, Yard Sale)
(Mark Olson And) The Original Harmony Ridge Creekdippers "The Original Harmony Ridge Creekdippers" (Self-Released, 1997)


When this first came out, it seemed like a nutty little album; in retrospect, it may be a bit formless and loose-ended, sort of a warm-up for things to come. Ex-Jayhawks member Mark Olson warbles about things that don't make much sense; Victoria Williams sings a sorta-kinda harmony on several songs, and co-writes a few as well. It's mostly Olson's show, but it does set the tone for all their goofball, spaced-out ramblings yet to come. Spaced-out, hippiedelic alt-country for those looking for a soundtrack to drop out of society by.
(Mark Olson And) The Original Harmony Ridge Creekdippers "Pacific Coast Rambler" (Self-Released, 1998)

(Mark Olson And) The Original Harmony Ridge Creekdippers "Zola And The Tulip Tree" (Creek, 1998)

Mark Olson & The Original Harmony Ridge Creekdippers "My Own Jo Ellen" (Hightone, 2000)



The gods must have smiled on the day that Jayhawks guitarist Mark Olson met his wife, the mousy voiced singer-songwriter, Victoria Williams. The two share a uniquely goofy world view, a whimsical, wide-eyed sense of wonder that encompasses the kind of hippie-ish love of gravel roads, thunderstorms and rainbows that fell out of fashion 'way back in the '70s. Their willful naivete comes across loud and clear on this beguiling, off-kilter ode to a nostalgic rural past. Looking through the eyes of a rambling pair of ten-year olds, the Creekdippers take us into the heart of a small desert community, where we meet weary farmers facing foreclosure, elderly agoraphobes learning to face the big world ouside, and dusty faced little kids who talk to god on rainy afternoons. Williams' oddball narrative style and Olson's knack for catchy country-rock refrains compliment each other perfectly, creating delicate songs that defy our most cynical leanings. Every time they begin to sound unbearably precious, something genuinely charming takes hold, tossing us back onto a cactus-strewn country road, where you whistle as you walk and the bees hum along. I love this record!
Mark Olson & The Creekdippers "December's Child" (Dualtone, 2002)



As odd and as brilliant as I thought their last album was, I have to say, Olson and Williams are really pushing it on this one. Here, the winsome hippie-isms of My Own Jo Ellen thicken into a more impenetrable, rock-oriented crustiness. What earlier seemed like an intriguing kookiness now appears to have become an insular private language, draped in thick jam-bandish alt.country rock. There are some familiar touches -- strange character sketches, celebration of nature -- but mostly it feels like the Creekdippers simply no longer care if the rest of the world "gets" what they're doing. Instead, they're just off on their own trip, and while there is a remote chance that a listener or two might also be on their wavelength, that's not really their point. Okay, sure, there's something to be said for super-personal artistic statements, but I can't shake the feeling that this album displays a little too much personal pride and creative hubris. A teeny, nagging voice inside suggests that I may be missing the point, but the rest of me says it's time to move onto something else that's easier to get into. Maybe I'm being too harsh, but I hope that the Creekdippers can come back to planet Earth sometime soon, and make a record that the rest of us can enjoy, too.


<! 12/10: really 130x130 >

Mark Olson "The Salvation Blues" (Hacktone, 2007)


Mark Olson "Many Coloured Kite" (Hacktone, 2008)



(Produced by Chris Robinson)

Mark Olson & Gary Louris "Ready For The Flood" (Hacktone, 2008)



(Produced by Chris Robinson)
A spacey, folky reunion of two former members of the now on-hold Jayhawks... Olson left the band in 1995 and went on a weirdo-delic musical journey with his wife, Victoria Williams, whose off-center sensibilities seemed to match his own in a series of albums by the Original Harmony Ridge Creek Dippers. This disc, the second recorded in the wake of their divorce, continues on in the idiosyncratic, ultra-personal oddball vein as Olson's Creek Dipper days. God only knows what the songs are about, but Louris and Olson seem to be having fun together, and while the production mix is much sparser and less forceful than one might expect with a member of the Black Crowes (Chris Robinson) at the helm, it's got a nice, light tone that steadfast Creek Dipper fans will appreciate. Oddly enough, the tight, strained Louris-Olson harmonies reminded me a bit of Great Britain's Dransfield Brothers, who also crafted a unique, weirdo, space-folk vibe after mastering more traditional musical styles. It might not be for everyone, but for the right brand of fans, this'll be manna from heaven.
ORBO And The Longshots "Prairie Sun" (Blue Mood, 2011)



Rootsy country/rock/bar-band music from Texas, emotive and full of sincerity and drive... It's not quite my style (I go for a little more twang, and a little less krrangg) but if you like bluesy stuff like old Tom Petty or Delaney & Bonnie, you might wanna check these folks out. Nice mix of male and female vocals, with plenty of power and drive -- and doubtless a killer live show!


<! a bunch of other albums >

Lindi Ortega "Drifter EP" (Cherrytree/Interscope, 2009)



A four-song EP; three of the songs (excluding the title track, "Drifter") also appear on her full-length album, below.

Lindi Ortega "Little Red Boots" (Last Gang, 2011)



(Produced by Ron Lopata)
An excellent set from a modern Canadian cowgirl who bears an amazing stylistic and vocal similarity to the young Dolly Parton. Some songs, like "Angels" and "Dying of Another Broken Heart" sounds like straight-up outtakes from Dolly's early '70s "Tennessee Mountain Home" era, albeit with an overlay of spooky, Chris Isaak-y reverb-y post-rockabilly electric guitar. There are hints of rock roots here, but overall this is a deliciously twangy set from a refreshingly original voice. Strong songwriting throughout, backed with rich, powerful musicianship and a very clear artistic vision. Highly recommended!
Lindi Ortega "Tennessee Christmas" (Last Gang, 2011)

A 4-song holiday EP from this alt.country up-and-comer... The standout track is an original weeper called "Christmas Carol," which has a Lucy Kaplanski-ish folkie feel.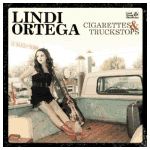 Lindi Ortega "Cigarettes & Truckstops" (Last Gang Records, 2012)



(Produced by Colin Linden)
Canada's Lindi Ortega has retrenched a little from the true country of her last album, exploring more rock-y, bluesy themes with the help of producer Colin Linden... Oh, there's still plenty of twang there, but the lyrics are more arty and ambitious and the music more eclectic and involved -- the rootsy Dolly Parton vibe giving way to something closer to alt-country's Paula Frazer or Maria McKee. Indeed, on the closing track, "Every Mile Of The Ride," I was unexpectedly reminded of Camera Obscura's artsy, plaintive indierock portraiture... This gets into the Americana-music-as-modern-poetry thing, and since I'm more of a verse-chorus-verse, singalong, simple themes kind of guy, it doesn't sing to me in quite the same way as a bunch of dumb, funny drinking songs might. But folks with more sophisticated, youthful tastes should find this quite exciting: Ms. Ortega is one of the strongest, most vibrant voices on the (North) Americana scene today. Certainly worth a spin!

Joan Osborne "Pretty Little Stranger" (Vanguard, 2006)



Honorable mention goes to erstwhile pop star Joan Osborne, who returns to her rootsy roots a little bit, on this country-folk flavored outing. Folks such as Rodney Crowell, Vince Gill, Alison Krauss and Dan Tyminski drop in to sing some harmony or pick a few licks, and while this doesn't sound like her Bonnie Raitt-ish old stuff, the Americana edge is certainly there in the mix... Maybe a bit more like Rosanne Cash or Beth Nielsen Chapman, perhaps? Overall, this is a little too slickly produced and pop-oriented for my tastes, but fans and adult-alternative listeners will probably dig it.
---
Alt.Country Albums - Letter "P"
---