<! MP3 03/17/09, 12/07/10, 12/11/13 > <! outside 00/00/00 > <! pix 00/00/00 > <! icons 12/07/10 > <! UPDATES: 12/10/12 - added Bad Livers/Danny Barnes page/link 12/11/13 - updated - need Bare Jr page? - need to update Sam Baker and BoH >
---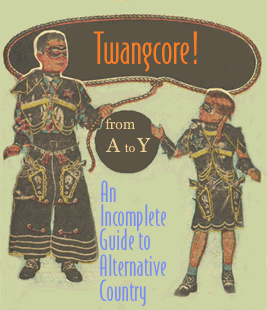 This page is part of an opinionated overview of "alt.country" music, with record reviews by me, Joe Sixpack... Naturally, it's a work in progress, and quite incomplete, so your comments and suggestions are welcome.
This is the first page covering the letter "B"
---
A | B-1 / B-2 / B-3 / B-4 / B-5 | C | D | E | F | G | H | I | J | K | L | M | N | O | P | Q | R | S | T | U | V | W | X, Y & Z | Comps | Other Country Styles
---
Back Porch Mary "Life Is Now" (Dry Gulch, 2011)



(Produced by Paul Soroski & Back Porch Mary)
High-energy roadhouse rock'n'twang, from this Austin, Texas red-dirt trio... It's a bit heavier on the rock-oriented electric guitars for my tastes, but the band's earnest enthusiasm comes through loud and clear and is pretty hard to resist. Betcha they're fun live!
The Backsliders "Hard Core Honky Tonk From North Carolina (EP)" (Mammoth, 1996)


The Backsliders "Throwin' Rocks At The Moon" (Mammoth, 1997)


The Backsliders "Southern Lines" (Mammoth, 1999)


The Bad Livers -- see artist discography
Joe Baker & His Barefoot Brakemen "Shook, Broke, Hung" (Alonzo, 2008)



(Produced by Mike Coykendall)
A nice set of hillbilly retro from Portland, Oregon's Joe Baker, formerly a member of the Portland-based rock band, The Starlings. I wouldn't say Baker has the greatest voice, but he's definitely got a feel for this old-style material, and his DIY roots come through clear as a bell on these pleasantly informal recordings. Some honky-tonk, a little hillbilly boogie and a dash of old-school trad-jazz, some fiddle and pedal steel... you're talking my language, buddy! If you like stuff that ain't too slick, this is definitely worth checking out.
Sam Baker "Mercy" (Bull Creek, 2004)



A jaw-dropping singer-songwriter/Americana/red dirt tour de force. Seriously: where have they been keeping this guy? Texas-based Sam Baker's self-released debut is an astonishing synthesis of the whole windswept Panhandle storytelling tradition, bringing to mind dust-caked poets such as Guy Clark and Townes Van Zandt, as well as Terry Allen, Mary Gauthier and Robert Earl Keen... Of the lot, I honestly think only Guy Clark comes close to this guy, in terms of his self-assurance, his clarity of vision, and the consistent high calibre of his output. Like I say, it's one hell of a record. Song after song creeps up and pulls you in... each a quiet, haunting, curious jewel. Like many records in this genre, these songs are sorrowful echoes of action, the poetry of lifelong regret channeled into a hard-won, seemingly unreasonable hopefulness, a love of life, despite all the crap that drags us down. Now, normally I get tired of this stuff fairly quickly -- I think the genre as a whole has devolved into a series of overly-stylized creative writing class exercises, stilted and strained, ringing falser and less compelling the more it attempts to summon up a sense of "authenticity." Not so with Mr. Baker. He just manages to craft one alluring gem after another; the tone of the album is half dreamy, half somber, and when it ends, you'll want to hear more. This is a remarkably effective record -- both pleasantly, palpably indie and down-home, but also packed with interesting, innovative songcraft. Maybe one reason this album connects with such emotional force is that Baker isn't pretending to be a survivor, he really is one: this album was written and recorded after Baker recovered from being caught in a terrorist bombing in Peru, one that killed the people sitting next to him, and left Baker badly hurt. The passion for life instilled in him by this close encounter with death resonates through every note on this record; even his distinctive, slurred vocal style is a result of the attack... At any rate, if you like Clark, Keen, Gautier, et.al., you've gotta check this album out. It's really quite good. (For more information, see Baker's website at sambakermusic.com )
Sam Baker "Pretty World" (Sam Baker Music, 2007)



Another impressive offering from this Texas singer-songwriter, a fella who's fast making a bid to establish himself as the "next Guy Clark," and who's certainly on my list of the top country artists of the decade. Baker's allusive, impressionistic songs provide some of the best character sketches heard in Americana music in many a moon... There's something miraculous and captivating about Baker's work: his shambling melodies and half-spoken, half-swallowed lyrics have a fascinating mix of emotional directness and inexplicable mystery. Baker takes up the torch of independent twang, but sounds utterly original and unique -- from the first note, you'll be hooked. Although this disc doesn't have as the same powerful, readily haunting melodies as his debut, Mercy, the mood and tone of the entire album are hypnotic and absorbing, and slowly, favorite tracks will emerge, notably "Sweetly Undone," "Orphan" and "Slots." Anchored by the pedal steel work of Mike Daly and Lloyd Maines, Baker's sound is sorrowful but full of life... The people that populate his songs seem palpable and real, unremarkable yet beloved for their plainness and regret... Here's another album that should stand as a classic, and that calls out for wider attention. (Available through Baker's website: www.sambakermusic.com )
The Band Of Heathens "Live From Momo's" (BOH, 2008)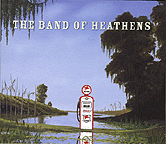 The Band Of Heathens "The Band Of Heathens" (BOH, 2008)



(Produced by Ray Wylie Hubbard)
A catchy set of Texas-born, independently produced, red-dirt roots-rock, guitar-centric stuff that sits just this side of the jam-band scene. The opening songs are cheerfully rugged and rowdy, with a Southern-rockishness that recalls the Black Crowes; after "Second Line," a mandolin-led acoustic interlude, the mood shifts and becomes softer and more reflective... It takes a while, but you'll soon place Ed Jurdi's smoky, dream-laden vocals -- for all the world, these guys sound just like Little Feat back in their Lowell George heyday -- not as jazzy, but just as funky and soulful. If these comparisons spark your interest, then you can safely pick this disc up: there's a lot here that'll make Feat fans happy. Folk-pop favorite Patty Griffin seems to be pals with the band as well, singing on three songs, most notably the sweet duet, "40 Days." Recommended!
The Band Of Heathens "Live At Antones" (BOH, 2008)


Banjo & Sullivan "The Ultimate Collection: 1972-1978" (Universal/Hip-O, 2005)


This "best-of" collection is a clever forgery, one of the most entertaining biographical hoaxes since my profile of psychedelic barbershop bandleader Norm Wooster... It's also one of the best vulgar hillbilly porn-parody sets since Chiga Chavin and/or Billy C. Wirtz laid down some wax... In this case, the gimmick is that Adam Banjo and Roy Sullivan were (supposedly) a marginal country act from the mid-'70s that met with a grisly, unfortunate end when a killer cult did them in (a tie-in with some Rob Zombie slasher flick, which is where the mythical B&S really come from...) Alt-country stalwart Jesse Dayton provides the musical talent, writing, producing and performing the bulk of the album... and it's a pretty good set, with song titles that mimick the overly-complicated, pun-laden novelty formulae of 'Seventies country ("I'm At Home Getting Hammered (While She's Out Getting Nailed)," "I Don't Give A Truck," "I'm Trying To Quit, But I Quit Trying," etc.) The actual music doesn't sound that '70s-ish, but some songs are pretty fun... The Universal mega-label gets credit for going along with the gag and releasing this disc with a straight face as one of their "Ultimate" titles... (If they'd also released it with the same generic artwork as, say, their "Millenium" series, that would have truly hilarious...) Anyway, if you like mildly raunchy alt-country novelty material, this is a good record to check out. Heck, I may even rent the movie someday...!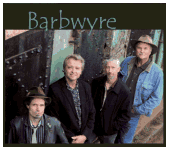 Barbwyre "Barbwyre" (2013)


Loose-limbed, playful "funkgrass" from this Colorado quartet. They mix bluegrass and western swing with a little smidge of rock and jazz in there as well... If you like, oh say, John Cowan or Sam Bush, you'll probably dig these mile-high hillbillies as well.
Bobby Bare - see artist discography
(Bobby) Bare, Jr. "Boo-Tay" (Sony, 1998)

(Bobby) Bare, Jr. "Brainwasher" (Immortal, 2001)


Bobby Bare, Jr. "Young Criminal's Starvation League" (Bloodshot, 2002)



Um. How to put this? Bobby Junior was last heard as a precocious pre-teen lad, asking the questions on his dad's 1974 single, "Daddy What If..." He was such a flat performer then, that even when doing a recitation bit, he sounded out of tune (!) and his voice hasn't improved much since then... He sort of lacks his dad's, um, talent and gravitas... As well as his ability to edit and concisely construct memorable songs. It's funny, also, how little he sings like his well-known (and rather distinctive) father -- the vocals on most of this album sound more like Steve Forbert than anybody else, though on the last couple of tracks Bare gets that recognizable grumble in his voice. Mellow and diffuse, this album as a whole is far too amorphous, both in the songwriting and musicianship, to make much of an impression.

Bobby Bare, Jr. "OK, I'm Sorry" (EP) (Bloodshot, 2003)



Back when he was but a young sprat, Bobby Jr. cut a couple of cutesy-wootsy novelty tunes with dad, where his pre-adolescent voice cracked and crinkled and sounded ever so awwwwwwww... broadcasting out on commercial country radio... It would be too much of a cheap shot to say that his voice hasn't improved much since then, but, well, it's kinda true. He's not a great singer, he tries too hard to piggyback on the rule-breaking rowdy/rebel image his dad cultivated, and his band plays rough, grungy rock, not really so much with the country. I guess some of his lyrics are interesting, but not to the extent that I personally would get too excited by his work. I'll pass.

Bobby Bare, Jr. "From The End Of Your Leash" (Bloodshot, 2004)



Honestly, I was surprised by the strength of some of these songs... The two opening tunes actually got me sort of tapping my toes and nodding my head... and I really hate Bobby, Jr. (At least as a performer; I'm sure he's a swell guy in real life.) So, here's the update: he still has a really crappy voice, and for the most part his lyrics are appallingly over-obvious and lame, but -- and here's the amazing part -- he is getting better. The more thoughtful musical arrangements help... this disc is way better produced than his other albums, and even has some catchy melodic touches. He is definitely not the musical genius or amazing rock'n'roll rebel his publicists make him out to be, but he may actually be turning into an interesting artist, rather than simply a pointless aural irritant. This is the first record of his that I wouldn't just tell you to avoid at all costs.
Bobby Bare, Jr. "The Longest Meow" (Bloodshot, 2006)


Bobby Bare, Jr. "Nick Nacks & Paddy Whacks: Live" (Junket Boy, 2006)

Bobby Bare, Jr. "American Bread" (EP) (Bloodshot, 2009)


Bobby Bare, Jr. "A Storm, A Tree, My Mother's Head" (Thirty Tigers, 2010)


Mike Barfield "Living Stereo" (Tater Tot Recordings, 2002)


(Produced by Billy Horton) <! "engineered" >
A solo album by the lead singer of The Hollisters...
Tom Barger "I Stand Alone" (2002)






<! Byron Berline, Red Rhodes, Leland Sklar, Jai Winding among many backing musicians >


Danny Barnes -- see artist discography





High Sheriff Ricky Barnes - see artist discography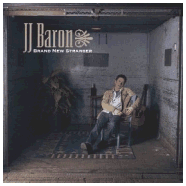 J.J. Baron "Brand New Stranger" (Rhody Records, 2005)



(Produced by Tom Newman)
This guy sounds like he's trying way too hard. A twangy, mostly uptempo set packed with overly-profound lyrics interspersed with wry couplets from old blues and folk tunes... It doesn't help that Baron has such a thin, gangly voice: all the world-weary, hard-bitten, tough-guy posturing rings a little false. But I generally don't go for philosophically-oriented, let-me-dispense-great-wisdom twang-folk anyway, so it might not all be this guy's fault. Didn't do much for me, though, even if the musical end is well-produced and well-performed.

Paul Barry & The Del Rays "Paul Barry & The Del Rays" (Lulu, 2005)
Likeable, lively retrobilly self-released by an independent artist. These Wisconsinites plow through a variety of styles, ranging from hillbilly boogie and rockabilly-ish roots to straight-up country and roadhouse blues. The punchy guitar work by Ryan Rossebo lights this album up, while frontman Paul Barry adds a friendly presence... Also features a nice selection of songs from little-known writers, including gems like "Alcohol Of Fame," by Francis James Blandino, and the album's opener, "Boo Hoo." I also liked "Girl At The End Of The Bar," written by one Walter Clevenger, but I couldn't help wondering if he was related to my sadistic ex-Marine junior high gym coach. Probably, but he still writes a nice melody. Anyway, this is a swell album that shows that Texas ain't the only place in the country that knows how to put out good independently released roots music. (For more info, email the band at: PBarry@wi.rr.com )

Bastard Sons Of Johnny Cash "Walk Alone" (Ultimatim, 2001)



The band name bugs me (too gimmicky), and I expected that this record would be filled with tedious, dorky white trash stereotypes galore... But for the most part, these guys from San Diego, CA sound alright, in an inoffensive, low-key, roots-rockish kinda way. Some songs are tedious and drag on ("Train's Gonna Roll," "Lonesome Sky...") but others hit the mark -- "Walk Alone" is a fine, uptempo country number, and they definitely get extra points for covering Dale Watson ("Truck Stop In LaGrange") and Merle Haggard ("Silver Wings"). Still, this doesn't blow me away or anything; it's solid, but unelectrifying.

Bastard Sons Of Johnny Cash "Distance Between" (Artemis, 2002)



I still say their name is needlessly gimmicky, especially considering how sedate and the band actually is. An okay, kinda slow-coreish, background music, country-rock style, reminiscent at times of Dave Alvin, but more likely to strain at the edges and lope along without apparent purpose. These guys are alright, I suppose, but they don't really excite me that much.
Bastard Sons Of Johnny Cash "Mile Markers" (Texicali, 2005)


Bastard Sons Of Johnny Cash "Live At the Belly Up" (Texicali, 2009)


(Mark Stuart And The) Bastard Sons (Of Johnny Cash) "Bend In The Road" (Dualtone, 2009)


Bastard Sons Of Johnny Cash "New Old Story" (Randm, 2013)

---
Alt.Country Albums - More Letter "B"
---