<! Austin De Lone Moot Davis Daryl Wayne Dasher "Great Big Sky" (2013) Side One: Hello Sky, Again, Mountains of Montana, Follow Me, Soldier, Ride Along. Side Two: What Does It Mean, I've Tried (I'm Dry), Take You Home, Sun, Leave The Rest Alone > <! MP3 03/20/09, 12/09/10 > <! outside 00/00/00 > <! pix 00/00/00 > <! icons 12/09/10 > <! UPDATES: 00/00/00 >
---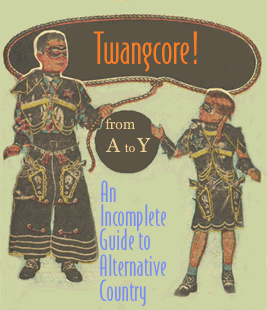 This page is part of an opinionated overview of "alt.country" music, with record reviews by me, Joe Sixpack... Naturally, it's a work in progress, and quite incomplete, so your comments and suggestions are welcome.
This is the first page covering the letter "D"
---
A | B | C | D / D-2 / D-3 | E | F | G | H | I | J | K | L | M | N | O | P | Q | R | S | T | U | V | W | X, Y & Z | Comps | Other Country Styles
---
The Damn Quails "Fifty Billion" (598 Recordings, 2011)



The Damn Quails "The Damn Quails" (598 Recordings, 2011)



A strong alt-country album that works both as rock and as twang. The music was consistently surprising and fresh, the lyrics were sometimes weird or elusive but always compelling. I'm kind of jaded and "over" most indierock-meets-country stuff, but this record was a pleasant surprise. Definitely worth checking out!
Danny & Dusty "The Lost Weekend" (A&M, 1985)



(Produced by Paul B. Cutler)
Back when LA had enough punk for it to become cow-ed, a semi-supergroup drawn from the pop-oriented "Paisley Underground" recorded this eclectic set of twangy rock. Green On Red's Dan Stuart, Steve Wynn from Dream Syndicate and Sid Griffin of the Long Ryders were among the SoCal rockers who crafted this sometimes-edgy, sometimes-sublime album, giving explicit nods to a variety of artists, such as The Byrds, Johnny Cash and, of course, Bob Dylan, whose pedal-steel drenched "Knocking On Heaven's Door" closes out the album. Sometimes they get into an overly boho mode, echoing -- I suppose -- the Waits/Bukowski undercurrent in LA culture, but mostly this is a pleasantly soulful, joyous collaboration that in many ways anticipates the "Americana" sound of bands such as the Jayhawks, Uncle Tupelo and Son Volt who were just around the corner on the American rock scene. Fans of Tom Petty might also dig this one... definitely worth a spin!
The Dave & Deke Combo - see artist discography
Jon Christopher Davis "Jon Christopher Davis" (Palo Duro, 2006)



Twangy Texas country-rock with a heavy debt to early Steve Earle... The themes are familiar, as are the riffs, but if you're into the style, this guy sounds fine. The outlaw novelty tune, "Lone Star Attitude," was a standout for me, but I'm a sucker for that kinda stuff. Strong set of all-original material.
Jon Christopher Davis "Live" (Misfit Town, 2008)


Moot Davis "Man About Town" (Highway Kind, 2012)



(Produced by Kenny Vaughan)
Singer Moot Davis has been knocking around the indie-twang scene for a decade or so, and on his previous albums he's dabbled in a variety of styles. Here, he narrows it down to a couple of strong influences: this album echoes with the roadhouse twang of Gary Stewart and the epic Panhandle poetry of Joe Ely. There's a little dose of Dwight Yoakam in there as well, but most all there's plenty of twang. Davis is backed by some of the best in the business: guitarist Kenny Vaughan and his bandmates from Marty Stuart's group, the Fabulous Superlatives anchor an ensemble that also features exquisite pedal steel from Chris Scruggs... With a band like this behind him, Davis delivers a rock-solid set -- he's had some nuggets on earlier albums, but here he's got a gem.
Moot Davis "Goin' In Hot" (Crow Town Records, 2014)


Orville Davis "Howl At The Moon" (Fountainbleu, 1996)

Orville Davis "Barn Burner" (Fountainbleu, 2005)





<! Well-meaning, a little underwhelming. The musically eclectic, delicate ballads recall some of the stuff by the Amazing Rhythm Aces, not to mention old Marty Robbins...> <! Country singer and guitarist Orville Davis was born in Pahokee, FL, the son of Orville Davis, Sr. and Eleanor Sue Davis, and spent his early years there before his family moved to Alabama, back to Florida, and finally to Georgia, where he finished high school. He began singing and playing guitar in his youth, and became a member of the rock band Hydra, which made two albums for Capricorn Records. His first love, however, was honky tonk country music, and he played that as a solo artist. He moved to New York City in 1976 and built a career as a touring backup musician while also singing on commercials for such products as K-Mart jeans, Suzuki SUVs, and Subway sandwiches. He released his debut album, Howl at the Moon, on Fountainbleu Entertainment in 1996, and followed it in 2005 with BarnBurner. >
Ronnie Dawson "Rockin' Bones: The Legendary Masters" (Crystal Clear Sound, 1996)


Sizzling early works from this teenaged terror, one of the most powerful of the original rockabilly kids... This awesome 2-CD set shows why Dawson deserves permanent status as part of the hillbilly elite, a mix of rare singles and fiery demos that explode like pure nitro in your sound system. Even when he sang ballads, Dawson sang with a sneer -- this is pure teenaged testosterone music, with impish, snotty energy and lots of great, gritty guitars. Includes such scorchers as "Rockin' Bones," "Fire, Fire, Fire" and "Ain't That a Kick in the Head." If you like your rockabilly raw, fast and full of life, this collection is not to be missed!


<! 11/11: GIF is grainy >

Ronnie Dawson "Monkey Beat" (Crystal Clear Sound, 1994)

Ronnie Dawson "Rockinitis" (Crystal Clear Sound, 1996)

Ronnie Dawson "Just Rockin' And Rollin' " (Upstart, 1996)


A great record, mixing thumping, powerful rockabilly with a killer hard-country sensibility, kinda like a mix of Joe Ely, Link Wray and Chuck Berry. Great production -- very muscular and loud, but in a very, very good way! And what a cool set of new, original tunes...! Highly recommended.
Ronnie Dawson "More Bad Habits" (Yep Roc, 1999)



A somewhat softer album, but still purty darn good. What can ya say? Dawson was the real deal -- a country boy with a rock'n'roll heart.
Jesse Dayton "Raisin' Cain" (Justice, 1995)



Jesse Dayton "Tall Texas Tales" (Bullet, 2000)



I came at Dayton's work backwards, having been wowed by the title track of his Hey Nashvegas album, and then checking this disc out sometime later. It's pretty solid musically, a hard country/retrobilly mix that works well, in a hard-driving kinda way. His lyrics seem a bit forced, though... Not bad or awkward in any way, but stilted in certain ways.... It just feels like he's working too hard at it... It's better when he eases up and relaxes a bit.

Jesse Dayton "Hey, Nashvegas" (Stag, 2002)



The title track really knocked my socks off, with an irresistible honkytonk-meets-rockabilly-powerpop melodic bounce, although the rest of the album seemed more indistinct, in a Butch Hancock-ish cowboy poet kinda way. Definitely worth checking out, though!

Jesse Dayton "Country Soul Brother" (Stag, 2004)



(Produced by Jesse Dayton)
Prodigious amounts of twang and Bakersfield backbeat buoy up these bouncy tunes, with plenty of pedal steel and a persistent Sir Douglas-style Tex-Mex accordion, as well as lots of heartfelt songwriting... Fun, upbeat indiebilly, with a real West Coast feel... Includes a loping, honkytonk cover of The Cars' "Just What I Needed" that's actually pretty darn good.
Jesse Dayton "South Austin Sessions" (Stag, 2006)



Jesse Dayton & Brennen Leigh "Holdin' Our Own & Other Golden Country Duets" (Stag Records, 2007)



A fun, funky set of hard-country duets, done up right by twangster Jesse Dayton and Austinite hillbilly filly Brennen Leigh, a husky voiced cow-gal with an obvious love of old-school country. (In an interview, Ms. Leigh pays allegiance to Melba Montgomery, which gets her plenty of brownie points in my book...!) A couple of the songs come from the George Jones canon, including Leon Payne's "Take Me" and Bobby Braddock's "Something To Brag About," along with a slew of groovy originals co-written by Brennen and Dayton. Highlights include "Let's Run Away," "Everything Looks Good On The Outside" and "Two-Step Program," a punny country novelty song in the classic tradition. Originally a brash, twangy guitar hero, Dayton has come on a little strong on previous albums -- here, he plays with a restraint and thoughtful soulfulness that should make old-schoolers sit up and take notice. This is a nice, classy record, well worth checking out!
---
Alt.Country Albums - More Letter "D"
---