<! MP3 07/15/09, 12/11/10 > <! outside 00/00/00 > <! pix 00/00/00 > <! icons 12/10/10 > <! UPDATES: 07/15/09 - expand Horton Heat, Corey Harris, Butch Hancock 12/10/10 - added Heat, Hancock > <! ADD: Cary Ann Hearst Chip Haught "The Crying Kind" (xxxxxxxxx, xxxxxxx) Drew Holcomb - soft pop/folk Ronnie Hayward And His Trio "Gotta Git It On" (Fury Records, 2004) B0006L5S64 B001OET8YU Trey Hensley "xxxxxxxxxxxxxx" (xxxxxxxxx, xxxxxxx) - Joe Ross mentioned earlier album - title?? Hog Holler HHR 103 Number 3 With A Bullet: (tracks unknown) - 05 w. Drivin' Force - comp? Trey Hensley "Backin' To Birmingham" (Copper Creek, 2004) B0002YLCR4 - bluegrass Trey Hensley "Looking At My Future" (Kid In The Hat, 2008) B001O54RBI B001OBVDY6 Trey Hensley "It Is What It Is" (Kid In The Hat, 2009) B002QGXQLQ B0033A3RZ4 JOE HASH - Kevin's friend, kinda Top 40, but an independent artist Bucky Halker "Sense Of Place" (Revolting Records, 1984) (LP) B00OOD4ILG - 1984 Wisconsin RURAL ROCK Alt Country - country?? - this guy has a BUNCH of records - including newer one on CD - folk-rock Americana - add to AMERICANA section > <! Hackensaw Boys "Do What You Love" (Nettwerk, 2013) year? B000AHJ7ZW B006NF5PAQ >
---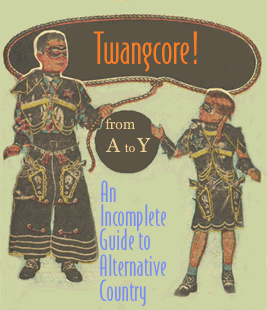 This page is part of an opinionated overview of "alt.country" music, with record reviews by me, Joe Sixpack... Naturally, it's a work in progress, and quite incomplete, so your comments and suggestions are welcome.
This is the first page covering the letter "H"
---
A | B | C | D | E | F | G | H-1 / 2 / 3 / 4 | I | J | K | L | M | N | O | P | Q | R | S | T | U | V | W | X, Y & Z | Comps | Other Country Styles
---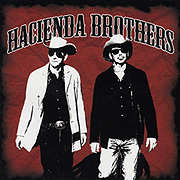 Hacienda Brothers "Hacienda Brothers" (Koch, 2005)



Hands down, one of the finest, funnest alt-country/Americana albums of recent years... Mixings bits and pieces of Merle Haggard, Waylon Jennings and Dave Dudley, with a hint of Link Wray and Deke Dickerson as well, this duo of songwriter Chris Gaffney and guitarist Dave Gonzalez (of the Paladins) crank out some first-rate honkytonk heartbreak and surfy twang, covering classics like Mel Tillis' "Mental Revenge" while introducing a bunch of swell new tunes into the alt-country canon. Some of the slower, more lethargic singer/songwriter-y material in the second half -- songs such as "The Years Got Away" -- starts to drag a little bit, leading into the album's slowed-down, sedate end, where Gaffney starts to sound like Tim Hardin or Fred McNeil.. But, hey, who am I to begrudge a band that kicks up a wicked little dust storm like the start of this album? All in all, this is mighty nice stuff -- definitely worth checking out!
Hacienda Brothers "What's Wrong With Right" (Proper, 2006)


Hacienda Brothers "Arizona Motel" (Proper, 2008)






<! Hacienda Brothers "Live: Music for Ranch & Town" (2007) (live, Oslo, Norway, October 8, 2005) >

Hadacol "Better Than This" (Checkered Past, 1998)


It took me a while to track this one down (having heard their second album first) but I'm glad I found it. These Missouri lads play really clever, catchy, smartass alt.country tunes with real emotional depth and a slight cowpunky edge that doesn't drag down or demean their funny, thoughtful lyrics. Recommended!

Hadacol "All In Your Head" (Slewfoot, 2001)


For a '90s-style alt.country band whose name pays homage to an antique, lethally stupefying patent medicine, these guys show an admirable devotion to solid musicianship and catchy songwriting. There's an exaggerated devotion to twangy, forceful guitars, almost southern rock-ish in its simplistic appeal, combined with a deftness with melody that has become a bit too rare in the current twangcore scene. No lame white trash stereotypes here, just one good song after another, all written by the Kansas City-area Wickham Brothers, who also plug away admirably on piano and guitar. Next time I'm in the Midwest, I'll be sure to catch one of their shows... in the meantime, I'm sure I'll listen to the disc a time or two! Recommended.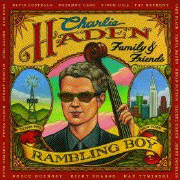 Charlie Haden "Ramblin' Boy" (Decca, 2008)



(Produced by Charlie Haden & Ruth Cameron)
Now here's a record with a real story behind it! It seems that Charlie Haden, one of modern jazz's best known bassists, got his start in the music business as a child performer in a Carter Family-style harmony-oriented country-bluegrass band, playing old-time country and gospel. Yep -- it turns out that this icon of the free jazz and post-bop scenes has country roots that run miles deep. Haden returns to those roots here, with a joyful, classy homage to the music he grew up on, with plenty of friends and family to help out. Haden himself rarely sings because of throat damage from a childhood bout with polio, but the harmony tradition lives on in his children, who sing several songs here as The Haden Triplets... Other guest performers include Rosanne Cash, Elvis Costello, Vince Gill, Ricky Skaggs and Dan Tyminski, as well as Haden's old cohort, Pat Metheny and actor Jack Black who, as it turns out, is married to one of Haden's daughters... Black wails away on a wild, wonderful version of "Old Joe Clark," which perfectly captures the unruly spirit of true, blue old-timey music. The album even includes a brief archival recording of Haden singing onstage -- in 1939, at the age of two -- as part of the Old Haden Family Show, and ends with the present-day Haden singing a warm version of "Oh Shenandoah." This track, like the whole project, evokes a warmth and sincerity that makes plain Haden's love of the material and taps into the emotional depths and nostalgia that made this old folk music so compelling to begin with. It's really pretty nice! Check it out.

Hail The Size "I Can't Die In LA" (Good Drummer, 2009)



(Produced by Matt North)
An odd, idiosyncratic indie-twang album, featuring ex-Lone Justice lead singer Maria McKee, mostly singing harmony alongside guitarist Charles Ezell and drummer Matt North. I'm not sure which of the boys sings lead, but regardless, this is a nice album. Gotta love that title track: sweet melody in addition to a theme I can get behind. There's sort of a Mark Olson/Steve Forbert vibe at work here -- clever, a little kooky, buoyed by some sweet picking... This is pretty far off the radar, but worth giving a spin!
Murry Hammond "I Don't Know Where I'm Going But I'm On My Way" (Humminbird, 2008)



Solo album from a member of the Old 97s...
Butch Hancock- see artist discography
Wayne Hancock- see artist discography
James Hand "Evil Things" (Cold Spring, 1999)


Throaty, hiccupping, and sandpaper rough, Texan James Hand taps into the deep tradition of for-real hard-country hick crooners with hearts of gold and voices of lead... This disc is a treat for those of us who have dug through stacks of raspy hillbilly music from the late 1940s and early '50s, listening to fellas who wrote great songs while working at tough jobs, and sang with all their heart when they finally got the chance. Hand is definitely in that category: his voice isn't pretty, but his songs are pure country, and with guitar whiz/album producer Dave Biller playing lead, and Dale Watson picking on about half the tunes, this album has a real thump and twang to it that's sweet to hear. Not everyone's gonna be able to sit through this one, but for folks who like great heartfelt heartbreak songs, this is a goldmine.
James Hand "The Truth Will Set You Free" (Rounder, 2006)



Yeah, hoss, this is an album you oughta pick up. As on his previous recordings, Texas old-timer James Hand taps into the deep tradition of for-real, hard-country hick crooners with hearts of gold and voices of lead... and a bottomless supply of beer-soaked misery and self-pity. Largely due to the tenuous vocals, not everyone's gonna be able to sit through this one, but for folks who appreciate heartfelt heartbreak songs, this disc is a goldmine. There's a rueful tone and deep sense of defeat that makes every song on here ring true, particularly on stingers like "Just An Old Man (With An Old Song)" and "When You Stopped Loving Me, So Did I." Then there's the musical backup -- tight and compact, a no-nonsense dose of good, old-fashioned honkytonk, courtesy of picker Redd Volkaert, steel player Lloyd Maines (who also produced the album) and fiddler Jason Roberts... Pure twang, distilled down into a Dixie cup and ready for you to take a swig. If you like folks like Guy Clark, Tom T. Hall and Floyd Tillman, you might wanna check this guy out, too.
Pat Haney "Wrong Rite Of Passage" (Freefalls, 2000)

Pat Haney "Ghost Of Things To Come" (Freefalls, 2001)


Gruff, grizzled, grinding roots-rock that fans of Dave Alvin, Steve Earle or Robert Earl Keen might really enjoy. Haney does have a nice way with a melody and though sometimes he lays it on a bit thick with all the profundity-laden stories of hard times, heartbreak and brooding, outlaw-ish violence, it's still a cut above your average Americana album, particularly on the musical end... Worth checking out!
Jim Hanft "Weddings Or Funerals" (Veranda, 2012)



(Produced by Lasse Martin)
A classic "Americana" blend of roots-rock and introspective indiepop, with some twang but perhaps a bit more of moody soundscapes and oblique lyrics, tempered by bouncy beats and bright melodies that tug against the doleful lyrics. If you like stuff by folks like Paul Burch Justin Earle, or maybe some early Lambchop, you might dig this as well...
Hank Flamingo "Hank Flamingo" (Warner Brothers, 1994)


(Produced by James Stroud & Byron Gallimore)
Trent Summar's old band... I haven't heard this one yet, but some folks swear by it and I look forward to checking it out...

John Wesley Harding "It Happened One Night/It Never Happened At All" (Appleseed, 2004)



English alt-rock folkie John Wesley Harding made his 1989 debut with a live album, of all things, and followed up with a studio session that recaptured many of the fresh new songs-in-progress that had been heard in the concert... and which was never released. Time has been kinder, perhaps, to the live album, which has its shared of rushed moments and flubs, as well as a charming brashness and DIY fervor that still comes through all thee years later... The earnest/ironic, singer-songwriter coffeehouse folk-poet thing was well beyond old hat in '89, but Harding went for it anyway, and by sheer force of will (and that twinkle in his eye), went out and made a name for himself... The shelved studio album, on the other hand, remained largely unmixed and the surviving tracks sound as if they may have been improperly stored in someone's dusty basement for a decade or two... Still, it's a nice glimpse at his early ouvre, and an illuminating look at how he's grown over the years... Back then, he balderdashed his way into the spotlight, and while you can hear the callowness in many performances, it's also this clear humanity that gives him credibility and the benefit of the doubt... Fans will dig this album, and newcomers may find themselves beguiled as well...
Hank Hardwood "Ready Or Knot" (Kinda Kindlin' Music, 2009)
(Produced by Christopher Earl)
The gag is that this is (supposedly) country music sung by a ventriloquist's dummy. A-cord-ingly (get it? "cord"? hah-hah.) the songs are all full of dopey, wood-related puns ("Don't Wanna Be Sawdust On A Honky-Tonk Floor," etc.) and the like. The liner notes claim allegiance to the yesteryears of true-blue hillbilly music and crudely curse Nashville for losing its soul, but this would all be easier to buy into if there was anything on here that sounded remotely sincere or soulfully twangy. Even "Hank's" voice is a letdown: a Howdy Doody-style whine would be preferable to the lazy croaks within. I dunno. I guess they were having fun, but I'm knot that into it. (Hank has a myspace page and is also on Facebook: maybe he went to high school with you?)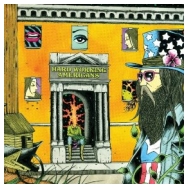 Hard Working Americans "Hard Working Americans" (Melvin Records, 2014)



(Produced by Dave Schools & Todd Snider)
Agit-folkie Todd Snider teams up with a bunch of roots-oriented rockers for a greasy, funky blues-rock outing, covering songs by some of the best composers the Americana genre has to offer: tunes by Hayes Caryll, Kevin Gordon, Kieran Kane, David Rawlings as well as oldies from Randy Newman and '50s hillbilly icon Frankie Miller. Sounds like they were having a good old time, injecting a little grit, sweat and big, fat, jam-band power chords into the comfy confines of the country-folkie-roots music scene. Sounds pretty sweet!
Joni Harms- see artist discography
Corey Harris "Downhome Sophisticate" (Rounder, 2002)



Fans of Harris's sublime acoustic blues work may be a bit surprised to hear him cutting loose on this rollicking set of loudly amplified funk, electric blues and outright psychedelic guitar tunes (!) To call it a change of pace is definitely an understatement, but Harris is clearly doing a big "artistic growth" move. How much you like or dislike it is entirely a matter of taste -- the album is well produced, albeit often quite self-indulgent and excessive. But it may capture the ears of many modern blues and roots-oriented pop fans. An interesting career shift, to be sure!
Corey Harris "Daily Bread" (Rounder, 2005)



Acoustic bluesman Corey Harris delves deeper into pop, reggae and other musical styles, including African music and a dose of off-kilter jazz, courtesy of avant trumpter Olu Dara, who plays on several tracks. Some songs recall the softer approach of his earlier work, but for the most part this is a fairly challenging, eclectic album, and pushes at the boundaries of our expectations... It didn't really work for me, but at least he's not just another folkie doing the same stuff over and over. Those of us who favor artistic growth for its own sake will applaud Harris's efforts here...
J. P. Harris & The Tough Choices "I'll Keep Calling" (Cow Island Music, 2012)



(Produced by J. P. Harris & Joel Savoy)
Nice old-fashioned honkytonk, with a serious George Jones/Hank Thompson vibe... Harris is an Alabamian songwriter currently lurking around Nashville and clearly he's into the classic '50s/'60s hard country sound. Backing him on this album of all-original material are a couple of guys from the Red Stick Ramblers, as well as a couple of other rootsy bands; the pedal steel playing (courtesy of Asa Brosius) is particularly sweet... I can listen to that stuff for days on end. Harris explores classic themes of lovable losers, gear-jamming daddies and downcast drunkards, showing a knack for pun-filled, novelty lyrics with singalong choruses. Kind of reminds me of old Asleep At The Wheel or Chuck Wagon & The Wheels... If you love those old country formulae, you'll dig this one. I did!
(Original) Harmony Ridge Creek Dippers - see: Mark Olsen and Victoria Williams
Emmylou Harris- see artist discography
John Hartford- see artist discography
Rodney Hayden "The Real Thing" (Rosetta, 2002)



An outstanding true-country debut, with a first-rate song selection that ranges from Tom Waits' "I Hope That I Don't Fall In Love With You," Chip Taylor's "Real Thing," "Tears Only Run One Way," from the Robbie Fulks catalogue, and a slew of original tunes that match the elegance and power of these classics (all of which are longtime favorites of mine, by the way...) Hayden lapses into some overly-poetic material on a few tracks -- not too surprising, since label owner Robert Earl Keen is one of his patrons -- but he sure can nail it when he sings plain old twangy country. This is a pretty impressive album; definitely worth tracking down!
Rodney Hayden "Living The Good Life" (Audium, 2003)



A really swell new country album. Although he's still solidly on the "real hicks" side of the equation, this 23-year old Texas native could easily cross over into mainstream success. He's got a rich, deep, Merle Haggard-style voice, paired with a subtle melodic touch that places him closer to veteran Nashvillers like Randy Travis or Gene Watson, rather than to his indie-aligned patron, Robert Earl Keen (who many folks have compared him to...) At any rate, if you like real-deal, musically rich, emotionally resonant hard country music, then check this guy out. -- you'll be blown away. Not only does he craft dust-caked Americana romps like "Goodbye To My Hometown" and "Living The Good Life," he also has an amazing touch for recreating country styles of years gone by, such as the elegant "Mr. Mockingbird," which would've sounded right at home on some late-'60s Decca LP, or tunes like "Can't Wait To Get Back Home," which has a more modern, '80s-ish neotrad feel. Besides, anyone who covers Russell Smith (of Amazing Rhythm Aces fame), and does it so well ("Delia's Long Brown Hair") is alright by me. A rich, mature, and very promising second record.
Rodney Hayden "Down The Road" (Palomino, 2007)

Rodney Hayden "12 Ounce World" (Palomino, 2008)



Hayshaker "Black Holiday In Mexico City" (Self-released, 2007)



A mixed bag, with a few banging, loud rock tunes balanced by some pretty nice indie country. The rock songs didn't wow me, but I did enjoy the rockabilly-flavored duet, "Laurie's Song" and the Fahey-esque slide on "Mexico City." (Also released as the Dirtkick EP, with the songs in a different order...)
The Reverend Horton Heat "Smoke 'Em If You Got 'Em" (SubPop, 1990)


The Reverend Horton Heat "The Full Custom Gospel Sounds" (SubPop, 1993)


The Reverend Horton Heat "Liquor In The Front" (SubPop, 1994)


The Reverend Horton Heat "It's Martini Time" (Interscope, 1996)


The Reverend Horton Heat "Space Heater" (Interscope, 1998)


The Reverend Horton Heat "Holy Roller" (SubPop, 1999)

The Reverend Horton Heat "Spend A Night In The Box" (Time Bomb, 2000)


The Reverend Horton Heat "Lucky 7" (Indieblue, 2002)

The Reverend Horton Heat "Revival" (Yep Roc, 2004)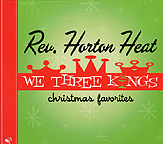 The Reverend Horton Heat "We Three Kings: Christmas Favorites" (Yep Roc, 2005)



The righteous, rowdy Rev and his trio are well-known for their barn-busting, rip-snorting wild live antics, which is one of the things that makes this Christmas album so surprising... While, yes, it is a solid rockabilly set, the song selection is pretty conservative, ranging from old standards such as "We Three Kings" "What Child Is This" and "Winter Wonderland" to beloved pop hits such as "Frosty The Snowman," "Jingle Bells" and "Santa Looked A Lot Like Daddy." Heat & Co. play these songs completely straight, and with a refreshing simplicity -- whereas many retrobilly/rawk acts tend to ham it up, these fellas really seem to have an earnest affection for the songs, and don't feel obliged to make ironic gestures or undercut their own sincerity. Yeah, they're playing it loud... but not too loud... and though some fans may wish they'd gotten rowdier, others may find this disc to be a new seasonal favorite.


<! The Reverend Horton Heat "Smoke 'Em If You Got 'Em" (SubPop, 1990) B0000035ES B0011V9KGC The Reverend Horton Heat "The Full Custom Gospel Sounds" (SubPop, 1993) B0000035FS B0011VPCNM The Reverend Horton Heat "Liquor In The Front" (SubPop, 1994) B000026HIJ B0011V5PQQ The Reverend Horton Heat "It's Martini Time" (Interscope, 1996) B000001Y22 B000V697Z2 The Reverend Horton Heat "Space Heater" (Interscope, 1998) B0000061QH B000V696R6 The Reverend Horton Heat "Holy Roller" (SubPop, 1999) B00000IAG2 The Reverend Horton Heat "Spend A Night In The Box" (Time Bomb, 2000) B00004RCY4 B002D3YF58 The Reverend Horton Heat "Lucky 7" (Indieblue, 2002) B000060OLD The Reverend Horton Heat "Revival" (Yep Roc, 2004) B00029MM5U B000R04L0I The Reverend Horton Heat "We Three Kings" (Yep Roc, 2005) The Reverend Horton Heat "The Millennium Collection" (Interscope, 2006) B000NJWT8E B000VL7K2O The Reverend Horton Heat "Laughin' And Cryin' With..." (Yep Roc, 2009) B002H3KL7U B002JWJCVK >

The Reverend Horton Heat "Laughin' And Cryin' With..." (Yep Roc, 2009)


The Reverend Horton Heat "The Millennium Collection" (Interscope, 2006)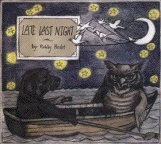 Robby Hecht "Late Last Night" (2008)



An extraordinary contemporary folk debut, with one great, groovy, leaps-out-at-you song after another. Hecht has an immensely appealing vocal presence, and adult/alt/folkie fans will hear echoes of some big heroes in this new work. Greg Brown comes to mind right off the bat, there's a similar sense of masculine virility mixed with emotional fragility and enticement; Hecht also bears more than a passing resemblance to James Taylor, not just in his vocal tone, but also in his interpretive power and his ability to connect with the lyrics, and to craft a memorable melody. He's joined here by several other new bright lights on the folk scene, including the incandescent Thad Cockrell and Mindy Smith, as well as fiddler Andrea Zonn. If you're on the prowl for a great new folk-pop album, this is your baby. It's the kind of record you can listen to for weeks on end... I did, and I've still got in in the stereo now.
The Heel Draggers "Out My Door" (2011)






<! vocalists Ayelet Arbuckle and Will Forte >


Levon Helm -- see artist profile


<! Ernie Hendrickson "Walking With Angels" (Self-released, 2010) Mellow, pop-rock flavored singer-songwriter folk, with country-ish ornamentations (twangy guitars and some pedal steel) Sort of in a Jackson Browne/Greg Brown/David Lindley mode - not as country as I'd like... Not quite my style... >
Terri Hendrix "The Spiritual Kind" (Wilory, 2007)



(Produced by Lloyd Maines)
A sweet, goofy set of twangy/folkie tunes that ponder the questions of life and find comfort in the simpler things, such as planting a garden and kicking back on your porch on hot summer days. Ms. Hendrix has a lot in common with Victoria Williams, who also extolled the joys of simple, rural living, although Hendrix is more direct and way less daffy. But if you like that kind of unhurried, un-rock star vibe, this album may have a lot to offer you.
Hank Henry "Rainy Nights" (Tall Dog, 1984)
(Produced by Simon Shrimpton-Smith & H. Hank Henry)
Well-meaning but ultimately underwhelming honky-tonk retro from Belgian country singer going by the name of H. Hank Henry. All the songs are Henry originals, with a couple co-written by others, including a tinkly ballad sung with Jeanne Henry, a vaguely Emmylou-esque singer who I assume is his wife(?)... He gets the American rural accent mostly right (reminds me of Terry Allen at times) but the band's a little sluggish and they never get loose enough to really draw you in. Technically accomplished, but the gritty feel and hillbilly swagger isn't really there. Worth checking out if you're into Euro-twang, but don't get your hopes too high.


<! 01/2013 - no ASIN >
Ray Herndon "Livin' The Dream" (Compendia/Rayman Records, 2004)



(Produced by Matt Hollings & Ray Herndon)
Guitarist-songwriter Ray Herndon sure has a rich back story... He grew up in Scottsdale Arizona, where his folks owned a country bar and western-themed steakhouse called the Handlebar-J. Ray's dad, Brick Herndon, played bass in the house band, The Country Score, and purchased the steakhouse from a fellow bandmember, back in 1975. As Ray and his brothers came of age, they played shows together on local TV and onstage at the Handlebar-J. A talented guitarist, Ray eventually set out on his own in the early '80s. After a gig with the popular local band, J. David Sloan & The Rogues, he went on tour as part of Lyle Lovett's backing band, working with Lovett for much of the decade, as well as on and off over the years. In 1989 he was recruited to join the Nashville-based top forty vocal trio McBride & The Ride, in an original lineup that stayed together from 1989-1994. (Ray Herndon and drummer Billy Thomas rejoined Terry McBride for a brief reunion starting in 2000, recording one more album that came out in 2002.) Here, on his first solo album, Herdon proves himself a smooth, amiable twangster, straddling the local and the national styles. The disc is packed with guest artists: Lyle Lovett, Clint Black, Sonya Isaacs and Jesse Colter each sing duets with Herndon, with the Clint Black collaboration, "A Grain Of Salt (And A Shot Of Tequila)," being an album highlight. This disc didn't really catch fire as far as I was concerned, but it sure has its moments, and a strong downhome, underdog appeal. In recent years, the Herndon Brothers Band has been holding down the fort at the Handlebar-J, which the family still owns. As far as I know, though, they haven't put out a record together... though time will tell.


<! http://www.rayherndon.net/bio.html >

Caroline Herring "Twilight" (Blue Corn, 2001)



A nice mix of Judy Collins-ish singer-songwriter folk, and more countryish leanings. This Austin-area transplant has assembled plenty of high-powered pals to back her up, including pedal steel stalwart Lloyd Maines and bluegrass hippiebilly Peter Rowan. Nice understated album, gets a little drippy at times, but she defintely has a way with a melody, and a certain spark that gets your attention. Kate Wolf's fans should check this gal out; there's a similar feel that might be appealing.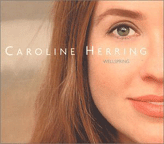 Caroline Herring "Wellspring" (Blue Corn, 2003)



This Austin-by-way-of-Mississippi singer-songwriter gets growly and throaty enough to garner the inevitable simplistic comparisons to Lucinda Williams, but has a good, strong, listenable sound that will hold your attention through the length of the album. The first half of the disc is "tougher" and more country sounding; midway through a more overtly folkie sensibility takes hold, particularly on the topical political tune, "Mistress." Herring's vocals are a bit mumbly and her music seems rather familiar, but the tone and feel are quite nice. Her previous album had a ton of big-name guest stars; this time around it's Kelly Willis who sits in to add some glamour, throwing on some nice harmony on "Jewels," early in the album. Nice record -- definitely worth checking out!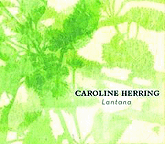 Caroline Herring "Lantana" (Signature Sounds, 2007)



(Produced by Caroline Herring & Rich Brotherton)
A fine contemporary folk album from one of the rising stars of the scene... I didn't find this quite as striking as her last couple of records (which I really loved!), but it is a very solid set, perfect for the coffee-house folk fan faithful. One song really stands out, "Song For Fay," a song about faith and resignation that I had heard earlier on a compilation I reviewed a while ago -- that song is a real dazzler!
Caroline Herring "Camilla" (Signature Sounds, 2012)


Hey Bale "The Last Country Record" (Shuffle 5, 2008)


Hey Bale "Live From 1-A" (Shuffle 5, 2008)

Tom Heyman "Boarding House Rules" (Innerstate, 2000)


Rockified country with stream-of-consciousness lyrics which call Victoria Williams to mind. Mostly this is pretty nice -- one track with lead guitar by Chuck Prophet is a bit too bombastic, but otherwise this works for me. Sure, if you put a gun to my head and demanded that I tell you what Heyman's songs were about, I'd have a pretty hard time... but his delivery is nice.
Tom Heyman "Deliver Me" (Jackpine Social Club, 2005)


---
Alt.Country Albums - More Letter "H"
---