<! MP3 12/12/10 > <! outside 00/00/00 > <! pix 00/00/00 > <! icons 12/12/10 > <! UPDATES: 03/30/09 11/06/14 - added Duane Jarvis > <! Jackshit "Jackshit" (Evangeline, 2002) B000069DQY - some connection to Elvis Costello - includes two guys from his country band, The Imposters - includes covers of "Christine's Tune (Devil In Disguise)" and "Ugly And Slouchy" > <! Horatio Lee Jenkins "Drunker Than Satan" (EP) (Drunkerthansatan.com, 2009) B00319PCVE B001UHEW74 - Novelty Americana, playing around with the whole white-trash stereotype thing. This 7-song EP includes the title track and "It's Okay To Be Gay." >
---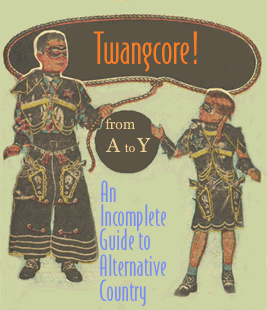 This page is part of an opinionated overview of "alt.country" music, with record reviews by me, Joe Sixpack... Naturally, it's a work in progress, and quite incomplete, so your comments and suggestions are welcome.
This page covers the letter "J"
---
A | B | C | D | E | F | G | H | I | J | K | L | M | N | O | P | Q | R | S | T | U | V | W | X, Y & Z | Comps | Other Country Styles
---
Carl Jackson -- see artist profile
Elana James "Elana James" (Snarf Records, 2006)



An absolutely captivating and lively record from fiddler Elana James (nee Fremerman), formerly of the Hot Club Of Cowtown. Given her illustrious swing-string pedigree, the mix of western swing and jazz standards is no surprise, but what's a delight is the album's focus and cohesion, and how gosh-darn well-produced it sounds. It just sounds like a pure, unfettered expression of what she wants to do, and with an artist this talented, that's a pretty cool thing. Throughout the album, James is clearly channeling the spirit of Bob Wills, but with a lively snap of the bow that's all her own; the vocals are also nice, as are the nods to Duke Ellington, Billy Strayhorn and Eubie Blake. If you liked the Hot Club, you're gonna want to pick this one up... pronto! (Available through www.elanajames.com)
Joseph James "Joseph James" (Joseph James Communications, 2001)


(Produced by James Williams & Joseph James)
Although he was clearly aiming for a commerical, Top Forty sound, and had connections with some pro musicians, it wasn't really gonna happen for Joseph James, for a couple of reasons. Although the backing musicianship is solid, James himself wasn't a rock-solid singer, with a bar-band voice that betrays too much humanity to make it in the auto-tuned charts of the 21st Century. Also, though poppy and formulaic, the vibe of this album was a little out of sync with the Nashville pop of 2001: you couldn't keep up if you weren't recording on a bazillion-channel sound board, so most independently-produced albums didn't stand a chance, and James' straight-ahead drums'n'guitars approach was more '80s/early '90s neo-trad than the ultra-slick hits of the era. This disc could be fun for Top 40 fans in search of something off the beaten track though -- I liked "Honky Tonk Cafe" and the dance mix of "One Track Mind," though they aren't as poppy as many other tracks. Among the studio musicians on this album are fiddler Aubrey Haynie and Terry McMillan on harmonica and guitar, along with various pickers., but in essence this is an indie effort, so I'm gonna slot this along with the "alt country" records, even though his heart belonged to Nashville.
Ryan James "Back To The Wind" (Hightail, 2007)



(Produced by Tim Lorsch & Walt Wilkins)
Texas-based songwriter Ryan James flies under the radar with this fine set of half-alt/half-pop twang. It's an indie release, but your ears will perk up when you hear tunes like "Everything That Glitters Is Not Gold" (a Dan Seals oldie) contrasted with a cover of Waylon Jennings old hit, "Ramblin' Man." Although the album opens with a couple of tunes that seem tailormade for Nashville bigwigs like Tim McGraw, et. al., to cover -- "Goodbye Carolina" and "Home On The Range" -- James is equally comfortable with chunkier, more outlaw-ish material, and sympathetic backing from Walt Wilkins and his crew make this a pretty solid set. James is a perfect example of the current intersection between roots music and chart hits -- he could go either way, and he certainly should make some headway as a Music Row songwriter... Worth checking out, no matter which side of the fence you're on!
Ryan James "Directed" (Smith Entertainment, 2008)


Jamestown Revival "Utah" (Wild Bunch, 2014)






<! other albums? >

Janet & Jeff "Jesus Built A Ship To Sing A Song To" (Kokopop, 1994)


A tribute to the duets of Gram Parsons and Emmylou Harris, reprised here by Janet Bean (of Freakwater) and Jeff Lescher, of the Chicago-based indierock band, Green.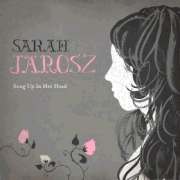 Sarah Jarosz "Song Up In Her Head" (Sugar Hill, 2009)



(Produced by Gary Paczosa & Sarah Jarosz)
On her opening track, "Song Up In Her Head," newcomer Sarah Jarosz namechecks the mighty Gillian Welch and then moves through a series of songs that easily put her on a par with her Americana-indie icon. While that track may seem imitative, the next, "Edge Of A Dream," is revelatory -- a moody, mystical tune with a drifting melody that can get stuck in your head for days on end. Jarosz, a multi-instrumentalist who is equally at home on clawhammer banjo, piano or mandolin, performs with immense confidence, which is all the more remarkable given that she was only seventeen years old when this record was made. In the last five years she has been performing onstage with some of the biggest names in bluegrass, including spacegrass elder David Grisman. Grisman's son Samson is in Jarosz's posse, playing bass on this album, alongside studio pros such as Jerry Douglas and Stuart Duncan, and former Nickel Creek-er Chris Thile. She clearly has an affinity for a wide range of bluegrass and other acoustic styles, from traditional/old-timey sounding songs in the David Rawlings-Gillian Welch mold to more exploratory, poetic songwriting, ala Nickel Creek and Alison Krauss. As a songwriter and performer, Jarosz is a marvel, penning "Broussard's Lament," one of the most powerful of the recent crop of modern topical folk songs about Hurricane Katrina, while tapping deep into the blues-gospel spirituality of "Come On Up To The House," and the Joni Mitchellesque melancholy of "Long Journey." On these songs, as on others, she sings with an emotional depth and level of understanding that belies her youth. Only on a couple of tunes, the goofy-gothy "Shankill Butchers" and the sprightly but amorphous "Left Home," is there the tiniest hint of her as a teenager learning her craft; otherwise, she reveals herself as one of the most powerful performers in her field, newcomer or otherwise. This is one of the best Americana albums of the year, and Ms. Jarosz is an artist to keep close track of, a real gem.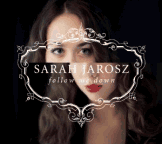 Sarah Jarosz "Follow Me Down" (Sugar Hill, 2011)



(Produced by Gary Paczosa & Sarah Jarosz)
I am a big fan of Sarah Jarosz -- she has a penetrating, timeless voice; her debut album of a couple of years ago had a revelatory feel, and I do believe that she is a major talent on the bluegrass(y) acoustic music scene. That being said, I had a hard time getting into this album, where the delicate balance between exploration and tradition has been pretty thoroughly upended in favor of the singer-songwriter pop-folk crossovers pioneered by Nickel Creek, Alison Krauss and company. That's okay, I guess, but I really feel Jarosz's sublime side shows better in more traditional, old-timey flavored songs, and that is borne out on this album in her adaptation of Edgar Allan Poe's ghost story ballad, "Annabelle Lee," a mix of folk and electric that sounds, for all the world, like an old Steeleye Span song. The rest of the record is largely taken up with her own compositions, which lean heavily on what I would call spiral-bound notebook lyrics, the kind of teenager poetry that Taylor Swift, Fiona Apple and others have taken to the top of the charts and which thousands of budding bedroom poets pen every day... But heartfelt and talented though Jarosz may be, these songs -- particularly self-involved, emotionally baroque anthems such as "My Muse" and "Floating In The Balance" -- needed more self-editing and paring down, and seem too complicated and thematically on-the-nose to resonate as much as the musicianship that accompanies them. Maybe it's just that I'm too old or too square or too into traditional music to hear this as anything but juvenilia, and I'm sure there is an enthusiastic audience to be found, but still I found myself disappointed, especially in comparison to her first record, which knocked me flat. The good news is that Jarosz is young, immensely talented, and working in an indie environment that can foster niche music-making and stylistic experimentation... Her future looks bright, no matter what grumpy old farts like me have to say. If you're looking for forward-thinking folk/grass, you might wanna check this one out -- but if you haven't heard her first album, it is an absolute must-have.
Sarah Jarosz "Live At The Troubadour" (Self-Released, 2013)



Apparently this disc is available through her website, though I've also seen it at my local record hut... More genre-bending Americana brilliance from this wildly creative fiddlin' gal...
Duane Jarvis "D. J.'s Front Porch" (Twintone, 1994)

Duane Jarvis "Far From Perfect" (Watermelon, 1998)


Duane Jarvis "Certified Miracle" (Slewfoot, 2001)

Duane Jarvis "Delicious" (Slewfoot, 2003)






<! Mark Davis And The Inklings "From Back Of Beyond (In Tribute To Duane Jarvis)" (Self-Released, 2014) B00ONJY7QM - MP3 >

The Jayhawks "The Jayhawks" (Bunkhouse, 1986)


The Jayhawks "Blue Earth" (Twintone, 1989)



The Jayhawks "Hollywood Town Hall" (Def American, 1992)



Hmmm. I still gotta wonder: what was all the hype about? Back in the day, a lot of people went totally ga-ga over this album, and while this is a pleasant enough country-rock record, most of the songs are a bit on the long, lofty, stream-of-consciousness side (writer Mark Olson's specialty) and they often overstay their welcome. In general, few of these songs are actually that catchy or memorable, in a classic "pop" way, although the record is nice enough to listen to. It's nice, relaxing latter-day Neil Young-influenced stonerbilly stuff, but it's not really all *that* amazing. The band sure seems to have taken itself seriously, though!
The Jayhawks "Hollywood Town Hall (Expanded Edition)" (Sony Legacy, 1992/2011)


This upgrade of the Jayhawks' major-label debut includes five bonus tracks, including an obscure B-side and some other obscure material that'll be like catnip to longtime fans.


<! 01/11 column text: Another upgrade of the Jayhawks' major-label debut, a folk-country crazy-quilt showcasing the stonerdelic explorations of Gary Louris and Mark Olson, back when they were still in synch and ready to take on the world. I've always found this particular album a little hard to focus on, but I bet fans will be psyched to hear the five bonus tracks that have been added to this edition, including an obscure B-side and some other obscure material. Creative, spacy twang and twirl from one of the more oddball outfits of the 1990s "Americana" scene. >

The Jayhawks "Tomorrow The Green Grass" (American, 1995)



Wow... what a leap in quality! This is a lush, expansively produced, very poppy album. I've always been obsessed by their outstanding, ebullient, George Harrison-y cover of Grand Funk Railroad's "Bad Time," but the rest of this album is quite solid and captivating as well... Probably the highest realization of the Mark Olson-era band's ideals, and my favorite Jayhawks album... Highly recommended!
The Jayhawks "Tomorrow The Green Grass (Legacy Edition)" (Sony Legacy, 1995/2011)



(Produced by George Drakoulias)
Although this album was recently remastered and reissued (in 2008), this expanded 2-CD set is worth aiming for if you're a fan... There are nearly two dozen "new," previously unreleased tracks on here, including one B-side from a single and a ton of outtakes and other rarities. A great bargain and worth tracking down.

The Jayhawks "Sound Of Lies" (American, 1997)



The first post-Olson album opens as a lavish, unrepentant popfest, and while some twang creeps in from time to time, this is mostly a rock record, of the ornately arranged, grand vision variety. It's a bit much for at times, but proves more listenable than one might imagine: Gary Louris has a compelling vocal presence, one that leaps out at you and commands your attention, in a gentle, nudging, insistent kinda way. A nice rebound for a band that many assumed was on the way out after one of its principal songwriters had left... Worth checking out, but maybe not if you're of an anti-mainstream, no-sellout, alt.country purist frame of mind.

The Jayhawks "Smile" (Columbia/American, 2000)



About half the songs on here sound quite nice. With the band very much his own, Gary Louris sets up shop as sole songwriter, crafting a strong batch of mostly pleasant, easy-on-the-ears, electronica-tinged country rock zone-out tunes. Overall, the album has a facile feel, but only a few tunes (particularly in the second half of the record) are even remotely irritating. A couple of songs have blaring, somewhat generic, electric guitar leads that stand out like sore thumbs (given the general spacy mellowness of the album...) and sent me running for the fast-forward button... Sure, this disc is AOR-ish, but overall you can't complain.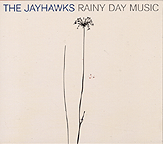 The Jayhawks "Rainy Day Music" (Columbia/American, 2003)



A lovely, mellow soft-rock set that really lives up to its name -- this is the kind of stuff you'd want to have on while the raindrops pitter-patter, pitter-patter along the windowpanes. Of the rock-oriented Jayhawks albums, I'd say this is my favorite: there are several songs on it that are irresistibly tuneful (particularly "Eyes Of Sarahjane" and "One Man's Problems") and the album as a whole hangs together really nicely. Well-crafted, pleasantly listenable and quite hearftfelt. Recommended!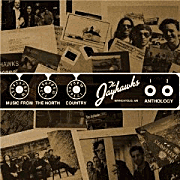 The Jayhawks "Music From The North Country: The Jayhawks Anthology" (Sony Legacy, 2009)



The twin legacies of Alex Chilton and Gram Parsons hover over these classic indie/billy twangcore tunes... This is a nice 2-CD retrospective tracing the band's various phases and expansions, with shifting lineups and changes in style. I've always heard the Jayhawks as more of a rock band, though the twang is definitely there. It's interesting to hear them move from the mystically-oriented early days with Mark Olson in the band into a more streamlined rock style when the band was led by Gary Louris -- the programming of Disc One (the studio "hits") does a remarkable job of making these changes sound like a cohesive whole. Disc Two features demo tracks and other rarities, and gathers plenty of goodies for longtime fans to enjoy. (I'm sad that they didn't include their sublime cover of Grand Funk Railroad's "Bad Time" -- one of the catchiest tracks they ever recorded -- but I guess you can't squeeze everything in on every best-of...) The deluxe package also includes a third disc of video material, which is also kinda fun.... Overall, this is a very good document of the band's first couple of decades, a fan's delight as well as a strong introduction to one of the key bands in the 1990s alt-country scene.
The Jayhawks "Mockingbird Time" (Rounder, 2011)


Horatio Lee Jenkins "Drunker Than Satan" (EP) (Drunkerthansatan.com, 2009)



(Produced by Horatio Lee Jenkins)
Grandiose novelty-twang Americana, playing around with the whole white-trash stereotype thing, mixed with the tounge-in-cheek self-mythologizing of the presumably-fictitious Horatio Lee Jenkins, a man who claims to have out-drunk the Devil, and never fails ot remind us of it in all his songs and writing. This 7-song EP includes the title track, "Drunker Than Satan" (which is kind of funny) a couple of other tracks that are belabored and skippable, as well as "It's Okay To Be Gay" an alt-country, faux-redneck anthem which takes a surprising turn towards tolerance (and also manages to remind us about his drinking contest with the Devil...) There are also a few trio of bonus "tribute" songs which I assume are actually "Jenkins" paying tribute to himself in a variety of styles... This EP builds on a series of pseudo-provocatory singles; as far as I can tell it encapsulates most of his "essential" recordings, though his 2010 holiday song, "I Like To Get Drunk And Ride My Horse On Christmas Day" might also be of interest.
Shooter Jennings - see artist discography
Eilen Jewell "Boundary County" (2006)

Eilen Jewell "Letters From Sinners And Strangers" (Signature Sounds, 2007)


Eilen Jewell "Heartache Boulevard" (EP) (Signature Sounds, 2008)


Eilen Jewell "Sea Of Tears" (Signature Sounds, 2009)


Eilen Jewell "Butcher Holler: A Tribute To Loretta Lynn" (Signature Sounds, 2010)


Eilen Jewell "Queen Of The Minor Key" (Signature Sounds, 2011)


Jim & Jennie And The Pine Barons "Jim And Jennie And The Pine Barons" (??) <! "Phovsho" label? >





<! 1. It's A Pleasure To Know You, 2. I've Lost My Prize, 3. Lulu Walls, 4. Glory Be, 5. No Letter In The Mail, 6. Georgie Buck, 7. Just Two More Years, 8. Nashville Blues, 9. Bowling Green, 10. Angel Band, 11. Joy Bells >

Jim & Jennie And The Pinetops "Little Birdie" (Overcoat, 2000)



This clattersome, Philadelphia-based quartet brings back some of the rowdy rambunctiousness of the old-timey stringbands... Their original material, about half of this album, is pretty strong, though it's also nice to hear them pay homage to their inspirations -- among them, the Carter Family, Flatt & Scruggs and the Delmore Brothers. I have to confess that although he's a very strong songwriter, Jim Krewson's vocals irritate me in that he's too strained and exaggeratedly twangsome, a little too schtick-y, if you see what I mean. His partner Jennie Benford mostly sounds pretty nice, though, and the two harmonize in a pleasantly unruly fashion. Benford reminds me quite a bit of Hazel Dickens, and it's quite appropriate that she pays Hazel homage, in a version of "Won't You Come Sing For Me." Nice record, definitely worth checking out.

Jim & Jennie And The Pinetops "One More In The Cabin" (Overcoat, 2002)



It's hard to believe that these perfectly-crafted old-time-ish tunes were not in fact written by some mistily-remembered contemporary of the Carter Family or Grandpa Jones, but rather by a bunch of modern urban hipsters from Philadelphia who just happen to have an uncanny grasp of the oddball mountain music of the early 20th Century. They get the constrained emotionality and matter-of-fact narrative tone just right, as well as the subject matter -- song after song starts with a familiar set-up, and it's really only until you open the CD booklet that you can be sure that these songs were actually written by the band. These folks aren't hotshot superpickers, and they purposefully sing all raspy and off-key, yet unlike oh, so many of their twangcore contemporaries, the Pinetops don't come off as pretentious dilettantes. Rather, this is a band that is respectful and utterly in command of the genre they've adopted, and their material is emotionally resonant and entirely convincing. In fact, I'd say that if at least some of these songs don't work their way into the official bluegrass canon, something is seriously wrong in the world. Highly recommended!

Jim & Jennie And The Pinetops "Rivers Roll On By" (Bloodshot, 2005)



It was definitely worth the three-year wait for fans to get this new Jim & Jennie album... They've rosined up the bow and spun another enchanting set of bluegrass and old-timey stringband music. Oddly enough, even though they've moved from the artsy Overcoat label onto the ostentatiously altie Bloodshot, the Pinetops have actually inched away from the clattersome anarchy of their previous albums towards something closer to straight-up bluegrass and folk. The softer, more professional approach gives their work a more authoritative feel, yet just as they seem to be settling into a more mainstream bluegrass mode, they gently drift into space-rockish terrain on a couple of tunes towards the end of the album, which helps keep things a little freaky. There's something compelling about this band -- the group has a singular presence, exuding a freshness and enthusiasm unlike that of many mainstream bluegrass crews -- Jim & Jennie take respectful advantage of the mountain music style without subsuming themselves to tradition and, as always, they dazzle us with a remarkable blend of naifish simplicity and canny innovation. Recommended!
The John Henrys "Sweet As The Grain" (9LB Records, 2008)



Roots rockers from Ottowa, Canada...


<! Rey Sabatin, Jr. is lead singer >

The John Henrys "White Linen" (9LB Records, 2010)



(Produced by The John Henrys)
Well, yeah, there's undeniably some "twang" in here -- pedal steel and mandolin, some Grateful Deadish, jam-band twists to the guitars... But I'd peg this one as much more of a roots rock record, with a strong Tom Petty vibe. Nothing wrong with that, but it's not really my cup of tea, and not really what I'd highlight as "Americana" or alt-country, per se.

Whitey Johnson "Gary Nicholson Presents... Whitey Johnson" (Palo Duro, 2008)



(Produced by Colin Linden)
Groovy whiteboy acoustic blues, featuring slide player Whitey Johnson, who is apparently a pseudonym for Gary Nicholson, a six-stringin' pal of Delbert McClinton. Delbert blows the harp on a tune or two, while "Whitey" does some fancy pickin' and growls his way through a bunch of gritty original blues tunes, including several cowritten with modern blues dudes such as Colin Linden, Kim Wilson, Guy Clark -- and Delbert McClinton, of course! Sounds like they had a lot of fun recording this one.
John Train "Angels Turned Thieves" (Record Cellar, 1999)



John Train "Looks Like Up" (Record Cellar, 2002)



Nice record. First off, the title is a reference to a blues lyric that Richard Farina copped in the '60s, and any twangcore-alty band that wants to reference Farina -- or Furry Lewis -- is alright by me. This album is an interesting mix of really good, really catchy melodic alt.country and more rock-oriented jangly stuff. Songwriter Jon Houlon has a nice way with a tune, although on a few tunes he does slide into lamentably spiral-binder, earnest folkie terrain (particularly on the long-winded and self-righteous "Did You Come By Your Bitterness Honestly?") But the handful of strong songs on here are definitely worth checking out. Recommended.
John Train "The Sugar Ditch" (Record Cellar, 2004)


John Train "Mesopotamia Blues" (2007)


Norah Jones - see artist discography
Emory Joseph "Labor And Spirits" (Capsaicin Records, 2002)



(Produced by Emory Joseph)
A far-ranging, slightly uneven album which kicks off with a JJ Cale-ish funky white-soul song, "Carolina Princess," but veers into more contemplative, introverted material, including brooding folk-pop ballads, such as "The Same," and more rambling, indulgent stuff like "Trinkets," which is a digressive rememberance of several childhood preoccupations, including an old Louis Armstrong album. Joseph sesms to have been tapped into the Berkeley High alumni jazz-rock crowd, with a shout-out to Charlie Hunter in the liner notes, and Scott Amendola performing on the album... And some of that light jazz-funk sensibility can be heard here, amidst the eclectic blend of styles... Didn't really grab me, but there are a lot of different textures to explore, and some interesting songwriting of several songs.
Teri Joyce "Kitchen Radio" (Self-Released, 2009)



(Produced by Teri Joyce & Justin Trevino)
More great indie twang from Texas. This is one of those records that I find myself listening to over and over, and liking more and more... And there's a lot to enjoy. Backed by Americana stalwarts such as guitarist Dave Biller and pianist T. Jarrod Bonta, Joyce brings a pure DIY, indie-twang sensibility to this record, full of earnest feeling and pleasantly human imperfections. Best of all is her grasp of old-school country, although old-school of a certain variety... On the opening tracks, particularly on "Don't Look For Me 'Til You See Me Comin'," and "Belly Up," she magically captures the feel of the twangier end of the early '70s commercial country scene, the buoyant novelty songs you'd hear on the radio, circa 1972, sandwiched between the syrupy countrypolitan hits... Indeed, the album's title track is an ode to the old days, when country radio was less tragically prefab and predictable; she's also got an anthem to Austin and aching ballads, like the evocative "Bluebonnets For My Baby." Roger Wallace provides some fine, Haggard-esque harmonies and duet vocals on several tunes... All in all, a fine record from an artist worth keeping on your radar.
Ed Jurdi "Ed Jurdi" (Stands Alone, 1999)


A solo set by one a member of the Austin alt-rock/Americana group, Band Of Heathens...
Ed Jurdi "Longshores Drive" (Red Fez, 2002)



A solo set by one a member of the Austin alt-rock/Americana group, Band Of Heathens...

James Justin & Co. "Dark Country" (Self-Released, 2011)


Singer-songwriter James Justin Burke takes a few cues from American goth-nik Richard Buckner, but doesn't go as far down the gloom-doom rabbithole. This is an interesting and highly listenable mix of indie and twang, with some songs shedding the country vibe in favor of a more rock'n'roll sound, though for most of the album banjo and mandolin figure quite prominently. Definitely worth a spin, and as I said, this is a record you can play all the way through and kind of lose yourself in... Sounds nice!
---
Alt.Country Albums - Letter "K"
---