<! MP3 07/03/09 > <! update 00/00/00 > <! outside 00/00/00 > <! pix 00/00/00 > <! icons 12/12/10 >
---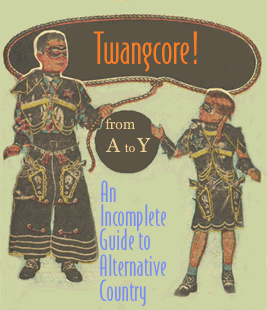 This page is part of an opinionated overview of "alt.country" music, with record reviews by me, Joe Sixpack... Naturally, it's a work in progress, and quite incomplete, so your comments and suggestions are welcome.
This is the first page covering the letter "K"
---
A | B | C | D | E | F | G | H | I | J | K / K-2 | L | M | N | O | P | Q | R | S | T | U | V | W | X, Y & Z | Comps | Other Country Styles |
---
Jimmy & David Lee Kaiser "Spurlock Road" (Moon Tower, 2003)



Fair-to-middlin' independently released country/Americana from down Texas way... These brothers take a nod towards Robert Earl Keen, Jr. (and everyone else in Austin that they can think of) on the album's perky, name-droppy opener, "Best Times." The rest of the album features an even dozen discursive, rueful tunes (again, very much in the R.E. Keen style...) that don't entirely hold up, but don't entirely fall apart. Several songs about being unemployed and bumming around, the best of which is the rollicking, cowpunkish "Lookin' At Cows," which should go down in the Americana annals as a minor masterpiece.
Kieran Kane "Find My Way Home" (Atlantic, 1993)

Kieran Kane "Dead Reckoning" (Dead Reckoning, 1995)

Kieran Kane & Kevin Welch "11/12/13: Live From Melbourne" (Dead Reckoning, 2000)

Kieran Kane "The Blue Chair" (Dead Reckoning, 2000)


(Produced by Kieran Kane)
A nice, solid album in the rootsy, melodic singer-songwriterly mode of Greg Brown and, well, Kieran Kane, too. This record is packed with rich performances and top-notch songs... Somehow Kane balances his philospohical side with strong poppish chops so it all comes out nice without going overboard the way world-wise roots-folk records sometimes can... Definitely worth a spin!
Kieran Kane "Shadows On The Ground" (Dead Reckoning, 2002)


A purty, folk-flavored country outing, with a few songs in the middle that drift a bit, but a nice set at the start, including an excellent version of the Carter Family oldie, "Will You Miss Me When I'm Gone," and a charming follow-up tribute tune, "June Carter Sure Can Sing." Other highlights include a couple of sweet original tunes, the delicate duet, "Harmony," and the finely crafted, rather poetic "One Raindrop," which both definitely make this a disc keeper. Recommended.
Kieran Kane "Six Months, No Sun" (Compendia, 1998)





<! Kieran Kane "Millionaire" (Compendia, 2002) B000069JKW w/Kevin Welch? >
Kieran Kane, Kevin Welch & Fats Kaplin "You Can't Save Everybody" (Compass, 2004)



Two veteran Americana scenesters reunite for a fine set of acoustic-based tunes... The first three tracks on this album are sublime, the sort of stuff that just jumps out at you and holds your soul... Perfectly crafted, compelling blues-laced country-folk. From that fine start, though, my attention started to wander a bit., with a few too many Greg Brown-ish topically-oriented singer-songwriter songs, with throaty intoning galore. But hey, that's just me -- I'm old and crabby and I have a low tolerance for things that seem stagey or overly self-conscious. Overall, this is a great record, and if you like the Greg Brown style, you're gonna love this album. Those first three songs alone should make it worth your time.
Kieran Kane, Kevin Welch & Fats Kaplin "Lost John Dean" (Compass, 2006)


Kane Welch Kaplin "Kane Welch Kaplin" (Compass, 2007)



The third album from this acousto-Americana triumvirate finds them in fine form, though a bit on the doleful side. With their ELP/CSNY-like band name, Kieran Kane, Kevin Welch and Fats Kaplin want it to be known that this ain't no temporary thang, that they consider themselves a proper band, and not just an all-star jam-session... Fine by me: the picking and the tonal texture is exquisite -- get these three guys in the same room together and you'll hear some sweet guitar work... The album opens with the moody "Ain't Gonna Do It," with a rumbling, electric reverb worthy of Pops Staples, back in his prime... Other highlights include the mournful yet hummable "Last Lost Highway" (dedicated to Sonny Terry, perhaps?) and the gentle gospel oldie, "What Are They Doing In Heaven Today," which, like the other songs on this album, is unhurried and slow, letting the emotion well up and mix with the weariness of the sentiment. They lay the dustbowl poetics on a bit thick for a few tunes, but overall this is a class act... If you like your pickin' on the mellow, moody side, this disc might just be for you!
Kieran Kane "Somewhere Beyond The Roses" (Compass, 2009)



An avowed Americana auteur, songwriter Kieran Kane continues to refine his own mixture of country twang, folk, bluegrass and blues, melding the styles into a dense, formidable sound that buoys his lyrics, giving his songs both a seductive allure and a steely strength. The first half of this album has some really appealing arrangements and intriguing, complex melodies, and while none of the songs have the kind of pop-oriented simplicity that would make them singalong songs, they are pretty catchy. In the second half, Kane zeroes in on more of a Woody Guthrie-esque talking blues style, with plenty of emphatic, almost ferocious lyrics. I have to confess that I don't really understand what he's talking about, in either mode, but there seems to be an undercurrent of recrimination and redemption, urgency and a need to impart wisdom, but there's also a sense of this as a personal, internal dialogue, the end product of a long period of intense philosophical examination, and an awareness and acceptance that this isn't a record that will appeal to everyone. Perhaps a more perceptive listener could more easily pierce the veil, but either way, this is a musically rich, creatively adventurous outing, showing some of the unique strengths of the Americana genre.
Lynda Kay & The Lickety Splits "Cowgirl!" (Firelight, 2004)





<! from the group the Lonesome Spurs >

Lynda Kay "Singing Stomping And Strumming" (2005)





<! live album >

Lynda Kay "Dream My Darling" (Dreamphonic, 2009)



Big Kat Kaylor "Scattered" (Step One, 1996)


One of those odd records that floats up at you out of nowhere... The title track -- a buoyant, goofy novelty tune equating the love-lorn singer's state of mind to the physical composition of a plate of homefries at a greasy spoon diner -- is the kind of goofball novelty number you'd hear on '70s freeform radio, way back when... It's also the album highlight, although some of the smoky, lounge-y blues/soul songs that make up the rest of the disc also have their moments, propelled by Kaylor's slinky keyboard style and Southern soul vocals, which bring to mind Jesse Winchester and that dude from Steely Dan. Not an earth-shattering album, but I do still dig that one song...
Big Kat Kaylor & The Jacuzzi Blues Band "Jacuzzi Blues" (Self-Released, 2008)


This appears to be a mostly-straight up reissue of the Scattered album, with a few bonus tracks...
Robert Earl Keen - see artist discography
Guthrie Kennard "Ranch Road 12" (Armadillo Music, 2005)


Guthrie Kennard "Unmade Beds" (Newtex Records, 2009)



(Produced by Steve Satterwhite & Guthrie Kennard)
Gritty, blues-y, growly-voiced stuff that reminds me of later stuff from Steve Earle. More grind and grit than I'm looking for, and less emphasis on melody, but still, there's some cool stuff, and a nice, low-intensity vibe throughout. Blues and Americana fans can find a lot ot like here, but you have to be into the whole roadhouse poet thing... Helps if you like resonator guitars, as well -- pretty prominent in the mix on a lot of the tunes!
Guthrie Kennard "Matchbox" (Rango Records, 2009)


Guthrie Kennard "Cross Your Heart" (Rango Records, 2013)






<! - from Texas - Guthrie Kennard "Ranch Road 12" (Armadillo Music, 2005) B0009IE6O4 B0032K07VM Guthrie Kennard "Unmade Beds" (Newtex Records, 2009) B00320JEYI B003BT8XT2 Guthrie Kennard "Matchbox" (Rango Records, 2009) B0034PWOTI B0032H9X3S Guthrie Kennard "Cross Your Heart" (Rango Records, 2013) B00BDZV7Z8 B00BIXG520 >

Kerosene Brothers "Choose Your Own Title" (Audium, 2003)



Actually, this is lamegrass novelty act, Hayseed Dixie, oh-so-cleverly recording under another name. Same old tiresome white trash stereotypes, though: some amped-up old murder ballads ("Shady Grove," done ala Steeleye Span; one called "Ellie Schaffer..." etc.) and a slew of too-fast Southern rock/banjo-punk ditties about various brands of super-stereotyped hard-drinkin', last-ditch uber-losers. All in all, another big, big yawn, dwarfed only by the smug self-satisfaction with these guys infuse their rather marginal performances.... This is really is a terrible, boring album. Skip it.
Jenny Kerr "New And Improved - Extra Strength" (Okey Doke, 2003)


Jenny Kerr "Wood And Steel" (Okey Doke, 2009)


Jenny Kerr "Head Of Fire" (Okey Doke, 2013)



Kelly Kessler & The Wichita Shut-Ins "Life Of Regret (EP)" (Melungeon, 2002)



Another nice infusion of thoughtful, thought-provoking alt.country from Chicago... Kessler used to be in a band called the Texas Rubies; here she is the brains behind a more restrained, soulful set of tunes, sometimes sung by co-vocalist Lawrence Peters, who has a rich, smooth delivery, soulful and entirely free of urban-hick affectations. This 4-song EP is pretty darn good -- each song is solid and well-written, and catchy, in a subtle kinda way. Keep an eye on these folks!

Kelly Kessler "The Salt Of Your Skin" (Melungeon, 2002)


Weirder and more complicated than their earlier EP, this is an eclectic, untraditional, and ultimately challenging update of old-fashioned hick music, much in the style of Jim & Jennie or Freakwater. The ballads are more tuneful than the upbeat numbers, but it all points to an interesting future for this band. Worth checking out!
---
Alt.Country Albums - More Letter "K"
---